Week 1 fantasy football. The time is here, which means that you need a handy fantasy football cheat sheet to use!
You're going to read, watch, and listen to a lot of great content every week. On this site (check out our PFN Consensus Rankings) and elsewhere, the best fantasy managers look to gain as much intel as they can before locking in their lineups.
Well, consider me a man of the people. Grab a cup of coffee and sit down for Week 1 story time with Uncle Kyle. Maybe make a pot of coffee. Here are my thoughts on every player that could potentially matter to you for the week ahead. Let's get to it!
Carolina Panthers at Atlanta Falcons
Spread: Falcons -3.5
Total: 39.5
Panthers Team Implied Points: 18
Falcons Team Implied Points: 21.5
Quarterbacks
Bryce Young: Over the past five seasons, rookie quarterbacks making their starting debut on the road average 13.4% fewer fantasy PPG than those debuting at home. In those 16 instances, the measured quarterback threw 15 touchdown passes and 15 interceptions while averaging just over 219 passing yards.
On the bright side, the Falcons were a bottom-10 defense last season in completion percentage, yards per attempt, and touchdown rate … so there's some hope. For now, Young is nothing more than a DFS punt play.
Desmond Ridder: Before I give you the sell job on Ridder, no, he's not a starter in anything close to a normal format. Volume alone will keep his projected numbers in check, but you already knew that. If you're throwing a dart in a massive DFS tournament, there's a thread to pull here.
First, game theory. Bijan Robinson, even at an expensive tag, is going to garner plenty of attention in what is presumed to be a good matchup. Fading the rookie is one thing, but stacking other parts of his offense is a true contrarian play. The Panthers were the fifth-best defense in terms of limiting yards before contact, so it's at least possible Robinson isn't a Hall of Famer in Game 1.
Carolina devoted the majority of their picks this April to the offensive side of the ball, leading me to believe some of their weaknesses will remain … you know, like them ranking in the bottom eight in red-zone drives allowed, deep completion percentage, and yards per downfield pass. Oh yeah, they also ranked 25th in sack percentage despite blitzing at the sixth-highest rate. They stink.
We know where the targets are going, so if you're betting on Ridder, Drake London and Kyle Pitts are producing. Put that trio, and it opens up a world of opportunities … like putting Austin Ekeler and Jaylen Waddle in a lineup together in a game that could easily shoot out. It's a build layered with risk, but it's an option if you're trying to create a unique lineup.
Running Backs
Miles Sanders: He is coming off of a career season and faces a defense that allowed the second-highest percentage of RB carries that resulted in a first down last year.
That said, the Falcons were an above-average red-zone defense, limiting the scoring equity for an offense that is going to need some time to gel. I'm not in a hurry to plug in Sanders, but he projects for a feature role, and with no 2023 data to go on, that's enough for him to warrant a low-end RB2 ranking.
Bijan Robinson: The skill is just as overwhelming as the hype for this kid. You drafted him to lead your fantasy team to the promised land, and if history is any indicator, you should see returns on your investment on Sunday.
I'm going to have zero problems projecting Robinson for at least 15 carries and 15 receiving yards most weeks — five of the past six Round 1 RBs who did that in their NFL debut cleared 20 half-PPR fantasy points. Sit back and enjoy; he's my RB5 in this spot.
Tyler Allgeier remains worth a roster spot as a valuable insurance policy, but I'm not confident he sees 10 touches in this game, and that makes him a near-impossible sell.
Wide Receivers
Adam Thielen, DJ Chark Jr., Terrace Marshall Jr., and Jonathan Mingo: It was an intentional move by me to list all of these receivers as a way of saying that I have no idea where the targets are going to go. I also have no idea if those targets are going to carry much value at all.
Logic states that in an offense that figures to be playing from behind and wants to develop a rookie quarterback will produce viable WR days for fantasy. We just need some data before any of them even sniff the Flex radar. They are all easily outside of my top 40 this week.
Drake London: London was a target earner from the jump last season (6+ looks in each of his first five career games) despite Atlanta's run-first offense. I'm expecting more of the same in 2023 but with a little more upside given a projected uptick in pace (roughly 10% faster last season under Ridder than Marcus Mariota) and more efficiency behind Bijan Robinson.
The Panthers kept London in check last season (nine catches for 69 yards across the two games) — something that proved to be more the exception than the rule as they finished last season ranking no better than 22nd in yards, interception rate, or sack percentage.
Ridder should be comfortable, and a comfortable Ridder is going to mean a productive London more often than not. With 8-10 targets being the expectation, London comes in as Flex play against Carolina that does carry some risk if this game holds the lowest possession count of the weekend.
Tight Ends
Hayden Hurst: Could he develop sneaky value with time? Maybe, but let's not get carried away. Hurst didn't have a 60-yard game last season and has five scores total over the past two seasons. Sure, the "revenge game" narrative is fun, but "fun" doesn't pay the fantasy bills. Numbers do, and Hurst is useless until we see a reason to pivot.
Kyle Pitts: I completely understand your hesitancy here. Sort of. If you are looking for Pitts advice, that means you had enough confidence in him to take him in the sixth round this summer, and that draft capital essentially locks him into your early season starting lineup.
The Panthers defense was on the field for nearly 32 minutes per game last season (most in the league) and the Falcons are favored. If you're not comfortable in locking him in this spot, then why did you draft him?
He's a strong option at the position, and with Kelce not on the main DFS slate, Pitts could be a differentiating asset in tournaments with his "lead the position in scoring" potential at a price point that doesn't reflect as much.
Cincinnati Bengals at Cleveland Browns
Spread: Bengals -2.5
Total: 47
Bengals Team Implied Points: 24.75
Browns Team Implied Points: 22.25
Quarterbacks
Joe Burrow: The limited reps over the past month, along with the fact that the Browns allowed the fifth-fewest passing yards per game last season (196.2), are good excuses for me to drop Burrow in my ranks lower than he'd normally be, but you don't (or at least you shouldn't) have a better option on your roster.
And that's OK. Given the potency of this offense and Burrow's confidence in his teammates, he's not a bad play by any means. This just isn't a bad week to be facing the team with him as their signal-caller.
Deshaun Watson: I generally think Watson has a good season and that you'll be comfortable starting him most weeks. He's too skilled, and the talent around him can certainly support a more than viable fantasy QB.
That said, this is a tough opener. The Bengals coughed up just 17 passing touchdowns all of last season and were the league's toughest defense in terms of completion percentage (58.9%).
They also ranked much higher in pressure than blitz rate, a difference that speaks to their ability to make opponents uncomfortable without devoting extra resources. I'm not sweating the iffy version of Watson that we saw post-suspension last season, but the lack of live reps this preseason, along with a strong defense, makes him a fringe QB1 on Sunday.
Running Backs
Joe Mixon: Mixon has cleared 140 scrimmage yards in consecutive season openers and racked up 106 yards on 16 touches in his last meeting with the Browns. I assume the concerns around Mixon this draft season circled around his 1,500+ career touches, and that may impact him eventually, but I don't expect it to be in Week 1.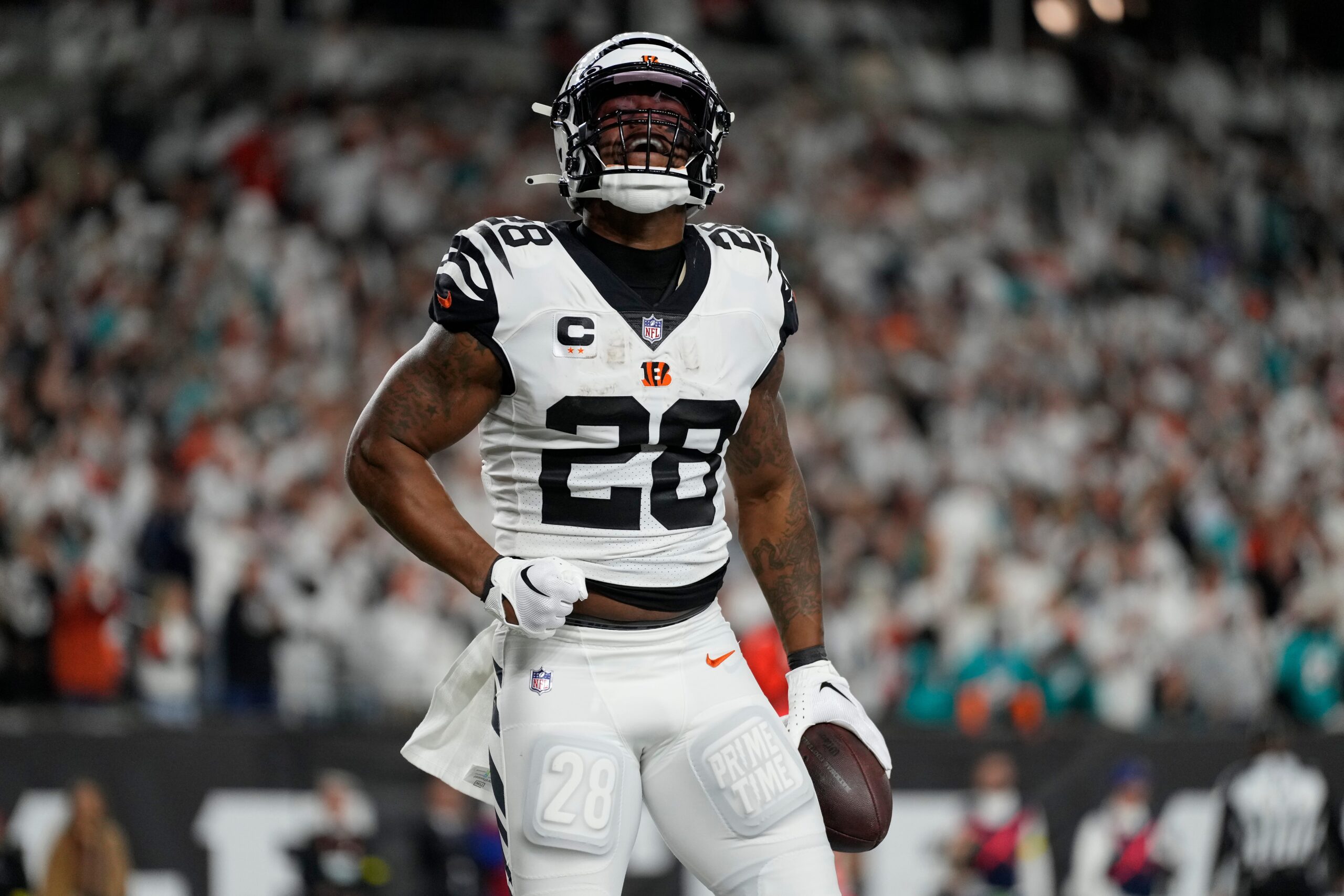 Chase Brown: Brown is nothing more than Mixon insurance until we see the veteran assume a different role than the one he has held for half a decade. There might be a time and place for Brown, this just isn't it, and he is not a must-roster player at the moment.
Nick Chubb: Over the past two seasons, Nick Chubb has averaged 29.6% more PPG when Cleveland assumes the underdog role than when they are favored, and that's the case here. Gone is value-sapping Kareem Hunt from the mix, leaving the door wide open for this to be a big Chubb day in all formats.
Jerome Ford: Ford is a handcuff that should be rostered, though he doesn't project for enough weekly work to matter absent an injury.
Wide Receivers
Ja'Marr Chase, Tee Higgins, and Tyler Boyd: This trio has been in place for each of the past two seasons, and only once over that stretch has one of them cleared 13.3 half-PPR points when facing the Browns (Chase, Week 14 of 2022). That's not to say I'm advising you to bench Chase or Higgins; I'm not a crazy person.
I'm just presenting data that is influencing how I build my DFS lineups this week. Boyd will have his moments, but there's no reason to get cute in a week in which you have your entire roster at your disposal. Chase and Higgins are top-15 plays, while Boyd is well outside of my top 40.
Amari Cooper: You drafted Cooper as a top-20 receiver, and he is as much this week — no surprise there. We all want to see if Watson can return to his Texans form, and if he can, Cooper was nothing short of a steal this summer.
Elijah Moore: Last season, the Bengals allowed the fourth-most yards per slot pass. Combine that with the potential that Cincy enters every game with shootout potential (league-high 17 touchdowns from their own side of the field since drafting Chase), and there's upside to attack.
Moore's floor is the highest of the secondary pass catchers in this offense, making him the preferred Flex option for deeper leagues, but one that I don't think carries much of a ceiling (WR40 for me).
Donovan Peoples-Jones: The Bengals beat down the Browns in Week 14 last season (CIN won by 13, and CLE didn't lead for a second), and that resulted in a pass-heavy script (43 pass attempts against 18 RB rush attempts).
If you believe that is going to be the case here, a secondary Browns receiver is likely to provide Flex value. If you play in a deeper league or one with bigger starting lineups, Moore and Peoples-Jones are reasonable roles of the dice, with DPJ being the boom/bust option that maybe you opt for in DFS situations.
Tight Ends
Irv Smith Jr.: We all want to catch lightning in a bottle at the tight end position, and, hey, maybe Smith is that if he can stay healthy. I don't hate it if that is your take, but we certainly need to see it before considering him a fantasy starter. We know this offense is elite and that Smith is talented, so put a star by his name and keep tabs if you plan on streaming the position this season.
David Njoku: Njoku saw a 23.1% target share in that Week 14 game in Cincinnati, and while that is a bit higher than I'm willing to project, he averaged nearly six looks per game from Watson last season, and that makes him a fine play most weeks. This week is no different.
He ranks as a fringe TE1, though it is important to note that he is at the end of a tier for me, and that tier is the "I'm comfortable starting him every week for the time being" tier. Yes, I need to work on the name of it. Yes, I'm reasonably comfortable playing Njoku despite a seemingly uninspiring ranking.
Jacksonville Jaguars at Indianapolis Colts
Spread: Jaguars -4.5
Total: 45
Jaguars Team Implied Points: 24.75
Colts Team Implied Points: 20.25
Quarterbacks
Trevor Lawrence: The year of Lawrence begins with a road trip to a divisional opponent on whom he has dropped at least 18.5 fantasy points in back-to-back-to-back meetings. In those games, he completed 81% of his passes and was not intercepted a single time.
Also in those games, he managed just 104 passing yards (with zero touchdowns) on balls thrown at least 15 yards downfield. Enter Calvin Ridley. You drafted Lawrence as your starter, and you should be confident in rolling him out there in all formats, including DFS, where he is not priced as a top-five option on the main slate. The disrespect!
Anthony Richardson: Richardson's athletic profile was enough to make him the fourth overall pick in April, and dual-threat QBs have had a way of producing fantasy numbers in their debut. DeShone Kizer, Deshaun Watson, Lamar Jackson, Daniel Jones, Kyler Murray, Jalen Hurts, and Trey Lance all came into the league labeled as a difference maker on the ground, and guess what?
Five of those seven scored north of 17.5 fantasy points in their debut (that would have been the QB11 last season), and as a collective, that set averaged 20.3 fantasy PPG in their debut.
That's not to say Richardson is a locked-in starter — he's not. He's QB15 for me. But the Jags did rank 24th in red-zone defense and 27th in sack rate a season ago. Richardson's unique skill set could help offset any sort of learning curve and makes him a consideration from the jump, though the risk needs to be weighed.
Running Backs
Travis Etienne: You drafted Etienne as a weekly starter, and a matchup against the worst red-zone defense in the league from a year ago isn't going to change your feeling toward the second-year back. In that vein, it is worth noting that during the final week of the preseason, Bigsby lost a fumble inside the five, and Etienne cashed in such a carry the very next possession.
Tank Bigsby: While there isn't a fantasy decision to really be made here, you'll want to track Etienne's usage both in scoring situations and the passing game. Ideally, he is featured in both, but the rookie is a legit threat to take usage off of his plate, and that could complicate this backfield as the season wears on.
Deon Jackson and Evan Hull: The Jags allowed the 10th most rushing yards per game last season (125.1), and we know that an elite athlete under center opened up running lanes on a consistent basis for RBs last season:
Jalen Hurts: 2nd in QB rush yards per game

Philadelphia Eagles: 7th in RB yards/carry

Josh Allen: 3rd in QB rush yards per game

Buffalo Bills: 2nd in RB yards/carry

Marcus Mariota: 5th in QB rush yards per game

Atlanta Falcons: 3rd in RB yards/carry

Geno Smith: 6th in QB rush yards per game

Seattle Seahawks: 6th in RB yards/carry
Jackson scored in two of four games last season when reaching 10+ carries and averaged 76 yards from scrimmage in those contests. The upside is limited, and the role is largely unknown, but make sure he is rostered — earning the featured role on this offense will have value at some point as the season progresses. I'm not playing any Colts RBs this weekend.
Wide Receivers
Calvin Ridley: The preseason hype for Ridley was real, and I'm as excited as anyone about him returning to the field. You drafted him as a starter, and you should be rolling him out there as such, but he will be one of the players I am most interested in watching this week.
In fact, this WR room as a whole has my attention. Who plays in two-WR sets? Is the slot role 100% Kirk's? Does Lawrence show a willingness to play to Ridley's strengths?
Chris Kirk: The linebackers for the Colts last season had the second-lowest missed tackle rate, so this isn't an ideal spot for Kirk, who, in theory, will rely more on YAC this season than last.
Ridley is a starter for me this week, while Kirk is more of a Flex option … but I am (and you should be) willing to learn and adjust as we get game tape on this trio of talented receivers. Kirk is a middling WR3 or a decent Flex play as we figure things out in Jacksonville.
Zay Jones: Jones' role is at serious risk with Ridley in the mix, but it is worth noting that he was on the field alongside Ridley in two-receiver sets this summer. Take that for what it's worth. At the moment, Jones is more of a bye-week filler than anything in my eyes.
Michael Pittman Jr.: The Pittman discourse this offseason was interesting. On one hand, he's a 25-year-old receiver with elite size that has shown the ability to earn targets at a high level. On the other hand, he will be the clear focal point of defenses on an offense led by a rookie quarterback who we expect to be inconsistent in a run-centric offense.
Pittman is a receiver we will learn a lot about in September, but I'm willing to flex him in this spot against a Jaguars defense that allowed deep touchdown passes at the fifth-highest rate last season.
To be a starting half-PPR receiver, you're targeting (roughly) 11 fantasy points — 14 of the 19 pass catchers (73.7%) who hit that number over the past decade in Week 1 with a rookie quarterback stood over 6'0″ tall. Pittman is 6'4".
Alec Pierce: Could the Colts surprise in Richardson's debut? I think it's at least possible, especially with the Jags struggling to get off of the field last season (fourth-worst third-down defense).
Pierce was a dropped Richardson bomb in Week 1 of the preseason away from being a more popular sleeper name, though it is worth noting that Richardson let it fly in his direction. I'm not saying Pierce (14.5 yards per catch as a rookie) is sniffing lineups this week, but it wouldn't shock me if he is on the Week 2 list of popular waiver adds.
Tight Ends
Jelani Woods: The one-time high school quarterback has the size and potential to be a "binky" to a rookie quarterback, but that's a wait-and-see approach. I do think someone next to Pittman has a chance to at least offer some weekly upside, and Woods is on that list, but he's not someone you have to worry about just yet.
Evan Engram: One of the things I will be paying the most attention to during Week 1 is the target distribution in this game (for both teams). Engram's volume of looks last season was spotty enough to raise concern (five games with at least eight targets but also five games with three or fewer targets), and a 5.5% drop rate over the past four seasons isn't ideal.
That said, this is an explosive offense, and his career-high 74.5% catch rate last season in Year 1 with Lawrence points to a reasonable connection. I'm starting him in annual leagues, but I will be looking elsewhere in a DFS setting.
Tampa Bay Buccaneers at Minnesota Vikings
Spread: Vikings -6
Total: 45.5
Buccaneers Team Implied Points: 19.75
Vikings Team Implied Points: 25.75
Quarterbacks
Baker Mayfield: I can't get close to committing to Mayfield in anything but a two-QB setup, but I do think the hate for this offense has gone a bit too far. Chris Godwin and Mike Evans are great players and combine to see roughly 40% of targets — that alone gives this passing game some potential.
Rachaad White may not be an overwhelming talent, but we have concrete proof that he is proficient as a pass catcher. The Vikings allowed the second most passing yards per game a season ago (265.6) and are a decent runway for a QB who averages more points per completion in his debut start with a team than he does in all other games.
Mayfield doesn't matter in standard redraft formats. The position is too deep, even for someone like me who believes the public is being too harsh on this offense. That said, he is a viable QB2 and makes for an interesting triple stack/bring-back option in massive DFS contests.
Kirk Cousins: Cousins is on the very short list of quarterbacks that I'd ever project for fewer than 10 rushing yards in a week and still give a top-15 ranking to, but here he is. In the Justin Jefferson era, Cousins has averaged 20.9 fantasy points when favored by more than a field goal at home, and that's the spot he finds himself in to open 2023.
The Bucs ranked third in defensive rush success rate last season, providing the Vikings with an excuse (not that they need it) to air it out. Cousins has cleared 19 fantasy points in three straight season openers, and he has a good chance to make it four in a row on Sunday afternoon.
Cousins is part of a QB cluster in my rankings from QB8-16, all of whom I have finishing within two points of one another and all of whom I am fine with playing this week.
Running Backs
Rachaad White: Sean Tucker impressed during the preseason, and he could be a long-term threat to the security of the lead role for White, but that seems unlikely to happen on Sunday.
With Leonard Fournette out of the mix, word around Bucs camp is that White should see upwards of 70% of the RB touches to open the season, a role that single-handedly makes him a fantasy starter. The Vikings were the third-worst scoring defense a season ago, and the Bucs figure to want to keep Justin Jefferson and Co. on the sidelines.
White is unlikely to land a "Sportscenter Top 10" play, but that's not a category fantasy managers get points for. Whether you believe in White the player or not, his role/matchup combination in Week 1 locks him into fantasy lineups, no matter the format. He's a top-20 guy for me.
Alexander Mattison: The Bucs had a top-10 run defense last season in terms of EPA, thanks to a bend (2,052 rush yards allowed) but not break (TD on just 2.6% of attempts) unit. Is that sustainable? Not usually, and with Mattison holding the unquestioned feature role, you can start him with confidence.
Limited versatility and explosiveness worry me long-term, but as a heavy favorite against a shaky run defense, he'll be fine. I'd be surprised if he single-handedly wins you your Week 1 matchup, though I think it's just as unlikely that he sinks you. Boring but viable: an Alexander Mattison story.
Wide Receivers
Chris Godwin and Mike Evans: Not many expect the Buccaneers to be a great team this season, but even fewer expect the Vikings to have a solid defense. In Todd Bowles' first season as the head coach in Tampa, the Bucs passed 66% of the time when trailing, a major bump up from their 54.9% otherwise. With a spread flirting with a full touchdown, there's little doubt that this is going to be a pass-heavy script.
How Mayfield distributes his targets is something we will get a better feel for with time, but the Russell Gage injury should further solidify the target share of these two stars. That said, Mayfield's résumé is strong on deep throws, and Godwin has proven more than capable of getting open in a hurry.
This is a strong opening spot for an offense with plenty of questions, and I've got both Buccaneer WRs in the fantasy starter conversation (not bad, given the price you paid on draft day). They carry risk, if for no other reason than we are not sure that Mayfield can support a pair of receivers.
That said, both of these receivers should be penciled in as fine Flex plays to open the season. The Bucs play three games against the NFC North in their first five, a division that is fantasy-friendly, to say the least.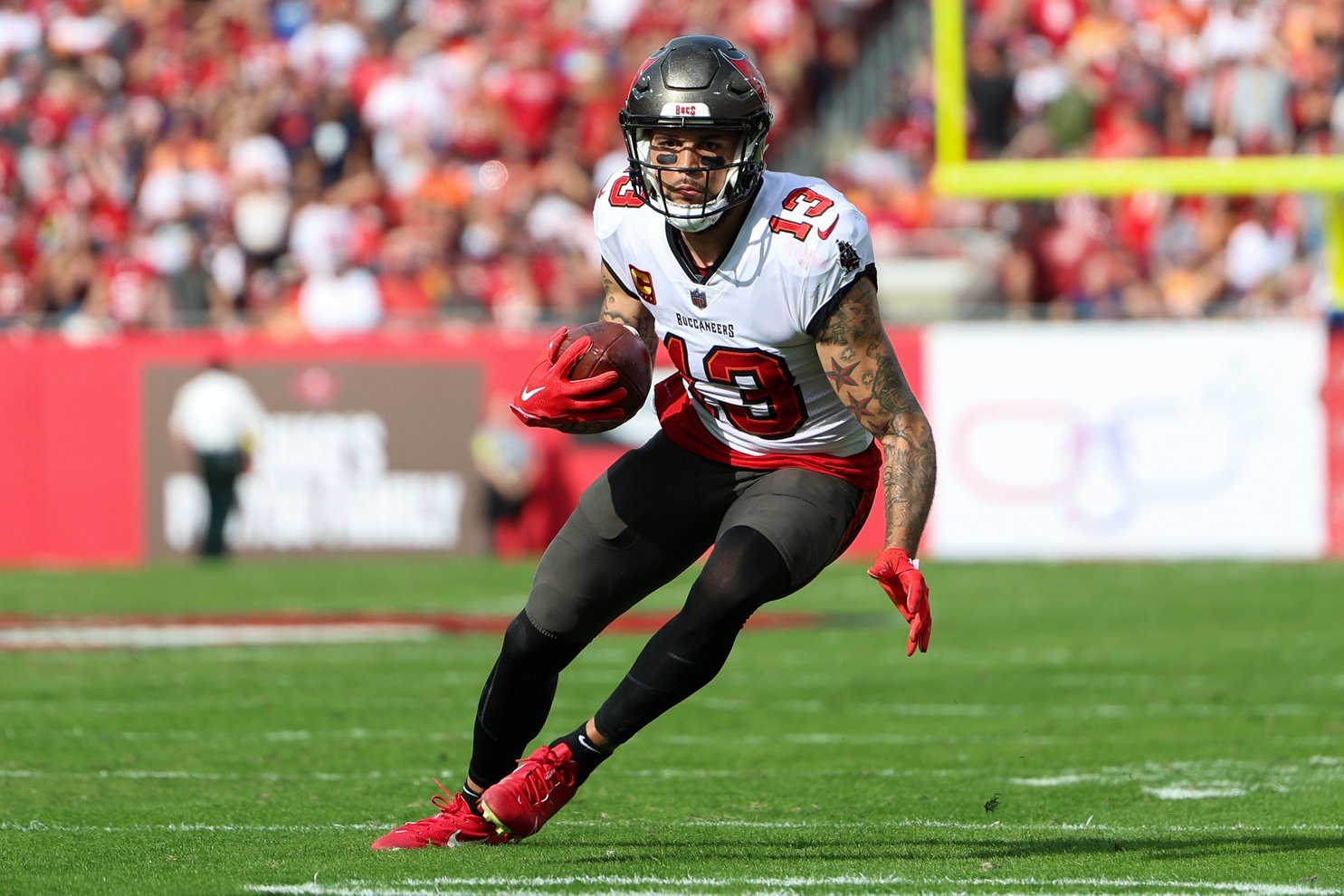 Justin Jefferson: Jefferson is averaging 13.4 targets and has scored in each of his past five full games as a favorite — not that you needed a reason to feel good about a popular 1.01 pick.
Jordan Addison and K.J. Osborn: Circle back to me in October about this WR2 situation. I think it's more likely than not that one of Addison/Osborn vaults himself into the weekly Flex conversation, but I need to see it before I assume it. I'm watching the rookie's usage, from aDOT to the ability to earn targets.
T.J. Hockenson is the second option in this passing game, but if they repeat a pass rate that ranked sixth in the NFL last season, a third option is going to be a fantasy asset as long as that option is consistently third in the target hierarchy. Addison is a low-end Flex play for me in deeper leagues, while Osborn, at the moment, is just roster depth.
Tight Ends
T.J. Hockenson: You're starting Hockenson every single week, and I maintain that if — and it's a giant if — a tight end is going to unseat Taylor Swift fanboy Travis Kelce atop the TE ranks, it's Hock.
The Bucs allowed the fourth-highest completion percentage when opponents targeted the tight end position last season (74.1%), and until we see either secondary Vikings WR earn targets at a consistent rate, Hockenson's projectable volume is to be considered nothing short of elite. Look for him to show out and earn every penny of his new contract in the season opener.
Tennessee Titans at New Orleans Saints
Spread: Saints -3
Total: 41
Titans Team Implied Points: 19
Saints Team Implied Points: 22
Quarterbacks
Ryan Tannehill: The addition of DeAndre Hopkins has led to some whispers of sleeper value surrounding the veteran QB. That's a no for me. Even if the play-calling changes a little, the volume of attempts is going to be underwhelming, and the mobility is no longer an asset you can count on (career-low 2.9 yards per carry last season).
Joe Woods has nearly two decades of defensive coordinator experience at the NFL level, and he's taking over a Saints unit that has allowed the third-lowest passer rating over the past three seasons. Tannehill will need to run incredibly hot in terms of efficiency to produce top-12 numbers in any given week, and this is not a matchup that makes that even remotely likely.
Derek Carr: This Carr situation is an interesting one in plus matchups like this. The Titans allowed a league-high 274.8 yards through the air per game a season ago, and I love the way this Saints offense fits around Carr.
The return of Michael Thomas should solidify the short passing game, and with Carr's development as a field stretcher, the Chris Olave/Rashid Shaheed tandem gives him top-12 upside.
Carr's aDOT progression:
2018-19: 6.38 yards
2020-21: 7.78
2022: 8.73
All of that said, he's got a better chance at hitting his ceiling when Alvin Kamara is his starting back. Jared Goff was great last season, but the presence of Jamaal Williams in scoring situations resulted in him finishing outside of the QB1 mix. Granted, there was some poor luck on his part, but the idea remains that there is touchdown risk here.
Without any rushing upside, downside in the scoring department, and an opponent who could seek to control the clock, Carr isn't in consideration this week, but mark my words, the man will have his fantasy moments this season!
Running Backs
Derrick Henry: The King has at least 20 touches in four straight season openers. I understand the thought process for those expecting this team to pass a little bit more after they brought in Hopkins this summer, but let's not get crazy.
The Saints were the fourth-best defense in terms of pass touchdown rate allowed and below average in preventing yards after contact. You tell me how you think Tennessee attacks them.
Jamaal Williams: The first of three games to open the season with Alvin Kamara suspended sees the Saints playing a slow team that chews up the clock and, on the defensive end, forced punts on 44.4% of possessions (second highest).
That said, in a game that is likely going to see limited possessions, I have no choice but to overvalue the player with the scoring equity, and that's clearly Williams. I have him as a fringe top-20 player at the position that comes with scoring potential but limited upside.
Kendre Miller: The rookie will be on my bench to open the season, as I prefer to see what he can do at the NFL level before committing to it, especially as he battles a hamstring injury. Is he talented?
He sure is, and with Kamara sidelined, he should flirt with double-digit touches. But that's not enough if he's not getting the high-value touches, and, at the moment, there's no reason to think he does. I currently have Miller outside of my top 35 at the position.
Wide Receivers
DeAndre Hopkins: Hopkins is a fringe play for me, and I wouldn't blame you if you wanted to go another way. I have him as a Flex option due to the target share and my projected game script, but I don't feel great about him facing a defense that was top four in completion rate, yards per attempt, and touchdown rate a season ago.
His involvement in this passing game keeps his floor high enough to be on your radar, but he's not a lock for me, as I have five receivers whose offenses' WR2 is ranked ahead of him this week.
Treylon Burks: The hype train was in full motion for Burks this summer, but a mid-August knee injury stunted all of that momentum. He returned to practice last week and should play in this game, but he's a tough sell to start.
If this was a week with a handful of byes, I could see the case, but until we see this offense open up enough to support multiple pass catchers, I'm choosing to believe that they struggle to do so.
Chris Olave: Olave was the only Saints receiver drafted by fantasy managers with a starting level of draft capital, and that is how I have it ranked for Week 1. Last season, as a rookie, he saw at least nine targets or scored in 9 of 15 games, and there's a good chance he gets there in this spot.
Rashid Shaheed: If you're looking for an upside play in season-long formats or a DFS value, Shaheed certainly checks that box against a Titans defense that allowed more deep touchdown passes than anyone last season. Tennessee also coughed up the sixth-most yards per perimeter pass, a flaw that puts Shaheed more on my DFS radar this week than most.
Michael Thomas: When this game kicks off, Thomas will have had 16 regular-season receptions over the past 1,000 days. We are all aware that he owns the single-season reception record, but none of those catches are going to help you this week. I have Thomas outside of the top 35 at the position this week and much prefer the wait-and-see approach for a player who hasn't been available of late that is playing with a new quarterback.
Tight Ends
Juwan Johnson: I like Johnson's profile over the course of 4.5 months, but as is the case with any tight end outside of the top two tiers, there are going to be down weeks.
This looks like one of those spots, given that the Titans' flaws align with the Saints receiver's strengths, and I'm just not sure how many plays are run. Both were bottom 12 in pace and top 12 in first-down rush rate a season ago.
It's dangerous to count on a touchdown in a game with a total this low, and considering Johnson and Kyle Soppe have the same number of career games with 6+ catches, I'm inclined to bet against volume getting him there.
San Francisco 49ers at Pittsburgh Steelers
Spread: 49ers -2
Total: 41.5
49ers Team Implied Points: 21.75
Steelers Team Implied Points: 19.75
Quarterbacks
Brock Purdy: Purdy is going to be an interesting bye-week filler when the time comes, but even in a reasonable matchup, he's well outside of the fantasy starter tier in standard league formats. That said, the low-aDOT, high-YAC attack (under 10 air yards on 73.3% of Purdy's passes last season) of this team gives Purdy enough of a fantasy floor to be a consistent QB2 for leagues that require as much.
Kenny Pickett: Am I on board with a Year 2 breakout? To a degree, I am. Do I think it starts in Week 1 against this defense? I do not. Pickett's next game with multiple touchdown passes will be his first, and the Niners allowed 2+ TD tosses in just three of their 13 victories a season ago.
Running Backs
Christian McCaffrey: It's been 284 days since the last time CMC played in a professional football game and did not score a touchdown. His numbers are just crazy, so I'll never pass up the opportunity to share!
Eli Mitchell: There is some hope that Mitchell offers Flex potential with time, but I'm not opening the season with him projecting for enough touches to matter. Check back in with me in a month as injuries happen and bye weeks begin to pop up.
Najee Harris: You drafted Harris as a starter, so I understand why benching him, or even considering it, is tough to wrap your mind around. But it might well be the play against the top run defense from a season ago (league-low 3.3 yards per carry allowed to the position) and a team that held onto the ball for nearly 32 minutes per game (third highest).
Harris' next run of more than 20 yards in September will be his first as a pro, and his 80 career carries during the month have yielded just 251 yards (3.1 yards per pop) and one score.
That said, the Steelers play three below-average run defenses after this (including two of the five worst in terms of RB yards per carry from 2022), so sending a trade offer to a frustrated Harris manager could be in play. Harris isn't a top-24 RB to open the season.
Jaylen Warren: I do believe that this could turn into a committee situation in short order, but this isn't the spot to get cute. Warren ranks closer to RB40 than RB30 for me this week, behind a handful of secondary backs in better matchups.
Wide Receivers
Deebo Samuel: The 49ers are my least favorite team to evaluate. I'm always going to be straight with you, and I hate doing them. They have three elite pass catchers in an offense that cannot support three on a weekly basis. That, of course, is maddening for fantasy managers and even more so for those of us who are trying to lend valuable insight.
Everything I just said is true. And yet, I have a starting rank attached to both of these receivers and Kittle. What could go wrong? Something might, but the numbers back starting both of these WRs with confidence.
For Samuel, I have my concerns long-term, but there's no denying his usage when fully healthy. Over the first month of last season, he averaged 11.6 opportunities per game, including 15 in the Week 1 loss at Chicago. He's a fine WR2 this week that carries a fair share of risk/reward to his profile.
Brandon Aiyuk: The Steelers were the fourth-worst defense at preventing YAC to receivers last season and also allowed the second-most yards per completion to the slot. In other words, every target Samuel or Aiyuk sees is going to have a high expected fantasy point total attached to it.
The overall volume of this offense is always a concern, but when the quality of the targets is this high, the risk is worth the potential reward. I have Aiyuk just inside my 30 at the position, making him a Flex option in most formats.
Diontae Johnson: The 49ers boasted the league's best scoring defense a season ago, thanks in part to their offense's ability to stay on the field (league-low 14% of drives ended after three plays).
That said, they had an opponent completion rate that was worse than the league average, pointing me to this being a Johnson week in PPR formats. With an implied team total under 20 points, I'm not expecting fireworks, but Johnson's targets are the type that San Francisco is willing to allow.
George Pickens: I'm all-in on a Pickens breakout this season, though not all breakouts begin with a proof of concept (through Halloween last season, Christian Watson had more yardage lost in drops than he did on receptions). Pickens is on the outside looking in at my top 35 at the position this week.
Allen Robinson: Robinson's usage is something to monitor more than it is to invest in at the moment. Keep him on your radar — at 30 years old, there still might be football left in him as a part of an offense that is moving in a positive direction.
Tight Ends
George Kittle: I feel reasonably good about two things here: San Francisco is going to be a road favorite, and Kittle will see more than three targets. Do you agree? In Kittle's past 10 games in such spots, he's averaging a tick over 17.8 half-PPR points per game … or, you know, 0.8 more PPG than Kelce averaged last season.
I wasn't in on Kittle this draft season at his price compared to others in the non-Kelce tier at the position, but he should provide a nice return on investment this week and has my attention in DFS to offset my lack of season-long exposure.
Pat Freiermuth: If you drafted Patty Football, I think you'll be fine in the long run, and I like it as a cheap way to get exposure to a Pickett breakout, but I wouldn't count on him for a big Week 1. There's not much you can do about it — the waiver wire isn't pretty — so you are just going to have to push through it and potentially take on some risk at your Flex spot.
Last season, the Niners were among the top 10 in limiting the tight end position in yards per catch, yards after the catch, and touchdown rate. He's a DFS no-go for me, though in redraft, you probably aren't able to pivot.
Arizona Cardinals at Washington Commanders
Spread: Commanders -7
Total: 38
Cardinals Team Implied Points: 22.5
Commanders Team Implied Points: 15.5
Quarterback
Sam Howell: Howell is an interesting player and could well have his spike weeks, but make no mistake about it — those will be the outlier and not the norm. Washington has some talented pieces around him and should win this game; it's just unlikely to come in a scoreboard-lighting-up sort of way.
Howell's value to fantasy managers is his ability to make the other pieces on this offense consistently useful. Although, if the rushing we saw this preseason carries over to the regular season, he stands to move up my weekly ranks.
Running Backs
James Conner: We drafted Conner as a fringe fantasy starter this summer, and that's exactly what he is here. The Cardinals are projected to score 17-ish points, and that is just downright terrifying to bet into with any fantasy asset.
The ask gets even tougher when you consider that the Commanders missed the fewest tackles in football last season, and they allowed them to post the third-highest three-and-out rate (38.1% of drives). I maintain that Conner was a good deal on draft day; maybe the manager in your league starts him, gets disappointed, and you swoop in!
Antonio Gibson: This backfield is going to be nothing short of maddening until we get some usage to react to, but Week 1 is a spot where there might be no wrong answer. The Cardinals defense ranked dead last in completion percentage and yards per attempt to the running back position, a flaw that is ideal for those rostering Gibson.
He's right on the borderline of RB2 and Flex play for me this week. I'm leaning toward playing him in some capacity where I have him.
Brian Robinson: But wait, there's more! They ranked 28th in yards per carry before contact, and Washington happened to rank fourth in rush rate when not trailing last season.
I'm not betting on Arizona playing with a lead much at all this season, giving Flex appeal to both of these backs, with Gibson profiling as the slightly safer play due to his versatility. Robinson is firmly on my Flex radar, as I think his carry count elevates his floor to a point where he is a useful last man in your lineup.
Wide Receivers
Marquise Brown and Rondale Moore: Can these guys provide value? Eventually, sure. But at the moment, we have no reason to think that this offense is going move the ball consistently … against anyone. This Washington defense didn't post great numbers last season, but they were able to limit the bad offenses:
Week 6 at Chicago: 7 points allowed
Week 8 at Indianapolis: 16
Week 11 at Houston: 10
Week 12 vs. Atlanta: 13
None of those offenses were any good last season, and you could argue that they all had more talent than the 2023 Cardinals. You can chase the "Hollywood is the clear go-to option on a team we expect to be playing from behind all day" narrative if you'd like, but it's not for me. Hollywood is well outside of my top 30 at the position this week, and Moore profiles as a PPR-floor guy that you only plug in when forced.
Terry McLaurin: No one is exactly sure how this Washington passing attack will look under Howell, but we can agree that this is a nice spot for him to open the season. The Cardinals allowed the second-most points per drive last season and the fourth-highest red-zone completion percentage — two flaws that solidify my confidence in starting McLaurin without much thought.
Jahan Dotson: Dotson is the interesting option here and profiles as a boom/bust Flex option. As a rookie, he proved to be a tough cover near the end zone, as he turned seven red-zone targets into five scores. That's the good. The bad … Arizona wasn't routinely beaten downfield (league-low 30 deep completions allowed and the second-lowest opponent passer rating on those throws).
Dotson was a random number generator when held without a 30-yard catch last season — three games with over 15 points and the other five instances saw him fail to clear six points.
I'll chase the upside if my matchup dictates I do so this week, but I'm leaning toward any running back that can reach 15 touches this week over Dotson as my Flex option in most cases. He's just outside my top 30 at the position this week.
Curtis Samuel: Samuel is a player to keep on benches and/or waiver wires until proven otherwise. He owns a unique skill set, and if that gels with Howell, he could be an interesting option with time, but there's far more risk than reward with him at the moment.
Tight Ends
Zach Ertz: Extend the veteran's numbers last season for a full year, and we are looking at nearly 80 catches and seven scores. That is valuable at a brutal tight end position, but Trey McBride figures to see more run this year than last, and the ugly quarterback situation is a problem.
He's a player I'll be tracking this weekend, but tracking with zero shares of. If he is consistently running routes and looking healthy in doing so, I reserve the right to adjust my feelings about him, but at the moment, he's not worth rostering.
Houston Texans at Baltimore Ravens
Spread: Ravens -10
Total: 43.5
Texans Team Implied Points: 16.75
Ravens Team Implied Points: 26.75
Quarterbacks
C.J. Stroud: After a rough first five weeks last season, the Ravens coughed up more than 13.5 fantasy points to a quarterback just twice the rest of the way. Over that stretch, only 2.9% of passes against them resulted in scores (second lowest in the league).
Stroud isn't sniffing starting lineups until he proves worthy, and this isn't a great spot for him to introduce himself to the fantasy community. Good luck, kid.
Lamar Jackson: "Mr. September"? To my knowledge, the nickname has yet to be floated out there, but after this game, you can expect an official push from me. Since Jackson took over the reins in Baltimore on a full-time basis, here are September numbers to try on for size:
Jackson: 26.2 ppg, over 17.5 points 92.3% of the time
Patrick Mahomes: 26.3 ppg, over 17.5 points 84.6% of the time
Josh Allen: 24.5 ppg, over 17.5 points 69.2% of the time
Jackson is the only one of this trio on the Week 1 main DFS slate, and you could easily justify paying up!
Running Backs
Dameon Pierce: I have zero shares of Pierce by design, and even if I had him on a roster, I can't imagine rolling him out there with much confidence this week against the third-best run defense from a season ago.
In their 10 wins last season, the Ravens allowed just 71.4 rush yards (3.8 yards per carry) to running backs, with the position being held scoreless on the ground in the majority of those games.
If you remove a pair of teams with high-end fantasy running backs from that sample (Patriots and Browns), the backfield numbers dip to 63.1 rush yards (3.5 yards per carry) with just two scores on the ground across the eight games.
I'm not sure a feature back would crack my top 20 in this spot, let alone one that I expect to share work in a meaningful way. Pierce is barely inside my top 30 at the position this weekend.
Devin Singletary: His track record of efficiency has come as a member of potent offenses. Yeah, that's not the case here. Without a clear path to significant work, Singletary is more of a pain to Pierce managers than an asset by himself. I think he deserves to be held onto — for now — but he doesn't crack my top 45 running backs for Week 1.
JK Dobbins: Dobbins was ruled healthy in mid-August, and say what you will about his long-term prospects to make it through an entire season; we know the man can play. He's racked up 1,325 yards and 11 TDs on his 226 career carries (5.9 YPC), something that doesn't happen by accident.
That said, he has one game with more than 15 carries. That wouldn't be a major problem in a Todd Monken-led offense that is going to air the ball out if Dobbins had flashed versatility … he hasn't (25 catches in 23 career games).
The 2022 Texans allowed a league-high 170.2 rush yards per game last season, the most in a single season since the 0-16 Lions of 2018. Woof. They also gave up a league-high 12 touchdown runs of 10+ yards.
His upside lands on an offense that I expect to score lands him a spot inside my top 30, but the unknown of how exactly he is used keeps him as a Flex option this week and nothing more.
Gus Edwards: I remain skeptical of Dobbins' long-term value, and that makes Edwards a worthwhile stash. Remember that we are playing the long game in fantasy — it's not always an instant gratification business. Edwards will hold value at some point over the next four months … just not in Week 1.
Wide Receivers
Nico Collins, Robert Woods, Tank Dell, and John Metchie III: The list of names here speaks to the inability to count on any one of them for consistent looks. None of them are on my Week 1 radar, in part because I want to see what Stroud looks like under center before betting on it and in part because the Ravens allowed the fifth fewer points per play a season ago.
Despite what projects as a positive game script for this passing game, don't get cute and try to guess who is going to lead this team in targets. Even if you guess right, the value of those targets might not make your good call worth much in our fantasy world.
Zay Flowers, Odell Beckham, and Rashod Bateman: This might be THE situation for fantasy managers to watch in Week 1, as the WR1 role in a Todd Monken offense is almost certain to return startable fantasy numbers. Having said that, a creative offensive mind like Monken could shift that WR1 role around on a week-to-week basis, making our lives difficult.
Personally, I favor Flowers in this competition and feel good about it, but until we have proof of that, it's best to view all these WRs through a similar lens: fringe Flex options as a big favorite, but ones that carry a low floor. None of them crack my top 30 at the position, as I prefer stability to open my fantasy season.
Tight Ends
Dalton Schultz: You could cite game script as a reason to play him, I guess, but I'm not celebrating the first Sunday of the NFL season with a Texan in my lineup if I can help it.
If you drafted him as your only tight end, you don't have much of a choice, but consider me skeptical about anyone in an offense led by a rookie QB with a sub-20-point team implied total. Schultz failed to score more than 6.5 fantasy points in seven of his 11 games in which he ran 20+ routes last season in a much more fantasy-friendly situation.
Mark Andrews: I had fun with Andrew Erickson this offseason in a T.J. Hockenson/Andrews draft-day value debate, but make no mistake about it: both are awesome and clear lineup staples. Andrews has run 30 routes with Jackson under center 15 times over the past three seasons: 8.8 targets and 14.0 fantasy points per game.
Green Bay Packers at Chicago Bears
Spread: Bears -1
Total: 43
Packers Team Implied Points: 21
Bears Team Implied Points: 22
Quarterbacks
Jordan Love: The Bears defense was bottom five in completion percentage, yards per attempt, and yards per completion last season. That's all nice, but until I see (regular season) proof of Love being worth consideration in anything but Superflex formats, I'm assuming he doesn't matter.
There is some talent around him, and the Packers have a track record of being good at this quarterback evaluation thing, so I'm not crossing him off completely. It would just shock me if their game plan was QB-friendly enough to put the newbie anywhere near the standard league radar.
Justin Fields: A highlight 55-yard touchdown run is likely what you remember of Fields facing the Packers last season, and while that did happen, so did zero TDs and three interceptions on his 36 pass attempts.
Of course, adding DJ Moore to the mix this offseason should help fix that, and the fantasy floor created by his ability to rack up at least 60 rush yards in nine of his past 10 games makes him a weekly lock.
I'm projecting a low possession count in this game, and that has me steering away from Fields in DFS, but it's highly unlikely you have a better option in redraft (and if you do, I have questions about your draft).
Running Backs
Aaron Jones: We don't know exactly what this Love-led offense will look like, but projecting a focus on the ground game is logical. This is expected to be a close game, and that inherently means plenty of work on the ground for an offense with an unproven signal-caller.
Keep an eye on the first-down usage: Jones' role as the pass-catching option seems safe (RBs with multiple catches in all 17 games last season: McCaffrey, Ekeler, and Jones), but savvy managers will track who is getting the early-down work as they try to evaluate the hierarchy of this backfield long-term.
AJ Dillon: The Bears allowed the third-most runs of 10+ yards last season, giving every carry enough upside to make both backs viable.
In deeper leagues, you might be able to justify sliding Dillon into your Flex spot, but with most backfields functioning at full strength, Dillon falls outside of my top 30 for the week due to uncertainty within this offense and both offenses seemingly wanting to shorten the game.
Khalil Herbert: I've been outspoken about the big-play profile of Herbert this offseason, and I think he's a Flex option right out of the gate. For his career, Herbert has gained at least 10 yards on 13.4% of carries, a nice trend to take into a game against a Packers defense that allowed 65 such runs a year ago (sixth most).
Roshon Johnson: I do think what we saw this preseason with Johnson proving the more trusted option in pass protection and as a receiver holds weight — just not enough to give him value in Week 1 when you have access to your entire roster.
Regardless of how much or how little the rookie is used in this spot, he's worth a stash. He is a talented kid, and this offense is going to have success moving the ball on the ground.
D'Onta Foreman: He's buried for me this week and will be most weeks until he gives me a reason to change. I'm just not sure what he offers that the other two backs don't. Will he get some run? Sure, but he's the fourth-most likely player on his own team to break a big run, and that just isn't doing it for me.
Wide Receivers
Christian Watson: Watson lit up the Bears for 94 yards and two touchdowns on four touches in Week 13: the Watson-iest line a Watson ever did see. You guys were far higher on him during the draft process this summer than I was, but I do think he leads this team in targets, and this is a fine spot.
I have him as a fringe WR2 this week, putting him 8-10 spots higher in the positional ranks for Week 1 than I have him for the season as a whole. Chicago allowed a league-high 9.5 yards per WR target last season, the fourth-highest single-season rate over the past decade … the reward outweighs the risk this week.
Romeo Doubs: I'm a little uneasy about considering Watson an alpha option that will consistently be ranked as a starter for me, but in this spot, I'm OK with it. My skepticism on Watson long-term is expressed by some optimism in Doubs, but he's a pretty clear wait-and-see option at this point.
Jayden Reed: That same theory applies to Reed, a rookie who showed some promise during the summer. The fact of the matter is that we just don't know where Love is comfortable throwing the ball. As that comes into focus, we will have a better feel for just how valuable these Packers receivers will be on a run-centric offense.
DJ Moore: Heavily involved receivers had no problems with the Packers last season, as Justin Jefferson, CeeDee Lamb, Stefon Diggs, and both Dolphins receivers torched this secondary for over 100 yards. You have the green light to expect top-30 production right out of the gate from Moore, making him a starter in most formats.
Darnell Mooney: Mooney is the type of DFS dart throw that is worth a look. Sure, the floor is low, but he ranks 14th of 51 qualifiers in aDOT since making his NFL debut, and Green Bay was historically bad against the deep pass last season (16.9 yards per attempt — no other defense allowed more than 14.5).
The position is far too deep to consider Mooney in annual leagues, but for single-week contests, he's a fine punt play.
Tight Ends
Cole Kmet: Mooney didn't play, and Moore was still in Carolina, but Kmet did haul in 6 of 7 targets for 72 yards against these Packers back in December.
Volume is going to be a concern, and penning an optimistic preview for three Bear pass catchers feels aggressive, but I have no issue in considering him a viable starting tight end this week. I'm not sure how much upside he has in this spot, but anything approaching double figures would be enough, and that is well within his likely range of outcomes.
Luke Musgrave: The Packers made him their highest tight end picked in 23 years when they selected him with the 42nd overall pick in April, and all reports out of Lambeau have been optimistic about his trajectory.
That's nice for the team as a whole, but we are a ways away from him holding any weekly fantasy value. Since 2014, one tight end who was not selected in Round 1 of the NFL Draft cleared 6.5 fantasy points in Week 1 of his rookie year.
It wasn't George Kittle (6.5) or Mark Andrews (5.3). It was Will Dissly. Because of course it was. The point is that rookie tight ends struggle in general, and the further you go down the draft board, the weirder it gets.
Las Vegas Raiders at Denver Broncos
Spread: Broncos -3.5
Total: 44
Raiders Team Implied Points: 20.25
Broncos Team Implied Points: 23.75
Quarterbacks
Jimmy Garoppolo: For fantasy purposes, Garoppolo is Ryan Tannehill with a better jawline. He has a game-breaking receiver with a few interesting pieces around him, but he offers little with his legs, and this offense is likely to be geared toward Josh Jacobs coming off of a 2,000-yard season.
I'm more confident that Garoppolo will have the occasional spike week than a guy like Tannehill; I just don't think it happens in his first game with a new team against a defense that was easily a top-10 unit last season in both third-down and red-zone situations.
Russell Wilson: Wilson isn't the threat he once was on the ground, and I need to see proof of life when it comes to his passing production. A bounce-back season could well be in store with Sean Payton calling the shots and a talented core around him, but I'm willing to be a week late rather than a week early.
Wilson doesn't need to be rostered at the moment in one-QB leagues, and he's nothing more than an average QB2 in the more exotic formats.
Running Backs
Josh Jacobs: Did the holdout last longer than we wanted? It did, but we aren't a petty group. At least, we shouldn't be. Jacobs is coming off of a career year that featured 2,053 yards from scrimmage and 12 scores. He is in your lineup each and every week. Don't get cute.
Javonte Williams: Williams is back from the torn ACL far sooner than we expected, and that's great news. But I'm not ready to call him the feature back. Heck, I don't think it's a lock he even leads this backfield in touches this week.
That said, Williams is a Flex for me this week. Because … well … Raiders. Vegas allowed a touchdown on over 25% of drives last season (fourth highest) and is the worst goal-to-go defense since the beginning of 2021. And it ain't close. Over that stretch, opponents have found the end zone in 44 of 48 goal-to-go drives against the Raiders (91.7%). Let me say that differently.
Steph Curry (you know, the greatest NBA shooter of all time) was more likely to miss a free throw this past season than the Raiders were to hold an opponent out of the end zone in goal-to-go situations over the past two seasons.
Going through the ranking process, I like playing running backs against the Raiders more than I fear this committee. I don't think either Williams or Perine gets much more than 15 touches, but the scoring equity is high enough that
Samaje Perine: While I think the role is similar to that of Williams, I have less confidence that he can break the big play. I wanted to rank him inside my top 35 at the position because I truly do believe this is a near split in terms of touches early on, but I couldn't get there. I'm sitting Perine in anything but the deepest of leagues, opting to see his role in this Payton offense before betting on it.
Wide Receivers
Courtland Sutton: Just ask Payton, and he'll tell you that things are going to look different in Denver this season than last. Great. They better. This offense ranked dead last in scoring, red-zone trips, and third-down conversion rate a season ago … yikes.
The August hamstring injury to Jerry Jeudy is a problem. Not just for the general trajectory of this offense but for this specific matchup. Last season, the Raiders allowed the third-most yards per slot pass attempt last season.
Jeudy's percentage of production to come from the slot in 2022:
Routes: 53.5%
Targets: 58.0%
Fantasy Points: 56.8%
Sutton's percentage of production to come from the slot in 2022:
Routes: 12.0%
Targets: 12.8%
Fantasy Points: 16.7%
That slot role is likely to be valuable on Sunday, and while I think the more experienced Sutton is likely to assume those routes, it's not a certainty. Understanding that, even in a down year and with a perimeter-heavy role, Sutton reached double figures in terms of fantasy points in both games against the Raiders last season and has a clear path to doing it again in this spot.
Marvin Mims Jr.: Mims is a big play waiting to happen (19.5 yards per catch in his three seasons at Oklahoma). He's not yet in the Flex consideration, but he could get there if the Russell Wilson rebound season is real. He needs to be on rosters but not in lineups, as he is well outside of my top 40 at the position.
Davante Adams: Adams had himself a great first season in Vegas thanks in large part to his deconstruction of divisional opponents. During the fantasy season (Weeks 1-17), he averaged 27.7 half-PPR PPG in five divisional games, scoring multiple times in three of those games and going over 100 yards in all five.
Jakobi Meyers and Hunter Renfrow: Production outside of Vegas' alpha, however, could be tough at the WR position given that the Broncos allowed a league-low 6.5 yards per receiver target in 2022. I love the potential of the slot role in this offense, but I'll wait at least one week before putting it into action. Neither Meyers nor Renfrow is a top-40 receiver for me this week.
Tight Ends
Greg Dulcich: He has come a long way since walking onto UCLA back in 2018, and the tools are in place for him to work his way into the weekly conversation, but this offense has plenty to fix, and the fantasy value of their tight end likely isn't high on the list. The volume he received late last season has my attention, but it doesn't have a spot in my starting lineup … yet.
Austin Hooper: Let's not overthink this. Hooper has seen his touchdown count drop in all three seasons since leaving Atlanta, and playing alongside Adams isn't a great spot to be if reversing that trend is the goal. If he develops a connection with Garoppolo, we can reevaluate, but not before then.
Philadelphia Eagles at New England Patriots
Spread: Eagles -4
Total: 45
Eagles Team Implied Points: 24.5
Patriots Team Implied Points: 20.5
Quarterbacks
Jalen Hurts: Hurts was not held under 16 fantasy points in a single start during last season, and I have a hard time thinking that 2022's 22nd-ranked red-zone defense puts an end to that streak.
The Patriots playing slow and ranking in the top-10 in terms of fewest offensive touchdowns allowed a season ago are notes worth considering if you're deciding on expensive quarterbacks in DFS, but clicking Hurts into your redraft starting lineup is never going to require much mental energy.
Mac Jones: There were 32 quarterbacks who had multiple games with over 17.5 fantasy points last season, and Jones was not one of them. The Eagles owned the league's highest sack rate last season despite ranking 18th in blitz rate. So there you go … just in case you need a reason to pass on Jones in every fantasy format known to man.
Running Backs
D'Andre Swift: With the Eagles implied for 25-ish points in this spot, the odds are good that an RB holds top-20 value this weekend for the Eagles, but the fact that we aren't confident who it will be is a problem. The Patriots boasted a strong run defense last season, allowing the fifth-fewest yards per carry and matching the Steelers for the fewest ground scores allowed.
Swift's versatility makes him an easier player to work around, and that is why I have him ranked the highest of this trio. Am I comfortable with him as my Flex this week? I'm not sure "comfortable" would be the word I would use, but based on my target projection and belief in this offense as a whole, he grades out as the best of this bunch and at least worthy of consideration.
Rashaad Penny and Kenneth Gainwell: For me, this is the difference between fantasy draft season and Week 1. During the drafting process, I tend to target uncertainty in the mid-to-late rounds, embracing variance and hoping that value presents itself with time.
I stand by that draft strategy, but for Week 1, I want no part to do with chaos. This Eagles backfield is like a flower: It requires constant attention and care in order to get the most out of it. Right now, I'm playing Swift's versatility if pressed, and that's it. But that's not me committing to anything more than this week. Read and react. Every week.
Rhamondre Stevenson: The Eagles were the second-best yardage defense, and with the signing of Ezekiel Elliott last month, yardage is going to have to be Stevenson's path to fantasy success.
Well, that and his role in the passing game, but the Eagles allowed the sixth-fewest yards per RB target a season ago. Stevenson is a good bet for 15-20 touches, a role that lands him amongst my top 15 at the position, but you should have your expectations managed, given what you paid for him on draft day.
Ezekiel Elliott: Elliott won't matter until he carves out a definitive role in this offense (not something I'm betting on), but with over 40% of his fantasy points during the past two seasons coming via red-zone touches, his presence is enough to completely wipe Stevenson off of my Week 1 DFS radar.
Wide Receivers
A.J. Brown and DeVonta Smith: I can hear you. Yeah, I know I'm just typing on a keyboard, and you're reading this, but I can hear your thoughts. "Bill Belichick takes away your top option and makes you play left-handed."
I know you're thinking it. I know it! That has been a narrative for years, and while it has been true at points, it wasn't profitable to react to it last season. Justin Jefferson lit up the Pats for 27.1 half-PPR points in Week 12 last season, while Stefon Diggs coasted past 20 points in both of his meetings with New England.
Take it a step further, and Belichick couldn't slow either end of the dynamic duo — both Jaylen Waddle and Tyreek Hill reached 16 points while Tee Higgins and Ja'Marr Chase split 16 receptions right down the middle. You're not getting cute and downgrading either Eagles WR one bit, and both are viable DFS options that may not garner as much attention as they should.
JuJu Smith-Schuster: Just because a receiver is the best on his team doesn't mean he is a fantasy asset. Exhibit A: Smith-Schuster. He carries limited scoring potential by way of his role, and this offense (especially in this matchup) doesn't figure to help.
With such low touchdown equity, I'd need to be awfully content with 10+ targets, and I just can't get there in this Mac Jones-led offense. In a week where your roster is as healthy as it'll get and no bye weeks to work around, Smith-Schuster isn't worth a look in any format.
Tight Ends
Dallas Goedert: In Week 1 last season, Goedert saw just four targets and failed to score in Detroit. Since then, including the three playoff games, he's only had one game without six targets or a score. That's the type of floor I look for at the TE position, and there's plenty of upside against a defense that allowed tight ends to score on 10.2% of their targets in 2022, the second-highest rate.
Hunter Henry: Henry's greatest ability of late has been availability (consecutive seasons without a DNP), but in a week where just about everyone is available, there's no need to go this direction.
He is just one season removed from a nine-touchdown campaign and will be on the "if you're desperate" radar as the season progresses but not in a spot where New England's implied total is hovering around 20 points, and even that feels optimistic. A split tight end room (even if a banged-up Mike Gesicki is a receiver of sorts) is not something I have any interest in until proven wrong.
Miami Dolphins at Los Angeles Chargers
Spread: Chargers -3
Total: 51
Dolphins Team Implied Points: 24
Chargers Team Implied Points: 27
Quarterbacks
Tua Tagovailoa: On a per-play basis, the Dolphins were the best offense in the NFL last season during the 12 full games Tagovailoa played last season, and in a game that has had a projected total of around 50 for six weeks now — expect Miami to come out firing.
Tagovailoa ranked inside the top 10 in both yards per completion and aDOT in play-action situations a season ago — upside that I'll chase in a matchup against a run defense that was among the worst in every single metric in 2022.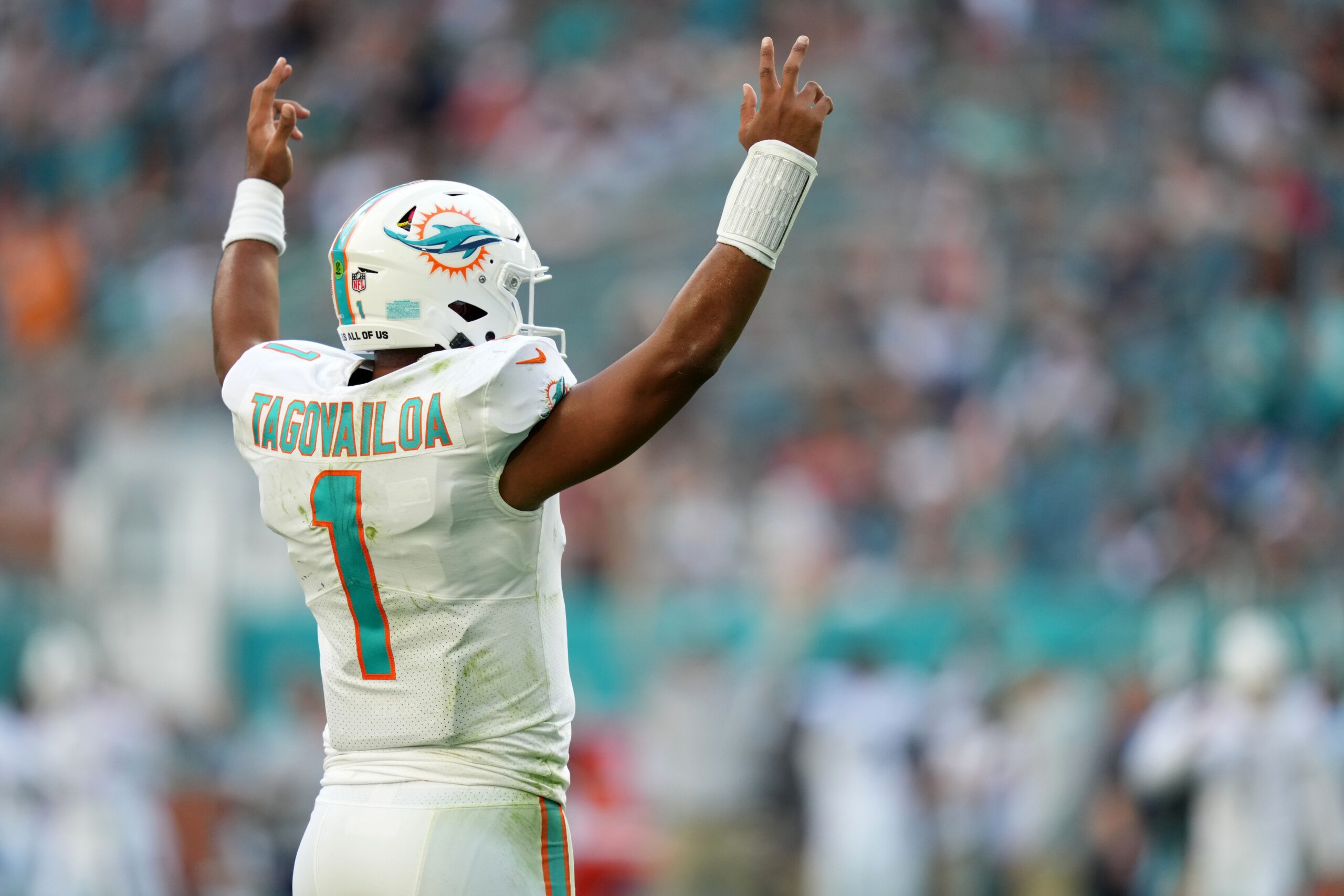 Justin Herbert: For his career, when playing in a game with an over/under of at least 49 points, Herbert averages 20.7 fantasy PPG and has thrown for either 300 yards or 3+ touchdowns in 14 of those 22 games.
If you like the Chargers to win this game, then it is worth noting that Herbert's PPG average jumps to 23.1 in games with a high total that he wins. The bounce-back season should get off to a flying start in front of the home crowd in Week 1!
Running Backs
Raheem Mostert: The Bolts allowed 5.6 yards per carry to the running back position last season — not only the highest rate in the league for the season but the single worst mark this millennium. Not great, Bob.
Mostert carries his own significant health concerns for season-long managers, but he is not only atop the Dolphins' depth chart to open the season; he's also the healthiest! Embrace this moment of clarity and plug in Mostert as a low-end RB2 in all formats … this backfield is going to get more difficult to sort through as the season progresses.
De'Von Achane: Jeff Wilson Jr. didn't play during the preseason and was placed on IR at the end of August (holding onto him if possible by way of an IR slot or deeper benches) while Achane's role on this team is unclear as he was an afterthought when the first units were on the field this summer.
The rookie is battling a shoulder injury, but his health doesn't impact my stance on him: bench and hold. The talent is there, and I expect this backfield to be the definition of "fluid" this season, giving him big-time potential on an offense that we expect to rank among the best in the sport.
Austin Ekeler: You're not benching Ekeler or ever considering it. That's simple. I am, however, here to note that he has been held under 75 scrimmage yards in each of the past two season openers. He managed just 45 yards on 15 carries against the Dolphins in December, but he hauled in all eight targets and was, as usual, a great option.
Wide Receivers
Tyreek Hill and Jaylen Waddle: If I have to sell you on either of these stars, you're doing fantasy wrong. Very wrong. That said, Waddle comes at more than a 10% discount across the DFS price board despite his aDOT with Tagovailoa last season being a tick above that of Hill. Why do I mention that? The Chargers were constantly challenged deep downfield as they owned the second-highest opponent average depth of throw.
Keenan Allen and Mike Williams: You're going to pencil in both Allen and Williams pretty much any time they are healthy, especially in a game that could be a shootout like this one. Miami also was the 10th-worst red-zone defense a season ago, so that doesn't hurt when we are talking about the seventh-pass-heaviest red-zone offense.
Quentin Johnston: For the rookie, it comes down to how much usage he assumes out of the gate. Over the past decade, 21 first-round receivers have seen five or fewer targets in their debut, and they averaged just 7.0 ppg.
He's a nice prospect with the physical tools to succeed at this level; I just want to see proof of his role before assuming that he has consistent opportunities to produce. He's well outside of my top 40 at the position for this week. I'll be a week late instead of a week early on him.
Tight Ends
Gerald Everett: I have Justin Herbert to lead the league in passing yards this season, so you can imagine where I'm leaning for this offense as a whole. And guess what? Against an explosive, quick-strike Dolphins team, that's not changing.
Everett caught at least five balls in six of eight games with 30 routes run last season, a threshold I expect him to hit against the Dolphins team that couldn't get off the field via turnovers last season (third-lowest turnover rate).
Combine that with the fact that Miami allowed the highest percentage of tight end targets to be caught (79%), and Everett is a fine Week 1 option for those who punted the position on draft day.
Los Angeles Rams at Seattle Seahawks
Spread: Seahawks -5.5
Total: 45.5
Rams Team Implied Points: 20
Seahawks Team Implied Points: 25.5
Quarterbacks
Matthew Stafford: In his first year as a defensive coordinator, Clint Hurtt dialed up a blitz on just 14.9% of dropbacks, easily the lowest rate in the league (NFL average: 25.8%). If we are to assume that a low blitz rate carries over to 2023, then it's worth noting that Stafford was top five in TD rate and yards per attempt when not blitzed back in 2021.
He was regressing in 2022 before getting hurt, but everything that touched the Rams last season regressed. That's not to say that we know he will be able to rediscover that magic, but he's as healthy as he's going to be, and Cooper Kupp is still amazing. He's not a starter in standard leagues regardless, but if Kupp suits up, you could do worse in a two-QB setup.
Geno Smith: The breakout QB of 2022 had one good game and one bad game against the Rams last season, with the strong performance coming after Kenneth Walker III exited in the first quarter (in Smith's poor outing, Walker III racked up 124 yards on 30 touches).
If you drafted Smith in a Superflex setting, he's just fine here and offers a reasonable floor, given the weapons at his disposal and spot as a big favorite. But in terms of a top-12 ceiling, I can't get there against the best red-zone defense from a season ago. The volume upside isn't elite, and regression in the efficiency department leaves Smith outside of my comfort zone for Week 1.
Running Backs
Cam Akers: Akers made damn sure that your fantasy team struggled last season before clearing 100 rush yards in three straight games to end his season … long after we gave up on him. I'm back in. And before you say it, yes, I know there are "Charlie Brown kicking a football" vibes here, with Akers being Lucy. His late-season usage of 2021 was what got most of us on board this time last season, and I'm stubborn.
The Seahawks were a bottom-seven defense last season in preventing rush yards, yards per carry, and rushing touchdown rate. Stafford hasn't played in an NFL game since Thanksgiving, so yeah, I think they look for balance, and Akers' role atop this depth chart is currently safe.
Kenneth Walker III: A groin injury cost Walker some time in August, allowing doubts to creep into minds about his role to open the season. As a rookie, KW3 averaged 17 touches per game, leading me to believe that he is the play this week against a Rams team that he tallied 124 yards against to end last regular season.
Zach Charbonnet: Due to the options in this passing game and the mobility of Geno Smith, I'm not sure this offense can consistently support a pair of top-30 running backs. For the time being, I'm considering Walker a fantasy starter and Charbonnet an insurance back with a path to become more with time. Be patient, young grasshopper. Be patient.
Wide Receivers
Note: Since this article was published, Cooper Kupp has been put onto the IR.
Cooper Kupp and Van Jefferson: The fantasy industry as a whole held its breath this summer when Kupp suffered a hamstring injury, and we aren't yet out of the woods. He missed both games against the Seahawks last season but racked up 228 yards and two scores on 16 catches in two games against them in 2021. If he plays, you play him. But prepare for him not to.
If Stafford proves to be healthy and back to form, there is a pathway for Jefferson to hold Flex value, but I'm not entering this season assuming that, even should Kupp sit.
Seattle blitzed at the lowest rate in the league last season (14.9%), and that means Kupp should have time to find holes and soak up a massive target share. If Kupp is out, this offense is going to struggle and more than likely try to limit the number of possessions — not ideal. Keep Jefferson rostered, just not active.
Another season, another good deal on Lockett! https://t.co/XUTa6fj8Pn

— Kyle Soppe (@KyleSoppePFN) August 28, 2023
DK Metcalf: Lock and load. The beast that is Metcalf has seen at least eight targets or scored in six straight games against the Rams, and I think he will make it seven straight on Sunday. I understand the regression talk around Smith, and that may prove true, but Metcalf is a top-15 receiver every single week until we are given any sort of reason to panic.
Tyler Lockett: This draft season, Lockett's ADP was much closer to that of rookie Jaxon Smith-Njigba than it was to Metcalf, with people assuming that JSN's reps will come in the slot and thus at the expense of Lockett. Might that be true with time? Sure, but not right away (especially given JSN's August wrist surgery).
Lockett (32.1% slot target share compared to a 16.5% rate otherwise last season) led this team in routes, targets, catches, yards, and touchdowns in the two games against the Rams last season. I'm going to need to see a decline before projecting it. Fire up both established Seattle stars with an implied team total that ranks among the highest of the week.
Tight Ends
Tyler Higbee: Over the past two seasons, Higbee ranks eighth in routes and fifth in receptions at the position, a level of involvement that makes has him on my TE1 radar with Kupp on the wrong side of questionable.
He has never cleared five touchdowns in a season, and with him being held under 9.5 yards per catch in consecutive seasons, sustained success is another can of worms. But for Week 1, he is not a bad streaming option at all! Last season, he totaled six catches for 47 yards in his two games against Seattle.
Noah Fant: He didn't have 50 receiving yards in a game last season until November during a peak Geno Smith season. The Seahawks have more mouths to feed this season, making the tight end position in this offense one that should be off of fantasy radars.
Dallas Cowboys at New York Giants
Spread: Cowboys -3
Total: 46
Cowboys Team Implied Points: 24.5
Giants Team Implied Points: 21.5
Quarterbacks
Dak Prescott: The sledding for Prescott on the road in divisional games has been tough of late. Real tough. Like, "Don't you dare go near him" tough. He's been held under 11.5 fantasy points in four of his past five such games, and the lone exception came in Week 18 of 2021 when your fantasy league was most likely already over.
Daniel Jones: Jones was ineffective as a passer against the Cowboys last season, completing just 41 of 72 passes (56.9%) with one touchdown. We've learned that Mr. Dimes is capable of producing fantasy numbers without much in the way of passing production, but Dallas managed to limit him to just 14 yards in their most recent meeting.
The Cowboys blitzed at a below league average rate during the second half of last season due to their ability to generate pressure up front, and if that continues, they will have a better chance to spy Jones than most. The Giants signal-caller will be a fringe option most weeks and, in my ranks, he is on the outside looking in to kick off this season.
Running Backs
Tony Pollard: If me putting air in the tires of Pollard all summer wasn't enough to get him on your roster, I'm sorry … sorry for you. Pollard's first game as the leader of this backfield comes against a Giants defense that allowed a league-high 2.4 yards per carry before contact to opposing running backs last season. Get your popcorn ready.
Saquon Barkley: You're starting Barkley, duh. But for DFS, this may not be the week. Last season, the Giants held possession of the ball for under 27.5 minutes twice:
Week 3 vs. DAL
Week 12 at DAL
It obviously only takes one play for Barkley to make paying up for him worth your while. I just thought I'd make you aware that the overall play expectation will be lower this week than most for the G-men.
Wide Receivers
CeeDee Lamb: Under Wink Martindale, the G-men were easily the blitz-heaviest team in the league last season (44.8%, 19 percentage points above the league average), and that just means a lot of Lamb.
Last season, Lamb was targeted on 38.4% of routes when Prescott was pressured — way up from his 23.6% rate otherwise. Not that you need a reason to play Lamb, but … you know … it never hurts!
Brandin Cooks: The public seems to be higher on Cooks than me, and you guys might get it right. But without proof of concept regarding his role on what projects as a run-heavy offense in a week where every team is available, I have a hard time seeing him as a Day 1 fantasy starter.
With Dalton Schultz now in Houston, I do think there's a reasonably clear path to 6-8 targets a week for Cooks, but I want to see it in a new (likely conservative) offense first.
Michael Gallup: Would the Cowboys have pursued Cooks if they were sold on Gallup as their WR2? Survey says … no. He averaged a career-low 10.9 yards per catch last season and has found paydirt just six times over the past two seasons. I'll be tracking his usage and playing time, but for the moment, he's nowhere near fantasy-viable for me.
Giants WR: Isaiah Hodgins is my highest-ranked receiver on this team for the week, but that's damning with faint praise as he is outside of my top 50 at the position. He came on strong down the stretch of last season, though his two big games were against the same porous Vikings defense (those were his only two games with 45+ receiving yards).
I'd love to offer you a smoking hot take and be 100% confident in telling you which of the 1,000 slot receivers on this roster is going to see significant looks to start the season, but that would be a lie. I have no idea, and I'm not sure the Giants are positive yet, either. Darius Slayton, however, offers a very particular set of skills and that has my attention in DFS.
He and Jalin Hyatt are positioned to see the vast majority of downfield targets in this offense, and that's not only a spot Daniel Jones is consistently improving on but a spot where the Cowboys can be had (eighth-highest TD rate on balls thrown at least 10 yards downfield).
Neither game-breaking receiver is worth the risk in annual leagues this week, but that conversation changes if you're swinging for the DFS home run.
Tight Ends
Darren Waller: The Cowboys had five games against strong fantasy TEs last season, and while they surrendered targets at a reasonable rate (one target every 4.9 routes), they gave up just 233 yards and zero touchdowns.
That said, the TE position operates much like our court of law: "You're viable until proven not." Waller's sheer role projection (and impressive preseason) is enough to make him a starter in his Giants debut, and it doesn't hurt that the Cowboys did allow the eighth-highest red-zone completion percentage last season (59.6%).
Buffalo Bills at New York Jets
Spread: Bills -2.5
Total: 46
Bills Team Implied Points: 24.25
Jets Team Implied Points: 21.75
Quarterbacks
Josh Allen: How does 26.3 half-PPR PPG in his last 12 prime-time games sound? Thought so. Not that you'd ever consider sitting Allen, but he is averaging over 280 passing yards, nearly 40 rushing yards, and a tick over three touchdowns per game in that stretch. If your matchup is coming down to Monday night, and you hold this ace in your hand. I like your chances!
Aaron Rodgers: Did you know that Rodgers has been held under 13 fantasy points in three of his past four season openers? Over the past two Week 1s, he's completed just 37 of 62 passes with three interceptions … and zero touchdowns.
That's obviously just a weirdo stat that tells a story of what happened, not what will happen, but it doesn't make me feel great about Rodgers in his Jets debut against a defense that was top eight in yards per attempt, touchdown rate, and interception rate in 2022.
Also worth noting is that the Bills deployed man-to-man coverage at the fourth-highest rate last season. Man coverage requires the receivers to win individual matchups and trust from the quarterback — a tough setup for a team debut with just one difference-making pass catcher.
Running Backs
James Cook: The Bills wasted no time getting into their offensive rhythm last season, and given their recent success, why would we expect that to change? In Week 1 last season, Josh Allen had more completions than the Bills had rushing attempts. He led the team in carries and rushing yards and scored their lone rushing touchdown.
Cook, of course, now has this backfield to himself, and the offseason ACL tear for Nyheim Hines opens up a role in the passing game, but the volume projections are going to cap his upside. The Jets were the sixth-best run defense in terms of limiting RB yards per carry before contact, making any semblance of balance from this Bills offense unlikely.
Damien Harris is a rich man's Ezekiel Elliott. I'm not too scared of him eating into Cook's touch rate, but I do fear that what we saw in the preseason wasn't a fluke. Harris himself doesn't hold value, but the scoring equity he subtracts from Cook moves the featured back out of the set-it-and-forget-it tier of RB for me.
Dalvin Cook: This backfield could well determine your matchup in the final game of the opening week, and it comes with no shortage of risk. The Bills were a top-seven defense against the run in terms of both yards and touchdowns allowed per game last season, making them a tough matchup for any backfield that has a committee expectation.
Things don't get easier when you try to factor in a new quarterback who traditionally operates at a slower pace. It's fair to say that neither Hall nor Cook is 100% healthy — just one more moving piece for the season opener.
I find it hard to believe that this team didn't target Cook this summer with the intent for him to help this run game while Hall works his way back from the ACL tear, and that's the path I'm taking in this matchup. My preseason rankings and Week 1 rankings pretty much align: Cook is a low-end RB2.
Breece Hall: Due to a lack of practice time with Rodgers, neither of these running backs should be considered a lock. I'm giving Cook the slight edge to open the season and am willing to be wrong, but I need to see a fully recovered Hall getting RB1 usage before I count on it.
Hall was eased into his feature role as a rookie, and I could see something similar playing out this year. I trust that talent, but I'm viewing 15 touches as the best-case scenario, and that has him outside of my top 25 at the position this week.
Wide Receivers
Stefon Diggs: The Jets did a great job on Diggs a season ago, holding him to 36% fewer fantasy points per target than he averaged against the rest of the NFL, but you're playing him. Don't get cute. We are still talking about the very elite in the game, not to mention the squeaky wheel narrative. He's still a top-10 receiver for me in a tough spot.
Gabe Davis: And maybe don't get cute with Davis either. The home-run hitter has reached 13 fantasy points in just 5.9% of divisional games (compared to 30% of games against non-AFC East foes).
I think a big season is in store for Davis. I just think it starts next week against the Raiders. He's outside of my top 30 this week and only on my Flex radar if I feel I am going to be chasing points.
Garrett Wilson: I felt that Wilson was being drafted at something of his ceiling this summer, but if you invested in him, there's no real reason to think he can't produce in a big way in the season opener.
Justin Jefferson, Cooper Kupp, Amon-Ra St. Brown, Tyreek Hill, Amari Cooper, JuJu Smith-Schuster, and DeVante Parker were the WR1s on their teams last season, and they all cleared 19.5 fantasy points in a game against these Bills.
Allen Lazard and Mecole Hardman Jr.: The secondary pass catchers are worth tracking (especially with Corey Davis retiring in late August) but not playing. Not yet.
Buffalo allowed the fifth-fewest yards per pass a season ago, so this isn't a spot to get cute. That said, savvy managers will be tracking routes and targets. If Rodgers can rebound to his MVP form, this offense is going to have more than one viable receiver.
Tight Ends
Dalton Kincaid: Only four times over the past nine seasons has a tight end scored even 9.0 fantasy points in their NFL debut. Combine that with the fact that the Bills had one double-digit TE performance over the first 10 weeks of last season, and it's probably best to use a wait-and-see approach on this promising Utah prospect.
MORE: Fantasy Football Trade Analyzer
Tyler Conklin: Conklin, who might have the tight end sound-iest last name in the business, was the TE3 through September last season. That's great. But the floor is way too low to consider him viable at this point.
Could Rodgers make him a reasonable bye-week filler when the time comes? Maybe. But in his debut with the team against a defense that allowed the second-fewest yards per TE target in the league? Hard pass.
Listen to the PFN Fantasy Podcast
Listen to the PFN Fantasy Podcast! Click the embedded player below to listen, or you can find the PFN Fantasy Podcast on iTunes, Spotify, and all major podcast platforms.  Be sure to subscribe and leave us a five-star review! Rather watch instead? Check out the PFN Fantasy Podcast on our Fantasy YouTube channel.