Making lineup decisions can be the most frustrating or most rewarding part of fantasy football. Here to help you make those decisions are our start 'em and sit 'em picks. Fantasy decisions will only get more difficult from here on out, so let's take a look at our early start/sit Week 4 plays.
Looking to make a trade in your fantasy league? Having trouble deciding who to start and who to sit? Check out PFN's Free Fantasy Football Trade Analyzer and Start/Sit Optimizer to help you make the right decision!
Start 'Em, Sit 'Em Picks for Week 4 of the 2023 NFL Season
Start 'Em Options
Joe Burrow, QB, Cincinnati Bengals (at TEN)
This is the week — it has to be. Joe Burrow has been the single worst pick fantasy managers could've made at the quarterback position through the first three weeks of the season. Typically going in the fourth or fifth round, Burrow is the QB30.
We can blame the calf injury all we want, but the fact remains that Burrow has not produced. This week, he has to.
We can't ask for a better spot for Burrow to snap out of his funk than against the Tennessee Titans' "pass funnel" defense. You cannot run on the Titans, but you can throw on them. They even made Cleveland Browns QB Deshaun Watson look like a competent NFL passer last week.
Burrow has to utilize his elite WR duo of Ja'Marr Chase and Tee Higgins this week. In an era where teams are throwing downfield less and less, the Titans face a downfield throw on 18.7% of pass attempts. Burrow has to take shots, and he has to connect.
If you have Burrow and are lamenting your fate, now is not the time to abandon ship. Start him this week. If he flounders again, then it's time to hit the panic button. I don't think he will.
Najee Harris, RB, Pittsburgh Steelers (at HOU)
No, I'm not here to tell you Najee Harris is suddenly a great running back. Yes, he is likely heading down the Trent Richardson path. Yes, the Steelers' offense has been boring and predictable, as evidenced by Harris getting stuffed on 41% of rushing attempts on first down this season — the worst of 33 qualified NFL RBs (according to Inside Edge). But, it's the Texans. Everyone runs on the Texans.
Through three weeks, the Texans are allowing the sixth-most fantasy points to running backs. Last week, Jacksonville Jaguars RB Travis Etienne ran for 88 yards on 19 carries against them.
MORE: PPR Rankings
Harris may still be in his split with RB Jaylen Warren, but Harris just saw 19 carries last week. The snap share doesn't seem to be impacting his rushing volume. The receiving role is completely gone, but for one week, that's okay. I like Harris to be a bit more efficient this week. He might even find the end zone.
Javonte Williams, RB, Denver Broncos (at CHI)
It has been a remarkable recovery for Javonte Williams. He suffered a devastating knee injury, yet he looks almost 100%. Unfortunately, Williams hasn't done much for fantasy managers because he hasn't found the end zone.
Of the Broncos' seven offensive touchdowns, QB Russell Wilson has thrown for six of them. Williams didn't even score the lone rushing touchdown. That will change, perhaps (and hopefully) as soon as this week.
If the Bears do have a run defense, I haven't seen it. They've allowed the second-most fantasy points to the position through three weeks. In Week 2, they somehow made Tampa Bay Buccaneers RB Rachaad White look efficient. That's hard to do.
This is the Williams breakout week. Look for him to go over 100 total yards and finally find the end zone. Get him in fantasy lineups.
Jakobi Meyers, WR, Las Vegas Raiders (at KC)
At this point, we don't even know who will be starting at quarterback for the Raiders. It could be veteran Brian Hoyer, or it could be rookie Aidan O'Connell. Either way, it will be a downgrade from the stability Jimmy Garoppolo provides as he works his way through the concussion protocol.
Regardless, Jakobi Meyers still isn't being properly respected. He's so much more talented than he gets credit for. After missing Week 2 with a concussion of his own, Meyers returned to catch seven of 12 targets for 85 yards. He's now seen 22 targets across two games.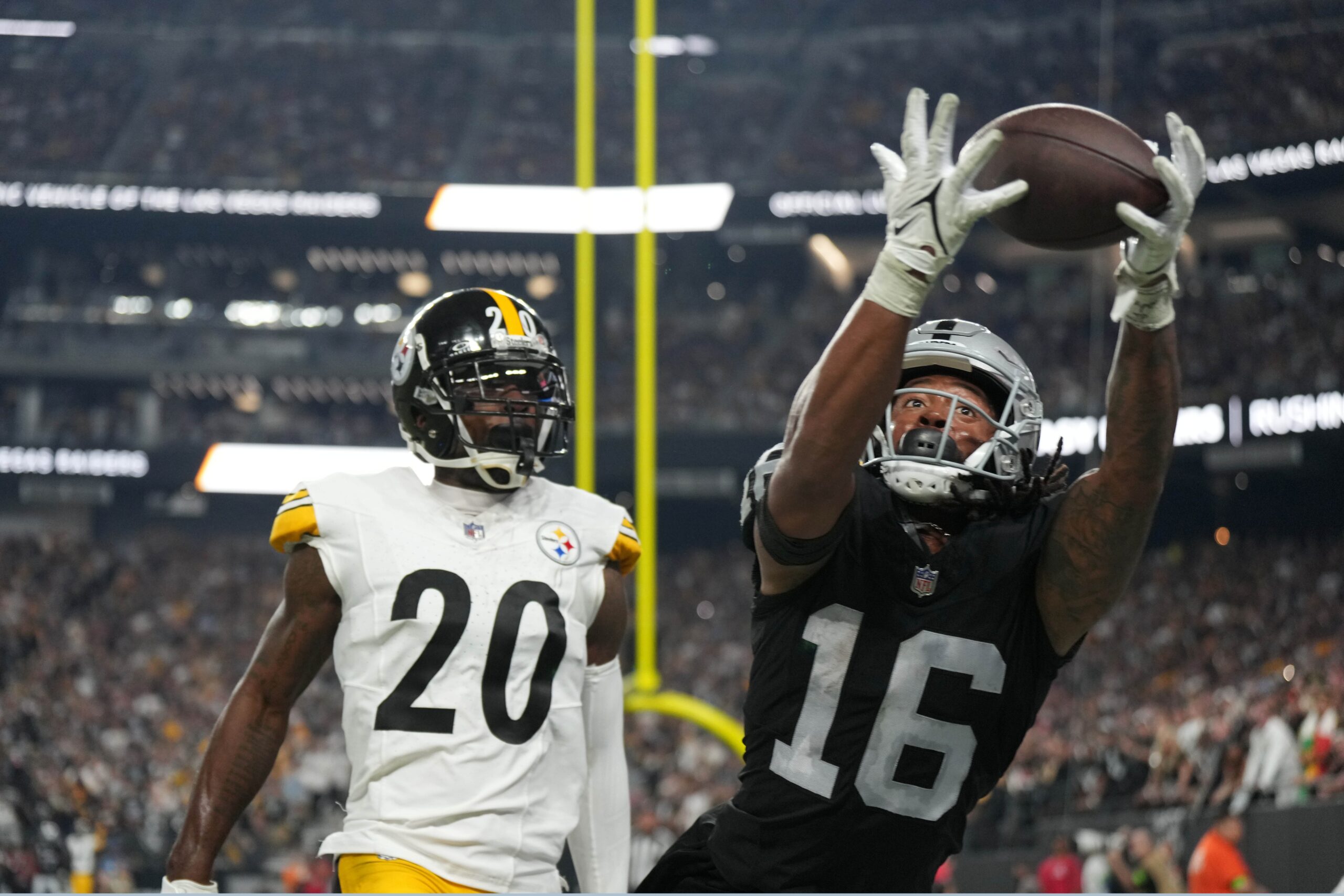 The usage for Meyers has been excellent, as he's the clear second target in this passing game behind Davante Adams. This week, he couldn't ask for a better situation.
No team has allowed more fantasy points to wide receivers through three weeks than the Los Angeles Chargers. A whopping 74.7% of their receiving yards allowed have gone to the WR position. Meyers is a strong WR3 — start him.
Gabe Davis, WR, Buffalo Bills (vs. MIA)
Allow me to preface this by saying I am not a huge fan of Gabe Davis as a player, nor do I think his role is an important one in the Bills' offense. With that said, the game environment here couldn't be better.
The Miami Dolphins have the best offense in football. They can no longer be denied. The Bills will have to throw to keep up with them, which isn't exactly a stretch for this pass-first offense.
Davis has only seen 15 targets through three games, but he has scored twice. There's a good chance Josh Allen will throw three touchdowns this week. Davis can certainly catch at least one. He is also liable to break off a big gain.
In what should be the highest-scoring game of the week, with a whole lot of offense, take a chance on Davis in Week 4 lineups.
Evan Engram, TE, Jacksonville Jaguars (vs. ATL)
This isn't actually a home game for the Jaguars. They will be playing across the pond in London for the first overseas game of the season. Where they're playing, though, isn't as important as who.
The Falcons have been awful against the tight end this season. It's only been three weeks, so the sample size is small, but a whopping 29% of their total receiving yards allowed has gone to tight ends.
MORE: 2023 Dynasty Superflex Rankings
Jacksonville QB Trevor Lawrence has not played well, but he has been targeting Engram plenty. The tight end has 21 targets through three games and is averaging a respectable 57 yards per game.
Given the Falcons' struggles against tight ends, and this being a classic get-right spot for the Jaguars offense, I think Engram scores this week. If a tight end scores, he's (usually) a TE1.
Sit 'Em Options
Deshaun Watson, QB, Cleveland Browns (vs. BAL)
Through three weeks, Watson hasn't looked anything like the old Watson yet. He's been fine, but certainly not like a guy who has elite QB1 upside.
Last week was Watson's best game of the season. He threw for 289 yards and two touchdowns, scoring 21.2 fantasy points. It was also against the Titans, who we covered above.
This week's home matchup against the Ravens isn't the toughest one in the world, but after the Ravens lost at home to Indianapolis Colts' back-up QB Gardner Minshew, I am expecting a fired-up performance from them. I don't think Watson is good enough to overcome an extra-motivated Ravens defense.
The Ravens have allowed the ninth-fewest fantasy points to quarterbacks this season. Look for them to stymie Watson in Week 4. If you have an alternative to put in your lineup, do it.
Joe Mixon, RB, Cincinnati Bengals (at TEN)
I am well aware you probably can't actually sit Joe Mixon. Instead, take this as a warning to temper expectations considerably.
Mixon hasn't exactly lit the world on fire to start the season. He scored his first touchdown on Monday night, in what was a nice 13-yard run. While he has surpassed 10 fantasy points in all three games, he's yet to post anything resembling a ceiling game. Don't expect it this week.
Look for running backs facing the Titans to appear here a lot this season — it's just a bad matchup. It's one thing to be an elite run defense, but it's actually worse for running backs when the elite run-stopping team is horrible against the pass.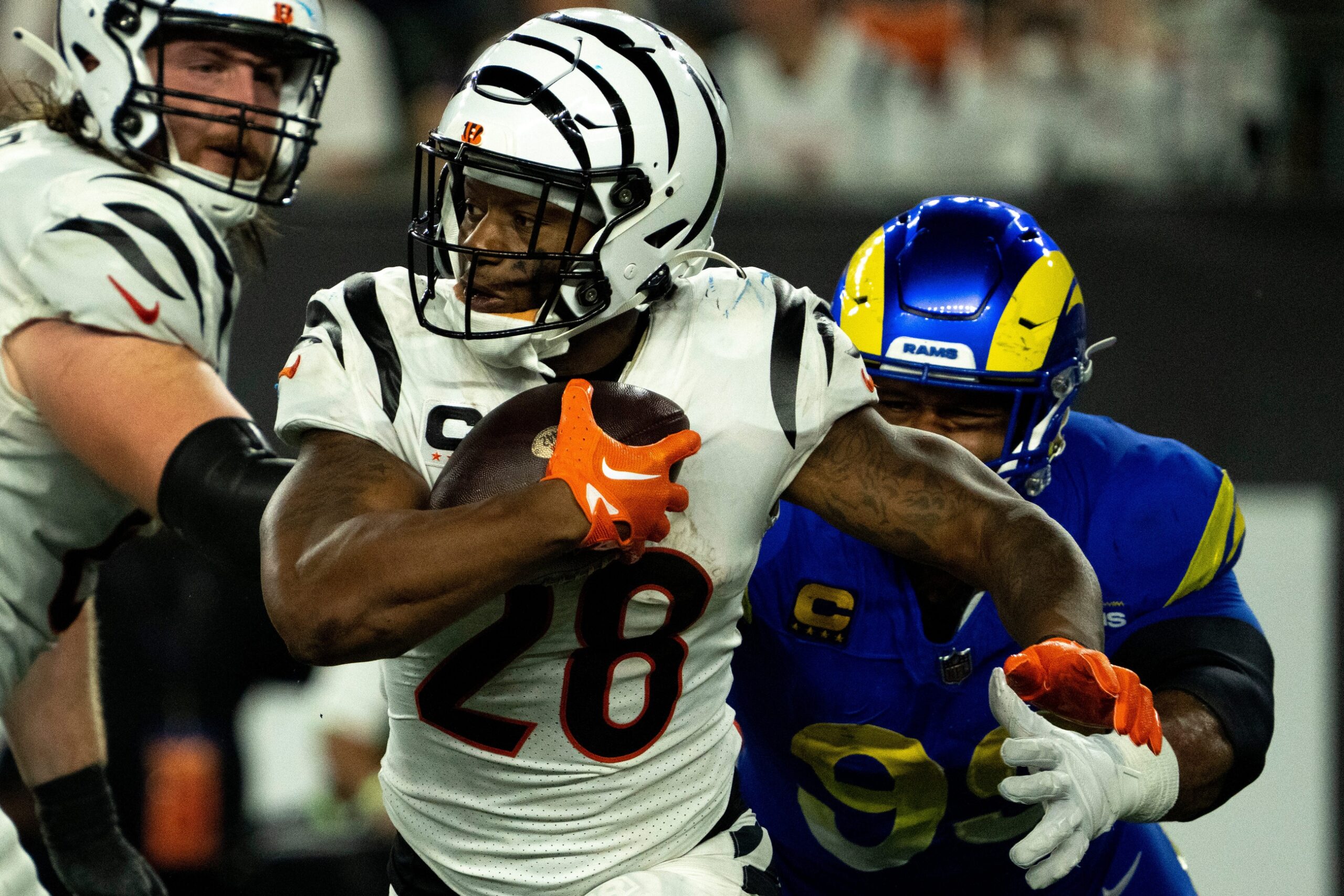 The Bengals should go very pass-heavy this week against the Titans' defense. Through three weeks, they're allowing the sixth-fewest fantasy points to running backs and the fourth-most to wide receivers.
Mixon is going to have nowhere to run this week. I'm expecting something like 14 carries for 42 yards and no touchdowns. Unless Mixon catches a bunch of passes, he's going to disappoint in Week 4.
Joshua Kelley, RB, Los Angeles Chargers (vs. LV)
I am supremely confident Joshua Kelley is making another start in place of an injured Austin Ekeler, but I just don't care anymore.
Kelley's role as Ekeler's replacement is awesome. He's played over 70% of the snaps in both games so far. He unsurprisingly struggled against the Titans in Week 2, but what was his excuse last week? Against the Vikings, who do not possess an elite run-stopping unit, Kelley ran the ball 11 times for 12 yards.
With just three targets in three games, there's clearly no passing game upside for Kelley. His only hope is falling into the end zone.
MORE: Fantasy News Tracker
This one has nothing to do with the opponent. The Raiders are not exactly an imposing foe. This is more about the player. Kelley appeared on my cut list this week for a reason. If he can't thrive in ideal circumstances without Ekeler, there will never be a time to use him. Those ideal circumstances remain in place this week. He's just not good enough to take advantage.
I was fooled twice. Fool me once, shame on you. Fool me — you can't get fooled again. I got fooled again. It won't happen a third time.
Marquise Brown, WR, Arizona Cardinals (at SF)
The way to beat the San Francisco 49ers defense is by throwing to wide receivers. Unfortunately, QB Josh Dobbs and the Cardinals are unlikely to be the team that succeeds in doing it.
Marquise Brown has topped 17 fantasy points in consecutive weeks, mostly because he's managed to score twice. The volume has been great, with 17 targets over that span. However, he hasn't really been efficient, with just 115 yards on 11 receptions.
The Cardinals are coming off a major upset win over the Dallas Cowboys. Regression is about to hit them hard, as they travel to San Francisco. Look for the Cardinals to have a ton of trouble moving the ball. They will likely have to throw, which keeps Brown's floor decent enough, but a touchdown, and thus a ceiling game, is unlikely. Say goodbye to "Hollywood" in Week 4 lineups if you can.
Jahan Dotson, WR, Washington Commanders (at PHI)
This one isn't entirely matchup-based. Jahan Dotson is a sit 'em every week. The real question is whether fantasy managers should even keep him on rosters.
There was so much hype surrounding a Dotson breakout this summer. Fantasy managers were asking a lot for QB Sam Howell to support two fantasy-relevant WRs. As it turns out, he can't.
It's WR Terry McLaurin or bust for the Commanders. So far, WR Curtis Samuel has been a better fantasy asset than Dotson. Now, he has to contend with a ferocious Eagles defense. I don't like his chances to suddenly go from a guy with 10 catches for 83 yards in three weeks to a guy capable of doing something similar in one game.
Admittedly, the Eagles have allowed the ninth-most fantasy points to WRs. However, they've faced some really good wide receivers. McLaurin is no slouch, but it would be unfair to classify Dotson as anything more than a replacement-level talent at this point. He is not the guy to overcome a tough matchup.
Zach Ertz, TE, Arizona Cardinals (at SF)
The Zach Ertz renaissance has come to a screeching halt. After seeing 18 targets over his first two games, Ertz saw just two against the Cowboys. While Dallas was the best defense the Cardinals have played, it wasn't just the usage, it was the playing time.
The veteran tight end has now seen his snap share decrease each of the past two weeks. It was down to 59% last week.
We know Ertz can't really move anymore. He catches the ball and falls down. His only hope for fantasy value is volume, which appears to be going away.
This week, the Cardinals have a dreadful matchup against an elite 49ers defense, as mentioned above. Just 9.1% of their receiving yards allowed have gone to tight ends. And it's not like they've played terrible tight ends.
They've faced Pittsburgh Steelers TE Pat Freiermuth, Los Angeles Rams TE Tyler Higbee, and New York Giants TE Darren Waller. The three combined for 35 receiving yards, so it'll be safe to sit Ertz.
Listen to the PFN Fantasy Podcast
Listen to the PFN Fantasy Podcast! Click the embedded player below to listen, or you can find the PFN Fantasy Podcast on iTunes, Spotify, and all major podcast platforms.  Be sure to subscribe and leave us a five-star review! Rather watch instead? Check out the PFN Fantasy Podcast on our Fantasy YouTube channel.