Three weeks into the 2023 season, the dynasty landscape has shifted dramatically. We have a large number of rookies who are making a big impact already this year and some reliable veterans from years past who are not producing like they used to for fantasy football managers.
With this in mind, let's take a look at some of the risers, fallers, buy-lows, and sell-highs in dynasty leagues. With an ever-changing market in 2023, these players may have a completely different outlook even a week from now. Time to make some moves while you can!
Looking to make a trade in your fantasy league? Having trouble deciding who to start and who to sit? Check out PFN's Free Fantasy Football Trade Analyzer and Start/Sit Optimizer to help you make the right decision!
Dynasty Risers After Week 3
De'Von Achane, RB, Miami Dolphins
We probably don't need to dig into this too much. Unless you have been living under a rock, you should know that Miami Dolphins running back De'Von Achane's stock is way up.
The rookie had an enormous Week 3, with 233 yards from scrimmage and four touchdowns. Entering Week 3, Achane had 1.4 fantasy points on the year (0.5 PPR). Exiting Week 3, Achane is the RB5 in all of fantasy.
MORE: Week 4 RB Waiver Wire Targets
You can't rise up much higher than that in one week. Achane is a rookie back, had an enormous Week 3, and is in one of the best offenses in the NFL. The stock is soaring right now. You may even want to consider floating his name out there in case a "Godfather" offer comes along.
Tank Dell, WR, Houston Texans
After Houston Texans rookie quarterback C.J. Stroud was drafted back in late April, the young signal-caller asked his new team to try to bring in a playmaker like wide receiver Tank Dell with their mid-round picks. The Texans did just that, and it is already paying off.
Stroud has been targeting Dell early and often in both players' young careers. The rookie wide receiver has now seen 21 targets on the year, including seven in Week 3 that Dell turned into five catches for 145 yards and a touchdown.
Dell is now the WR7 on the season in 0.5 PPR formats. A rookie who is in the top-10 receivers three weeks into the year is obviously seeing a value spike. If Stroud continues to target Dell, the sky is the limit for the rookie.
Sam LaPorta, TE, Detroit Lions
Three dynasty risers and three rookies are on the list. This time we look at the tight end position where Detroit Lions rookie Sam LaPorta has seen a value spike this week.
LaPorta had a fantastic Week 3, catching eight passes on 11 targets for 84 yards and a touchdown. Tight ends historically take a while to find success, but LaPorta has been a must-start since the jump of his career. He is TE2 in all of fantasy in 2023, giving instant rewards to all his fantasy managers.
There is already talk in the dynasty community that LaPorta may be the top tight end to own in dynasty. A rookie with outputs this high already in a high-powered offense in Detroit is hard to argue against. And fantasy managers with LaPorta probably have a permanent smile on their faces this week.
Dynasty Fallers After Week 3
Puka Nacua, WR, Los Angeles Rams
On to our weekly roundup of Los Angeles Rams wide receiver Puka Nacua! After Week 1, I had Nacua as a sell-high. Last week, he was a dynasty riser. This week, unfortunately, he has fallen off a bit.
Nacua was still able to finish with five catches for 72 yards in the Rams Monday night loss to the Cincinnati Bengals. But his value is a bit shakier now.
The Bengals aimed at bottling up Nacua for much of the game, and they were relatively successful. If Nacua hadn't added a 37-yard catch due to a blown coverage late in the game, his totals would have been much lower. The Rams' offense sputtered, and the offensive line let Matthew Stafford get hit far too often on Monday night.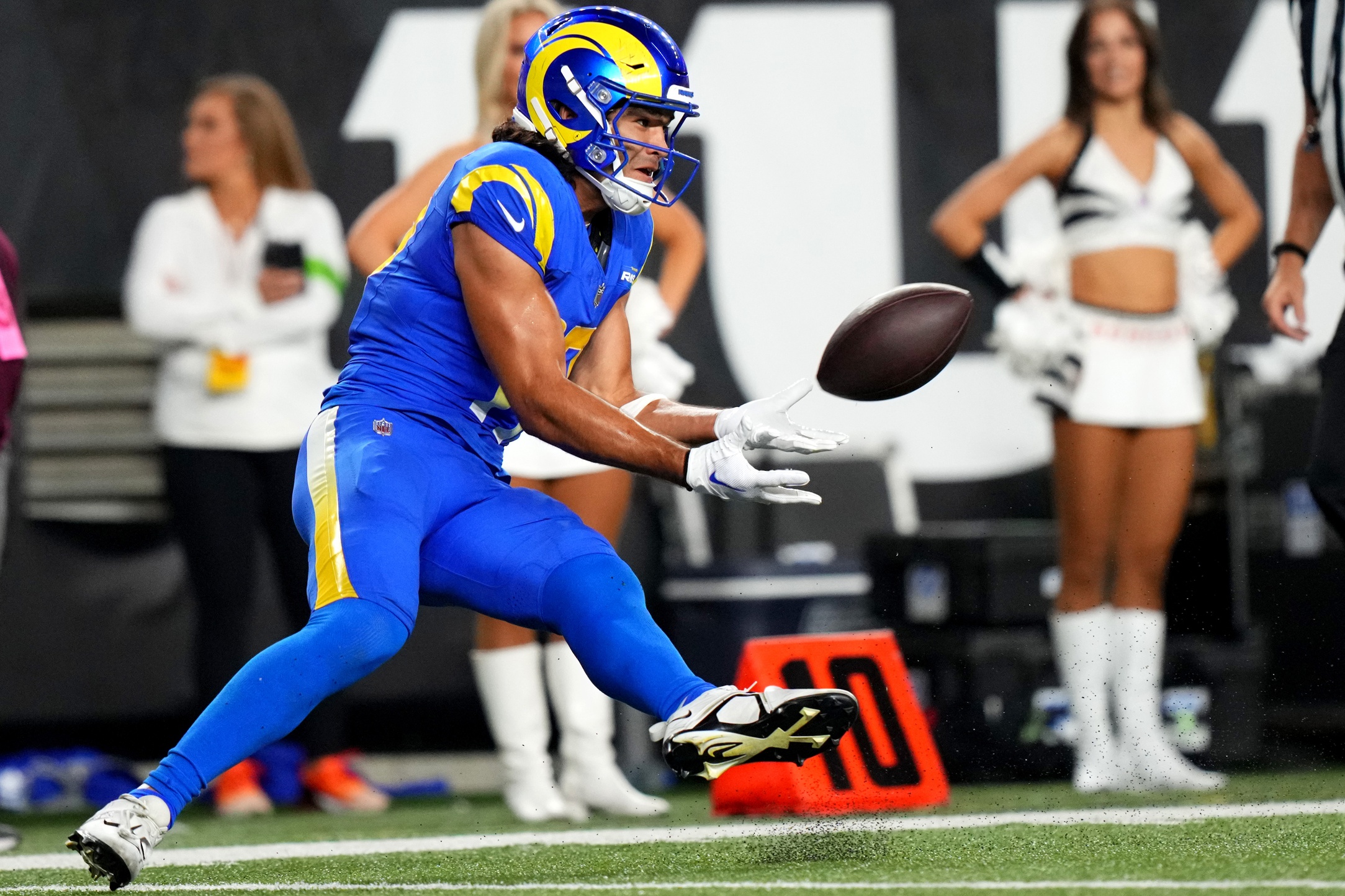 Now, Nacua has just one game left before the dreaded return of Cooper Kupp. Managers are likely starting to get nervous about what this will do to Nacua's target share and value.
This fall isn't steep, but it has made the value dip a bit on the Rams wideout. With the true No. 1 receiver returning soon and Nacua having a lower output in Week 3, his perceived value is lower this week. Some managers may even be looking to sell before a bigger fall happens.
Javonte Williams, RB, Denver Broncos
It was not a fun week to be a Denver Broncos fan. The team was embarrassed 70-20 by the Miami Dolphins in a game that was never close.
On top of the rough outing, fantasy managers continue to see the stock on running back Javonte Williams falling. For the third straight week to start the year, the back had a very lackluster performance.
MORE: 2023 Dynasty RB Rankings
Williams totaled just 42 rushing yards on 11 carries. He added another 23 receiving yards on two catches. But this marks the third straight week where Williams failed to score 10 fantasy points for his managers.
There are reasons to forgive the start to 2023. Williams is still returning from an ACL tear from last season. He is in a new offensive system with new head coach Sean Payton. But the efficiency numbers and outputs thus far have left a lot to be desired. Until that changes, Williams' stock is going to continue to dip for dynasty managers.
Dynasty Buy-Low Trade Targets
Derrick Henry, RB, Tennessee Titans
Look, I get it. You are in a dynasty league, and some writer is telling you to buy a 29-year-old running back who just passed the dreaded 1,800-career carries mark.
But the price on Henry has to be low in your leagues right now. Henry is aging and is only RB18 on the year thus far. He had an extremely low output for his standards in Week 3 with 11 carries for just 20 yards.
If you are a contending team, you may be able to get Henry for as low as a second-round pick right now. If the manager with Henry is struggling on the year, they may be willing to ship him off for any return they can justify. And at that price, you have to take a chance as a team looking to win it all.
The price of admission is so low on a running back who has been a league-winner before. If you are a contender, this is likely a late second-round pick.
Even if this is the final run of relevance for Henry — and we may see up-and-down outputs this year — he's likely a better option than anyone else in your starting Flex spot. This is a low-risk move with high-reward potential for 2023.
Tee Higgins, WR, Cincinnati Bengals
Don't ever underestimate the effect of a dynasty manager seeing their player struggle on national television. Tee Higgins did not look like himself in the Bengals win against the Rams on Monday Night Football in Week 3.
Higgins had several drops, an offensive pass interference, and finished with only two catches on eight targets for 21 yards. It was the second week this season that Higgins failed to score five fantasy points for managers.
MORE: 2023 Dynasty WR Rankings
But remember what this guy is capable of on the football field. Look at Week 2, when Higgins had eight catches for 81 yards and two touchdowns. When Burrow and the fourth-year receiver are connecting, he can be a top producer on a given week.
Higgins managers may be tired of the up-and-down outputs. They may be worried that he is a free agent at the end of the season. They may think he will struggle to be consistent with Ja'Marr Chase as his teammate.
But Higgins is a talented wide receiver who has easily finished as a WR2 the last few years. If managers are lowering their prices on Higgins, it may be a good time to get an offer in.
Dynasty Sell-High Trade Targets
James Conner, RB, Arizona Cardinals
One of the more surprising teams thus far in the young 2023 season is the Arizona Cardinals. Many experts thought the Cardinals would be bottom-feeders all year. But after a close loss in Week 2 to the New York Giants, the Cardinals defeated the Dallas Cowboys on Sunday, who entered Week 2 with the largest point differential in the league.
MORE: PFN Consensus Rankings
One of the biggest producers this year for Arizona has been running back James Conner. Conner, who is in his seventh year in the NFL and third with the Cardinals, has eclipsed the 16-point mark in fantasy points (0.5 PPR) in back-to-back weeks. He had over 100 yards from scrimmage in both of those games.
Conner is now RB8 on the season, and there isn't much of a threat in this offense to take away production from the back. But dynasty managers who have Conner also know that the back is 28 years old already. There may not be a lot of years left for Conner to be successful in the NFL.
With this in mind, I would at least float Conner's name out there in your league, especially if you have a losing record this year. A contending team could see value in adding a back that is in the top 10 right now in fantasy. Conner could be a solid producer this year, but his stock will slide with his age.
With injuries always possible and Conner not getting any younger, you may want to strike while the iron is hot. His value for the rest of his career could be near a peak right now.
Try aiming at picks in future drafts past 2024 to get the most out of his value. A 28-year-old running back in 2023 could turn into a first-round pick in 2025. Two years from now when you are on the clock, you won't be thinking of a 30-year-old Conner as you are drafting a rookie.
Alexander Mattison, RB, Minnesota Vikings
Alexander Mattison seemed like he was finally going to get his chance to break out in 2023. With Dalvin Cook signing with the New York Jets this offseason, the backfield was all set for Mattison to be the lead guy.
But after the first two weeks, Mattison's stock had dipped. With only 83 yards from scrimmage in the first two weeks, even the Minnesota Vikings seemed a bit nervous, trading for ex-Rams running back Cam Akers.
But in Week 3, Mattison was able to show up for his fantasy managers. The back had 125 yards from scrimmage, including five receptions for those managers in PPR leagues.
It wasn't a phenomenal performance, but this may, unfortunately, be the "high" point we are at with Mattison. The Vikings' defense is giving up large amounts of points, and the team will be passing the ball a lot in their games in 2023. With the offense needing to keep up with their opponents, Mattison's attempt numbers will be impacted negatively.
Add to this that there is competition in Akers now in Minnesota, and this may be the highest point we see Mattison at for the rest of the year. Moving him now might not feel like a sell-high moment, but it could very well look like it was in a few weeks if Mattison's output starts to decline.
Listen to the PFN Fantasy Podcast
Listen to the PFN Fantasy Podcast! Click the embedded player below to listen, or you can find the PFN Fantasy Podcast on iTunes, Spotify, and all major podcast platforms.  Be sure to subscribe and leave us a five-star review! Rather watch instead? Check out the PFN Fantasy Podcast on our Fantasy YouTube channel.