We've made it to the final week of the NFL preseason, which means that many have turned their attention to season-long fantasy football drafts and/or Week 1 DFS contests. Time to pounce! Here are some names to consider as you scratch that NFL itch with games that don't count for the final time in 2023!
Behind in research? Get a trade offer in your dynasty or redraft league? Not sure who to start or sit this week? Leverage PFN's FREE fantasy tools — our Fantasy Football Draft Kit, Fantasy Football Trade Analyzer and Calculator, and Start/Sit Optimizer! Put the finishing touch on your A+ draft with 1 of our 425+ fantasy football team names.
DFS NFL Preseason Week 3 | Thursday
The bulk of the action comes on Saturday, but the NFL knows that we need a ramp up to the main course, so we have a nice mini two-game slate to start us off.
Pittsburgh Steelers at Atlanta Falcons
Indianapolis Colts at Philadelphia Eagles
Gunner Olszewski (WR-PIT)
Four-year veteran Gunner Olszewski earned a 29.2% target share last week against the Bills, and I'm of the belief that Pittsburgh is interested in evaluating potential WR3s.
George Pickens and Diontae Johnson are locked in atop the receiver hierarchy, but Allen Robinson is a risk, and Pittsburgh doesn't have much beyond that. Olszewski is likely battling Miles Boykin for a roster spot, and he carries extra potential if the Steelers give him touches on special teams.
Motivation is all you can ask for in this spot, and Olszewski certainly has plenty of it.
Carlos Washington Jr. (RB-ATL)
It's hard for me to imagine a world in which Bijan Robinson or Tyler Allgeier play, so with Cordarrelle Patterson (soft-tissue issue) sidelined, the rookie who had eight touches and a score last week vs. Cincinnati is in good position to once again get enough work to be of interest to us. The 24-year-old Carlos Washington Jr. scored 15 times last season at Southeastern Louisiana and carries TD equity on this run-centric offense.
Sam Ehlinger (QB-IND)
We routinely preach the value or versatility during the regular season, so why would the preseason be any different? Yes, Sam Ehlinger averaged 8.9 yards per pass last week against the Bears, but how about his 12 fantasy points on the ground (60 yards and a TD)?
MORE: Fantasy Football QB Busts 2023
Ehlinger was productive during his time at Texas, and another strong showing in this game could put him on radars across the NFL that lack depth at the position.
DFS NFL Preseason Week 3 | Friday
Detroit Lions at Carolina Panthers
New England Patriots at Tennessee Titans
Los Angeles Chargers at San Francisco 49ers
Chase Cota (WR-DET)
The WR room in Detroit behind Amon-Ra St. Brown is far from proven, making the competition down the depth chart interesting. Chase Cota has seen 12 targets this preseason, and his 6'4" (notice a theme with me and these big receivers?) frame makes him naturally interesting for an offense built around the shifty St. Brown.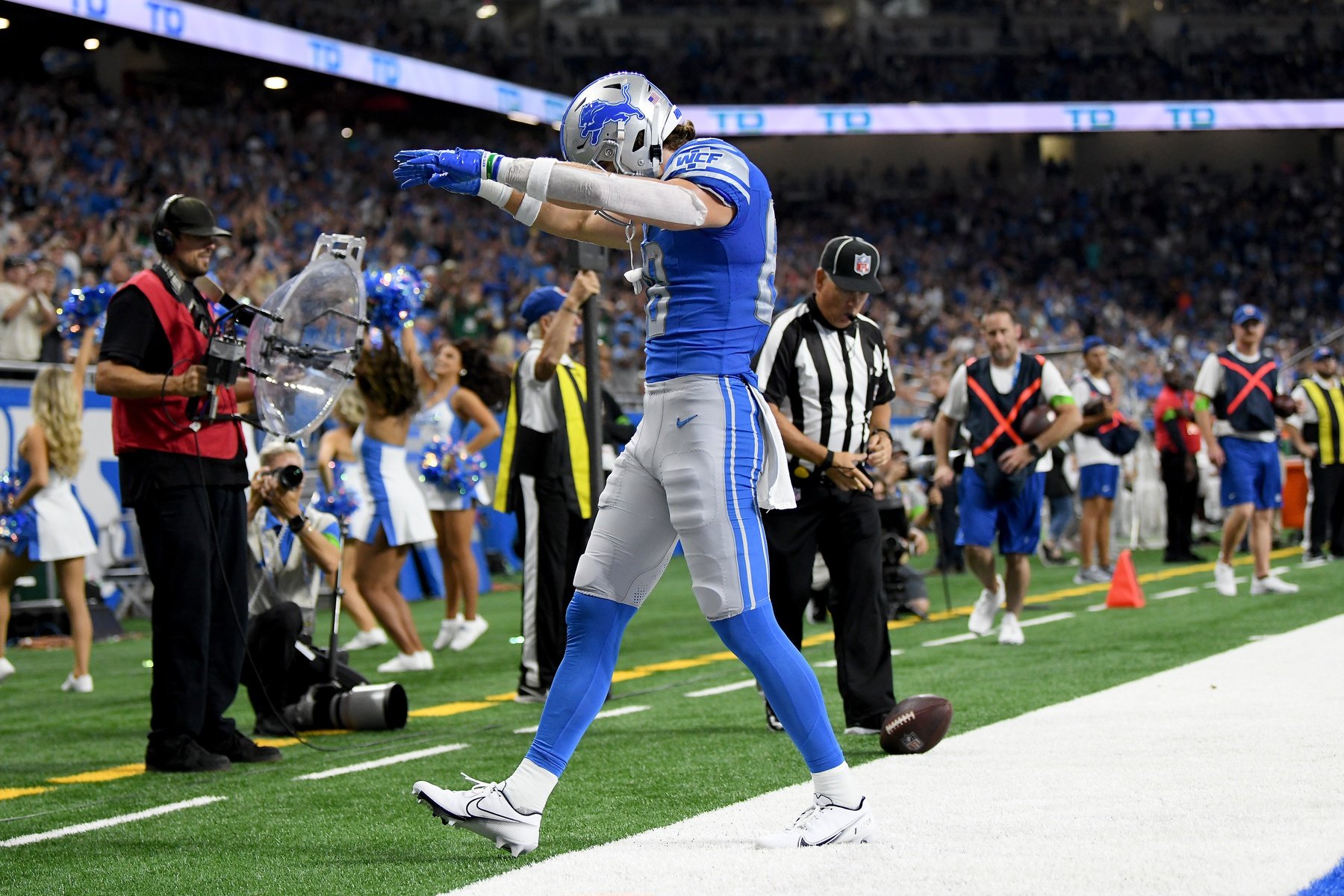 The fightin' Dan Campbells are never going to lay down, and considering that they've had next to no success running the ball this summer (52 carries for 132 yards as a team), a pass-first game plan could well be in store against the Panthers.
Kayshon Boutte (WR-NE)
Kayshon Boutte made this article last week, and paid it off with a 42-yard touchdown catch against the Packers. As it turns out, good players make good plays.
At one point during the NFL scouting process, Boutte had a first-round grade, and New England could certainly use hope at wide receiver. Tyquan Thornton didn't suit up last week, and the Pats are unlikely to roll out much in the way of starters, giving the LSU product a clear path to extended playing time. Boutte can play and has all the motivation in the world to continue to impress.
Tyrion Davis-Price (RB-SF)
Tyrion Davis-Price was a trendy sleeper pick 12 months ago, but things have changed. While the 2022 third-rounder is no longer on fantasy radars, he's trying to make the 49ers' roster and gets to face a team coming off one of the worst run-defense seasons in recent memory.
Of course, these are the reserves, but who's to say they fare much better? The Niners need to decide who their RB3 is, given that Christian McCaffrey and Elijah Mitchell have had their health concerns over the past few seasons.
The 49ers are the rare heavy preseason favorite, something that certainly shouldn't hurt their commitment to the ground game and a prospect that they viewed as promising not long ago.
DFS NFL Preseason Week 3 | Saturday
Twenty teams will put a bow on their preseason on Saturday, with the first and last kickoffs separated by eight hours. You figure out what you're going to tell your significant other to free you up for the day, and I'll handle the notes.
Buffalo Bills at Chicago Bears
Seattle Seahawks at Green Bay Packers
Cleveland Browns at Kansas City Chiefs
Arizona Cardinals at Minnesota Vikings
New York Jets at New York Giants
Cincinnati Bengals at Washington Commanders
Baltimore Ravens at Tampa Bay Buccaneers
Miami Dolphins at Jacksonville Jaguars
Las Vegas Raiders at Dallas Cowboys
Los Angeles Rams at Denver Broncos
Sean Clifford (QB-GB)
The fifth-round pick out of Penn State has completed 73.3% of his passes this preseason and has seen his average completion pick up 10.5 yards. The Packers are committed to Jordan Love being their guy, but their interest in Sean Clifford is noteworthy.
Clifford's strong play this preseason gives them optimality if they want it. He's a player who thrives when confident, something he currently is, which could prove valuable on this full slate.
Aidan O'Connell (QB-LV)
Aidan O'Connell has been impossible to ignore through two weeks, and while his 2023 role isn't going to change (Jimmy Garoppolo and veteran Brian Hoyer are ahead of him), the former Boilermaker is certainly putting himself in the long-term picture of this franchise.
Through two games, O'Connell has completed 26 of 36 passes for 304 yards, three touchdowns, and zero interceptions. That'll work!
There's no real reason to think he slows down in this spot or to think that the Cowboys put any of their primary defensive pieces at risk this close to the regular season.
Aidan O'Connell has been extremely impressive in both of his preseason games so far. Highlights from week 2:
pic.twitter.com/myeNrbBWlv

— Ben Cummins (@BenCumminsFF) August 21, 2023
Darrynton Evans (RB-BUF)
Darrynton Evans was a third-round pick just three seasons ago and has seen his fair share of run through two weeks for the Bills. Evans is already with his third NFL team, but he should continue to get run as Buffalo seems to have settled on James Cook as their featured back this season, plus Damien Harris (knee) sat out last week.
Zach Evans (RB-LAR)
The Rams sold out for their Super Bowl run, and that makes them as good a preseason Week 3 target as anyone. They need to develop talent from within and hope for the best.
MORE: 2023 Dynasty Rookie RB Rankings
Zach Evans has eight carries in both games so far and should get decent work again in this game as he looks to provide depth for L.A. at running back. Evans gained almost 1,100 yards at Ole Miss last season (10 touchdowns) and carries little draft capital (sixth round) that his backfield competitor Ronnie Rivers does not.
Justyn Ross (WR-KC)
Justyn Ross suffered a leg injury earlier this month, but he did score in the preseason opener and is in the mix for a team that lacks reliable receiver production. That's not to suggest that Ross is the answer to Kansas City's WR problems, but we don't know that he's not.
At 6'4", Ross is a tough matchup for the reserves that will be asked to defend him this weekend. His strong camp could use a cherry on the top to earn him a roster spot … he's going to be out there trying to put up fantasy numbers for you!
Tylan Wallace (WR-BAL)
The 2021 fourth-round pick has been with the organization for two seasons, and while Baltimore did add receiver at the top of this depth chart, Tylan Wallace is trying to earn a roster spot. In fact, he's caught all three targets this preseason and has scored in both games.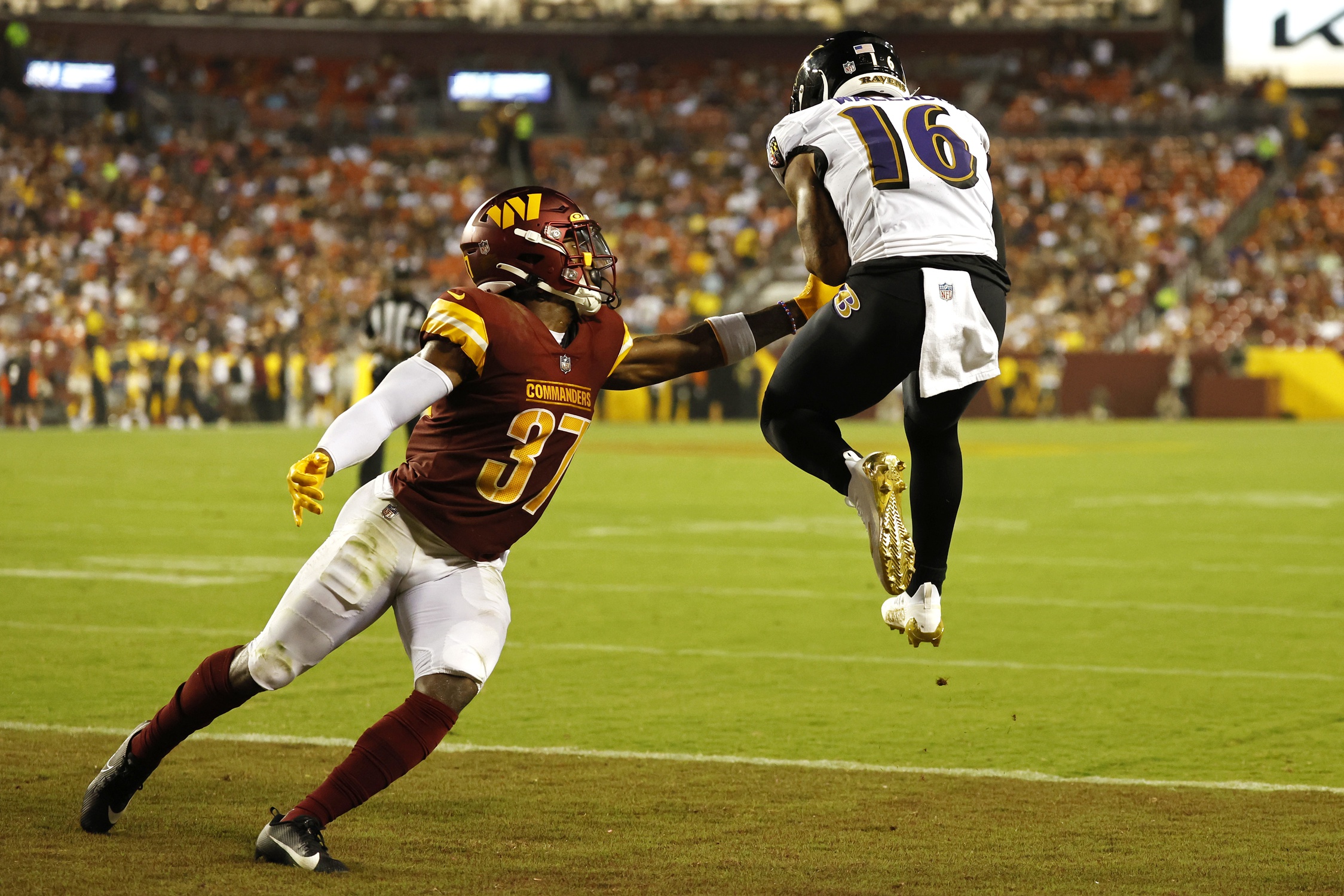 We're all eager to jump on the Ravens' passing game in redraft formats with Todd Monken now in control of the offense, so why can't that excitement carry over to this game? Monken will continue to build out this offense, and Wallace figures to be a part of that for a third game in a row.
Jalen Tolbert (WR-DAL)
This time last year, Jalen Tolbert was a hot name on redraft radars. The thought was that he could rapidly earn targets in Kellen Moore's offense. A year later, Moore is in Los Angeles, Michael Gallup is healthy, and the Cowboys acquired Brandin Cooks.
Not an ideal 12 months for Tolbert, but he does check the box of overqualified player who should be on the field this weekend. He was a big play waiting to happen during his final two collegiate seasons at South Alabama (17.5 yards per catch and 16 touchdowns).
DFS NFL Preseason Week 3 | Sunday
The only thing separating us from the regular season is this showdown slate. Maybe you have a chance to earn some play money with a big DFS score?
Houston Texans at New Orleans Saints
A.T. Perry (WR-NO)
The sixth-round pick out of Wake Forest has seen at least five targets in both games this preseason and could do so again as the Saints look to sort out their WR depth chart.
I expect less than optimal QB play through the league this week, and you know what helps that? A 6'5" frame. That size is also awfully tough for reserve defenders to deal with, and that's what gives A.T. Perry upside on the final slate of August.
Davis Mills (QB-HOU)
Davis Mills has thrown 34 passes this preseason, a sign to me that the Texans are trying to get him some confidence in the event that C.J. Stroud struggles to open his NFL career.
No, I don't think Mills is very good, but he does have 873 regular-season pass attempts on his résumé, and in this spot, that's about as good as it gets. If the pass-attempt count approaches that 17 number that he's averaged thus far, the Texans have enough receiver depth to make Mills a strong option.
Listen to the PFN Fantasy Podcast
Listen to the PFN Fantasy Podcast! Click the embedded player below to listen, or you can find the PFN Fantasy Podcast on iTunes, Spotify, and all major podcast platforms.  Be sure to subscribe and leave us a five-star review! Rather watch instead? Check out the PFN Fantasy Podcast on our Fantasy YouTube channel.