The second week of the NFL preseason blesses us with five days of NFL football! More importantly, starters figure to be on the field more often, and we can evaluate hierarchies based on who is on the field at certain times. Get ready to tweak those fantasy football rankings! But that's learning to fish. Let's see if I can't hand out some fish for the upcoming DFS action!
Get a trade offer in your dynasty or redraft league? Not sure who to start or sit this week? Leverage PFN's FREE fantasy tools — the Fantasy Football Trade Analyzer and Calculator and Start/Sit Optimizer! Put the finishing touch on your A+ draft with 1 of our 425+ fantasy football team names.
DFS NFL Preseason Week 2 | Thursday
The NFL understands that we, as fans, need a warm-up too, so we've got a standalone Thursday night game to get us into the normal cadence of the regular season.
Cleveland Browns at Philadelphia Eagles
Dorian Thompson-Robinson (QB-CLE)
I'm going to be heavy on the Browns in this game for the simple reason that they have more moving pieces to line up for the regular season than the reigning NFC champions do. While the Eagles know exactly who they are, the Browns enter 2023 with upside that they are working on uncovering.
Thompson-Robinson has clearly impressed the Browns through two games this preseason and with him getting the start, that tells me that the team values another look at the rookie over getting Deshaun Watson comfortable. That's something. His versatility (47 rushing yards) along with his accuracy (81%) makes for a perfect fantasy piece and one that simply cannot be ignored in a spot like this.
The size up and down this receiving corps gives DTR big-time upside, and the deep ball is specifically something we haven't seen from him in a while, given the weather issues in the few games he did play last season.
CAPTAIN: Cedric Tillman (WR-CLE)
The third-round pick in April is an explosive play waiting to happen, and as he works to find a role during the regular season, this is a great show-out spot. He had a pair of 15+ yard grabs in the Hall of Fame Game and was targeted deep downfield twice in his limited action last week.
If DTR is throwing him the rock, the quality of those looks is set to spike, and if it is coming against reserve Eagle defenders, we could be looking at a big night. Tillman will be my captain in Showdown formats for his combination of playing time and one-play upside.
Boston Scott (RB-PHI)
What are we doing with this backfield? Is it really the Kenneth Gainwell show? It's all speculation at this point, but we do know that D'Andre Swift and Rashaad Penny are fragile, so unless they are on the roster chopping block, there's not a lot to gain by trotting them out there in this spot.
That leaves Gainwell and Scott, both of whom reached double-digit carries in Week 2 of the 2022 preseason.
In this spot last season, the Eagles went very run-heavy, something I think could well be the case again in this game as they simply look to make it to the regular season intact. Scott's status on this roster doesn't feel like a given, so I am expecting decent usage after not playing last week.
DFS NFL Preseason Week 2 | Friday
A two-game slate serves as an appetizer to a busy Saturday. We've got some interesting situations to work through on this small slate, specifically with the Panthers.
Carolina Panthers at New York Giants
Cincinnati Bengals at Atlanta Falcons
Matt Corral (QB-CAR)
The 2022 third-rounder completed 15 of 22 passes last week after taking over for Bryce Young, and while he had his share of issues (one interception and four sacks), he showed well for himself.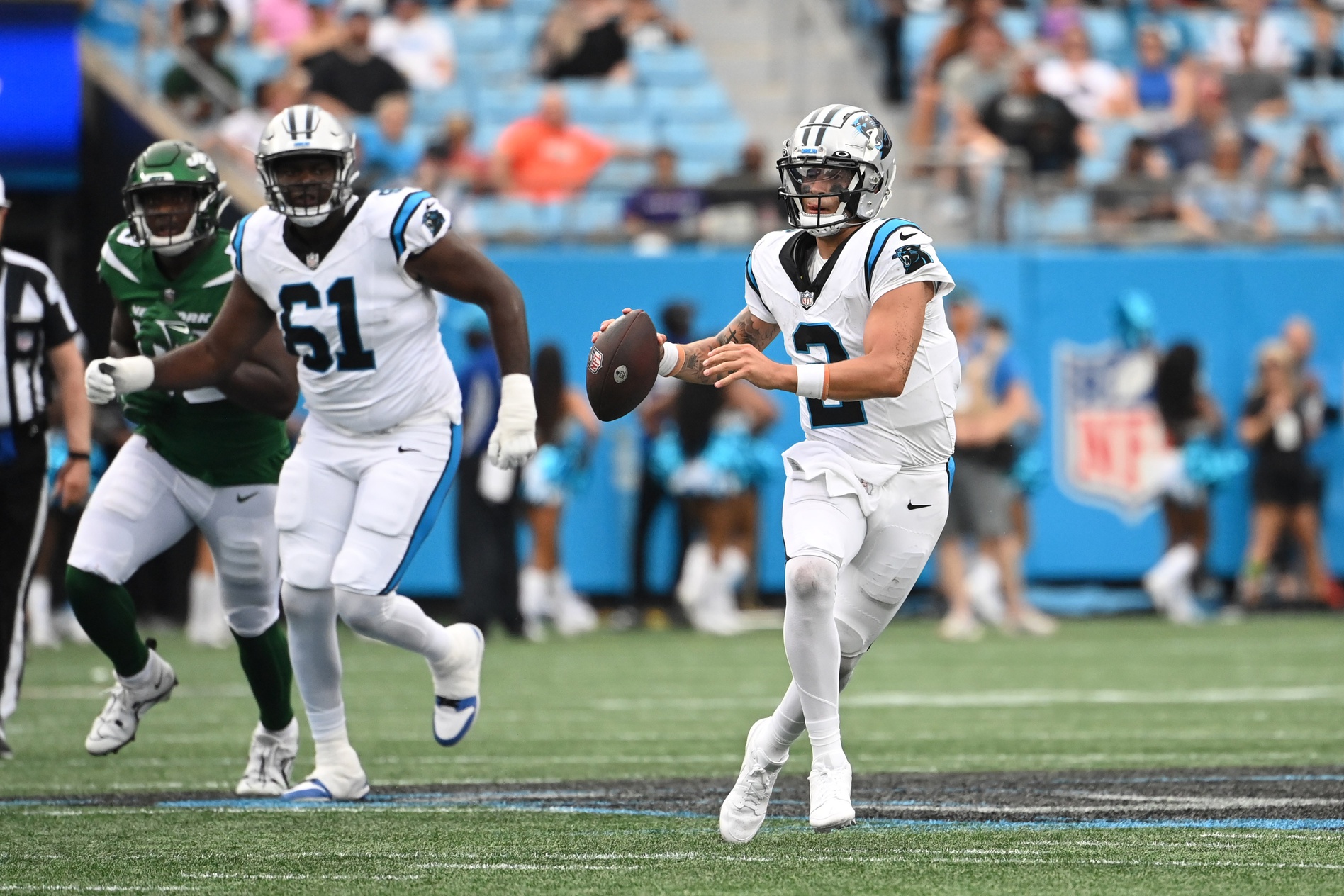 There is little question that the Panthers are betting on Young being the long-term answer, but they'd be wise to see what Corral can do, and that could result in an extended run (again) on Friday as Andy Dalton deals with back tightness. Javon Wims (6'4") saw seven targets from Corral last week and is the upside play to consider.
Chase Brown (RB-CIN)
Chris Evans got the first carry and led the Bengals in rushing last weekend against the Packers, but it was Brown who led in carries and hauled in all three of his targets.
Cincy worked on developing the versatility of Joe Mixon last season, and if that is part of their plan for the rookie (over 12 carries per catch during his final two collegiate seasons), they could well continue to use these live reps as a way to do so. The team knows what they have in Evans, leading me to believe they go heavy on Brown as we round out the summer).
DFS NFL Preseason Week 2 | Saturday
Jacksonville Jaguars at Detroit Lions
Miami Dolphins at Houston Texans
Buffalo Bills at Pittsburgh Steelers
Chicago Bears at Indianapolis Colts
Tampa Bay Buccaneers at New York Jets
New England Patriots at Green Bay Packers
Tennessee Titans at Minnesota Vikings
Kansas City Chiefs at Arizona Cardinals
Denver Broncos at San Francisco 49ers
Las Vegas Raiders at Los Angeles Rams
Dallas Cowboys at Seattle Seahawks
Anthony Richardson (QB-IND)
The team named Anthony Richardson their regular-season starter following the underwhelming loss in Buffalo last week, and that's great, but it's clear that he is in need of game reps.
His athletic profile is nothing short of elite, and that's his path to fantasy success, though the Colts need him to develop a well-rounded game. I'm looking for a game plan to give the rookie confidence and that figures to be fantasy-friendly.
Baker Mayfield (QB-TB)
Baker Mayfield certainly looked the part last week against the Steelers (8 of 9 for 63 yards and a TD) and could close out this QB competition with another strong performance. The Jets own a stout defense that they will look to enter the regular season with at full strength, making them unlikely to deploy their starters for much time.
In the second week of the preseason, it's rare to get a real NFL QB in a positional battle against inferior competition, but that is the spot Mayfield finds himself in, and it could result in a nice fantasy performance.
Tyler Badie (RB-DEN)
The weird flex of playing Javonte Williams in this game is something I don't understand, but it may work in our favor here if it draws ownership off of Badie. Even if Williams does suit up, I can't imagine it's an extended run, and Samaje Perine has nothing to prove.
Enter Badie, a sixth-rounder last year who flirted with 2,000 yards during his final season at Missouri. Whether they want to admit it or not, the Broncos need to be comfortable with their backfield depth, and Badie is the player in that mix with the most to prove.
DeeJay Dallas (RB-SEA)
It sounds as if the Seahawks avoided disaster in terms of August backfield injuries, and I'm willing to bet that they take an overly cautious approach as they prepare for the games that actually count. That puts Dallas (157 touches on his NFL résumé) in a spot to get real work against the Cowboys — imagine the headline opportunities if Dallas beats the Cowboys!
The 24-year-old showed nice versatility in his limited reps last season and was hardly used last week. He could approach double-digit touches this week and that alone makes him worth lineup consideration.
John Metchie III (WR-HOU)
Tank Dell was the story of the first week of the preseason, and that's great, but Metchie's physical profile is the one that looks more stable long-term, and he should have plenty of chances to prove that this weekend.
The Texans need all of 2023 as a runway to see what they have for the future, and that means throwing the ball all over the place in an environment like this. Dell did enough to put himself on their long-term radar last week, and I expect them to give Metchie a similar opportunity on Saturday.
Rashee Rice (KC-WR)
The rookie has drawn some rave reviews at various points this preseason, and it's no secret that the Chiefs are looking to figure out the receiver position. Outside of the presumed starters, it is Rice and Justyn Ross that are in a position to push for regular-season reps.
Ross was carted off of the field with a leg injury earlier this week, and while he has made his way back to the practice field, it's unlikely that he will be overextended this week. That gives Rice the avenue to see volume for a team that wants him to succeed after spending a second-round pick on him. Yes, please.
DFS NFL Preseason Week 2 | Sunday
New Orleans Saints at Los Angeles Chargers
CAPTAIN: A.T. Perry (NO-WR)
My captain for this single slate is likely going to be the Wake Forest product that caught all six of his targets (including a 29-yard TD) last week. I'm usually in the business of fading Week 1 stars in Week 2 during the preseason, but there's no reason to do so here.
Not only is the team looking to evaluate their sixth-round pick, but they are also unlikely to run the ball a ton given the knee injury that Kendre Miller suffered last week, combined with the three-game suspension to open 2023 for Alvin Kamara.
Oh, and you get access to a big body with YOLO Jameis Winston projecting to be under center. That'll work!
NFL Preseason Week 2 | Monday
Baltimore Ravens at Washington Commanders
CAPTAIN: Chris Rodriguez (RB-WAS)
Rodriguez made this article last week, and I didn't see anything that would make me pivot — four of his five carries gained at least five yards, and the Commanders were quick to yank presumed workhorse Brian Robinson.
Of course, this means picking against the unreal 24-game preseason win streak, but the Ravens were vulnerable on the ground last week against the Eagles (154 yards).
The last time they lost …

@PFNBets https://t.co/PBlqMwT3tP https://t.co/4C9GYP1zgz pic.twitter.com/wRVuOqSrPr

— Kyle Soppe (@KyleSoppePFN) August 13, 2023
Rodriguez has obvious motivation as he works to secure a roster spot, and Washington could be uniquely motivated in wanting to end this win streak for Baltimore.
That, of course, is impossible to quantify, but with both of these teams having reasonably stable projected rotations for the regular season, I'm expecting a lesser-known player to shine brightest in the final game of Week 2.
Listen to the PFN Fantasy Podcast
Listen to the PFN Fantasy Podcast! Click the embedded player below to listen, or you can find the PFN Fantasy Podcast on iTunes, Spotify, and all major podcast platforms.  Be sure to subscribe and leave us a five-star review! Rather watch instead? Check out the PFN Fantasy Podcast on our Fantasy YouTube channel.