The Green Bay Packers' season clearly didn't end the way they wanted. However, Davante Adams cemented his reputation as one of the league's best wide receivers by any metric. As a result, he is the biggest free agent on the market in 2022. Let's look back at this most recent season to see what Adams' team, new or otherwise, will be getting.
Davante Adams proved his greatness this season
At 29, Adams had one of the best seasons of his impressive career. He was one of the most productive receivers in the NFL, benefiting from (and contributing heavily to) Aaron Rodgers' MVP campaign.
His box score was spectacular; in the regular season, he totaled 1,553 receiving yards (a career high and third in the NFL) and 11 touchdowns, which ranked fifth. He also added 90 yards in the Packers' only playoff game.
Adams couldn't compete with Cooper Kupp, who had a truly historic season. Still, he was nonetheless one of the most statistically successful wide receivers in the NFL.
Davante Adams also had excellent advanced metrics
Unlike some players, Adams' advanced metrics confirm what his box score suggests.
As evidence, let's turn to the Offensive Value Metric (OVM). The OVM is a grading system created by the (Bx) Movement to measure how much of a player's statistical production they were actually responsible for.
This season, Adams earned an OVM grade of 36.12, which ranked fifth in the NFL among the 98 qualifying wide receivers.
Having such a high grade while also being exceptionally productive suggests that Adams was highly efficient in creating his statistics. Even in a 2022 free agent class with several excellent wide receivers, it's hard to argue that Adams isn't the best of them.
Examining Adams' weekly grades
To help us gain a deeper understanding of Adams' OVM grade from this past season, let's examine how his performances changed on a weekly basis.
You can see his grades from each week of the season in the chart below, marked by the black dots. For comparison, the yellow line represents the average grade for wide receivers during the regular season.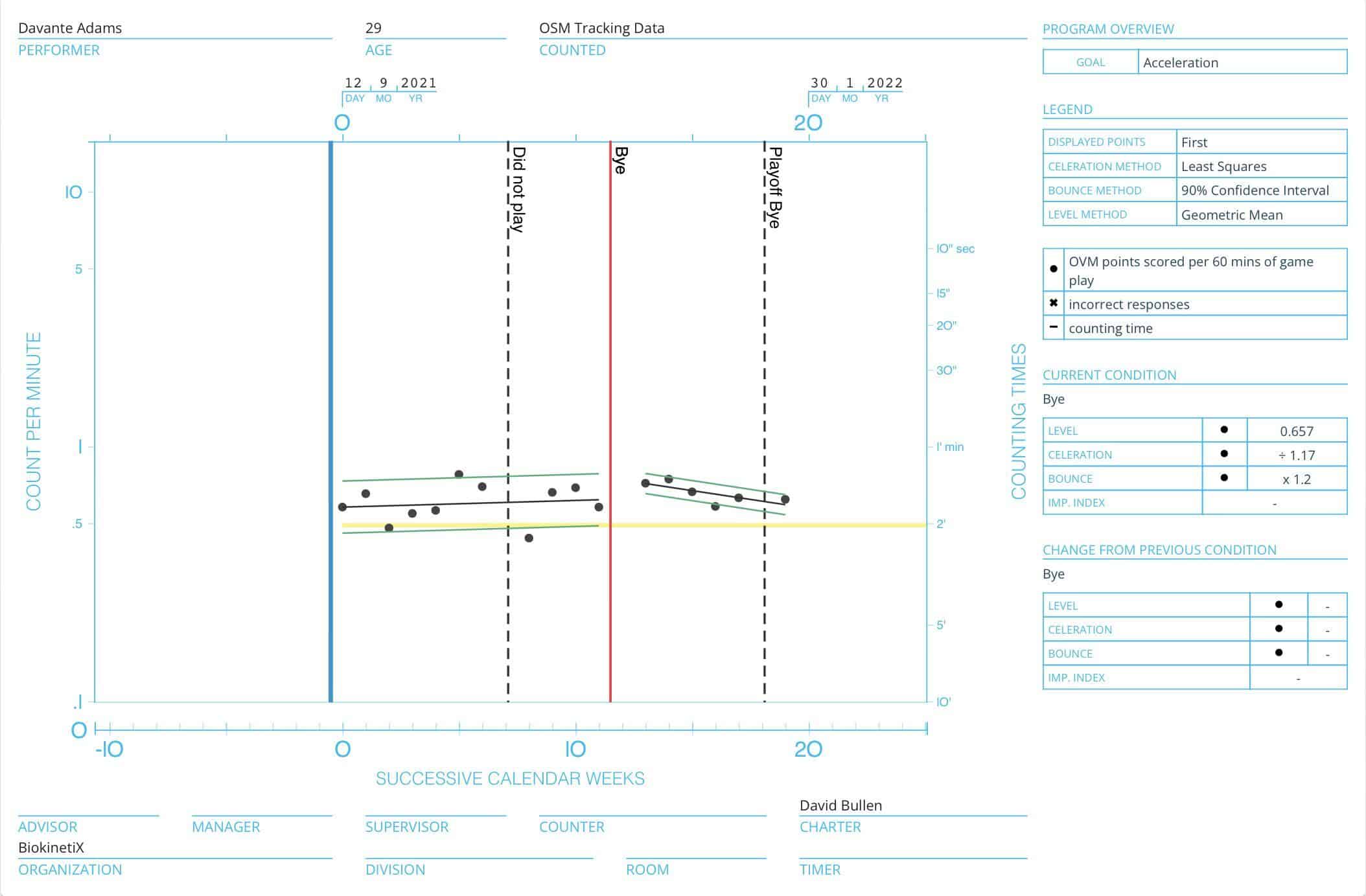 Adams was exceptionally consistent. More importantly, he was consistently excellent, with only two grades below the league average. Interestingly, Adams didn't have any particularly exceptional performances. Obviously, he had quite a few high grades, his best being a 46.6-point performance in Week 6.
But, despite there being quite a few receivers in the NFL who couldn't even dream of getting a grade that high, it only ranked 32nd among all grades earned by wide receivers last season. Adams never had any of the truly exceptional performances we saw from other receivers this season, many of which were produced by players who aren't anywhere near Adams' level.
However, his lack of high grades also means that his impressive overall grade resulted from consistency rather than being boosted by extreme outliers. That's something you don't often see in the NFL.
The numbers behind Adams' grades
Adams' weekly grades speak to his reliability. However, if we want to understand why his grades are so high, we need to look at the statistics involved in calculating those grades. Adams performed well across the board, though he didn't excel in any particular category. His best statistic was his catch percentage — he caught 72.78% of his targets, 11th among qualifying wide receivers.
And he did so despite being given a meager amount of cushion when targeted. At 5.3 yards on average, the number is tied with several other receivers at 81st in the league.
Even with the consistent defensive pressure, Adams averaged 2.9 yards of separation, ranking in the middle of the pack (tied at 46th). That's not a particularly impressive number on its own, but in context, it is exceptional.
Adams' worst statistic, his ability to create yardage after catching the ball, was still better than many other receivers in the NFL. He averaged 5.4 yards after the catch, ranking 22nd in the league. According to the NFL's projections, that number was 0.6 yards above expectations (tied for 38th).
As with his weekly grades, Adams' advanced statistics show consistency, not peaks and valleys.
Wherever Adams ends up, he will have an impact
Where Adams plays next season will likely depend less on his own skill and more on outside factors. Particularly, Aaron Rodgers' plans are the ultimate fork in the road.
As good as Adams is, without Rodgers, Green Bay will likely go into rebuilding mode. In that case, paying Adams an enormous sum of money doesn't make much sense.
In that case, their loss will be another team's gain. Adams is one of the NFL's best players. Any franchise looking to make a Super Bowl run should be willing to give the 2022 free agent the contract he wants and deserves.