College football currently has a number of players related to former NFL players or legends. Asante Samuel Jr. and Patrick Surtain II are two of those players in the 2021 NFL Draft. However, when you are related to a legendary safety like Troy Polamalu, it makes sense to receive more buzz, right? Well, for safety Isaiah Pola-Mao, that hype has not come yet.
Pola-Mao, who hails from Phoenix, likely has fallen under the radar of many due to a flurry of injuries. In his true freshman season, Pola-Mau was on tap to get significant playing time but suffered a shoulder injury. In his Redshirt Freshman year, he was knocked out for the season in the second game of the season against Stanford with another season-ending shoulder injury. Thankfully, he stayed healthy in 2019 and had four interceptions to boot.
Related | Shaun Wade vs. Patrick Surtain Jr. for CB1 in 2021 NFL Draft
So, how does the talented Trojans safety hold up on tape?
[sv slug=mocksim]
USC safety Isaiah Pola-Mao is a blast to watch
The first thing to understand about Pola-Mao's game is that he has a pretty striking frame. First off, a 6'4″ free safety is not all that common in the football world. Pola-Mao is built somewhat like a linebacker and has long-ranging limbs that aid him in various aspects of his game. Even as a pure athlete, he is fun. A 4.54 40-yard dash and 36-inch vertical out of high school are very nice numbers for a guy of his size to put up.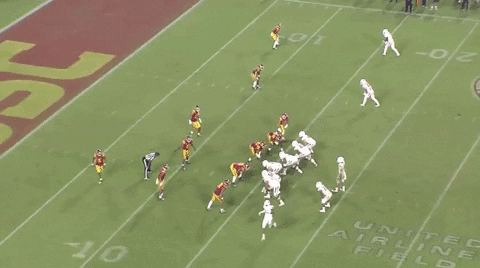 The first thing that is apparent with Pola-Mao is that this guy has legitimate back-end range and instincts. Add in very identifiable ball skills, and we have a player who is valuable in the back-end of a secondary. Above, against Fresno State, Pola-Mao reads through the quarterback's eyes and can close on the running back wheel route for the interception with ease.
USC does not run an explicitly elaborate scheme, but Pola-Mao's route recognition skills are tremendous. All in all, Pola-Mao has a quick, and most importantly, trustworthy trigger with his mental reads.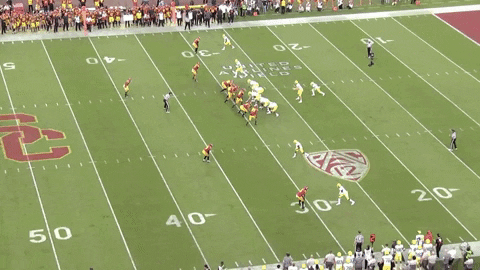 I've already shown that Pola-Mao can wear the hat of deep single-high safety, but if you talk to any coach around the league right now, wearing as many hats as you can is a good thing. Pola-Mao often works into the slot, as is typical with many safeties whether they work in a semi-overhang role over the slot or in a strict man-up role.
Related | 2021 NFL Draft: Top 10 Safety Rankings
Another thing he does well is something that his uncle thrived at doing, blitzing. With ample burst and closing speed, Pola-Mao is an effective and physical blitzer. In general, he thrives down in the hole or box effectively.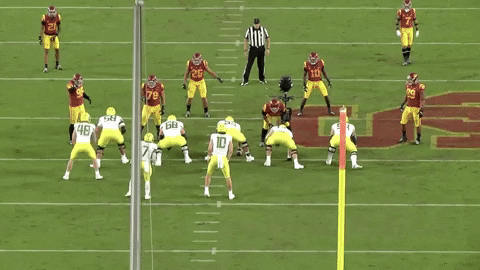 His NFL comparison will not be Troy Polamalu, but Pola-Mao has some serious shades of his uncle in his game. The central part of his game that was influenced by him was his reckless abandonment style of physicality.
Pola-Mao makes an impact in every game
Pola-Mao is an absolute competitor, and he will go out and just rock his opponent. This is some throwback football as he decks the Oregon receiver and gets a pass breakup out of it. Physicality is a huge part of how Pola-Mao sets the tone for a defense with his game.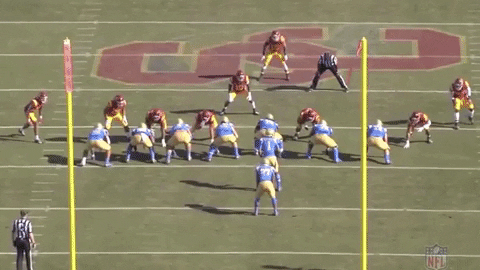 Here are more hats on top of the hats that Pola-Mao already wears. Due to his length and size, he will get aligned off the edge from time to time and generate pressure or make run stops like this above. In this area, he has pretty good hand usage and certainly sheds blocks better than the average safety.
On this play, he holds a strong edge as the fill defender and keeps pace with an NFL running back in Joshua Kelley. On the tackle, it might be nice to see him wrap up through the waist and drive, but given the tough position, that is a minor nitpick.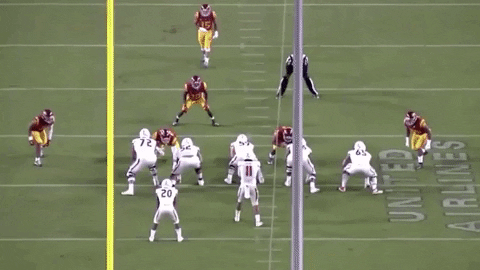 Sometimes, playmaking does not have to come in the form of an interception. For Pola-Mao, it is little things like trying to rip the ball out. That is a legitimate way to go out and create turnovers. As small as it seems in the grand scale of a football play, it is such a little thing that can create a game-changing play, so to see small details like that are excellent.
Pola-Mao's bright outlook in the NFL
The family connection for USC safety Isaiah Pola-Mao is always going to stick with him as he gains recognition. As his talent starts to shine on an even grander scale in his redshirt junior season, Pola-Mao can look to his delightfully bright prospects in the NFL.
Pola-Mao fits a rare mold in today's NFL with his size, athleticism, and versatility. Give his physicality and playmaking skills a boost, too. If you look at his game from a bird's eye view, Pola-Mao is perfect for the modern NFL game and can condense a lot of roles into a straightforward player.
He does have his flaws, of course. At times his tackling can be too inconsistent, and he gets caught being a bit overaggressive. Still, there is no doubt Pola-Mao has a chance at being a dependable, impactful safety at the next level.
So, why has that hype not come yet despite his talents? Likely it is due to his injuries. However, when the hype comes and believe me, it will happen, Pola-Mao's talent will be brought to the forefront as he forges his path to the NFL.
Listen to the PFN Scouting Podcast
List to the PFN Scouting Podcast! Click the embedded player below to listen, or you can find the PFN Scouting Podcast on iTunes, Spotify, and all major podcast platforms.  Be sure to subscribe and leave us a five-star review! Rather watch instead? Check out the PFN Scouting Podcast on our Scouting YouTube channel.