DeAndre Hopkins said he wanted to sign with a contender. But sometimes, money talks. The Tennessee Titans gave the All-Pro WR a two-year, $26 million deal with up to $32 million in incentives, according to Ian Rapoport. This obviously has major fantasy football implications. How does Hopkins' arrival affect the fantasy values of Treylon Burks, Derrick Henry, Ryan Tannehill, and the rest of the Titans' offense?
Did you get a trade offer in your dynasty or redraft league? Not sure what to do? Make championship-winning decisions with PFN's FREE Fantasy Football Trade Analyzer and Calculator!
Fantasy Impact of DeAndre Hopkins Signing With Tennessee Titans
I want to thank the reporters for waiting until Carlos Alcaraz dethroned the greatest tennis player of all time, Novak Djokovic, to capture the Wimbledon trophy before tweeting out that Hopkins had signed with the Titans. Now, we shift from one of the greatest tennis matches of all time back to football.
Hopkins joins a growing list of elite/very good wide receivers who joined the Titans late in their career. Suffice it to say it did not go well for Andre Johnson, Julio Jones, or Robert Woods.
After a disappointing 2021 season, coupled with a six-game suspension to open the 2022 season, there were legitimate questions as to how much a 30-year-old Hopkins had left.
Last season, Hopkins answered those questions. After returning from suspension, he immediately reminded everyone that he was not done yet.
Hopkins averaged 16.9 PPR fantasy points per game. He was the overall WR9 in points per game.
While the days of Hopkins averaging 18+ ppg are probably over, he did not appear to be in any serious stage of decline last season. Age 32 is far more concerning than age 31. So, I still believe Hopkins has the talent to be an impact player in 2023.
The problem now is his situation. Of course, playing in Arizona without Kyler Murray wasn't ideal. Over the past two seasons, Hopkins has played 19 total games. In his 15 games with Murray, he averaged 16.8 ppg. In his four games without him, he averaged 13.6 ppg.
The Cardinals had a 58% neutral-game-script-pass rate last season. The Titans had a 50% rate. Hopkins is going from a pass-first offense to one of the most run-heavy units in football. Even with the Titans projected to be worse this season, they are still going to throw far fewer passes than most other possible landing spots.
I don't really like to rank free agents because the landing spot is so important, but I did tentatively pencil in Hopkins at WR15 on the presumption he would land in one of New England, Kansas City, or Buffalo. In Tennessee, my initial reaction was only to drop Hopkins to WR19, but this is an immediate reaction. After fully digesting the move, I can reasonably drop him another 4-5 spots. I'm not saying I will, just that I might.
How Hopkins Impacts the Rest of Tennessee's Offense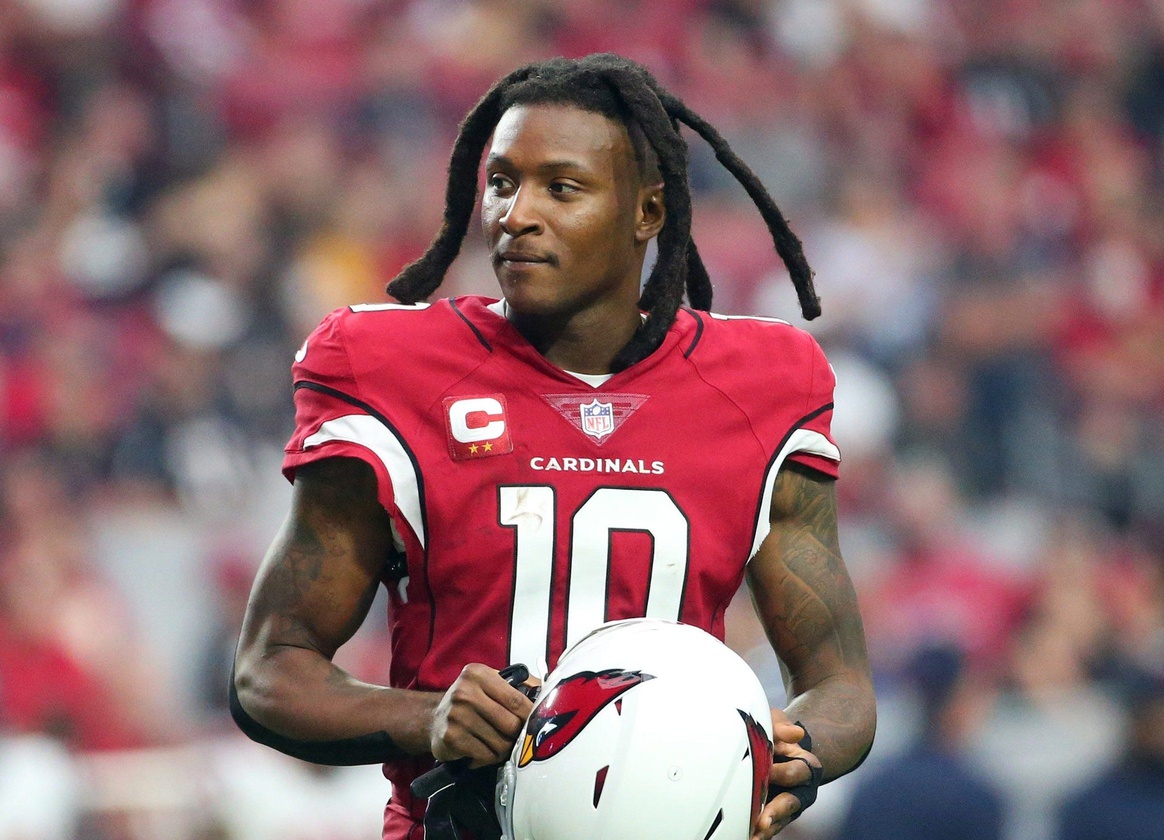 RB Derrick Henry
I'm starting with Derrick Henry because, typically, wide receiver signings only impact running backs if those running backs catch passes. However, I do think the Hopkins signing matters for his Highness.
Hopkins, in a sense, is a victim of his own success here. He makes the Titans better, which will allow them to remain in a neutral-to-positive game script more, thus allowing them to run more.
The primary concern fantasy managers have with Henry is that the Titans may not be particularly good. Well, that and the fact that he's 29 years old with more touches than any player in the NFL over the past four seasons.
Henry being 29 doesn't actually bother me. He's already proven to be an outlier, and we know he's an elite talent. I don't envision any other scenario other than Henry getting fed the rock another 350+ times. Henry's splits in Tennessee's wins vs. losses are well known. While I am not a believer in Ryan Tannehill, Hopkins makes this team better. His presence makes me more confident in Henry having one more elite fantasy year left.
QB Ryan Tannehill
Of course, adding a future Hall of Fame receiver who is still good is going to benefit the quarterback. However, Tannehill averaged 13.9 ppg last season. Outside of a 1.5-year stretch from 2019-2020, Tannehill hasn't really been a fantasy-relevant QB.
The addition of Hopkins will increase the number of weeks in which Tannehill pops up on the streaming radar in favorable matchups. However, Tannehill is still nowhere close to even being a starter in Superflex formats. He is still very much at risk of getting benched for Will Levis at some point this season.
Fantasy managers may want to tick Tannehill up a few notches in their rankings, but I'm not. He remains my QB31 and not someone to even think about in 1QB leagues.
WR Treylon Burks
I was already very down on Burks heading into his sophomore season. Burks, a 2022 first-round pick, failed to reach 500 receiving yards as a rookie. That gives him a sub-10% chance at ever materializing into a useful fantasy asset, based on historical hit rates of Day 1 and Day 2 picks since 2011.
Additionally, Burks plays with Tannehill in a run-first offense. He was my WR44 prior to the Hopkins news. Now, we have to assume Hopkins is seeing at least a 25% target share. That's going to bump Burks down to 20% or lower. While that's still a good target share in a vacuum, it's a problem when you consider how few passes the Titans throw.
Historically, sophomore WRs are very good bets in fantasy football. If you want to still take a shot on Burks, I get it. While I don't think Hopkins is done, at age 31, there's certainly a chance he is, in which case, my ranking of Burks would probably be too low. However, as things currently stand, Burks is not someone I'm looking to draft this season.
TE Chigoziem Okonkwo
In quickly glancing Twitter, I've already seen takes saying this hurts Burks more than Okonkwo and others that say Burks should be fine and Okonkwo will take the biggest hit. This should tell you all you need to know about the level of confidence the fantasy community has in reading this situation.
Hopkins and Okonwko are very different players operating in different parts of the field. From a volume standpoint, of course, it's a negative. There are now fewer targets to go around. Efficiency-wise, Okonkwo should be better with a true WR1 soaking up coverage.
Okonkwo's 33.3% targets per route run rate was second in the league last season. His 3.26 yards per route run was first. This is a talented player at a position where seldom few players see a ton of volume. Okonkwo only needs to see 4-5 targets a game to be a fantasy TE1. I did not move him from his TE12 ranking.
The Rest of the Titans' Offense
The fantasy-relevant players on the Titans are Henry, Hopkins, Burks, and Okonkwo. Any hope of Nick Westbrook-Ikhine or Kyle Philips breaking out was put to bed by the Hopkins signing.
Outside of Tannehill and Levis in Superflex leagues and a late-round dart throw at rookie RB Tyjae Spears, there are no other Titans worth your consideration in 2023 fantasy football leagues.
Listen to the PFN Fantasy Podcast
Listen to the PFN Fantasy Podcast! Click the embedded player below to listen, or you can find the PFN Fantasy Podcast on iTunes, Spotify, and all major podcast platforms.  Be sure to subscribe and leave us a five-star review! Rather watch instead? Check out the PFN Fantasy Podcast on our Fantasy YouTube channel.