The Dallas Cowboys are coming to the tail end of Week 2 of camp and will start the preparation for their preseason game against the Jacksonville Jaguars next week. 
The preseason will be vital for some position groups, giving players a chance to solidify a final roster spot.
Top Position Battles in Dallas Cowboys Training Camp | Offense
Wide Receiver
With wide receivers CeeDee Lamb, Brandin Cooks, and Michael Gallup fortifying the Cowboys' starting three receiving corps, that leaves a spot open for a fourth guy. So far, through two padded practices, we have seen glimmers of greatness from this battle.
KaVontae Turpin continues to show how much he has worked to be integrated into the offense. In 2022, he was ranked ninth in the NFL in punt return yards (303). Although we might see other guys like Malik Davis and Deuce Vaughn take some returner reps in the preseason, it's still Turpin's position.
He has speed and takeoff that Cowboys head coach Mike McCarthy says is unique, and he is now a receiver in the rotation.
Tolbert has had one of the most impressive camps within the entire team. Offensive coordinator Brian Schottenheimer talked about his camp being a product of his work ethic. Tolbert has seamlessly blended right into the offense. Dak Prescott said that it was a matter of finding his confidence.
Tolbert has found a stride in camp. So to see what he will look like in real-game scenarios will be a tell-all for what he can do in the regular season. Simi Fehoko is working through a quad contusion that he suffered during a collision during practice. He can still set a spot in the offense if he can return to camp and continue progressing on the chemistry he built with Prescott in the offseason.
Jalen Brooks, the team's seventh-round draft pick, has been one of the most surprising rookies to come out of camp. He is noticeably active in the red zone and has the potential to grow even more.
Running Back
The guys that are still in the running for the RB2 spot are Malik Davis, Rico Dowdle, Ronald Jones, and Deuce Vaughn.
Davis had the upper hand coming into camp to be the automatic front-runner. He has gotten a lot of the starting reps and has utilized his speed well in the process.
McCarthy said Dowdle has had one of the most impressive camps. He can be a physical back and has showcased that with the reps he is getting.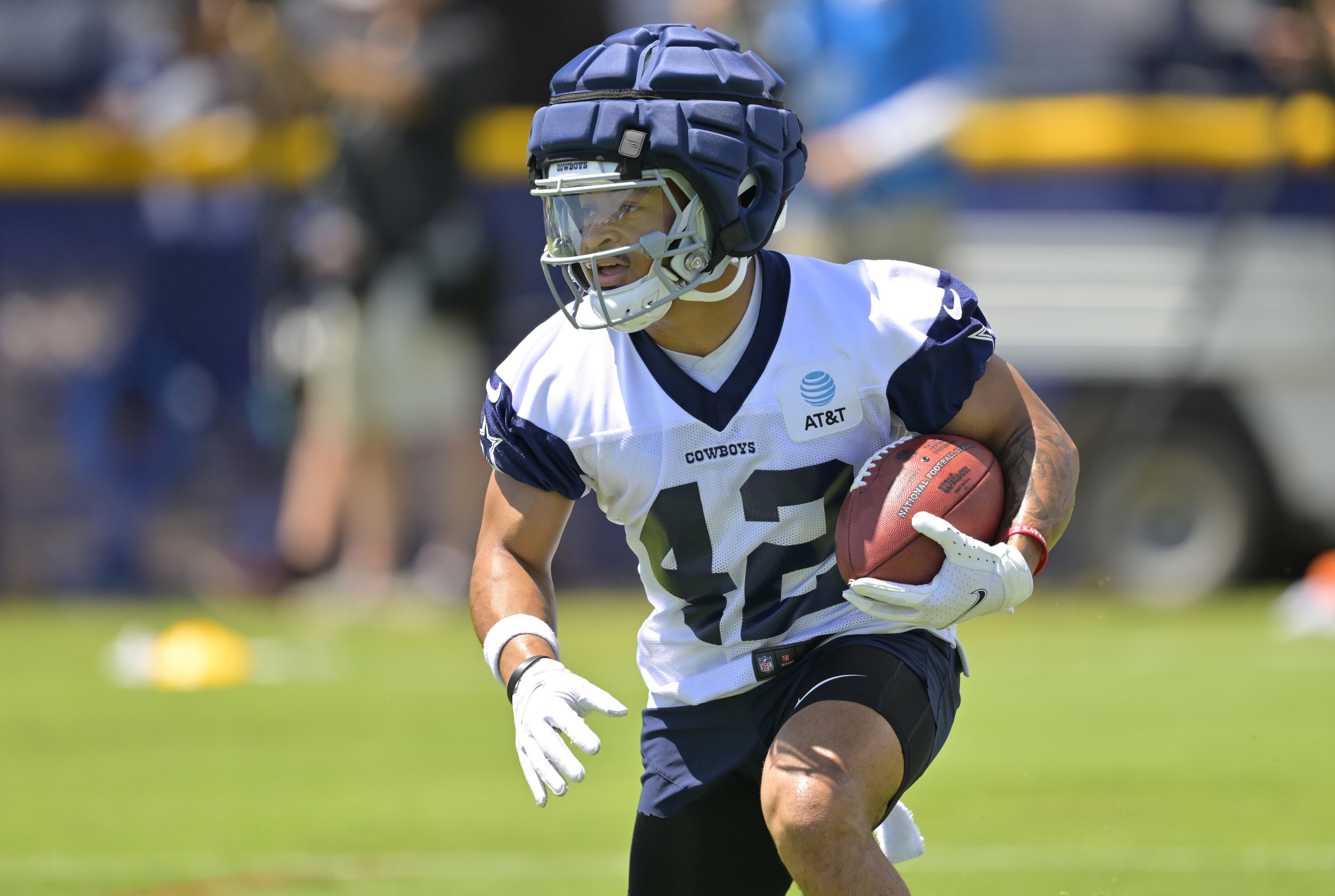 Despite Jones having a two-game suspension in the regular season for violating the NFL's PED policy, he continues to fight for a spot. Jones has had highlights at camp of him running through guys to find a hole and being shifty. I wouldn't count him out of the running, especially with the reps he is getting with the starters.
Vaughn uses his size to his advantage. He has shown the speed he has to get down the field quickly, especially when he can be out of the defender's eye level. 
Tight End
The starting tight end position should go to Jake Ferguson. However, with the amount of utilization this group will see under the West Coast offense, it's more of a matter of who will see more reps than others at this point. Plus, it will be interesting to see how many tight ends Dallas wants to keep on the roster.
Peyton Hendershot has shown that his wide receiver-like qualities are still vibrant and can be used on the offense.
Sean McKeon has been getting much attention and well-deserved kudos during camp. Schottenheimer said that he is one of the most underrated players. McKeon has gotten reps with the starters and backups but has shown what a quarterback-friendly player he is. He also adds another element of strength to the pass pro.
Although Luke Schoonmaker is currently dealing with plantar fasciitis, he is taking the initiative to get mentally ready. He takes mental reps on the sidelines. We still need to see what Schoonmaker will look like in full force and in pads, but the expectations are high.
Top Position Battles in Dallas Cowboys Training Camp | Defense and Special Teams
Cornerback
At this point, the battle for the third cornerback position is between DaRon Bland and Eric Scott Jr.
Bland led the team in tackles last season and is expected to take a huge jump this year. But with Scott Jr. having as good of a camp as he is, he might be more involved in the rotation, especially after getting even more polished.
Nahshon Wright has been one of the most impressive players at camp and has two interceptions already, the most of anyone on the team. 
Although Kelvin Joseph is a guy that most will count out early, Dan Quinn has continued to speak highly of his growth. If Joseph can work on his man coverage skills and physicality on special teams, he could find a spot on the final roster again. His best moment so far was recovering a muffed ball from Vaughn during special teams play. Being versatile is vital for Joseph, especially with the competition in the same room.
Kicker
The kicker competition is one of the biggest mysteries and will likely continue to stay that way until after the preseason. Tristan Vizcaino and Brandon Aubrey have struggled with consistency, which doesn't bode well with trying to find the team's kicker. The preseason will be vital for this competition.
Listen to the PFN Cowboys Podcast
Listen to the PFN Cowboys Podcast! Click the embedded player below to listen, or you can find the PFN Cowboys Podcast on iTunes, Spotify, and all major podcast platforms.  Be sure to subscribe and leave us a five-star review! Rather watch instead? Check out the PFN Cowboys Podcast on our NFL YouTube channel.