A football player's second-year jump is vital to show what kind of player they will be as a veteran with experience.
Expectations are higher, standards are set, and it's a chance for them to become a leader for their position group. The Dallas Cowboys' second-year players are no different, and the stakes are high for them as they head into training camp this week.
With the Cowboys' roster needing some holes to fill, some second-year players can battle for a starting position, while others must level up to earn a more significant role in 2023.
Dallas Cowboys Offensive Second-Year Jumps
RB | Malik Davis
If running back Malik Davis wants to solidify his spot as the team's second back behind Tony Pollard, he must have a standout camp as a running back and on special teams.
Davis has the upper hand to step into the second RB position ahead of camp, seeing that he was the team's third back last year.
If he can be all gas and no breaks to prove himself as a reliable back, an explosive threat and blocker for Dak Prescott, and a backup returner for KaVontae Turpin, he could make the final roster spot.
TE | Jake Ferguson, Peyton Hendershot
The Cowboys' tight end room is more rejuvenating than we have seen in years. With all of the young talent, the playbook can be wide open for more tight end sets.
With the dynamic duo of Jake Ferguson and Peyton Hendershot setting the bar high last year, it is vital for the offense's success for them to continue to improve.
Ferguson came out of the 2022 season with 174 receiving yards and two touchdowns on 19 receptions; his second-year jump could determine if he is Prescott's "go-to" guy, especially in short-yardage situations.
WR | Jalen Tolbert, KaVontae Turpin
The Cowboys' wide receiver room is now the perfect mix of experience and youth, with CeeDee Lamb, Brandin Cooks, and Michael Gallup all leading the way.
Jalen Tolbert and KaVontae Turpin are two guys who can take a big second-year jump within the offense and become the team's fourth receiver.
Tolbert admittedly had a disappointing rookie season but has put the work in this offseason to set the bar high for a comeback second campaign.
Turpin was a gem of a returner for the Cowboys last season, bringing stability to the position for the first time in a long time. With an offseason allowing Turpin to rest after almost two years' worth of nonstop football, he has the skill set and speed to fit perfectly into the Cowboys' offense.
OT | Tyler Smith, Matt Waletzko, Alex Taylor
Tyler Smith's showcased his flexibility on the line in his rookie season. Holding to the sentiment of "be ready when your number is called," he was ready and grew more as the season continued. Seeing a more polished version of Smith this season will be exciting.
Matt Waletzko could be the perfect swing tackle for the line heading into the season, and a good camp could allow him to showcase that skill set.
Although Alex Taylor has previous NFL experience, he must start by attacking any opportunities he is given.
Dallas Cowboys Defensive Second-Year Jumps
CB | DaRon Bland
DaRon Bland's rookie season was anything but bland, as he led the Cowboys' defense in interceptions last year. Although there is more to a cornerback's success than interceptions, this does set the bar high for his second campaign.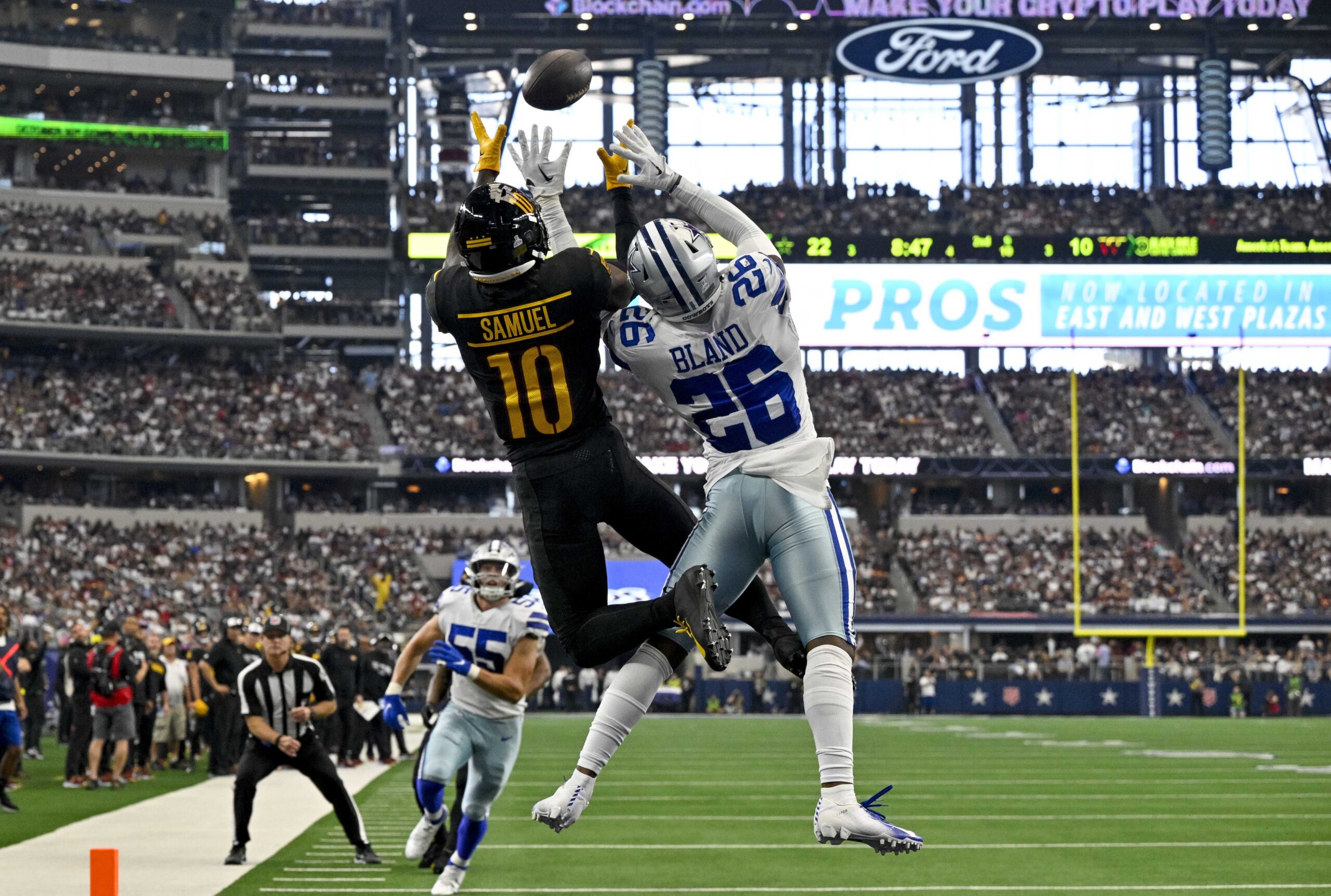 Bland will work under Trevon Diggs and Stephon Gilmore, who can continue to help elevate his game and create opportunities for him.
LB | Damone Clark, Devin Harper
Damone Clark is a guy that is heading into camp with the bar set as high as it can be for his second season with the Cowboys.
Clark had the second-most combined total tackles of Cowboys rookies last season (47), just behind Bland, who had 54. If he can build off of that success and follow suit to Leighton Vander Esch by diagnosing opposing offenses, this linebacker room will be even more of a force.
Devin Harper is due for a comeback season after being placed on IR last October with an Achilles injury. A Year 2 jump will be vital for seeing where he fits in the linebacker room with the talent already stacked. Not to mention that he can be yet another special teams threat to top it off.
But a big jump could mean the LB room's future lies with Clark and Harper.
DE | Sam Williams
Sam Williams had the most sacks among Cowboys rookies last season (4), ranking him seventh in overall sacks on the defense.
Williams was also tied for second with Dorance Armstrong for the most tackles for loss (10) on the defense last season. To put things in perspective, that's only three behind Micah Parsons.
A Year 2 jump from Williams could mean you see more sacks and tackles for loss, making this team dominate in third-down situations.
S | Markquese Bell
With the Cowboys' safety room being a three-headed monster with Jayron Kearse, Malik Hooker, and Donovan Wilson, Markquese Bell will continue having plenty of veteran leadership to look up to this season.
Bell only played one game in 2022, so the sky is the limit for a Year 2 jump.
Bell has displayed plenty of burst and aggression, so adding strength within an already strong safety room could benefit the Cowboys more.
Dallas Cowboys Special Teams Second-Year Jumps
K | Tristan Vizcaino
Tristan Vizcaino is one of the two kickers heading into camp, and if he wants to be the team's starting guy, he has no choice but to take his second year-jump.
Vizcaino could head back to the practice squad or get cut if he doesn't have a solid camp or preseason.
Listen to the PFN Cowboys Podcast
Listen to the PFN Cowboys Podcast! Click the embedded player below to listen, or you can find the PFN Cowboys Podcast on iTunes, Spotify, and all major podcast platforms.  Be sure to subscribe and leave us a five-star review! Rather watch instead? Check out the PFN Cowboys Podcast on our NFL YouTube channel.