Week 8's slate of college football games gave us a scare for some top 2020 NFL Draft prospects, especially Tua Tagovailoa, who suffered an ankle injury against Tennessee. However, another college football Saturday, complemented by the World Series, will be coming up this week. The Bowl season, including the illustrious Senior Bowl, is starting to take shape as invitations will be sent out the first week of November. With that said, College Football Week 9 is set to be a good one.
Under the radar, players are making their final push towards a Senior Bowl invite. So, which players are criminally underrated? How about San Diego State cornerback Luq Barcoo, who entered the season not even on the Senior Bowl watch list. But with a big senior year, his name is certainly on their radar now. He is surely vying for an invite to Mobile.
Two other seniors striving for a Senior Bowl spot are Texas wide receiver Devin Duvernay and TCU cornerback Jeff Gladney, who have had their hype train going since the summer. Meanwhile, this week is still crucial for some underclassmen who look to surge their draft stock and potentially leave school early. Running back, J.K. Dobbins is the big name to watch as he looks to continue a stellar junior season.
Week 9 of college football has its share of prominent games to tune into. Texas vs. TCU and No. 6 Ohio State vs. No. 13 Wisconsin are both games that will draw eyes from the scouting community as NFL talents face off against one another. The latter of the two matchups will have college football playoff implications. Furthermore, Chase Young, Tyler Biadasz, and others will look to continue their strong seasons as they surge towards being first-round locks in the upcoming NFL draft.
Oklahoma and Jalen Hurts will face off against Kansas State while Jim Harbaugh's Michigan Wolverines play Notre Dame. Meanwhile, the Penn State Nittany Lions, who beat Michigan last week, get Michigan State this week. Even out West, Justin Herbert and Oregon will face off against Anthony Gordon and Washington State. It is a jam-packed Week 9 in college football.
Sleeper to Watch: San Diego State CB Luq Barcoo
San Diego State is currently making a surge towards the Top 25 as they continue a strong season in the Mountain West. Still, many of their players have hardly been given any attention from the scouting community. With a deep, talented cornerback class, it is easy for skilled players to get buried beneath all the top tier talent. That is precisely what has happened to former JUCO transfer Luq Barcoo.
Barcoo came from Grossmont College, where he was the rare two-way player, playing wide receiver and cornerback. He was heavily recruited heading into his Junior year and landed in San Diego. Last year, Barcoo had four pass deflections and an interception throughout nine games. However, this season, Barcoo has brought his play up to another level. In 2019, he's registered nine pass deflections and an eye-popping five interceptions in a mere seven contests.
Barcoo's length and ball skills are the two traits that immediately jump out on his tape and scream NFL cornerback to scouts. Not only is Barcoo's ball production there, but his arms are long, and he shows excellent technique in press-man coverage. He is surprisingly fluid for a 6'1″ cornerback, and even though his frame is certainly somewhat slight right now, Barcoo's silky smooth hips and above-average instincts give him wide-scale appeal to the NFL.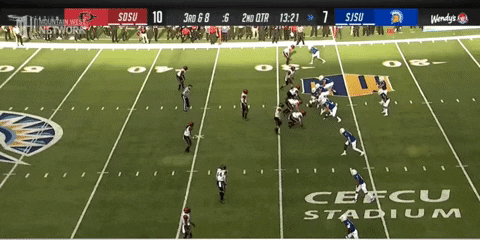 Barcoo has some identifiable traits that are great to see with his length and size. His transitions are effortless, and he completely stays in perfect phase with this receiver as he step-kicks his way to perfect leveraging and positioning. It would be preferable that he would pull down this interception, but everything Barcoo does at the line is tremendous, and his long speed is solid.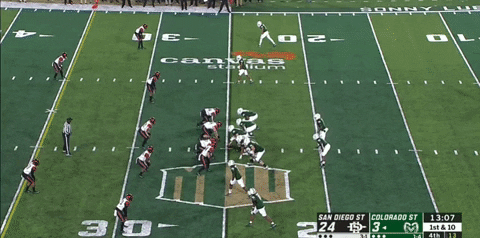 This is just a great play at the catch point to fight for this ball and rip it away from the receiver. Barcoo even stays patient with a half shade before he fully flips his hips and transitions on this go. He is in a great position to fight for this ball and make a play. This is simply a great play by a guy who needs more attention.
Matchup to Watch: Texas WR, Devin Duvernay vs. TCU CB, Jeff Gladney
It's a Week 9 Texas battle this week in Fort Worth. Sam Ehlinger and Texas escaped a scare at Kansas last week, but it was to no fault of their ascending receiver Devin Duvernay, who ran a 10.27 100m dash in high school. As a former track star, people are going to expect him also to carry toughness, and Duvernay brings that grit with him.
Our own AJ Schulte is a big, big fan of Duvernay, who had a fantastic game against LSU that put him firmly on the map of everyone in the country. Schulte believes that Duvernay projects similarly to Deebo Samuel of the San Francisco 49ers and cites that his ability to climb up boards is growing with each passing game.
I would have to agree that Duvernay's prospects only continue to improve, and he is looking more and more like a Day 2 draft pick. A speedy receiver who also is a polished route runner and has a vast release set? You can sign me and the NFL up any day of the week.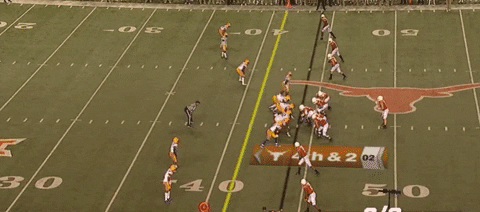 Texas loves to deploy Duvernay on these in-breaking routes that get him into space out of trips. The natural pick allows Duvernay to get open, and from there, he showcases his elite speed and ability to gain yards after the catch. Duvernay's big-play ability to going to be part of the reason that a team will pound the table for him in April.
However, his route running is just as impressive. Not only are his cuts sharp and fluid, but he does a great job of setting the cornerback up here with a subtle head fake to truly draw him down and inside. From there, it is merely executing an excellent toe drag on the sideline to secure this touchdown.
On the other side of things, an emerging, aggressive cornerback out of TCU in Jeff Gladney has gotten watchful eyes on him this season, as he continues a solid season with five pass breakups already on the year. Gladney might not be receiving the hype of some top corners like Kristian Fulton, but he is flying under the radar as a solid name to look closely to as the season rages on.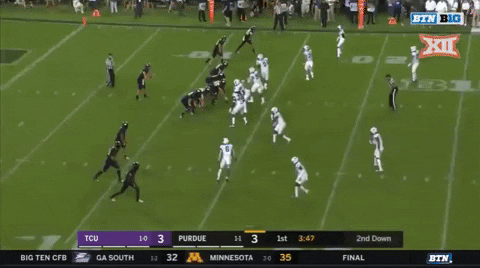 Gladney's aggressiveness seeps over into run support and getting dirty near the line. Gladney is sent on blitzes and blows up throws to the flats all the time, much like he does here. This is excellent recognition and closing speed by Gladney to close on this short throw and force this incomplete pass. He also avoids targeting or any unnecessary and makes a good form tackle instead.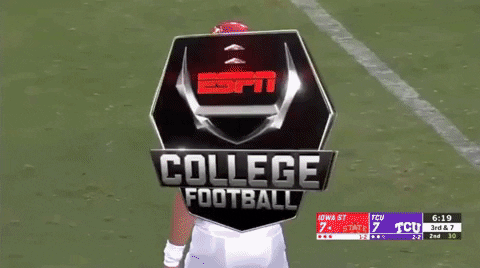 Perhaps the ability to man up bigger-bodied receivers and get disruptive at the catch point is even vital for Gladney's draft stock. Hakeem Butler gets bumped during his stem, and Gladney controls this route the whole way. Yes, it gets a little physical and aggressive, but Gladney loves to impose his will on guys with bigger frames and force them to try and win a jump ball. Gladney wins them very, very often.
Player to Watch: Ohio State RB, J.K. Dobbins
The former freshman All-American and the holder of the all-time rushing yards record for freshman at Ohio State is a crucial player to watch this week as the Buckeyes take on Wisconsin in College Football's Week 9 action. Dobbins had a down year as a sophomore and did not look like his All-American self. But with much-needed support from his teammate, Master Teague, to decrease his workload, Dobbins has rebounded. He looks faster, stronger, and more comfortable in the Buckeye backfield this year.
Our own Tony Pauline gave Dobbins the first-round grade this summer, and even though I wish I could agree on that, I instead gave Dobbins a third-round grade. He came across as a guy who could do everything well, but nothing truly exceptional. A solid running back, yes, but a very ordinary one. But Dobbins's elusiveness and playmaking ability have taken a significant upswing this year, and that bodes well for a guy who had questions heading into the season. The improvement has bumped Dobbins's grade up to a second-round grade for me, and I firmly believe he can now be the lead NFL back if you need him to do so.
This is part of that elusiveness factor. Dobbins has shown the ability to be far more dynamic than he was at any point last year. He is now slippery and able to execute moves in succession even when the blocking breaks down. This run is almost entirely him as his feet move quickly and allow him to spin and then make a sharp cut upfield. The ability to create yards for himself is a great sign to see.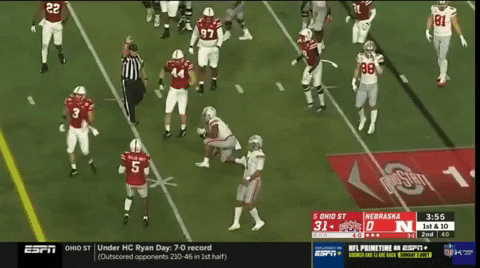 Similarly, this cut and ability to press the line, so the inside linebacker gets baited into the traffic, is a great subtle movement by Dobbins. Still, it is incredibly key to be a good RB at the next level truly. The overarching key, however, has been the physicality that Dobbins has been running with this year. Here he drags defenders for a good seven yards, and that strength and powerful running is stuff that sets the tone for an offense.