For two years, fantasy managers and Dallas Cowboys fans alike have been waiting for Tony Pollard to break free of the shackles placed on him by Ezekiel Elliott's presence. Last season, it finally happened, and Pollard proved everyone right. With Elliott gone, can Pollard be even better than he was last year? Is an overall RB1 finish in his plausible range of outcomes for the 2023 fantasy football season?
Did you get a trade offer in your dynasty or redraft league? Not sure what to do? Make championship-winning decisions with PFN's FREE Fantasy Football Trade Analyzer and Calculator!
Does Tony Pollard Have Overall Fantasy RB1 Upside?
Before we assess Pollard himself, we need to assess the running back landscape as a whole. What does it take to finish as the best running back in fantasy football?
We've seen quite a sizable gap between the strongest and weakest overall RB1s. 2006 LaDainian Tomlinson averaged 30.1 PPR fantasy points per game. 2015 Devonta Freeman averaged just 21.1 ppg. Both were the best running back in fantasy football those years, but they were very different seasons.
We've seen some really, really strong RB1 seasons in recent history. In 2016, both David Johnson and Le'Veon Bell averaged over 25 ppg. In 2017 and 2018, Todd Gurley averaged 25.6 ppg and 26.6 ppg.
Then, in 2019, we had the epic Christian McCaffrey year. His 29.4 ppg were the best since '06 Tomlinson. In 2020, Alvin Kamara averaged 25.2 ppg.
For the better part of the past decade, we're looking at around 25 ppg for an overall RB1 finish. However, the past two seasons have seen running back scoring take a bit of a downturn.
In 2021, Jonathan Taylor was at just 21.9 ppg. Of course, to be fair, Derrick Henry averaged 24.2 ppg but only played eight games. It's fair to say he likely would've finished as the overall RB1 had he played enough games to qualify. Last season, Austin Ekeler also averaged 21.9 ppg.
From 2009-2020, only 2021 Adrian Peterson and 2015 Devonta Freeman posted overall RB1 seasons below 22 ppg. Then, it happened in each of the past two seasons.
So, what is our threshold for Pollard? I'm actually going to go with what we've seen more recently. Overall, I believe the caliber of running back talent in the NFL is not where it was as recently as 3-4 years ago. As a result, we can expect the top fantasy running back to not be as good as he has in the past.
Pollard's fantasy ppg has increased every year of his career. Last year, he saw his biggest jump yet, averaging 15.6 ppg. While that was good for an RB8 finish, he still has a ways to go if he has any hope of being fantasy's top running back.
Tony Pollard Is Efficient in All Phases
A big point in favor of Pollard is it doesn't really matter whether the Cowboys are actually able to run the ball as much as Mike McCarthy wants to. Pollard is one of the best receiving backs in the league.
Through the air, Pollard's 1.82 yards per route run was fourth among all running backs. Pollard saw a 10.9% target share last season and averaged 9.5 yards per reception, second in the league. He was remarkably efficient both as a receiver and a runner, averaging 5.9 yards per touch, fifth-most in the league.
On the ground, Pollard averaged 5.2 yards per carry. An impressive 8.8% of his runs went for at least 15 yards, the fourth-highest rate in the league. He also averaged 3.3 yards created per touch, eighth in the league.
While Pollard is a marvel of efficiency, we know that efficiency decreases when volume increases. That's not to say Pollard will be inefficient this season, but merely that he won't be as efficient as he undoubtedly will see a heavier workload.
This may seem like a negative, but if Pollard is to have any hope of finishing as the overall RB1, he's going to need a lot more work. Fortunately, he should see it.
The Cowboys RB Depth Chart Is Weak
The Cowboys are still very much liable to sign a veteran or even bring back Zeke. But right now, they've done no such thing.
Currently, the guys behind Pollard are 2022 UDFA Malik Davis, 2023 sixth-rounder Deuce Vaughn, and journeyman rotational backup Ronald Jones. Davis is the favorite to spell Pollard, but none of these guys are serious threats to his workload.
With that said, Pollard is never going to be a 300-carry back. My projections have him at 255 carries for 1,276 yards. As a receiver, I have him catching 46 passes for 391 yards. In terms of touchdowns, I have him scoring a total of 14 times.
At just under 1,700 total yards and 14 touchdowns, Pollard's average comes out to 17.5 ppg. It's yet another step forward for the talented back, but that is still well short of what it takes to be the overall RB1.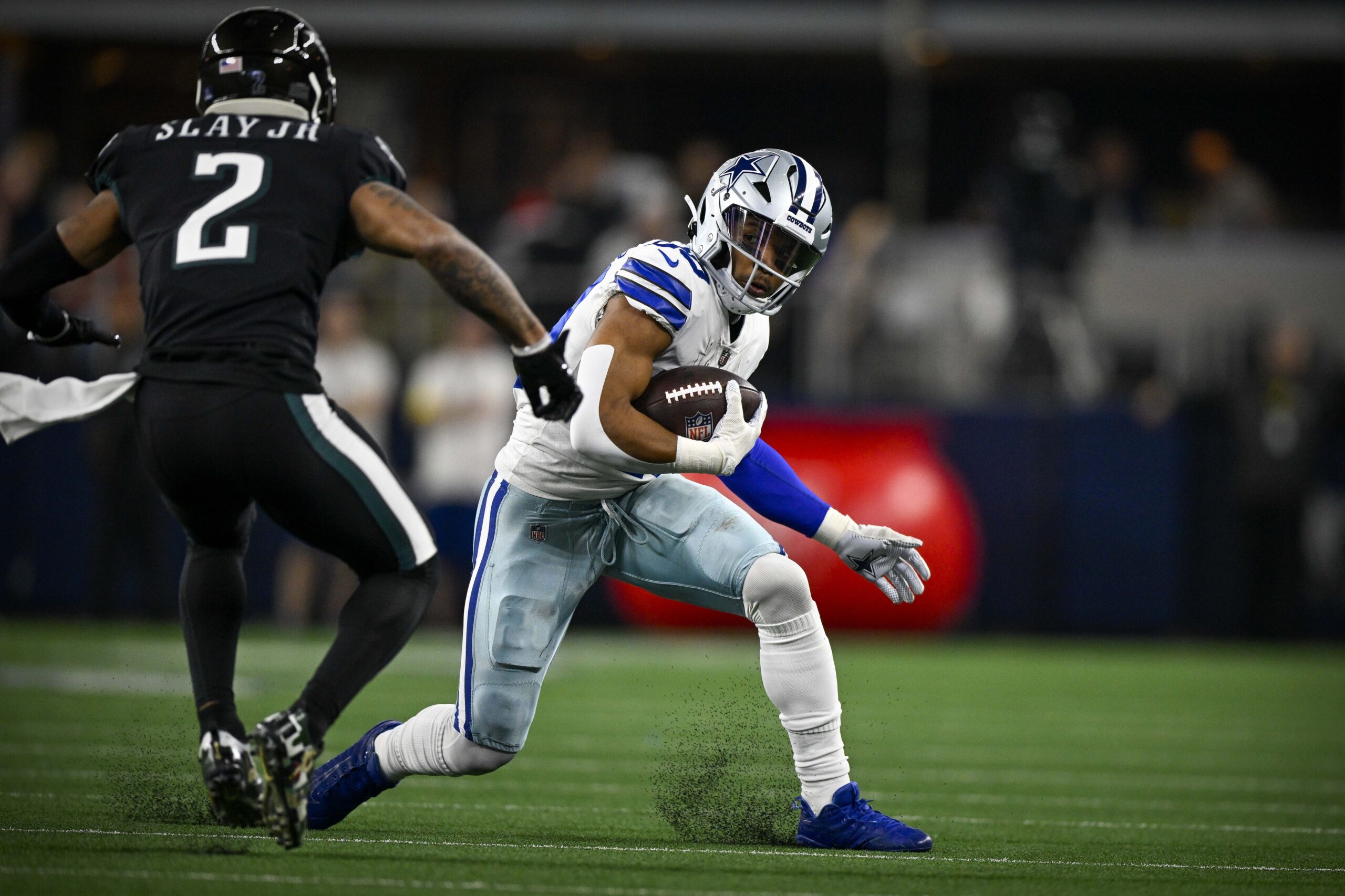 How Likely Is Pollard To Be the Overall RB1 in Fantasy This Season?
Could the Cowboys give Pollard more carries? Maybe? Their 49% neutral-game-script-run rate was already the eighth-highest in the league last season. McCarthy may want to run the ball more, but the Cowboys already run it a lot.
Regardless, more carries are not going to be enough. For Pollard to reach overall RB1 status, he would need to see a truly elite target share and score more touchdowns.
Elliott's best season was 2018, when he averaged 21.8 ppg. He caught a career-high 77 passes. It was an outlier compared to the rest of his career, but if we're looking for Pollard to finish as the overall RB1, it's going to take an outlier season. Could Pollard find his way to 70+ receptions? It's possible … but unlikely.
Dak Prescott doesn't really throw to running backs. Last season, the Cowboys' entire backfield had a 15.6% target share, the seventh-lowest in the league. In 2021, it was better at 18.6% but still in the bottom half of the NFL. We can throw out 2020 because Prescott got hurt, but in 2019, it was again just 16.1%, the sixth-lowest in the league.
As I mentioned above, 2018 was the outlier. Cowboys running backs saw a 21.7% target share that season. That would need to happen again. It's just not something we can realistically project, especially in light of all the evidence of the past four years.
Another 30 receptions would get Pollard's projection up over 20 ppg. However, his path to an overall RB1 finish would necessitate an outlier touchdown season.
Ultimately, for Pollard to improve upon his 2022 performance, as well as my 2023 projection, by an amount large enough to finish as the overall RB1, three things would have to happen.
Pollard would need to catch more passes, score more touchdowns, and RB scoring around the league would have to remain at the levels of the past two seasons. If any one of those things did not happen, Pollard's chances of finishing as the overall RB1 would vanish.
I love me some Pollard. I've got him ranked as my RB5 and fully endorse him as a first-round pick in 2023 fantasy drafts. However, I do not think it is particularly likely that Pollard finishes as the top running back in fantasy football this season.
Listen to the PFN Fantasy Podcast
Listen to the PFN Fantasy Podcast! Click the embedded player below to listen, or you can find the PFN Fantasy Podcast on iTunes, Spotify, and all major podcast platforms.  Be sure to subscribe and leave us a five-star review! Rather watch instead? Check out the PFN Fantasy Podcast on our Fantasy YouTube channel.