After suffering through an injury-riddled 2019 season, Pittsburgh Steelers running back James Conner is an ideal bounce-back candidate to target in 2020 fantasy football drafts. Conner carries obvious injury risk, but the Steelers running back simultaneously has considerable upside in Pittsburgh's offense.
With veteran quarterback Ben Roethlisberger back under center, Pittsburgh's offense is expected to resemble the 2018 version more than the Mason Rudolph and Devlin "Duck" Hodges-led offense of 2019. If both Conner and Roethlisberger remain healthy all season, the Steelers running back is an absolute steal at his current FleaFlicker ADP of 43 overall.
After we look ahead to the 2020 NFL season, I'll also look at the process of how we got here. In this article, we will examine Conner's Consistency Score in the 2018 and 2019 seasons, as well as his Relative Athletic Score (RAS) to determine how athletic he was coming out of the University of Pittsburgh.
[sv slug=fantasy]
James Conner's 2020 Fantasy Football Value
With the injury risk pushing down the running back's average draft position, Conner is a tremendous value in the third and fourth rounds of fantasy drafts. FleaFlicker's rankings currently have Conner as RB18 in half-PPR formats, while I have him at RB15 and the top of Tier Three in my running back rankings.
Related | 2020 Fantasy Football RB Tiers
I know the risk is enormous with Conner, but the same could be said about most running backs in this range. Todd Gurley, Chris Carson, Melvin Gordon, and David Johnson are all bouncing back from injuries, but most don't possess the same upside that Conner does in this Steelers offense.
When Conner is healthy, he's been an elite fantasy football producer. Over the last two seasons, Conner has averaged 18.05 fantasy points per game in PPR formats. Conner's pass-catching ability (4.86 targets per game in 2018/2019) locks him into a three-down role in Pittsburgh's offense, so those fantasy numbers seem destined to repeat in 2020.
Conner's targets did drop from 5.92 per game in 2018 to 3.8 per game a season ago, but every player saw a statistical regression with backup quarterbacks playing 90.48% of the Steelers offensive snaps. The return of Roethlisberger should boost those numbers back up for both Conner and wide receiver JuJu Smith-Schuster.
Conner is at his best value in the fourth round of fantasy drafts, but don't be afraid to take him in the third round if needed. There's a rather large tier of wide receivers with value available in rounds 3-6, while the running back depth dries up quickly in the majority of drafts.
James Conner's Consistency Score (CS)
A metric created by Pro Football Network fantasy analyst Phillip Caldwell, Consistency Score doesn't look at overall points scored, but instead looks at how consistent each player is throughout the season. More consistent fantasy producers are better season-long investments than inconsistent boom/bust prospects since they produce more "starter quality" weeks.
Conner finished 2019 as RB28 with a solid 4.05 Consistency Score in the ten contests he played. Conner's CS dropped over four points from his elite 8.22 score from 2018, but he still showed his ceiling with three weeks in the top ten. James Conner was an RB2 or better on only 50% of his games in 2019, so he also showed his fantasy floor if Roethlisberger were to go down again during the 2020 NFL season.
James Conner's Relative Athletic Score (RAS)
Conner was an immediate contributor for the Pitt Panthers, racking up 799 rushing yards and eight rushing touchdowns his freshman season. Conner took it up several notches during his sophomore campaign, finishing No. 7 overall in rushing yards (1,765 yards) and No. 3 in rushing touchdowns (26 touchdowns).
After his initial success at Pitt, Conner's circumstances took a turn for the worse. Conner suffered a season-ending knee injury early into his junior campaign, but the worst news came in December of 2014 when he was diagnosed with stage 2 Hodgkin's lymphoma.
With cancer eating away at his body, his playing career was of minimal importance, but Conner's strength and perseverance couldn't be denied. Not only did Conner return to play collegiately, but he was drafted by the hometown Pittsburgh Steelers in the third round of the 2017 NFL Draft.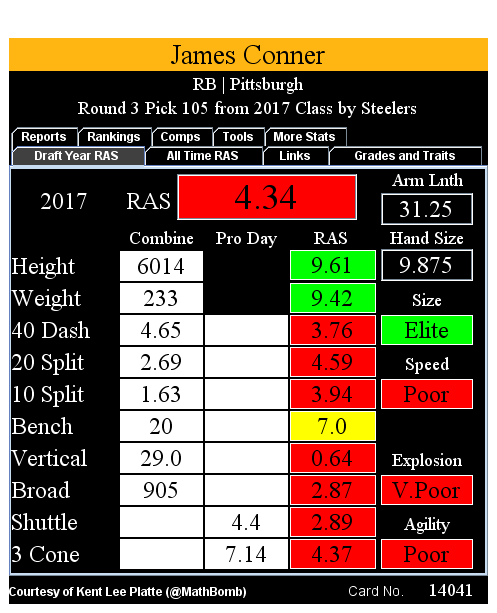 Despite elite size for the running back position, Conner posted a poor Relative Athletic Score of 4.34 overall at the 2017 NFL Combine. Conner tested poor in both speed and agility metrics, while he was very poor in drills that test a player's ability to explode. Despite his minimal athletic traits, Conner has shown the ability to overcome his weaknesses to produce fantasy success.