The NFL Scouting Combine is a place where draft stocks rise and fall merely due to a 40-yard dash, some drills, agility tests, and explosiveness tests. Guys like Isaiah Simmons are walking out as happy campers due to their freakish numbers in Indianapolis. But others are feeling the burn of the letdown. And for a guy who has put out great film against top competition but then might still see his stock fall due to some testing numbers? Well, that's the unfortunate post-combine outlook for Mississippi State cornerback Cam Dantzler right now.
Dantzler, who was my sixth-overall cornerback before the combine, ran a 4.64 40-yard dash at the combine and only put up a 34.5 inch vertical before calling it a day. Historically, that is a horrific time to run. The tape is good, and Dantzler shut down guys like Henry Ruggs, Ja'Marr Chase, and Bryan Edwards over his tenure at Mississippi State. But for cornerbacks, the 40-yard dash has a lot of predictive power. The only three big cornerbacks that have ran slower than a 4.6 flat that turned out to be exceptional are Josh Norman, Trumaine Johnson, and Brandon Browner. If you run in the 4.6s as a cornerback, you are essentially asking a team to bank on you as an outlier.
So, what Dantzler has to bank on are a few things. For one, Cam Dantzler's priority has to be to improve his time at his pro day. There is no way a 4.64 is going to be an acceptable best time for his entire draft season athletic profile. Second, he needs to test decently well in all other areas on his pro day as well. That is somewhat a given, I suppose, but his vertical raises a lot of concerns about his explosiveness, too. Scouts can love the film, but you know the NFL has thresholds and historical data, and with a lackluster athletic profile, teams are going to stay away from Dantzler.
So, it would appear that Dantzler's stock might be in free fall, right? Well, I would implore you to wait for a second on that. That film I was talking about? Yeah, it was incredible. Dantzler not only did well against the top receivers in the SEC. He straight up locked them down.
When he was targeted, Dantzler only surrendered an 8.5 passer rating, and that was fifth-best in the entire nation. He had weekly assignments against future first-round picks and shut them down. There was a reason everyone was so shocked when he tested poorly. Dantzler was sticky in man coverage and never got burnt. It was sometimes incredible to watch what he could do. He was never the most fluid guy and had some hitches in his lateral hip transitions, but his ability to be physical and just ragdoll guys to the catch point was phenomenal.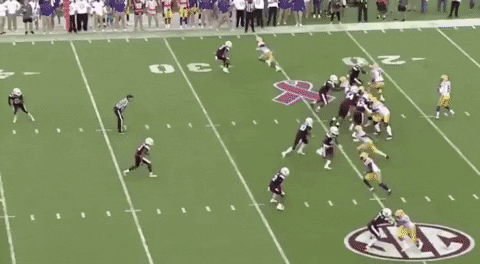 Here Dantzler is covering standout LSU receiver Ja'Marr Chase, and he does a fantastic job shutting him down. He starts on an inside shade but mirrors with his feet and hips while keeping his feet under his shoulders and minimizing that slight hip stiffness he does show on film. Dantzler puts himself in perfect position here as he closes in and wins the leverage battle because he plays physical at the coverage and still has sudden and disciplined movements to stay stride for stride with one of the best receivers in the nation.
This is textbook by Dantzler, who then shoots his arm up through the catch point, and the pass falls incomplete. The reason his speed never was an issue on film was that he played the leverage game so incredibly well.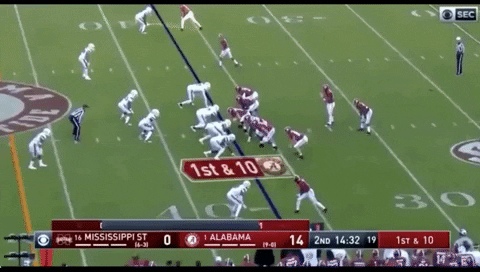 This time, we have Dantzler covering Henry Ruggs. At the bottom of the screen, Ruggs tries to execute a hop-step shuffle release to the outside to try and draw Dantzler off his squared-up alignment at the beginning and win the inside of the route. However, Dantzler does a great job of not committing his hips to either direction until it is clear where Ruggs is going. He does a great job to flip those hips and stay in the hip pocket of Ruggs so there is no separation. And then, since he is in such a great position, he sticks out his hand and bats this down.
Overall, Cam Dantzler's outlook post combine is a mixed bag. I had a few days to think it over, and I am going to bank on the former Bulldog. A big part of that was just how good he looked against guys that have burnt other good cornerbacks in this class that will be playing in the NFL.
Dantzler never really had a game where he got dominated. He stood out in a good way on film, and that is why I am going to take a leap of faith on this one. If you do not share the same enthusiasm, I get it. The historical data has predictive power, but so does dominance over good, quality opponents. I will bank on Dantzler due to the latter.
Listen to the PFN Scouting Podcast
List to the PFN Scouting Podcast! Click the embedded player below to listen, or you can find the PFN Scouting Podcast on iTunes, Spotify, and all major podcast platforms.  Be sure to subscribe and leave us a five-star review! Rather watch instead? Check out the PFN Scouting Podcast on our Scouting YouTube channel.