The 2023 fantasy football season is firmly underway. Early in the season, values are constantly changing as we figure out the fantasy landscape. As always, fantasy managers should be looking to improve their rosters. Here are a handful of players to explore trades for, either to buy low on those who are undervalued or sell high on ones that are overvalued.
Looking to make a trade in your fantasy league? Having trouble deciding who to start and who to sit? Check out PFN's Free Fantasy Football Trade Analyzer and Start/Sit Optimizer to help you make the right decision!
Fantasy Football Week 3 Buy-Low Trade Targets
Here are a few players fantasy managers should be looking to acquire at a low price, if possible.
Trevor Lawrence, QB, Jacksonville Jaguars
It is very difficult to find quarterbacks to buy low. There are only 12 starting each week, and the ones that aren't playing well likely aren't for a reason. I am not encouraged by what I've seen from Trevor Lawrence over the first two weeks.
With that said, Lawrence was very good last year. This is a matter of betting on talent and gambling that Lawrence can turn it around.
He's averaging just 14 fantasy points per game through two weeks. I doubt it's enough for his fantasy managers to give up, but with Houston and Atlanta in the next two weeks, now is the time to buy low on Lawrence if you want him. He will either smash these next two weeks, or you won't want him anymore.
Bijan Robinson, RB, Atlanta Falcons
I know what you're thinking. In what world is Bijan Robinson a buy-low option? Hear me out. Robinson still hasn't completely vanquished Tyler Allgeier. The sophomore back is still on the field a bunch. But it's coming.
Robinson played 23 more snaps than Allgeier this week. He ran 18 more routes. He saw four targets to Allgeier's zero.
MORE: Early Week 3 Waiver Wire Pickups
Robinson is the truth. He is everything we thought he would be. If he keeps outplaying Allgeier, which he will, it's only a matter of time.
Robinson is already an elite RB1 on limited volume. Right now, the only running back I would rather have is Christian McCaffrey. If you can get Robinson for anything less, do it.
Javonte Williams, RB, Denver Broncos
For the second week in a row, I'm going with Javonte Williams. I just really like what I see from him. He looks healthy. Samaje Perine saw far less work this week. It's only a matter of time before Williams is seeing 60-70% of the work consistently.
Williams saw 12 carries. The other two backs only had two. Williams just hasn't found the end zone yet. Once he does, his value will suddenly seem much higher. The Broncos gave you one more week to buy. I would do it.
Jordan Addison, WR, Minnesota Vikings
To be fair, I'm not sure how "low" Jordan Addison's value is. However, it's not as if Addison has really been producing. He's scored two long touchdowns. That's great, but he's still seeing a target share below 15%, as well as playing behind K.J. Osborn in two-receiver sets.
The Vikings drafted Addison in the first round. He is so clearly a vastly superior talent to Osborn. I don't know why coaches play these games with "veteran deference." They drafted Addison for a reason — because he gives them a better WR2 opposite Justin Jefferson.
Eventually, the flip will come. When it does, Addison should see his volume increase and be less reliant on touchdowns to produce weekly. If he is still being valued as a low WR3, see if you can swing a trade.
Jerry Jeudy, WR, Denver Broncos
It was a quiet debut for Jerry Jeudy. He caught just 3 of 5 targets for 25 yards. It was also his first game back from a strained hamstring, and the Broncos may have been taking it easy.
Jeudy is still the projected WR1 for this team. Better days are undoubtedly ahead. If you can buy him at a WR3 price, it is probably worth it.
Luke Musgrave, TE, Green Bay Packers
It really might be the year of the rookie tight end. Last week, I had Sam LaPorta on this list. He is looking like someone who is going to be startable weekly. This week, we're going with the Packers rookie.
Luke Musgrave played nearly 90% of the snaps in Week 2. His 24 routes run were the most on the team.
Musgrave has yet to really do anything with all his playing time. But the fact remains he is on the field and running routes. It remains to be seen what things will look like when Christian Watson inevitably returns, likely next week. However, Musgrave looks like someone worth buying before all the playing time turns into fantasy points.
Fantasy Football Week 3 Sell-High Trade Options
Here are a few players fantasy managers should be looking to sell at a high price, if possible.
Jalen Hurts, QB, Philadelphia Eagles
I am concerned. Jalen Hurts had a great fantasy performance on Thursday night because he got two freebie touchdowns from the 1-yard line. Outside of his long touchdown to DeVonta Smith, though, he hasn't looked good at all.
Hurts has yet to throw for 200 yards in a game. He's also not running nearly as much, with just 37 and 35 yards in his first two contests. He didn't see a wide-open A.J. Brown multiple times against the Vikings, leading to some words between the two on the sidelines.
Make no mistake about it, Hurts will be a QB1 this year. He will probably be top five. But he was my preseason overall QB1, and he sure doesn't look deserving of that title right now. If you can sell him as an elite QB1 and get back Tua Tagovailoa plus a viable WR2 or high RB2, that's a deal worth considering.
James Conner, RB, Arizona Cardinals
A big part of James Conner's appeal was his receiving work. He has the every-down role, but pure rushing isn't typically going to cut it. Conner didn't catch a single pass on just one target against the Giants.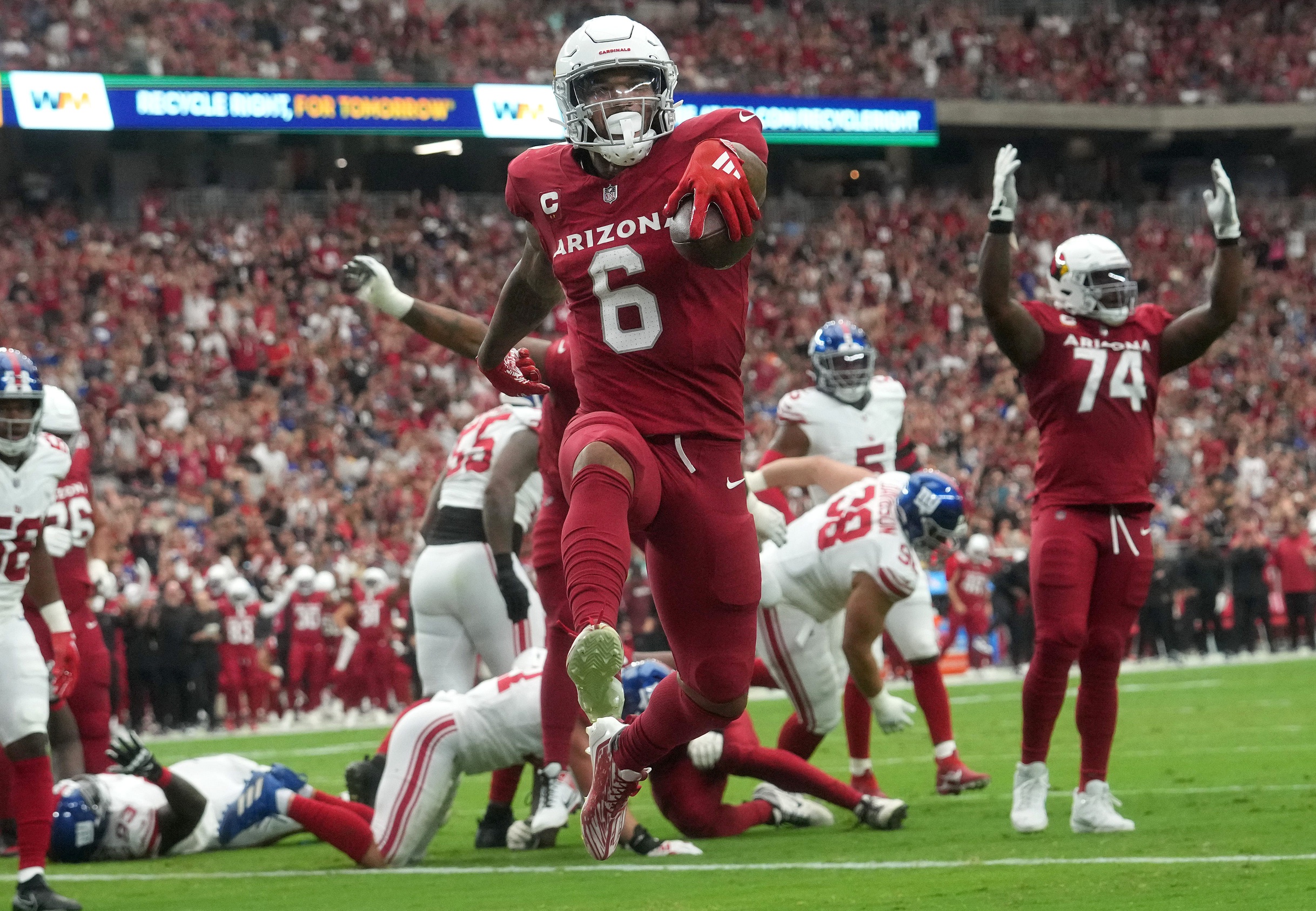 Conner did well to rip off 106 yards on 23 carries. He also found the end zone. However, the Cardinals aren't going to play the Giants' laughably bad defense every week. Now might be a good time to see what you can get for Conner.
Rachaad White, RB, Tampa Bay Buccaneers
Did you expect anything less from me? Rachaad White benefited from facing one of the worst run defenses in the league. To be fair, he did what he was supposed to do.
White carried the ball 17 times for 73 yards while adding five receptions for 30 yards. If you have confidence in White to do this again, then hang onto him. I do not.
The Bucs get the Eagles and Saints the next two weeks and then a bye. Remember last week when he ran the ball 17 times for 40 yards? More of that is coming. If anyone is valuing him as an RB1, sell now.
Christian Kirk, WR, Jacksonville Jaguars
It was a massive bounce-back performance for Christian Kirk in Week 2. He caught 11 of 14 targets for 110 yards.
Last week, Kirk played behind Zay Jones. The latter was banged up in this game and missed time. Also, the Chiefs primarily play man coverage, which Kirk excels against.
Kirk is still the WR3 behind Jones and does not play much in two-receiver sets. It is very possible that Kirk just had his best game of the season.
He's not as bad as he was in Week 1, but he's not as good as he was in Week 2. The answer, of course, lies somewhere in the middle. If you can get a price closer to Week 2 Kirk, it might be wise to take it.
DJ Moore, WR, Chicago Bears
Fellow PFN Fantasy Analyst Derek Tate will hate me for this one. DJ Moore is really good at football. Unfortunately, Justin Fields is not consistent enough as a passer for him to be a regular fantasy threat.
Moore caught 6 of 7 targets for 104 yards. Those who drafted him in the fourth round are likely excited that they may actually get an unlocked Moore. I genuinely hope I am wrong, and this is the start of what ends up being Moore's best season. I just can't see it happening.
Fields threw another two interceptions on Sunday. He's now barely eclipsed 200 yards in each of his first two starts. The Bears have three tough defenses coming up in the Chiefs, Broncos, and Commanders. If you can sell Moore at a WR2 valuation, it is worth exploring.
T.J. Hockenson, TE, Minnesota Vikings
I am including T.J. Hockenson here, but it's not exactly a strong sell. The reality is it's really difficult to call any TE a sell-high candidate. It's such a weak position in fantasy football.
MORE: PFN's NFL and Fantasy Player News Tracker

Hockenson was the TE1 in Week 2. He caught seven passes for 66 yards and two touchdowns. He's obviously not going to do this every week. I suspect he will be mostly inefficient and touchdown-dependent. If you can get elite TE1 value for him, it's probably worth moving him. But it's far from a strong sell.
Listen to the PFN Fantasy Podcast
Listen to the PFN Fantasy Podcast! Click the embedded player below to listen, or you can find the PFN Fantasy Podcast on iTunes, Spotify, and all major podcast platforms.  Be sure to subscribe and leave us a five-star review! Rather watch instead? Check out the PFN Fantasy Podcast on our Fantasy YouTube channel.