Breece Hall was enjoying quite the ascension after Week 3 last season, increasing his rushing yardage numbers for the New York Jets in the next three games and looking like a 1,000-yard rusher. But his season ended with only 463 rushing yards and four touchdowns, as a torn ACL sidelined him after the Oct. 23 game vs. the Denver Broncos.
Will Hall be healthy by the time the Jets return to the field in 2023? And how will it impact the team moving forward, especially with former league and Super Bowl MVP Aaron Rodgers now being inserted into this offense?
Update 08/15/2023: The Athletic's Zack Rosenblatt is reporting that Breece Hall will be removed from the PUP list. This comes a day after the team signed free agent Dalvin Cook.
Jets Place Breece Hall on PUP List
The Jets officially placed Hall on the active/physically unable to perform (PUP) list on Wednesday, July 19. While the designation means Hall can't practice right now, it's not as serious as it may seem.
Hall can be removed from the active/PUP list at any time before the start of the regular season. If he practices (even for a single day), New York will be required to take him off the list.
However, if Hall still isn't ready by the time Week 1 arrives, the Jets can transfer him to the reserve/PUP list. At that point, he'd be forced to miss at least the first four games of the 2023 season.
Once a player is activated from the reserve/PUP list, his team has 21 days to place him back on their 53-man roster. The player is allowed to practice with his club during those three weeks while building up to game action.
On July 30, head coach Robert Saleh told reporters he expects Hall to be activated from the PUP list within a couple of weeks, nothing the RB is "coming up quick." While that doesn't represent a guarantee that Hall will be available for Week 1, it's clearly a step in the right direction.
Breece Hall's Recovery Timeline
Before the 2023 NFL Draft, Saleh shared three words with the New York media that stretched to Jets fans:
"Breece looks fantastic."
This is critically ideal for the Jets as they now place Rodgers behind center. He'll have a backfield option who averaged 5.8 yards per carry prior to his injury. The veteran quarterback and four-time league MVP will need the luxury of having a spark in the backfield, especially on plays where he's not required to take three to five steps back looking for Garrett Wilson, Allen Lazard, or another wide receiver.
As it is, the Jets' ground production fell apart once Hall went down. Hall remained the leading rusher even after missing 10 games. But the Jets slumped to 51 total rushing yards in the week after Hall's injury against the New England Patriots on Oct. 30.
Without Hall, the Jets never produced three straight games of 100 +yards as a team and ended the season producing no more than 76 yards during their late-season losing skid.
New York went on to finish 27th overall in total rushing yards and 21st in ground-based touchdowns (13 touchdowns total) to close out 2022.
However, even with Saleh's enthusiastic wording, Hall was never necessarily expected to be ready for training camp, per ESPN Jets reporter Rich Cimini on April 9.
"Training camp appears unlikely — he will use the time for continued rehab — but lost practice time in July and August shouldn't matter much. The whole idea is to get him ready for Sept. 10," Cimini wrote.
On May 22, Pro Football Doc David Chao responded to a video of Hall working out on a side field at OTAs. He commented that Hall is still a "long ways away" and that he was considerably favoring his left knee.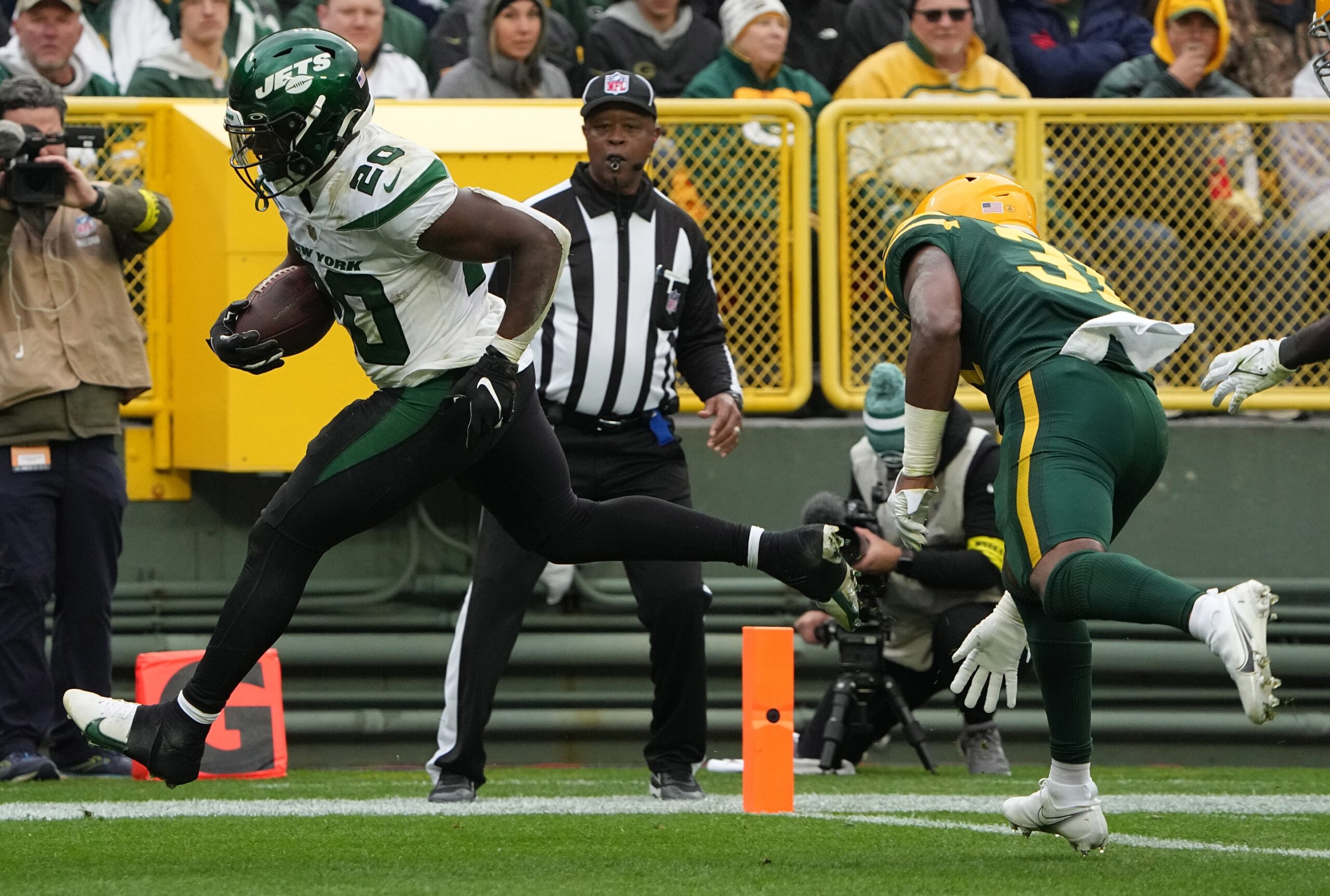 Chao also noted that straight line and running, and acceleration are part of the process "before cutting and deceleration," both of which were not evident in the video. He finished by saying that he's not optimistic about Hall being 100% for Week 1.
Just nine days later, on May 31, Saleh said he's "very optimistic" Hall will be ready to play Week 1 vs. the Buffalo Bills on Monday Night Football.
Who Are the Jets' Options in Camp if Hall Isn't Cleared?
Given the knee rehab process Hall has to complete before being cleared to play, the Jets went ahead and addressed their depth need in the backfield on the draft's final day.
Falling to the fifth round was speedy Pittsburgh back Israel Abanikanda, who dropped to No. 143 overall. Abanikanda was listed as the sixth-best RB prospect by PFN's Ian Cummings ahead of the draft.
Abanikanda has the speed to help compensate for Hall's absence. He's best known for being timed at 4.41 in his 40-yard dash during Pitt's Pro Day. However, a healthy Hall linking up with Abanikanda gives the Jets a fellow speed option, as Hall was timed at 4.39 in his 40-yard dash at the 2022 NFL Scouting Combine.
The Jets additionally have their trio of veteran options to turn to as Hall recovers. Michael Carter was last season's second-leading rusher with 402 yards. Zonovan "Bam" Knight is the other remaining veteran on the roster, who started in four games and racked up 300 rushing yards. As for undrafted free agents, the Jets signed USC's Travis Dye (USC) to add another option in the RB room.
Nevertheless, Hall's "fantastic" recovery has Jets fans convinced the backfield will be flying once the season opener arrives — with Rodgers helping pilot this offense now.