As fantasy football continues to explode and become even more mainstream, there have never been more ways to play the game as new apps and sites pop up every year. However, not all are created equal. Of the seemingly hundreds of apps and sites, here are five of the best fantasy football apps that are worth downloading in 2023.
Did you get a trade offer in your dynasty or redraft league? Not sure who to start or sit this week? Make championship-winning decisions with PFN's FREE fantasy tools — the Fantasy Football Trade Analyzer and Calculator and Start/Sit Optimizer!
Best Fantasy Football Apps To Use in 2023
If the surge of fantasy football apps has done one thing, it's created immense options in terms of features, alerts, or user interface. With that said, this list is simply five of the best apps and their benefits rather than a definitive ranking. However, there is one that stands out above the rest.
Sleeper Is Currently the Best Fantasy Football App
For my money, Sleeper is the best fantasy football app on the market. Initially an alert-based app, Sleeper has built their platform into an all-encompassing fantasy juggernaut that has reshaped the market and become the benchmark for others to match.
For those who watch their games on NFL RedZone, the alerts come on so fast that they tend to be ahead of the broadcast. In 2021, Sleeper added Best Ball and auction leagues to their options. They also included the "squads" feature, which allows you to play prop contests against league-mates or fellow Sleeper players for real money.
The app is where Sleeper shines, as it is a fantasy site built for the 21st century. The overall experience, from drafting and roster management to game days, is top-tier.
Functionality and the UI are at the top of Sleeper's priorities. Everything can be done with a click on your phone. But they also offer desktop support as well for those who are at a desk all day, meaning you'll never miss a pick in a draft.
Add in their continual upgrades and unprecedented willingness to listen to the community, and Sleeper is the single best app for those looking to play fantasy football in 2023. Barring devy support, they check every box of what a modern fantasy football app should be.
Underdog Fantasy
The rise of Best Ball has been meteoric, especially over the last two years. Leading this charge is Underdog Fantasy.
Best Ball: No lineup setting week-to-week; your optimal lineup is automatically started.
Underdog has become the pinnacle of the Best Ball industry, with thousands of players drafting teams daily. Users from all skill levels will quickly find the interface extremely intuitive.
Not only are there drafts seemingly all year round, but it's not uncommon to see prize pools of over $1 million floating around. No one else in the industry is doing this. Underdog also features a pick'em style contest where users can create prop-based picks.
And if you're like me and enjoy other sports, Underdog might also have you covered. They offer contests covering multiple sports, including the NBA, MLB, NHL, and more.
Like many, I find myself playing in more Best Ball leagues than anything else, given the hands-off approach it takes during the season. Although I still love my dynasty and redraft leagues, I'm opening the Underdog app this time of year (promo code PFN for 100% deposit match up to $100) more than anything else. Based on how quickly they have risen up in their short time as a company, I'm not the only one frequenting the app.
ESPN Fantasy Football
For many of us, ESPN is where we were introduced to fantasy football. The "worldwide leader" has the backing of the mouse and the resources to produce a great experience for fantasy football. That is as long as you want to play only redraft, as ESPN does not offer dynasty leagues. You'll also likely be stuck to the standard league settings unless you're creating a private league.
From a user experience, be aware that ESPN's default setting is full-PPR and has playoffs that run through Week 18. Maybe you want your league set up like this, But if not, make sure to tweak your settings ahead of time.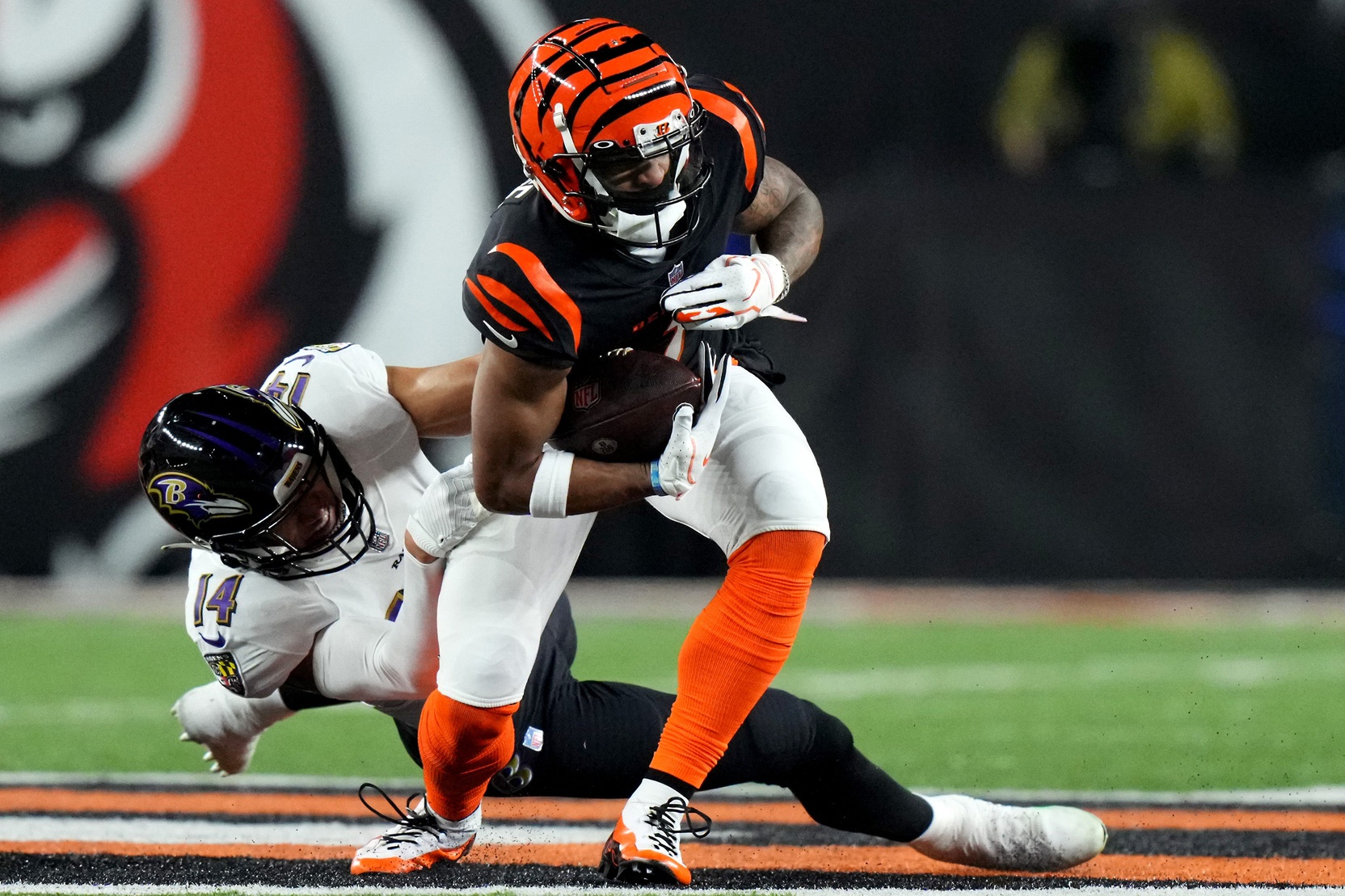 There are some nice chat features and alerts via this app. It may not be the most sound product on the market, but for casual players who are just getting started, it gets the job done.
Beyond that, the app is clean, simple, and straightforward. It's a perfectly fine app to use if you're in an ESPN fantasy football league. Just don't expect any extra bells and whistles or extras. It does one thing and does it well, just not to the level of an app like Sleeper.
Yahoo Fantasy Sports
Yahoo, despite being one of the largest players in the fantasy space, is a site you don't see many people talking about when discussing platforms. With that said, those who do use it swear by it. Every year, I will join a couple of random leagues on Yahoo because, like others, I enjoy the site/app. Plus, I enjoy seeing the ADP difference from site to site.
You can create or join public leagues, tweak scoring and roster settings, and it even has a dark mode, which is how I live my life. Furthermore, Yahoo has a ranking system that keeps track of your wins and stats over the time you use the site.
This is one of the reasons I still use Yahoo because it's addicting to see where you rank and gives you an idea of where your skills as a manager sits compared to the masses or just the others in your league.
The one catch with Yahoo is to unlock all the features, such as the research assistant, advanced stats, expert rankings, start/sit advice, and recommendations. You will need to pay a monthly subscription, which is $34.99/year, a $10 increase from last year. This is not a deal-breaker for me personally, as you can have a great experience on the app for free, but it needs to be mentioned.
NFL Fantasy
It should surprise no one that the NFL has its own fantasy site and app. It's a simplified, no-frills experience, sitting in a combination of Yahoo and ESPN. Leagues can accommodate 4-20 people, and there is basic scoring customization with receptions and a few bonuses.
NFL Fantasy has a wide selection of data to comb over when making a decision. If you want a no-nonsense app that comes with solid analysis from some of the best experts, the NFL fantasy football app is a great choice.
With that said, like Yahoo, there is a paywall to consider. Last season, many of its best features were hidden behind a $9.99 paywall. This includes their "best available tool" that helps search the waiver wire, lineup optimization, an inactive auto-swap function, a trade machine, and an adaptive draft rank tool.
The NFL Fantasy app is a good choice from a pure experience standpoint, and for many, that's more than enough. All of these apps have a consumer base that they best serve. Play around and decide which is the best fit for what you need/want … you're going to want the app for whatever platform you play on. This game is addicting!
Listen to the PFN Fantasy Podcast
Listen to the PFN Fantasy Podcast! Click the embedded player below to listen, or you can find the PFN Fantasy Podcast on iTunes, Spotify, and all major podcast platforms.  Be sure to subscribe and leave us a five-star review! Rather watch instead? Check out the PFN Fantasy Podcast on our Fantasy YouTube channel.