Although there are months before we get live football again, NFL teams have begun gathering for organized team activities. Positional battles can technically be won or lost during OTAs, but it's not likely.
However, there are more than a few players with much to prove during the springtime. There may only be one actual QB battle in the league, but that doesn't mean that everyone has a job nailed down for the entire season, and depending on how things go over the spring and summer, they could lose their gigs by Week 1.
The 5 Players With the Most To Prove at OTAs
Although quarterbacks dominate the OTA list, that's mostly because they're one of the few positions that actually get to do a majority of their intended job during the offseason.
Meanwhile, the only non-quarterback on the list has put quite the target on his back after recent comments, and from the past few years of underwhelming production due to consistent injury issues.
Baker Mayfield, Tampa Bay Buccaneers
From top pick to team No. 4 in just over two seasons, Baker Mayfield has been put through the wringer. Progressive has missed more than a few opportunities with Mayfield as he's moved around the country, but it's probably best for everyone that he focus on his play at this point.
The former No. 1 overall pick injured his non-throwing shoulder in Week 2 of the 2021 season and played through it. That was a mistake, because the offseason surgery did not allow Mayfield to work through the mechanical issues magnified by the injury.
Although the Panthers, Rams, and now Buccaneers are all seemingly underwhelming situations, Mayfield still has an opportunity to show that he can once again be a starting QB on a contending team.
MORE: QB Power Rankings 2023
There is also a Kyle Trask-sized elephant in the room to deal with. The Tampa Bay Buccaneers used a second-round pick on Trask in the 2021 NFL Draft, and they may be quick to pull the string on Mayfield in favor of him.
"Kyle has been around him every day for the last two years," Buccaneers general manager Jason Licht stated about his inner action with Tom Brady. "I think it's rubbed off on him. Kyle, right now, is one of the players working out by himself every day. I see him out of my office. I see him out the window on the field by himself every day."
Mac Jones, New England Patriots
Speaking of Brady, his successor is also under quite a bit of pressure this offseason.
"As we know, a disloyalty in Bill's [Belichick] mind is almost worse than bad play," Tom Curran said in an interview with WEEI. "Mac [Jones], even though you could say it's ironic because he's trying to get better, and he's wondering, 'Are we supposed to be doing it this way?' And he's asking around the football world about it. That effort to improve was showing up the Matt Patricia-Joe Judge contingent that Bill put in charge. When Bill caught wind of it — he's still pissed about it."
Belichick made a massive mistake last season with Patricia and Judge. He did everyone in the organization a disservice with those actions. But now Mac Jones has to make up for his dissent.
The team was quick to pull Jones in favor of Bailey Zappe, and if Jones struggles again in a better situation, the Patriots are famous for pulling the trigger on replacing players earlier rather than later.
Ryan Tannehill, Tennessee Titans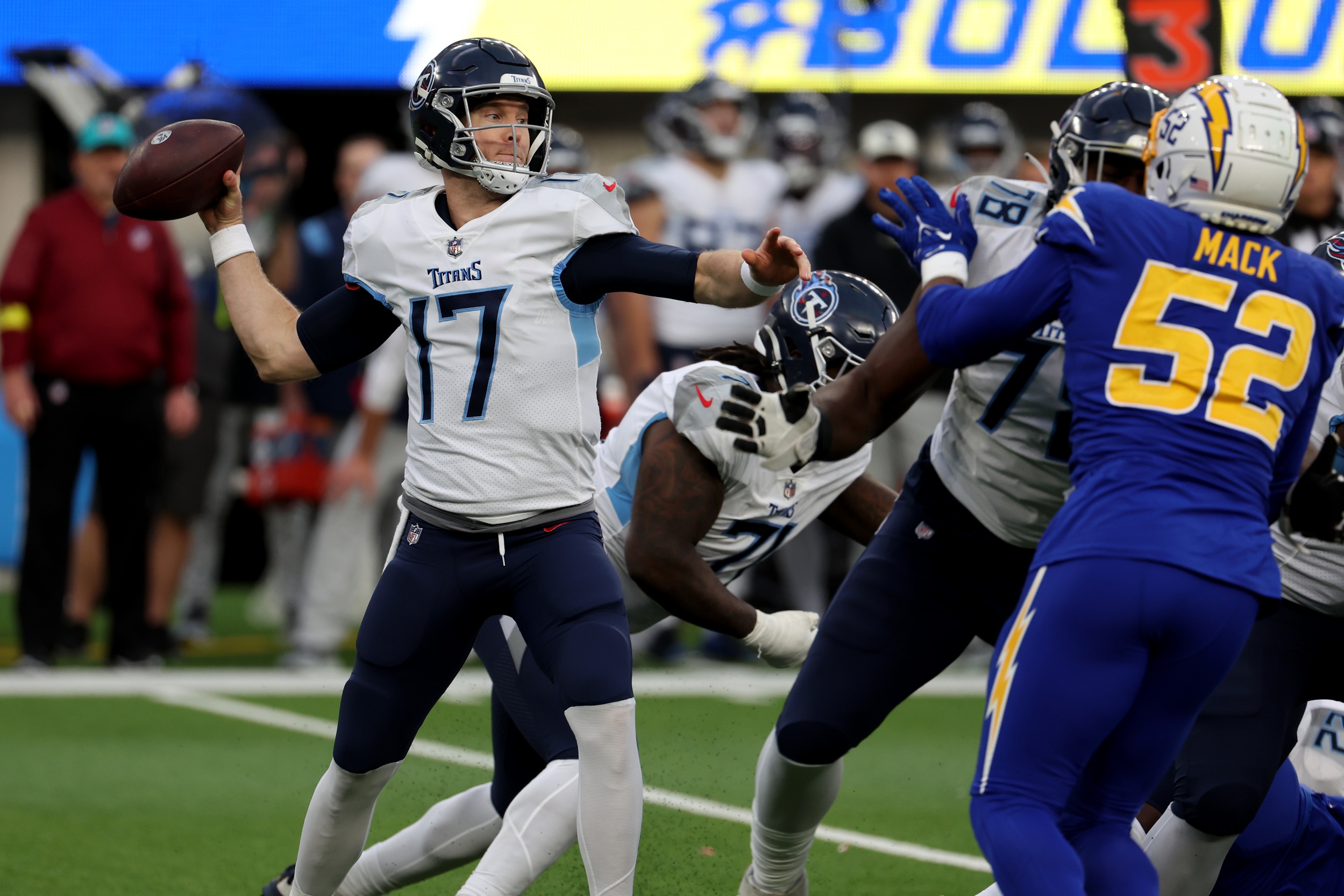 Getting benched in his final season as a starter for the Tennessee Titans would not look good on Ryan Tannehill's résumé. Tennessee's QB costs the team $36.6 million against the cap in 2023, but he also has Will Levis and Malik Willis lurking behind him.
Willis was very obviously not ready to play at a high level in 2022 but has a ton of potential upside. Levis fell in the NFL Draft after a dip in production as a senior at Kentucky, but he also has potential, and his main pro comp was an elevated version of Tannehill.
The veteran undoubtedly wants to put on a good show in 2023 to maximize his earning potential next season on a new team.
Sam Howell, Washington Commanders
It surprised a lot of people to see Sam Howell tumble into the fifth round of the NFL Draft. But now, he'll have every opportunity to win the starting job in Washington in his sophomore campaign. It may not be as easy as it sounds, even though Ron Rivera sounds hopeful.
"He's not our starter," Rivera said in his Combine press conference. "He's coming in as the QB1. He'll get a great opportunity to be our starter. But we do want to find a veteran quarterback."
MORE: Jim Irsay 'Hopeful' That Josh Harris-Washington Commanders Deal Can Get Done
That's the rub. The Commanders landed their veteran quarterback, and they landed a doozy. Jacoby Brissett is coming off a career year with the Cleveland Browns. In fact, if it wasn't for an abysmal defensive performance, that team would have competed for a playoff spot in the AFC.
The Commanders may not have the best roster in the NFL, but they have a top-five defense and enough offensive weapons to surprise folks in 2023.
Mekhi Becton, New York Jets
"I got forced to play a position I don't play," Mekhi Becton told Newsday. "I was pretty much telling them I wasn't feeling good the whole time throughout camp, and I was told I shouldn't be complaining, 'Go out there and do it.' I was limping throughout the whole practice, and I just took a step, and my knee buckled, and I got hurt again and had to get reconstructive knee surgery."
It's not unheard of to see players criticize a coaching staff after their departure from the organization. It is quite uncommon to see players fighting for a spot in the starting lineup to do so for the existing coaches.
Entering the 2023 season, Duane Brown is likely the New York Jets' starting left tackle. Becton is on the final year of his rookie deal and likely won't secure a significant second contract if he can't get on the field for New York as a starter. And he's made it quite clear that right tackle isn't an option.