College Football Week 11 is now upon us after a star-studded College Football Week 10 that brought us a week that followed expectations perfectly for the entirety of the week. Notre Dame and Virginia Tech had a Saturday evening battle that showcased the skills that some people love in Chase Claypool up to Justin Herbert, slinging it all over the field Saturday night against USC.
However, this week, with the first wave of Senior Bowl invites going out to the hopeful invitees, draft prospects still have to fight for those Shrine Game invites or hope to be noticed when the boomerang comes back around on these Senior Bowl invites and hope to get to the top of the league.
Some of those seniors, including LSU cornerback Kristian Fulton, will have a decision to make if they want to attend, and he might face no better wide receiver in the Mobile than star Alabama wide receiver Jerry Jeudy. Meanwhile, as Penn State takes on Minnesota, highly touted wide receiver Tyler Johnson will get a chance to shine on a national stage. And for a one-year starter like Illinois linebacker Dele Harding, he is going to want to keep up the emerging play that he has showcased this season as he hopes to head to the Senior Bowl to boost his stock.
Matchup to Watch: Alabama WR Jerry Jeudy vs. LSU CB Kristian Fulton
The matchup of the week is without a doubt LSU vs. Alabama, but perhaps the biggest draft matchups are also happening in Tuscaloosa this weekend as well. Kristian Fulton, a standout cornerback who could be invited to the Senior Bowl and be a first-round draft pick, is coming into this game with a big chip on his shoulder to prove he is in the upper tier of cornerbacks in this year's draft class. All things considered, Fulton has far more to gain here than almost anyone else on Alabama. This is due to the opportunity to put his name in the same tier as that of Jeffrey Okudah and Trevon Diggs, should he shut down the top-flight wide receivers of Alabama such as Henry Ruggs, Devonta Smith, and of course, the highly hyped-up Jerry Jeudy.
Jeudy has a good bit to lose if he shows he can not take on Fulton and come out as the winner, but I expect that to happen, especially when the former Bilitnetkoff Award Winner shows off his skill set. Jeudy's game is taken into the upper echelon of wide receiver prospects because everything he does looks so effortless. Yes, the route running and yards after catch are fantastic, but there is a beauty in how easy a receiver can make all the complicated stuff of the wide receiver position look so simple. Jeudy does just that with smooth and efficient movements rather than be held up by intricate and lagging movements.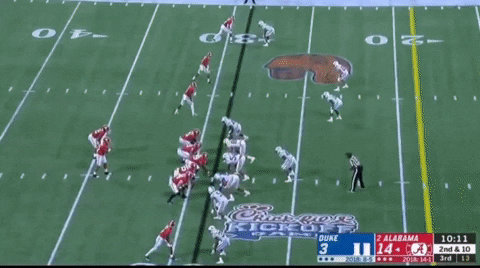 Case and point on his yards after catch ability can be seen here. Jeudy runs nothing more than a route to the flat, and the subtle dead leg stutter is all he needs to turn an otherwise five-yard gain into a twenty-yard gain. His short-area burst and ability to just slinky off this tackle with such ease are fantastic. Jeudy has a lot more highlight reel cuts and moves he has put on defenders over the years, but the stuff in this play are easily translatable to the NFL stage even if they are just that simple.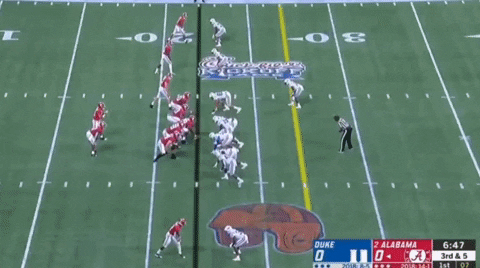 Now, the route running of Jeudy is incredibly effortless. The cornerback rides this inside stem down too far, and it allows Jeudy to obliterate him with ease. But the slow release off the line to subtlely eat into the defensive back's cushion and get right on his toes after he comes down are why he can separate so much, not to mention the sharp, smooth, and fluid cuts in his breaks. This is a precise route, and Jeudy makes it look so simple.
That is why Kristian Fulton will have his work cut out for him, but Fulton, who has incredibly silky hips, ball skills, and top-notch instincts, has as good of a shot of slowing down Jeudy as anyone in this upcoming draft class. But most importantly, Fulton knows how to use his hands to aid him in covering receivers.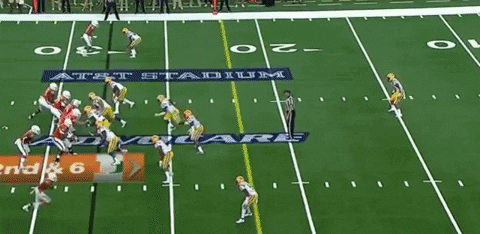 This is kick-step mirroring that Fulton executes once the wide receiver picks a direction on his release and go route. Yes, his hips are fantastic, and it allows him to stay entirely in phase and in the hip pocket until he locates the ball and bats it away. What makes this play so impressive is how Fulton uses his hands to control the leverage of this route. That is why he is in such a great position to make a play on this ball. His transition is fantastic because of that hand usage.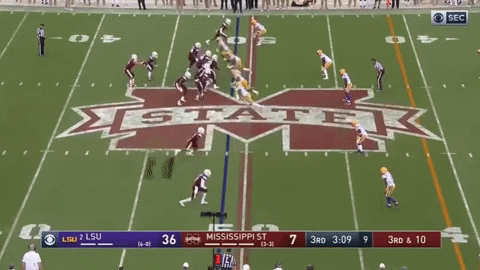 Fulton, of course, is still more than just great in one-on-one situations and has incredibly high football IQ to make plays like this one. Fulton could have taken the receiver up the sideline just like any corner who would be covering his man would do, but Fulton plays this through the quarterback's eyes and does an excellent job to peel off the go route and jump in front of this out route. That is route recognition and just a fantastic job of reading through keys.
Sleeper to Watch: Illinois ILB Dele Harding
There is a sleeper brewing in Champaign. Illinois has had a resurgent second half to their season, and a big part of that is a newly-minted one-year starter and captain of the defense, Dele Harding. Harding has come out of nowhere to most draftniks. After racking up 106 total tackles thus far on this season, plus two interceptions, two forced fumbles, and 8.5 tackles for a loss, Harding has undoubtedly put his name on the map for significant draft consideration. Harding was also the special teams' captain last year and led the Big Ten in special teams tackles last season with 28 special teams tackles, meaning that should he be a roster bubble player, you have to look out for that adeptness on special teams.
However, what makes Harding such a solid prospect is the combination of high football IQ, instincts, and above-average athleticism. He puts the cover in coverage and still is more than adept enough to come into gaps and buck in the run game.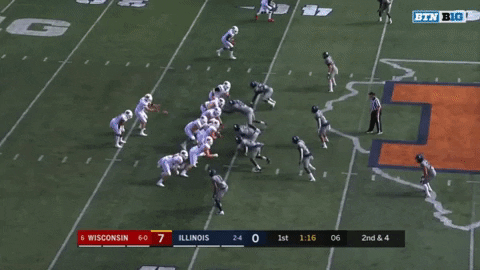 This is an interesting design by Wisconsin that almost resembles lead draw by design, but Harding does a fantastic job of reading his keys through the pulling guards. He follows the pulling guards from the backside, plays with some juice and burst downhill, and comes in to fill the gap and make the play. A great job of avoiding all the traffic to get right to the ball carrier as well, and only a high IQ linebacker can make this play.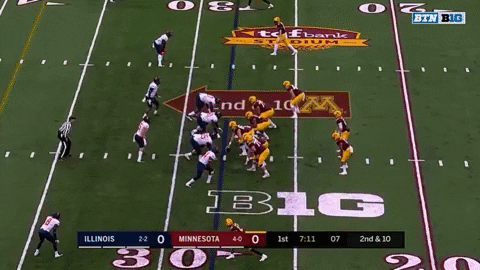 From the beginning of this play, Harding has the tight end who runs about a five-yard hitch route underneath on this play, and for him to cut off this window over the middle, he has read through the quarterback's eyes and realize where he is looking to throw this football. Harding has the IQ to read the in-route and jump into the window to pick this football. Oh, and the athleticism is on display here. Harding has some juice and range.
Player to Watch: Minnesota WR Tyler Johnson
The Minnesota Golden Gophers will have their biggest of the game against Penn State this week in Minneapolis. And a big part of their success is not just the team mentality that P.J. Fleck has installed this year, but also the fact that they have two receivers like Tyler Johnson and Rashod Bateman to help bolster their offense.
Johnson is on his way to having another good season in Minnesota. He will likely be on his way to the Senior Bowl in January, after his improvement over the past four seasons. A converted quarterback, Johnson was dirt raw coming into his Sophomore season, but the leaps he has taken from year-to-year since then are why his name has to be given respect. His route running, releases, and footwork, in general, are so vastly improved that Johnson has cemented himself as a Top-75 player on most draft boards you will read. It likely will bank him as a Top-100 draft pick as a guy who, even though he does not have elite athleticism, can separate.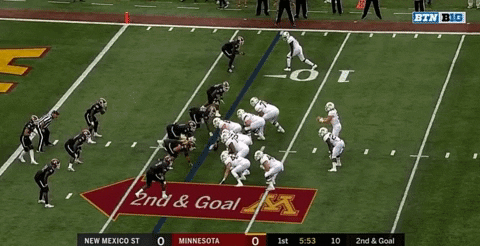 This is what I talk about when I say he has taken leaps. This is from Johnson's junior year, and the blatant outside stem to sell the goal line is sold by the stutter steps, and full-on go towards the end zone. Now, yes, this is not good cornerback play by any means, but Johnson can not make that massive gaffe happen without his quick footwork, getting right into the cornerback's cushion, and having a sharp, quick cut back inside to get the touchdown. This is an excellent example of what a route and release combination should look like.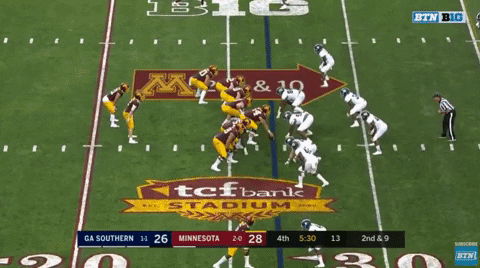 This is from earlier this year, and at the bottom of the screen, you can already see the progression that Johnson has shown this year from last year. The movements in the first video clip were much more labored and not as efficient. Now, Johnson has a three-step release to get onto the cornerback's toes and then cut outside to open up the back shoulder window. At that point, it is all up to Johnson to go up and highpoint this thing. He does just that, catches it away from his body, and immediately begins tucking it away into his frame. Johnson's progression is going to need to show this Saturday, and he could be a massive catalyst for a potential Minnesota win over Penn State.