With a great Week 9 that saw J.K Dobbins and Jonathan Taylor go head-to-head in a Big 10 battle in addition to Kansas State taking it to Oklahoma and pulling off a shocking upset, College Football Week 10 is looking to bring even more action to the table. The stakes are as high as ever this week as the first round of Senior Bowl invites go out later this week. Some guys guaranteed to be there is Utah running back Zack Moss and Florida EDGE Jonathan Greenard, while other sleepers will be either vying for a late invitation for the Senior Bowl or a call to the Shrine Game or NFLPA Game.
This week, college football has some standout games in Georgia at Flordia, Utah at Washington, SMU at Memphis, and perhaps one of the more intriguing games of the week, Oregon at USC. It's a week that has implications for New Years Six bowls, and with Appalachian State dropping their match to Georgia Southern, things just got even more interesting in the bowl picture. It is a jam-packed slate of college football this weekend.
Matchup to Watch: Florida EDGE Jonathan Greenard vs. Georgia OT Isaiah Wilson
We thought Jabari Zuniga was going to be the only pass rusher to watch out of the Swamp this year. Still, Louisville transfer Jonathan Greenard has proven everything otherwise, as he has burst onto the scene out of nowhere. He missed some time with an injury, but this will be his first week back, and it will be against a highly touted Georgia offensive line prospect in Isaiah Wilson, who might declare even though he is only a redshirt sophomore.
Greenard had a special sophomore year at Louisville with 16.5 tackles for loss and 6.5 sacks, but he is on his way to another good season. He is up to four sacks and 6.5 tackles for loss while also registering 31 pressures on the year. Greenard's traits are through the explosiveness and violence he brings to this Florida defense. When I talk about setting the tone, Greenard is a tone-setter and a leader on this loaded Gators defense.
The jump off the snap is something that pops out immediately with Greenard. He is an explosive athlete that can beat unprepared tackles with ease around the arc. But he is not tight in his ankles or hips and showcases some bend even as he is being held here. The ankle flexion is encouraging to see. His versatility to be put at 3-4 OLB or 4-3 DE is a plus for his draft stock. He doesn't have to do much in terms of his hands and arms; other than turn his shoulder away to decrease the surface area the tackle has to block him on. The final rip through is violent and allows him to get this sack.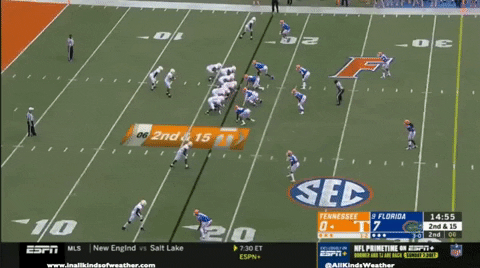 Now, run defense is one of Greenard's unheralded strengths that do not get heralded enough by people. Here Greenard does a great job of having low pad level after an explosive get off, converted that to power in with strike to reset the line, and then stacking and shedding the block to make the play. It's a great technique to hold the edge, and Greenard will need to do it this weekend.
Isaiah Wilson, on the other hand, from Greenard, is a blue-chip 5-star recruit who was offered by all the top programs in the country, but the big 6'7″ tackle decided that it was best to head down south to Georgia. He was a freshman All-American and All-SEC last year as he only surrendered four sacks all of last season in his freshman season. This year, Wilson has only played five games due to injury but has only given up one sack. Still, Greenard might be the guy the buck that trend, although Wilson's great footwork and mobility can neutralize Greenard's spectacular explosiveness and first step.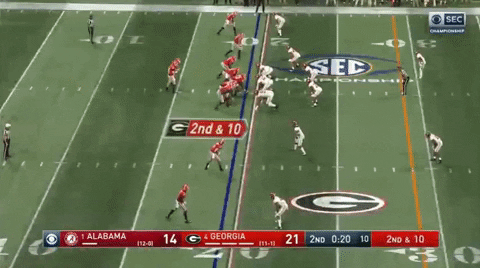 This is a fantastic rep by Wilson. Smooth, calculated footwork as he mirrors the pass rushers angle. The better part of this is his hand placement, though. At the point of attack, he gets his hands inside due to an acceptable pad level and holds them firm, even batting away attempted counters. The pass rusher tries to bull rush him, but Wilson's anchor is more than firm due to a secure base from that good technical footwork. It's textbook pass protection right here.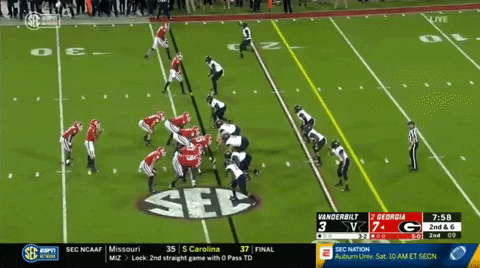 Run blocking is all about movement up front, and although this is not the cleanest block you will ever see from Wilson on tape, it's an incredibly effective block. He is the edge blocker here, and he explodes off the line but never gets too upright, and he can wash out the outside contain to open this side up blocking wise. Movement is enormous, and Wilson pushes the edge defender out of his outside contain gap, and the result is a massive gain.
Player to Watch: Utah RB Zack Moss
It has been a trip of a year for Zack Moss, who, after injuring his ankle earlier in the year, looked like he could have his senior season essentially tanked down the drain. But an early return to the field as seen Moss back to form and running as hard as ever, which has been his signature style since breaking onto the scene two years ago. Two straight 1000 yard rushing season means that Moss is looking to continue that trend as his senior year in Salt Lake is nearing its end with College Football Week 10 now on the horizon. The Maxwell Award Semifinalist will see the Washington Huskies this week, who have a notoriously ferocious defense should be quite the clash for Moss and the Utes.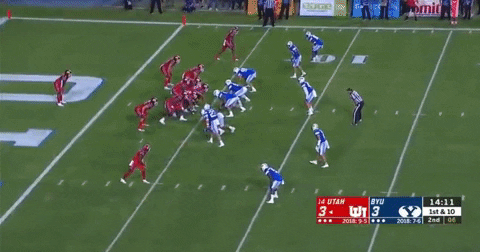 The hallmark of Moss's game is his excellent contact balance and ability to create something out of absolutely nothing. And even though he only gets about three yards on this play above, the superb balance he has is showcased fully. You can not get tilted as he did on the first tackle attempt and not go down without having top-flight contact balance. To me, that is his best trait, but that jump cut before contact shows off some excellent lateral agility, which he also has. To even somewhat get this corner is impressive as well, so short-area burst is there as well for Moss. This is just a great play that is an NFL caliber run on every level.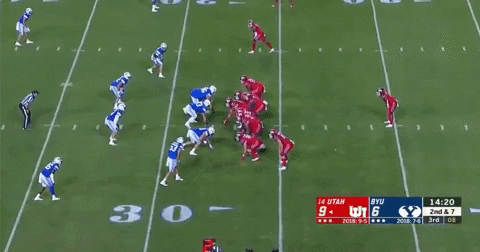 This is more of a technical and stylistic showcase by Moss. Notice how he hitches his footwork and slows it so that his blockers can get set up. That's proper processing and patience from Moss and something you love to see if you are an NFL evaluator. Moss is a battering ram in the alley and showcases that as well here. This is just a great run by Moss on all accounts to let this play develop and then to use his aggressive style as per usual. Moss has a lot of James Conner in his game, and I think he can project similarly to Conner.
Sleeper to Watch: Texas State ILB Bryan London
Bryan London is a name I only got to delve into recently, and although I have heard of him from draft pundits, I honestly did not get invested into him until earlier this week. London is a Running Back turned Linebacker and has traits. And I mean heavy emphasis on traits. London has some speed and range to his game, which is something to look for in a small school prospect. The two-year captain at Texas State and two-time All-Sun Belt selection caught some eyes after a reliable performance against Texas A&M, and he is now on pace for 124 tackles on the year. He has been solid all year, and it is not hard to see why with some of the tape he put up against Texas A&M.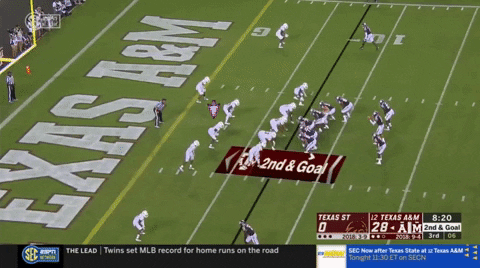 The most significant part of the evaluation of inside linebackers is coverage ability, and then everything kind of falls into accordance with that. London shows some serious ability to be useful in coverage. Whether that is carrying guys up the seam and handing his zone off well, keeping up with receivers in man coverage, or in general causing havoc underneath, London has done it on tape. Against Texas A&M, he made an insane interception against Kellen Mond and the Aggies. This is an acrobatic one-handed interception, but perhaps the bigger thing is how he read Mond's eyes and stepped right in the open throwing lane to snag this interception. It's a great linebacker play.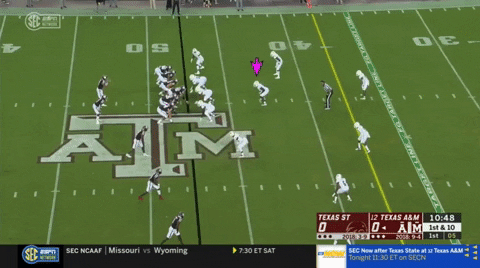 Meanwhile, London does have some processing issues, especially when he is drawn in different directions. Still, his ability to sift through the trash and play disciplined football when playing downhill is a great trait to have. Here London reads the guards as having zone-blocking footwork and flows towards the outside zone blocking scheme. That is an excellent job of using your keys, but then he breaks down, sees the ball carrier cut upfield, and flies into the gap to make an adequate run fit. London is a traits guy who can get a look at on late day three or in the undrafted free agent process, but he is someone to watch as the process moves along.
Listen to the PFN Scouting Podcast
Listen to the PFN Scouting Podcast! Click the embedded player below to listen, or you can find the PFN Scouting Podcast on iTunes, Spotify, and all major podcast platforms.  Be sure to subscribe and leave us a five-star review! Rather watch instead? Check out the PFN Scouting Podcast on our Scouting YouTube channel.