The only thing better than a football Sunday is a football Sunday that starts a few hours early! The Atlanta Falcons' fantasy football preview, of course, focuses on whether or not you can trust these pass catchers. Evaluating the Jacksonville Jaguars' fantasy stock revolves around the passing game.
Looking to make a trade in your fantasy league? Having trouble deciding who to start and who to sit? Check out PFN's Free Fantasy Football Trade Analyzer and Start/Sit Optimizer to help you make the right decision!
Atlanta Falcons vs. Jacksonville Jaguars (London)
Spread: Jaguars -3
Total: 43
Falcons implied points: 20
Jaguars implied points: 23
Quarterbacks
Desmond Ridder: I'm beginning to think that Arthur Smith was right when he opened the season with a "less is more" approach to Ridder. He took seven sacks against the Detroit Lions last week, failed to complete 60% of his passes for a second consecutive week, and has just two passing touchdowns on 88 attempts this season.
My rule 99% of the time in Superflex leagues is to start even a bad quarterback over your next best RB/WR, but Ridder is flirting with that 1% of the time where I'd consider going the other way if you waited on addressing the position.
Trevor Lawrence: To call the beginning of this season a disappointment would be an understatement. On the second drive of this season, Lawrence featured Calvin Ridley on a scoring drive that had us wondering just how dynamic this offense could be.
Since then, just two of his 105 passes have found paydirt, a level of efficiency that just isn't going to cut it against a team like the Falcons that likes to limit play volume.
MORE: Fantasy News Tracker
The confusing part for me with Lawrence is that his aDOT is down over 5% from last season, despite the addition of a bonafide playmaker down the field. Could these be growing pains more than the sign of a greater concern? I certainly hope so, and with consecutive games abroad, maybe things will start to click.
The QB position gets ugly after the top eight, so even a Lawrence skeptic should be starting him in this spot, but I need to see more aggression sooner than later if Lawrence is going to remain a top-10 lock.
Running Backs
Bijan Robinson: For the first time in his young career, Robinson fell short of expectations with seven fantasy points in a game in which he didn't even get the first rush attempt for the Falcons.
Don't sweat it.
He has a 10+ yard run and catch in all three games this season and is currently pacing for over 300 touches. If the Robinson manager in your league views him as anything less than a top-three running back the rest of the way, go ahead and send out an offer. He's locked into weekly lineups and could produce some highlights first thing Sunday morning.
Tyler Allgeier: Atlanta being forced into a pass-heavy script was bad news for Allgeier (seven carries for 12 yards). Given how the Falcons play, I don't think games like this are going to be very common. That means 14-16 touches with a narrow range of outcomes is what you can project weekly.
Without much pass-catching potential or a definitive red-zone role, Allgeier ranks outside of the tier of players that I'm comfortable flexing this week.
Travis Etienne Jr.: The explosion is coming. As a rookie, Travis Etienne didn't have a single 15-carry, five-target game, but this season, he already has a pair of games with at least 18 carries and five targets.
Against the Houston Texans, he posted a career-high 50 receiving yards and averaged 4.6 yards per carry. Fantasy managers were still disappointed because Tank Bigsby punched in the one-yard score after Calvin Ridley set things up by forcing a DPI in the end zone.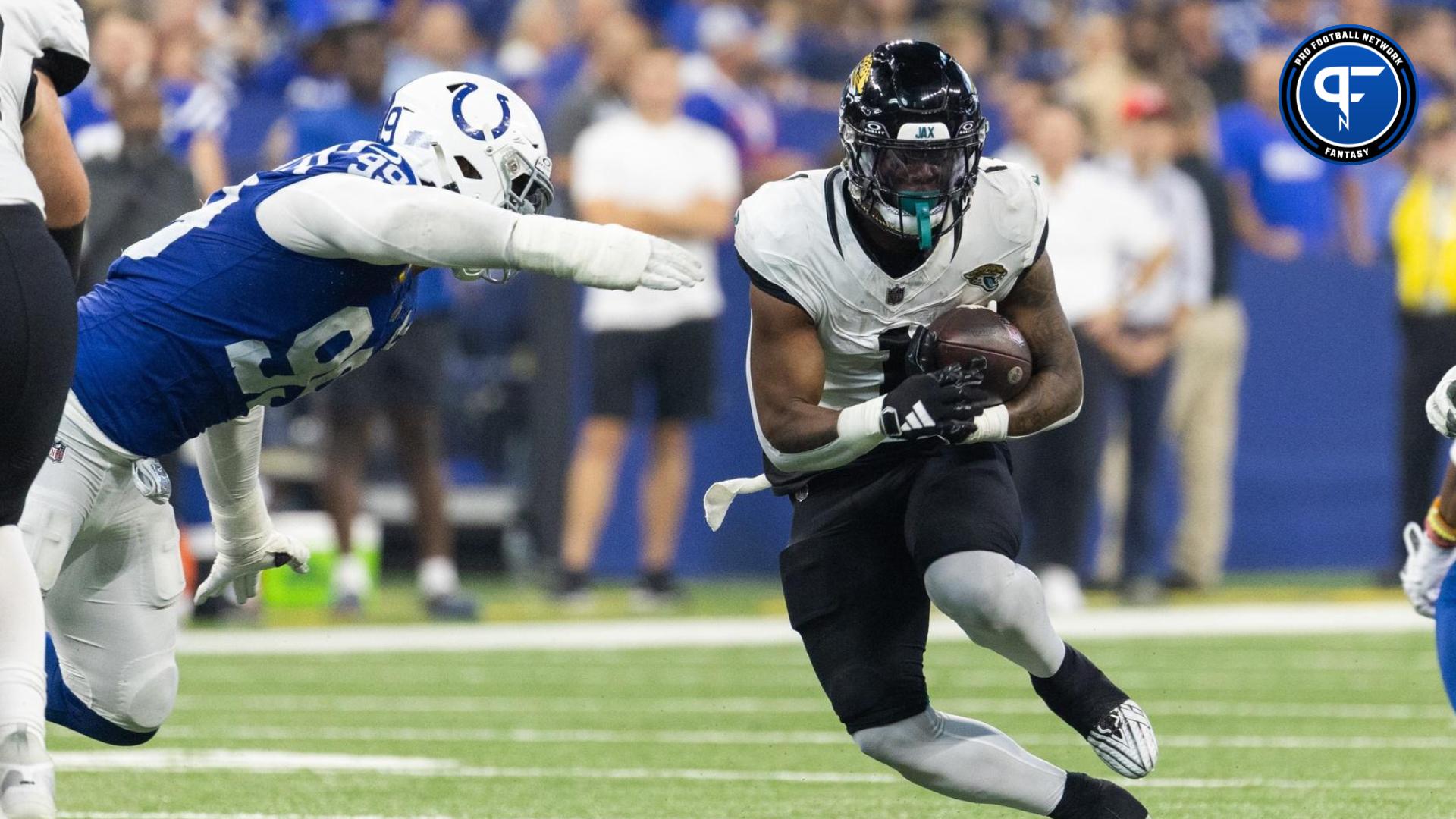 Etienne handled Jacksonville's first eight carries over the weekend and has an unquestioned role that includes some targets — you simply can't ask for more. I have Etienne as a top-five back this week and a top-10 option at the position for the rest of the season.
Tank Bigsby: Bigsby has indeed scored in both games in which he's been active. That's simply a fact. But for the season, he has more fumbles than receptions and has totaled 23 yards.
MORE: PFN Consensus Rankings
In Week 3, he was out-snapped by Etienne 52-9 — he just happened to get the goal-line carry. I don't view this like I do the backfield in Buffalo, where I'm downgrading the starter for a lack of red-zone usage. Etienne is the guy in town, and Bigsby is nothing more than a handcuff option that won't hold consistent value.
Wide Receivers
Drake London: Hopefully, you took advantage of the one-week sell-high opportunity here. London caught just two of six targets against the Lions (31 yards) and has now been held under 55 receiving yards in 65% of his career games.
He's a player who needs a touchdown to matter on a team that doesn't score much due to inconsistent quarterback play. That's not ideal. London ranks outside of my top 35 both this week and moving forward.
Calvin Ridley: Things haven't been pretty since the glorious second drive of the season. On that drive, Ridley caught four balls for 41 yards and a touchdown. Since then, he's been held to nine grabs for 132 yards and no touchdowns. He had a shot at a 26-yard TD last week if not interfered with, but alas, we don't get points for that, and his disappointing two-week stretch continues.
The target count is just fine (26 this season), but the catch rate reflects a lack of chemistry. After catching four of five targets through that second drive, Ridley has caught just 42.9% of targets. Now, I do think that corrects with reps, and the schedule certainly isn't too daunting.
In the short term, the Jaguars' two difficult matchups come in advantageous spots. They get the Bills in London next week — a game that will require significant travel for the Buffalo Bills, while Jacksonville doesn't have to travel anywhere. The other intimidating matchup is the San Francisco 49ers in Week 10, a game the Jags host following their bye.
Calvin Ridley

Deep Curl Breakdown

Burst ✅
Cruise ✅
Burst ✅
Attack Blindspot ✅
Attack Blindspot ✅
Break in 3 Steps ✅ pic.twitter.com/MEUJyuk6OE

— Coach Bryce (@CoachBryce34) September 23, 2023
Ridley may not be what we thought he was after Week 1, but he's not this bad, either. I have him as a solid WR2 and a fantasy starter in all formats.
Christian Kirk: He has been bizarro Ridley, in that he started the season disappointing us and has offered consecutive productive weeks (15 catches for 164 yards and a TD in total). Of course, the 13.4 fantasy points he scored on Sunday came with Zay Jones sidelined (and a busted coverage on a 26-yard TD), but Kirk looks the part, and if you read the tea leaves, it's more likely than not to continue.
Week 3 was impacted by script, but I found it interesting that with Jones out, Jamal Agnew ran 30 routes (Kirk ran 42, Ridley 38). That's a respectable number for an average player who lost a fumble in the first half and provides me with a level of confidence in this team routinely operating in three WR sets.
Kirk currently sits as a low-end WR2, high-end Flex option for me this week in London — a ranking that lands him in lineups.
Zay Jones: Jones was injured during the Week 2 loss to the Chiefs, a game he exited after failing to catch any of his six targets. With that dud followed by a DNP, it's easy to forget about Jones as a threat in this high-upside offense. Don't make that mistake.
MORE: NFL Bye Weeks Schedule 2023
He racked up 55 yards and a score in the Week 1 win against the Colts and is still a threat to be the WR2 option in this offense. Assuming he clears everything needed from a health perspective, Jones is on my Flex radar. I prefer Kirk (the healthy option with more of a niche role), but this offense has the type of firepower it takes to support a WR3.
Tight Ends
Kyle Pitts: Seeing three of Ridder's first seven targets was great to see, but as is the case with all things Pitts, it didn't last. Yes, he led the team with nine targets, but 63.4% of his yardage came on those first seven Ridder passes, and his propensity to disappear for significant periods showed up again.
I'm just not sure where the growth comes from. Pitts was on the field for 52 snaps and ran 42 routes, leaving little room for more usage from that standpoint. His ability to produce is questionable at best, and now, is he even the TE1 in Atlanta?
Jonnu Smith was on the field for 48 snaps and ran 32 routes (five catches on eight targets for 37 yards), giving Pitts competition for looks in this low-volume attack.
How bad is it? In a fine matchup and coming off of a week where he led the team in targets, catches, and receiving yards, I have Pitts as TE12.
Evan Engram: Like Pitts, Engram led his team in targets (eight), catches (seven), and yards (67) last week. But unlike Pitts, Engram is locked into fantasy lineups.
Engram has at least five catches in all three games this season and has hauled in 85.7% of targets. I was worried this preseason about his weekly volume with Ridley being added to the mix, but he seems to have carved out a nice niche that has him as my TE5 in this spot.
Should You Start Trevor Lawrence or Geno Smith?
I trust that the Lawrence bounce-back effort is coming sooner rather than later, and this is a good spot for just that.
In addition to my optimism for Lawrence, there are some concerns about Smith. We knew the efficiency was set to regress after his magical 2022, but where has the rushing production gone? He has taken a step back in the two areas that made him such a reliable asset last season and I'm not assuming they are coming back until he proves it.
Should You Start Christian Kirk or Michael Thomas?
Kirk has his role in a Jacksonville offense that I expect to get on track. No, it's not as fantasy-friendly as the position he was in last season, but it's viable if Lawrence finds his form.
You could say the same for Thomas, though he is working with both quarterback and philosophy changes this week. Jameis Winston is not the "feed the slot guy in the middle of the field to move the chains" type, leaving the door open for a bust week from Thomas.
Combine that with Alvin Kamara coming back into the mix and absorbing some of the few shallow targets — we have a low-upside, low-floor profile for Thomas in this spot.
Listen to the PFN Fantasy Podcast
Listen to the PFN Fantasy Podcast! Click the embedded player below to listen, or you can find the PFN Fantasy Podcast on iTunes, Spotify, and all major podcast platforms.  Be sure to subscribe and leave us a five-star review! Rather watch instead? Check out the PFN Fantasy Podcast on our Fantasy YouTube channel.