The Arizona Cardinals gave Kyler Murray a contract that pays him like one of the best NFL QBs. However, he hasn't recently performed like an elite quarterback and is coming off of a midseason torn ACL. The contract they did give Murray at one point included a homework clause. As a Cardinals source told PFN's Trey Wingo, that was put in there to "trust but verify." It could be a tough season for a franchise that looked like a Super Bowl contender only two years ago.
Let's examine Arizona's confirmed 2023 opponents and dates, as well as project how they might do this season.
Arizona Cardinals Schedule
Week 1: at Commanders
FOX | 1 p.m. ET (Sunday, Sept. 10)
Week 2: vs. Giants
FOX | 4:05 p.m. ET (Sunday, Sept. 17)
Week 3: vs. Cowboys
FOX | 4:25 p.m. ET (Sunday, Sept. 24)
Week 4: at 49ers
FOX | 4:25 p.m. ET (Sunday, Oct. 1)
Week 5: vs. Bengals
FOX | 4:05 p.m. ET (Sunday, Oct. 8)
Week 6: at Rams
FOX | 4:25 p.m. ET (Sunday, Oct. 15)
Week 7: at Seahawks
FOX | 4:05 p.m. ET (Sunday, Oct. 22)
Week 8: vs. Ravens
CBS | 4:25 p.m. ET (Sunday, Oct. 29)
Week 9: at Browns
CBS | 1 p.m. ET (Sunday, Nov. 5)
Week 10: vs. Falcons
CBS | 4:05 p.m. ET (Sunday, Nov. 12)
Week 11: at Texans
CBS | 1 p.m. ET (Sunday, Nov. 19)
Week 12: vs. Rams
FOX | 4:05 p.m. ET (Sunday, Nov. 26)
Week 13: at Steelers
CBS | 1 p.m. ET (Sunday, Dec. 3)
Week 14: BYE
Week 15: vs. 49ers
CBS | 4:05 p.m. ET (Sunday, Dec. 17)
Week 16: at Bears
FOX | 4:25 p.m. ET (Sunday, Dec. 24)
Week 17: at Eagles
FOX | 1 p.m. ET (Sunday, Dec. 31)
Week 18: vs. Seahawks
TV and Time and Date TBD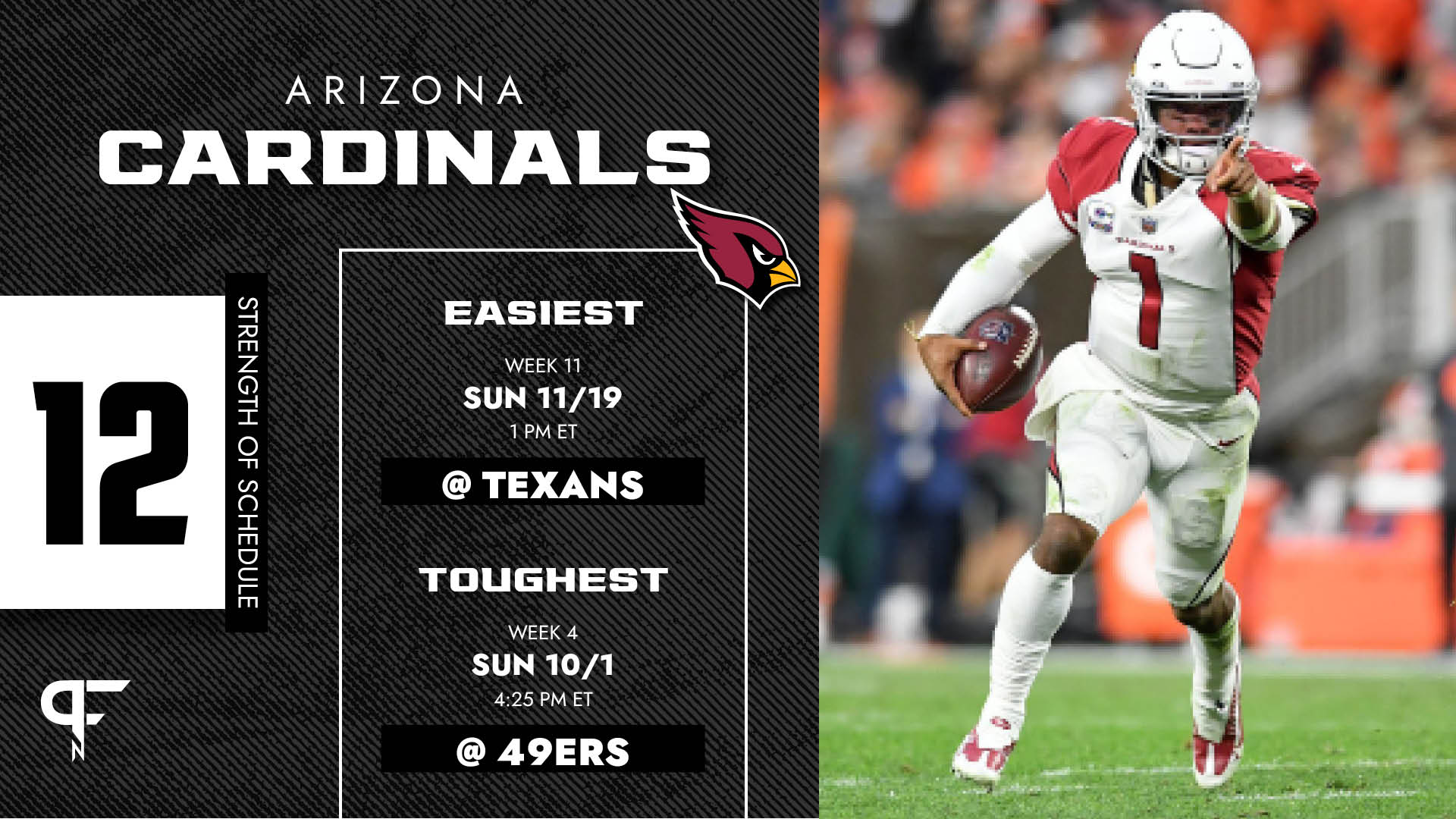 Arizona Cardinals Strength of Schedule
The Cardinals play in one of the more competitive divisions in football. The 49ers have dominated it in recent years, and aside from a random Wild Card appearance, the Cardinals have had a hard time keeping pace. Arizona owns the 11th-hardest schedule entering 2023 based on last season's team records, so they won't be able to bank on an easy schedule to make up the ground.
Arizona Cardinals Record Prediction
The Cardinals will have a difficult time keeping pace with the 49ers and Seahawks in their own division. They haven't had an exciting offseason by any stretch of the imagination. Arizona added former first-round pick L.J. Collier to the defensive line to offset the loss of Zach Allen. But J.J. Watt retired, and the Cardinals still have a lot of roster work to do.
The question coming into the 2023 NFL Draft was what would Arizona due with the No. 3 overall pick? They ended up trading it for a haul, with the Texans moving back up to grab Will Anderson Jr. After a second trade with Detroit, Arizona eventually landed at No. 6 overall.
MORE: FREE NFL Mock Draft Simulator (With Trades)
With the sixth pick, the Cardinals took perhaps the best pure tackle in the entire draft in Paris Johnson Jr. An excellent pick that should help them sure up protection for Murray. They continued to add talent to their defense as well, adding BJ Ojulari in the second round.
The Cardinals are clearly trench-focused heading into 2023. Given the moves they made, this should be seen as a rebuilding year, setting up 2024 as the year Arizona hopes to really contend for the division. They have many holes to fill, new schemes to learn, and a quarterback to get right. First-year coach Jonathan Gannon has his work cut out for him. I would not be stunned to see Arizona match the four wins from a year ago — the schedule makers did them no favors.
By focusing on the trenches and not spending big, either in dollars or draft capital, on offensive playmakers, this has "spot rebuild" written all over it. If it works, 2024 could be set up nicely for Arizona. But it will only go as far as Murray can take them. That, above all else, remains a big question mark.
Projected Record: 4-13