The NFL offseason programs are in full swing, and while the roster movement has simmered down since the draft, teams still have plenty of work to do ahead of training camp. With the business season dwindling to a halt, Pro Football Network's Lead NFL Writer Mike Kaye is offering his takes on a trio of under-discussed topics like the Seattle Seahawks QB competition, what the Chicago Bears are doing for Justin Fields, and some potential surprise post-June 1 cuts.
Are the Seattle Seahawks really sold on a Geno Smith vs. Drew Lock competition?
In March, PFN directly asked Seattle Seahawks head coach Pete Carroll about his confidence in Drew Lock following the Russell Wilson trade. Carroll responded with a thoughtful breakdown of his desire to add Lock in the Wilson deal.
The Seahawks liked Lock coming out of college, and they saw flashes of his upside on tape. That said, Carroll did acknowledge Lock's trouble with turnovers (20 interceptions in 24 career games), which is something the coach said they need to clean up. Carroll's explanation came off genuine, and the Seahawks' draft output backed it up.
Seattle is still going to have Lock battle with Geno Smith, who has been in town for the past three years. Smith started three games last season and threw for 702 yards, five touchdowns, and an interception. Both Smith and Lock have provided underwhelming returns as former second-round picks, and really this is one of the least-compelling QB battles in recent memory.
Smith has been a journeyman backup since washing out of the New York Jets locker room, and Lock had a similar three-year tenure in Denver to Smith's time in the Meadowlands. The Seahawks could still add someone like Baker Mayfield or Jimmy Garoppolo to the mix in training camp if either of their teams decide to cut their former starting QBs. But even then, Seattle is going to be underwhelming at quarterback.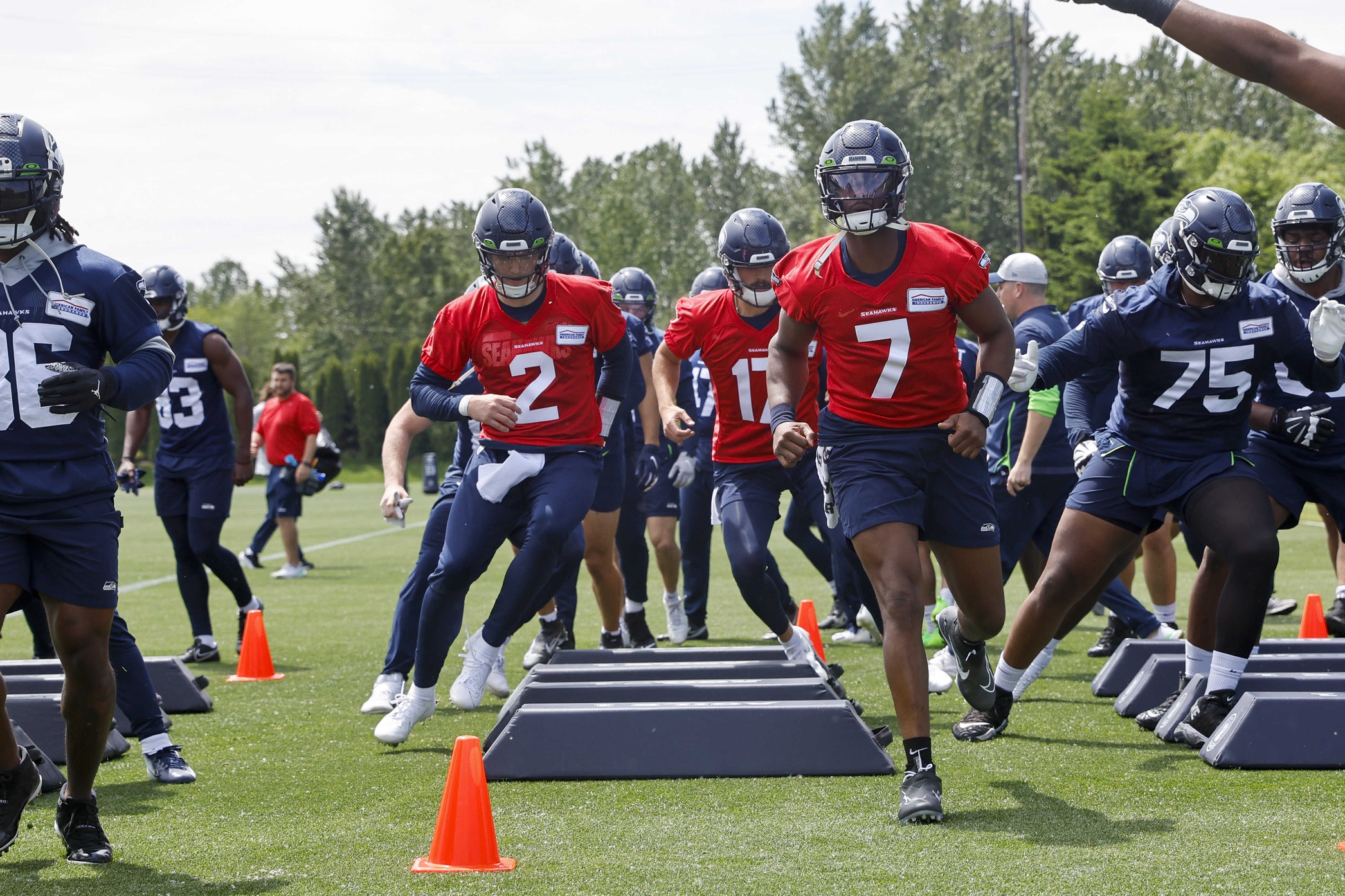 Seattle is clearly looking towards the future at QB. Smith and Lock will be free agents next year, and the Seahawks have a pair of first-round picks next offseason. Replacing a future Hall of Famer like Wilson can't be done overnight, and the front office knows that. Kudos to the brass for passing on an underwhelming group of rookie QBs and making the rest of the roster better for the future franchise guy. Forcing the issue would have only led to more problems.
Still, the Seahawks have this year to worry about, and the 12th Man is going to want to see some sort of success in the post-Wilson era.
While Seahawks OC Shane Waldron has noted that Smith has the early edge in the QB competition, Lock still has OTAs, training camp, and the preseason to win the job. Ultimately, Lock is probably the more marketable Week 1 starter, but Smith is likely to have the locker room's backing. Also, the team could still pull off a move for disgruntled former first overall pick Mayfield before training camp.
Either way, this competition reeks of Chad Henne vs. Matt Moore or Blaine Gabbert vs. Chad Henne or really any starting competition featuring Henne and another middling QB. Sorry, Seattle.
There could be some notable surprise cuts in June as teams look to reset after the draft
The post-June 1 designation has become a notable topic in the NFL over the past few years because it allows a team to cut a big-money salary while splitting the dead money between two years. Teams can designate two post-June 1 cuts every offseason and get ahead of the deadline, but most choose to wait until after the draft to reset their rosters.
Some teams are able to stumble into upgrades in free agency and the draft due to unforeseen circumstances, such as a prospect falling multiple rounds or a free agent deciding to join a contender over signing a bigger deal with a struggling franchise. Those moves can then lead to collateral damage on the roster, which in turn, lead to post-June 1 cuts.
Philadelphia Eagles guard Isaac Seumalo feels like a player who could be released after June 1 because he's coming off a serious injury. Meanwhile, the Eagles have steadily developed offensive line talent over the past two years.
The Eagles drafted Cam Jurgens in the second round of this year's draft, and he's expected to replace starting center Jason Kelce in the near future. Seumalo had been seen as a potential successor for Kelce, and now that's off the table.
The Eagles also like young linemen Landon Dickerson, Jack Driscoll, and Sua Opeta at guard, and they are developing others — Jack Anderson and Kayode Awosika — who can play there as well. Cutting Seumalo after June 1 would save the organization roughly $5.6 million in cap space.
San Francisco 49ers defensive end Dee Ford is another logical candidate to be cut in June. After three forgettable seasons in San Fran, Ford seems like a prime candidate to be a summer release. The former Pro Bowl edge rusher has played just seven games over the past two years due to injuries, and the 49ers can save $1.12 million by releasing him next week.
What has the new Chicago Bears regime done to make life easier for Justin Fields?
While Justin Fields is a draft analyst darling of sorts, he's yet to really receive roster support from the Bears. The front office and coaching staff that traded up to draft him are now gone, and the new regime has done an epic teardown this offseason.
New Bears head coach Matt Eberflus is a defensive-minded coach, and the offseason plan seemed to be more about his side of the ball than the offense. Fields has yet to see any sort of notable backing with roster moves this offseason. Allen Robinson is gone, and Chicago has yet to really replace him with anyone of genuine talent.
While the team signed veteran tight ends James O'Shaughnessy and Ryan Griffin and drafted linemen Braxton Jones, Ja'Tyre Carter, Doug Kramer, and Zachary Thomas, those are minuscule moves on the surface. Darnell Mooney, the team's incumbent top receiver, has upside, but he's only been complemented by third-round pick Velus Jones Jr. over the past couple of months. The running back room remains the same, and the starting offensive line isn't much better.
Some have argued that the new regime doesn't believe in Fields. That's probably not a fair judgment. The former brass left the roster and salary cap in a terrible spot, and the new regime is trying to crawl out of it while still setting up the team to compete long-term. This is a full-on rebuild, and while the offseason hasn't been good to Fields, the plan isn't meant to pass the buck on him.
Despite having one of the worst rosters in the entire league, the Bears still have roughly $16 million in cap space. In theory, they could look to take advantage of some post-June 1 cuts and bring in some notable talent on the line or in the playmaking spots.
But right now, Fields doesn't just have a bad supporting cast. It might actually be worse than last year's horrible group, and that's definitely by design.