The Dallas Cowboys' defense has been on a different planet than what many grew accustomed to during the last decade. Over the past two seasons under Dan Quinn's tutelage, no defense in the NFL has a better EPA per play mark. They've been about as consistent as a defense can be over that time. However, Dallas also had one of the league's least-difficult schedules last season. Can they keep up that level of play in 2023?
An Analytical Look at the Dallas Cowboys' Defense
Over the past two seasons, no team has produced better EPA per play production. Only the New Orleans Saints have had a better success rate on defense during that time. Dallas' dropback EPA dwarfs contenders, and only the Saints' dropback success rate competes.
Cowboys fans treat the run defense like a red-headed stepchild, but it's been one of the league's best as well. They rank sixth in success rate over those two years, and their only bugaboo (ranking outside the top 10) is their 12th-ranked rush EPA per play ranking.
In 2022, Dallas finished second in DVOA. According to Football Outsiders, they were third-best against the pass and fifth-best against the run. The previous year, they also finished second, posting the second-best pass defense and 16th-best rushing defense.
The Cowboys' run defense improved in 2022, and the return of Johnathan Hankins and the addition of Mazi Smith shouldn't hurt their run defense in 2023.
But it's Dallas' pass rush that devastates opposing offenses. In 2022, they posted the highest pressure rate in the NFL. Only the Eagles and Chiefs sacked opposing QBs more often than Dallas. The Cowboys finished fourth in pressure rate the year prior, although they were unable to get home as often as they did in 2022.
MORE: NFC East QB Rankings 2023 — Jalen Hurts and Dak Prescott Battle for Divisional Supremacy
And while their defense doesn't rely on the ability to turn the ball over, Dallas is darned good at that as well. They led the league in takeaways in the last two years, totaling 67.
Quinn possesses a devastating repertoire of defensive line games that he plays on obvious pass-rushing downs to affect an opposing quarterback's timing and create havoc on the offensive line.
Just about any way one shakes it, the Cowboys' defense has been dominant over the past two seasons. But can they keep it up?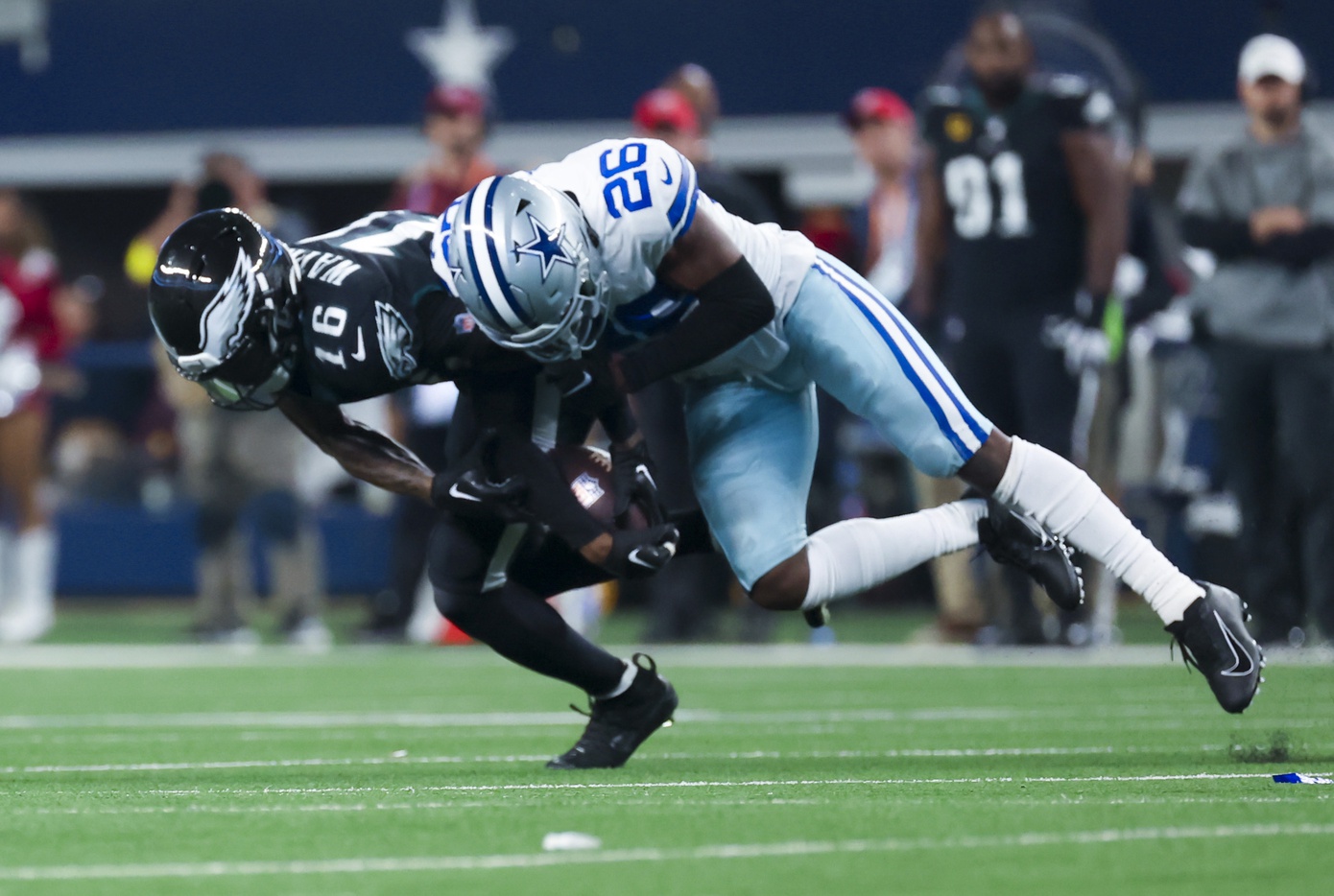 Cowboys 2023 Defensive Outlook
The Cowboys' defense is ultra-talented. When PFN's own Arif Hasan looked at their unit compared to the rest of the league, he came to the conclusion that Dallas has the second-best defense in the NFL heading into 2023, with the Jets edging them out.
On paper, Dallas' defense has only improved from last season. Set to lose Anthony Brown in free agency, trading for Stephon Gilmore was perfect. Brown was coming off an Achilles injury, so the move made sense, particularly when we think about the fit in Quinn's defense.
MORE: Stephon Gilmore Battles Atop the Best CB Rankings in 2023
There's no end to the Cowboys' depth, particularly on the edges. Micah Parsons might be the most dominant player in the NFL. Demarcus Lawrence, Sam Williams, Dorance Armstrong, Dante Fowler Jr., and Viliami Fehoko round out an incredible unit.
But there are a few defenses around the league with incredible pass rushers. It's the middle of the Cowboys' defense that is their secret weapon.
Cowboys Safeties Are the Team's Unsung Heroes
We all know and understand that aside from Leighton Vander Esch, the Cowboys' linebacking corps is very much an unknown entity. But Dallas' defense doesn't care, because it really doesn't need more than a single linebacker for their base defense.
The Cowboys' safety unit is built differently. Donovan Wilson, Malik Hooker, and Jayron Kearse combined to play 3,032 snaps in 2022 (each played more than 900 snaps). No other NFL team had a unit to each play over 700 snaps.
Kearse plays most of his snaps around the line of scrimmage. He's practically a second linebacker by deployment, even if his positional designation is safety.
That's something more NFL teams are likely to replicate moving forward, especially as Tite fronts and gap-and-a-half schemes become the norm. Teams will give a bit against the run to have a better coverage player on the field. And Kearse's build and athleticism make him a very good weapon to use against tight ends. He also defends the run like a linebacker.
"Getting Dan Quinn back was a huge win, and it was much-needed just to try your best to keep this group together," Kearse told 105.3 The Fan. "Because the strides we made in Year 1, it can give us a lot of upside going into Year 2, with guys being together."
Kearse said that after Quinn returned for Year 2. Year 3 likely won't be much different.
Speaking of defending the run like a linebacker, Wilson is a ticking time bomb. He plays with a ferocity that has often led to his own downfall. Wilson played all 17 games in 2022 but has missed time in each of the previous two seasons with various injuries.
Then, there's Hooker. While he hasn't been the can't-miss free safety that we thought he was coming out of Ohio State, Hooker's been a solid center fielder for the Cowboys. He's also been surprisingly physical as a presence against the run as well.
Are the Cowboys a Top-3 Defense Again in 2023?
The Jets, 49ers, Chargers, Eagles (x2), Bills, and Dolphins make up the seven games Dallas plays against the top-10 offenses in 2023. But the NFL is a league of attrition. Injuries will likely tell the story of Dallas' defensive success. For two years now, they've remained relatively healthy on that side of the ball.
We also know that replicating defensive success in the NFL is extremely difficult. Nevertheless, we've seen teams like Wink Martindale's Baltimore Ravens (pre-2022) and Dennis Allen's Saints defense remain consistent over a half-decade span.
MORE: Can Viliami Fehoko Become the Next Dallas Cowboys Rookie Surprise?
Adding Gilmore helps. DaRon Bland should only get better in the slot, and Jourdan Lewis should be healthy again in 2023. Unless there are a rash of injuries to the Cowboys' best defensive players, it's not easy to imagine the unit taking a significant step back this season, which puts a lot of pressure on the offense to step up.
"I don't think we're gonna see any corners playing nose tackle," Quinn said. "But I think for the amount of space plays that we have, a receiver that can be a runner, a runner can be a receiver, a tight end that can be a receiver, a (defensive) end that can play back or a safety that can play nickel. Those perimeter type of people, I think it's changing that way."
Quinn has seamlessly moved pieces around on the Cowboys' defense to put them in a position to find mismatches. It's part of the reason why Parsons was so successful rushing the passer as a rookie while still learning how to be a professional pass rusher.
With a unit this complete, we shouldn't be surprised when this time rolls around next year and the Cowboys' unit has had the best three-year stretch in the NFL.