The college football season has arrived as Week 1 includes action that kicked off Thursday night and goes through Labor Day. That also means we're on the 2024 NFL Draft watch. PFN's Scouting Team has combined to create this full 7-round Mock Draft for you to devour.
7-Round 2024 NFL Mock Draft | Round 1
The order of this mock draft stems from reverse Super Bowl 58 odds and can be found in the PFN Mock Draft Simulator.
1) Arizona Cardinals: Caleb Williams, QB, USC
Some may see the Arizona Cardinals being in a bit of a pickle, but that's far from the truth. General manager Monti Ossenfort is fully embracing the Cardinals' rebuild. They are taking their roster down to the very studs. Although it will take a financial hit to move on from Kyler Murray and select Caleb Williams, it's the best situation for all involved.
2) Las Vegas Raiders (From ARI via HOU): Drake Maye, QB, North Carolina
Projected Trade: Raiders receive pick No. 2 overall; Cardinals receive pick No. 5, pick No. 37, pick No. 69, a 2025 first-rounder, and a 2025 second-rounder.
Ossenfort's aggressiveness in acquiring more draft capital isn't ending with the 2023 NFL Draft. But the Las Vegas Raiders were equally aggressive in their pursuit of a franchise QB.
Drake Maye fits neatly into what the modern mold of an NFL QB has become. Although there is never a guarantee that top-five QBs will work out, Maye and Williams appear poised for NFL success.
3) Indianapolis Colts: Marvin Harrison Jr, WR, Ohio State
There doesn't have to be much discussion here. Marvin Harrison Jr. may be the most complete prospect we've seen at a skill position in a decade, and the Colts still have a massive need for a true No. 1. Michael Pittman Jr. is a good receiver, but he'd be best suited as a second option and is on the final year of his rookie deal.
4) Tampa Bay Buccaneers: Maason Smith, DT, LSU
The Tampa Bay Buccaneers already have someone to collapse the middle of opposing offensive lines. They just drafted Calijah Kancey, who they hope can be a darting pressure presence.
Maason Smith could be their jack of all trades. The 310-pound oak tree is a freaky athlete who can slide up and down the defensive line.
5) Green Bay Packers (From ARI via LV via HOU): Olumuyiwa Fashanu, OT, Penn State
Projected Trade: Packers receive pick No. 5, pick No. 65; Cardinals receive pick No. 9, pick No. 41, pick No. 58, and a 2025 second-rounder.
David Bakhtiari is almost 32 and is set to be a $40 million cap hit in 2024. But the Packers could save over $20 million against the cap by cutting or trading him. And when Olumuyiwa Fashanu is still around at pick No. 5, it's okay to be a bit aggressive. The price may be a bit steep, but the Bears, Rams, and Titans are all potentially in the market for an elite OT prospect.
6) Chicago Bears (From CAR): Kool-Aid McKinstry, CB, Alabama
The Chicago Bears also need a ton of help on the defensive side of the ball. Kool-Aid McKinstry plays as cool as his name, not completely dissimilar to Patrick Surtain II. McKinstry doesn't possess the prototypical frame Surtain had. However, he plays with the same lack of panic because he's rarely ever out of position in Nick Saban's defense.
7) Los Angeles Rams: Joe Alt, OT, Notre Dame
Joe Alt is an athletic phenom, and the LA Rams possess a gaping hole on the left side of their offensive line. After Joe Noteboom didn't work out at left tackle, they decided to move him inside to guard.
Still, there was no high-end replacement coming into the fold on the left side. How the Notre Dame tackle improved his power potential over the offseason will decide just how high he's drafted in April.
8) Tennessee Titans: JC Latham, OT, Alabama
The Tennessee Titans want to run the football and run a whole bunch of play-action off of that. JC Latham is an absolute hoss on the right side of the Alabama offensive line. But it's his impressively light feet that make him such a desirable prospect. In fact, if a team near the top of the draft needed a right tackle, he could be the first OT off the board.
9) Arizona Cardinals (From GB): Jared Verse, EDGE, Florida State
Many different archetypes could fit the Arizona Cardinals' defense under Jonathan Gannon. However, Jared Verse is the best of both worlds. He blends together more-than-adequate power with the athletic ability to drop into space when asked.
In a world where the Cardinals need all the talented bodies they can get, they're incredibly happy to trade back twice and still get their top defensive target in this simulation.
10) New England Patriots: Brock Bowers, TE, Georgia
It just seems too obvious. Emeka Egbuka could be another option here — Hunter Henry is entering the final year of his deal, and Mike Gesicki is on a rental agreement.
Although they're different stylistically, calling Brock Bowers a TE is as disrespectful as calling Kyle Pitts a TE. They're receivers who happen to be 230-plus pounds that can block.
11) Washington Commanders: Kalen King, CB, Penn State
In the words of former Coastal Carolina head coach David Bennett, "We need more dogs."
That's precisely what an NFL team gets in Kalen King. The Penn State CB is a bit shorter and slighter than the prototypical cover corner. Yet, he's an absolute missile against the run and in the screen game. He wants to be physical, and his tape study must be legendary because his mental trigger is instant.
12) New York Giants: Cooper DeJean, CB, Iowa
Wink Martindale loves himself a versatile defensive back. Cooper DeJean is exactly that. At 6'2″, 210 pounds, he possesses the physicality to survive in the box and the reactionary athleticism to play press man in Martindale's aggressive scheme.
Cooper is also as sharp as the cheese. He had five INTs for the Hawkeyes last season while accounting for half of the Hawkeyes' touchdowns for the season with three return TDs (that's a bad offense joke). So, he has the ball skills, athleticism, and physicality to be an elite player. Period.
13) Atlanta Falcons: Dallas Turner, EDGE, Alabama
The Atlanta Falcons have experimented with a lot of names on the defensive line over the past few seasons. Nonetheless, they've struggled to hit on any non-Grady Jarrett playmakers thus far.
Dallas Turner has the athleticism to legitimately cover the flat and hook zones while also keeping up with swinging RBs. Additionally, he has the explosiveness, bend, and hand usage to be a menace up the arc as a pass rusher.
14) Chicago Bears: Kris Jenkins, DT, Michigan
Right now, Kris Jenkins has a ways to go before he commands this kind of draft capital. However, he possesses some of the freakiest power and explosiveness we've seen from Michigan, which is saying a lot. The Bears already added a name to their secondary, but every non-LB spot on the defensive side could be upgraded in the offseason.
According to Bruce Feldman's Freak List, Jenkins is up to 307 pounds after entering Ann Arbor at 257 pounds just a few years ago. To gain all that weight responsibly while maintaining freak athleticism shows Jenkins has an elite work ethic.
15) Pittsburgh Steelers: Barrett Carter, LB, Clemson
The Pittsburgh Steelers tried all they could to move away from this pick, but nobody was willing to offer enough to make a deal worthwhile.
Although LB has been devalued by most in the media in recent years, many in the NFL disagree with that sentiment. And with a glaring need at the position, taking the best player at his position in a given draft class — Barrett Carter in this instance — is rarely a bad decision.
16) Denver Broncos: Emeka Egbuka, WR, Ohio State
Two months ago, the thought of Denver needing a WR in 2024 would have probably been frowned upon. But with injuries to Tim Patrick and KJ Hamler ending their seasons and Jerry Jeudy approaching the tail end of his contract (2024), the need is blinding.
Emeka Egbuka is a nuanced route runner with the ability to not only complement Harrison at Ohio State but outshine him at times. When called upon to be the No. 1 target against Georgia when Harrison was out, he shined his brightest.
17) Houston Texans (From CLE): Bralen Trice, EDGE, Washington
DeMeco Ryans already has his top pass rusher, but those 49ers units were always built from the front to back. The Texans still need more dudes on the front lines.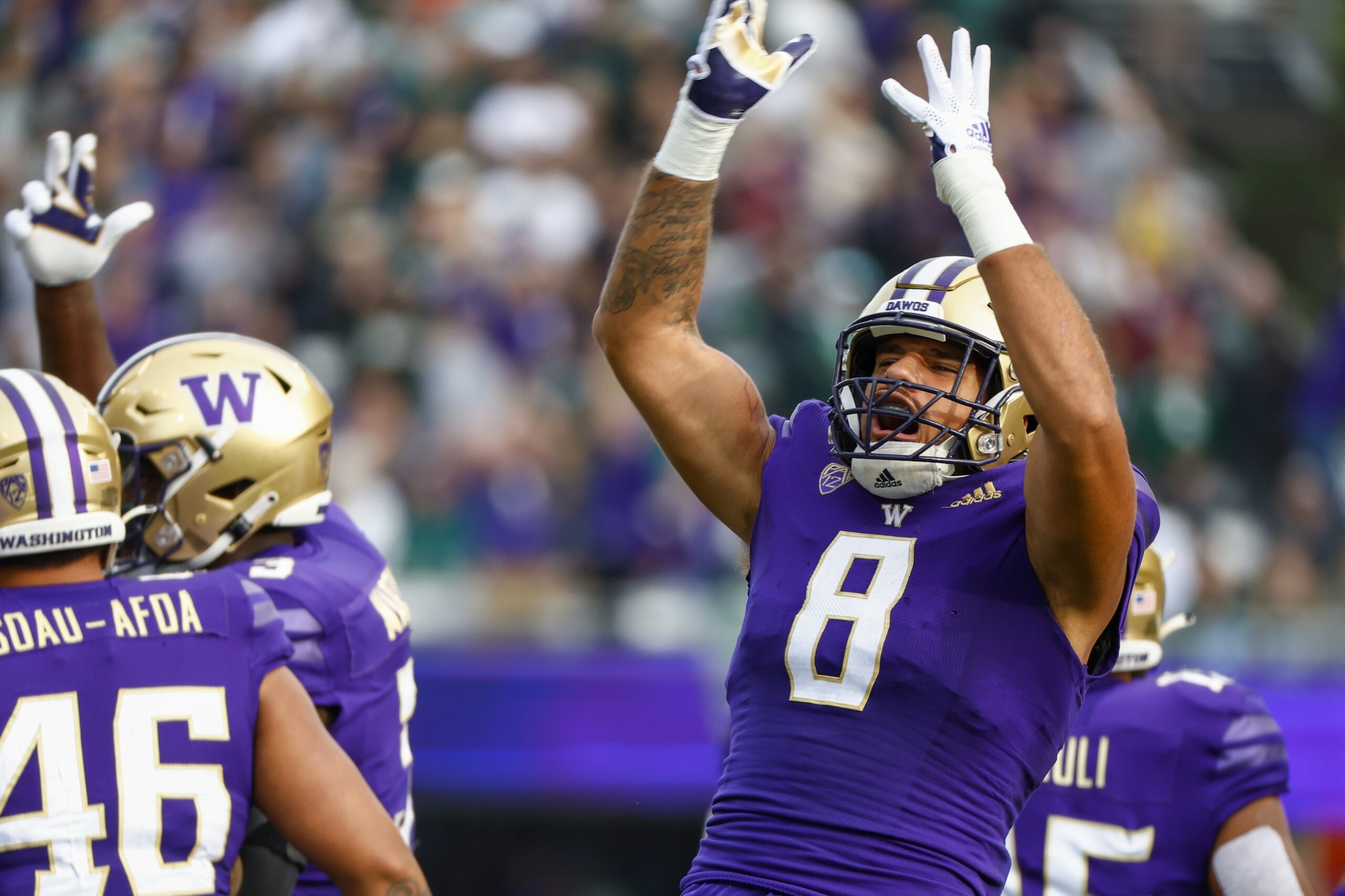 The 49ers also love size, and Bralen Trice brings that and more to the dinner table. He's a powerful defensive end who displaces offensive tackles with a fantastic combination of length and explosiveness. In a class of smaller, shiftier rushers, the Huskies product stands out.
18) Los Angeles Chargers: Andrew Mukuba, S, Clemson
Nasir Adderley's surprising retirement created a need for the Chargers at safety. Brandon Staley's defense only works if his safety play is at an adequate level. JT Woods and Alohi Gilman are fine pieces, but Andrew Mukuba would provide them with a legitimate free safety to pair alongside the versatility of Derwin James.
19) Minnesota Vikings: Michael Hall Jr., DT, Ohio State
Although Michael Hall Jr. is "undersized" at 290 pounds, his 6'2″ frame is already stout enough to play at the NFL level. Brian Flores often uses extra rushers as a way to bring pressure to opposing QBs, but Hall could be the kind of slashing defensive tackle who could make waves with his athleticism if given the opportunity.
20) New Orleans Saints: Donovan Jackson, G, Ohio State
Pick a side, any side! Andrus Peat and Cesar Ruiz have held a death grip over the Saints' offensive interior for too long. Donovan Jackson is still a young player who must show technical improvement to earn this kind of draft capital. Nonetheless, he was already a strong force on the left side for Ohio State as a true sophomore.
The top guard in the 2021 recruiting class becomes the first one drafted in 2024.
21) Jacksonville Jaguars: Leonard Taylor, DT, Miami (FL)
The Jaguars already have a stalwart in the middle of their defense but could use some juice on either side of him. Folorunso Fatukasi has not been the same player since coming over from New York.
Leonard Taylor has already been productive as a true sophomore at Miami.
22) Cincinnati Bengals (From SEA): Malik Nabers, WR, LSU
Projected Trade: Bengals receive pick No. 22, pick No. 80; Seahawks receive pick No. 28, pick No. 60, and pick No. 91.
Maybe it's the LSU connection, or maybe it's Maybelline.
23) Miami Dolphins: Amarius Mims, OT, Georgia
Amarius Mims has hardly played during his freshman and sophomore seasons at Georgia but through no fault of his own. Broderick Jones and Warren McClendon were each selected in the 2023 NFL Draft on a team with national title aspirations, which they achieved.
The Miami Dolphins have been on the… hunt… for a blindside blocker to protect Tua Tagovailoa. While Robert Hunt mans the right guard spot adequately, right tackle has been a consistent sore spot for the team.
24) Baltimore Ravens: Jason Marshall Jr., CB, Florida
At this moment, Jason Marshall Jr. likely isn't a first-round pick. However, absolutely nobody knows what the 2024 NFL Draft ecosystem will look like in October, let alone April. Marshall is a bit of a blank slate at the moment.
With the right technical seasoning, the Florida cornerback could become a lockdown man-coverage cornerback at the NFL level. He also has the ideal frame and athletic makeup for the position, and he brings more than enough physicality.
25) Detroit Lions: Kamren Kinchens, S, Miami (FL)
The minute Kamren Kinchens stepped on the field for the Miami Hurricanes, he was already one of the leaders on their defense as a freshman. He ended up starting in five games while playing over 500 defensive snaps in that first year. In Year 2, he was an All-American who led the team with six INTs.
The Lions have a few expiring contracts coming up in the secondary. Kinchens fills the void that could be left with a separation from Tracy Walker next offseason.
26) New York Jets: Kingsley Suamataia, OT, BYU
Duane Brown is collecting social security, and Mekhi Becton is in the final year of what has been a tumultuous Jets tenure. Kingsley Suamataia is an outstanding athlete for the position. BYU offensive coordinator even claimed the tackle was more athletic than Blake Freeland.
For reference, Freeland ran a 4.98, jumped higher than any tackle ever, and jumped just one inch shy of the farthest long jump for the position. But it's his fluidity and ease of operation that is even more exciting to watch.
27) Dallas Cowboys: Cooper Beebe, G, Kansas State
Cooper Beebe was draft-eligible last season but decided to stay at Kansas State for a fourth season. Maybe he just wanted to play all four non-center line spots before entering the NFL? He played over 350 snaps at right tackle as a freshman, over 700 at left tackle as a sophomore, and over 900 at left guard as a junior.
Although his lack of length will keep him on the interior at the next level, the 332-pounder has more than enough lateral agility to hang with quicker interior defenders. Additionally, he's an absolute stone structure in pass protection. He presents an anchor that could keep a Disney Cruise ship settled.
28) Seattle Seahawks (From CIN): D.J. James, CB, Auburn
The days of caring about whether or not a cornerback meets some arbitrary weight threshold are over. D.J. James may be a long, lanky cornerback at 6'1″, 175 pounds, but it doesn't matter because he can cover his tail off.
He's feisty, but like Washington Commanders CB Emmanuel Forbes, his physical limitations show up in a general lack of physicality. For James, it is most noticeable at the top of routes and while attacking the football.
Although his game translates well at the NFL level as a man or zone-coverage cornerback, he will need to run well at the Combine to command significant draft capital.
29) San Francisco 49ers: Denzel Burke, CB, Ohio State
Denzel Burke came out guns blazing during his freshman year at Ohio State. However, playing cornerback is really, really hard. Any loss in confidence can be devastating for a coverage defender's production. Burke struggled as a sophomore, but if he comes back strong as a junior, the former four-star could hear his name called on Day 1.
30) Buffalo Bills: Rome Odunze, WR, Washington
Gabe Davis is in the final year of his rookie deal. Depending on his price point, he may not be on the roster a year from now. Although Rome Odunze doesn't quite play to the blistering speed he reportedly tested at (4.34), his 6'3″, 215-pound frame already makes things tough on defenders.
He may be a bit situationally dependent because he is not an elite separator — but Josh Allen is the kind of gunslinger who wouldn't mind testing a few tight windows.
31) Philadelphia Eagles: Javon Bullard, CB/S, Georgia
Like many future NFL safeties these days, Javon Bullard aligns in the slot most often at the college level. He displays crystal-clear distinctiveness in zone coverage that should seamlessly transition to the back end of an NFL defense in a split-safety role.
Even if the Eagles want to rotate roles and use three safeties that could rotate pre-snap with motion and switch roles, they'd have the personnel to accomplish that between Bullard and Sydney Brown.
32) Kansas City Chiefs: Jer'Zhan Newton, DT, Illinois
Jer'Zhan Newton has an uncoachable trump card. His incredible flexibility makes him incredibly difficult to sustain blocks against consistently, and he has an innate ability to wriggle out of a blocker's paws.
Newton has the length, strength, and athleticism to play on the edge as a power rusher. But he would be most devastating on the interior. There, he could pair his devastating hands with more athleticism than many interior blockers could handle in pass protection in one-on-one situations.
Pairing him with Chris Jones could be a devastating duo — that would also give them Jones' heir apparent.
(Note: Pay Chris Jones. Whatever he wants over two or three years. Make exceptions for the exceptional.)
2024 NFL Mock Draft | Round 2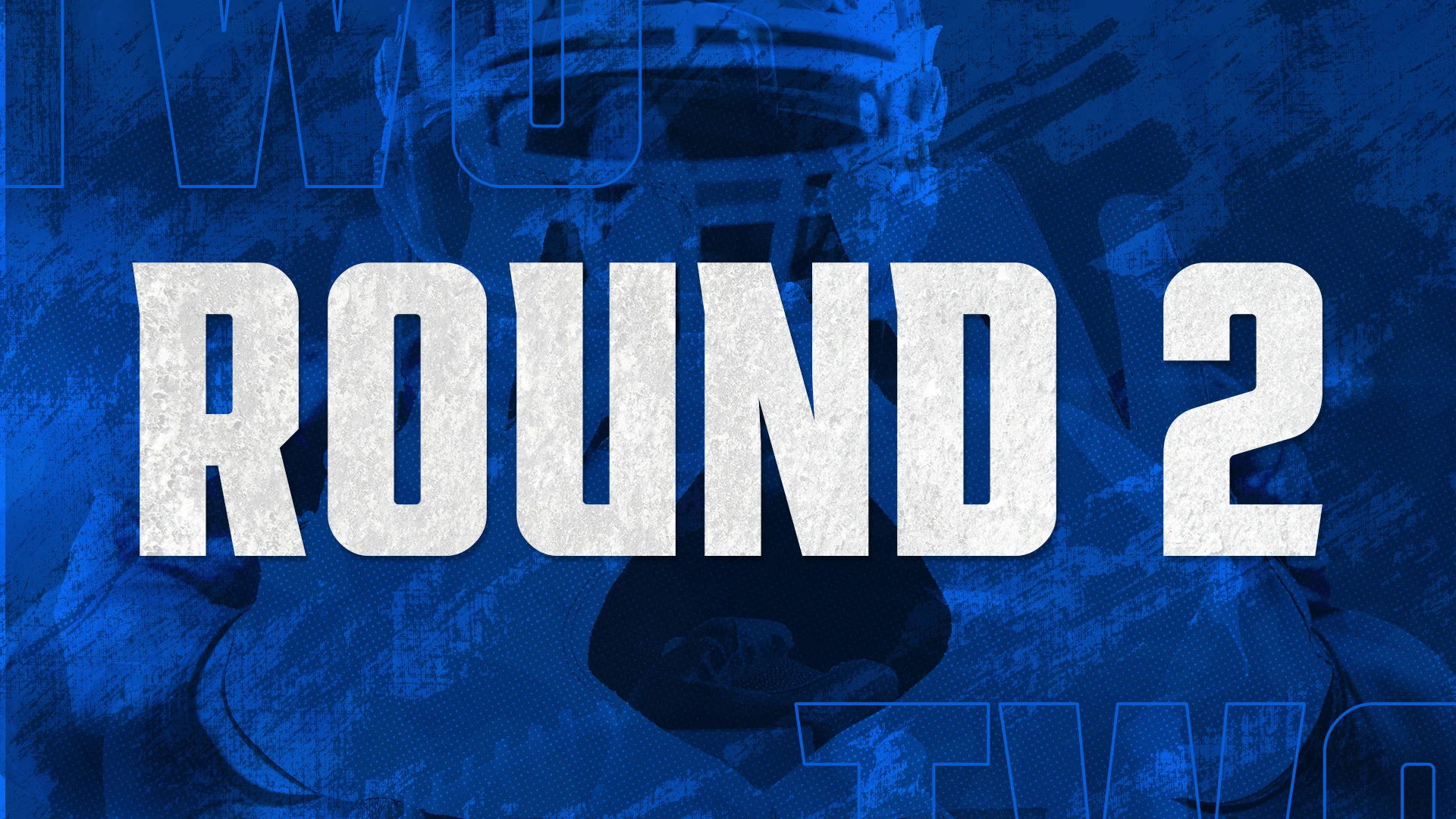 33) Arizona Cardinals: Xavier Worthy, WR, Texas
Could Xavier Worthy be the next iteration of the "Slim Reaper?" It will be fascinating to see if he can bounce back from a production perspective in 2023. Inconsistent QB play led to struggles in that respect, but his tape remains outstanding.
Like DeVonta Smith, Worthy's lack of mass and his natural flexibility allow him to snap off routes consistently. Like Smith, he's more impressive after the catch than one would expect. He's shown the ability to win from the slot and outside consistently against all coverage variations.
34) Houston Texans: Troy Franklin, WR, Oregon
Adding Troy Franklin to the mix could be a perfect fit for the Texans. There are some shades of Chris Olave to his game. He's long, lean, explosive, and nuanced. He's a weapon over the middle of the field, something that, coming from Kyle Shanahan's coaching tree, we can probably expect will be necessary for Bobby Slowik's offense.
35) Indianapolis Colts: J.T. Tuimoloau, EDGE, Ohio State
On paper, everything about J.T. Tuimoloau appears ideal. But on the field, the freak athlete who was a consensus five-star recruit simply hasn't taken the next step in his development.
We've seen two things: 1) The Colts want to be the most athletic team in the NFL, and 2) The NFL, and more particularly private position coaches, have enhanced their ability to bring these moldable balls of clay along quickly.
36) Tampa Bay Buccaneers: Bo Nix, QB, Oregon
If anyone would have had Bo Nix sniffing Day 2 of an NFL mock draft about 12 months ago, they would have been institutionalized. But Nix's physical talent finally found a home that could bring him in and show him the ways of a true QB.
Nix is a dual threat with adequate size, outstanding lateral agility, and an improved ability to operate in the quick passing game without looking like a lost puppy. And even if Baker Mayfield has a decent season in Tampa Bay, would they really put all their eggs in that basket?
37) Pittsburgh Steelers (From ARI via LV): Sedrick Van Pran, C, Georgia
Projected Trade: Steelers receive pick No. 37; Cardinals receive pick No. 47, 2025 second-rounder.
For transparency purposes, the Steelers were considering Sedrick Van Pran with their first-round pick. So when they had the opportunity to jump a few center-needy teams in the second round, they leaped forward. Arizona wanted to trade down anyway.
Sedrick Van Pran may have been the first center drafted had he declared with Joe Tippman and John Michael Schmitz. Another season on the Bulldogs' interior should only sharpen his already impressive technical ability.
38) Carolina Panthers: Chop Robinson, EDGE, Penn State
Chop Robinson will be a fascinating evaluation because the edge rusher lacks the ideal length and bulk for the position. However, there's a former Penn State linebacker with 31″ arms that would scoff at the notion arm length matters at all.
The flashes are certainly present with Robinson, but winning consistently may be a problem. He's in the process of learning to maximize his effectiveness while lacking the power and length that usually come with the position. But he has excellent quickness as a proactive athlete, and his spin move is a thing of beauty.
39) Los Angeles Rams: Ruke Orhorhoro, DT, Clemson
Ruke Orhorhoro is new to football. The Nigerian-born Clemson Tiger transitioned from basketball to football as a junior in high school. Despite being a three-star recruit, athleticism was never an issue for the defensive tackle.
Clemson moves their defensive linemen around, and Orhorhoro is no exception. He played from outside the tackle condensed all the way down to the nose. He showed effectiveness in each alignment. In a league using 290-pounders at 5-technique more and more often, Orhorhoro could be hitting the league at a perfect time.
40) Tennessee Titans: Brandon Dorlus, EDGE, Oregon
Denico Autry can't play forever. So why not spend the last year or two in the league still dominating while mentoring Denico Autry 2.0? Although Autry's emergence came when he moved from an interior player to the outside, he possesses the versatility to do it all situationally.
Brandon Dorlus is in that same mold. At 280 pounds, he's still able to effectively rush the passer because of his outstanding strength and explosive potential. Most offensive tackles are not built to anchor against that kind of force because most are too busy trying to keep up with 250-pound outside linebackers.
41) Arizona Cardinals (From GB): Jeremiah Trotter Jr., LB, Clemson
Trenton Simpson, Jeremiah Trotter, and Barrett Carter all played on the same team. Sheesh!
The Cardinals have a history of selecting hybrid players and then not having an outstanding plan for them. With new bosses in town, they select a tried-and-true off-ball linebacker to patrol the second level of the Cardinals' defense.
Although LB is not a premium defensive position, Trotter has already slid quite a bit because of that. He was the best player available by a decent margin here, and Arizona needs as many good players as they can get.
42) New England Patriots: Omar Speights, LB, LSU
A 6'1″, 240-pound LB who can fly downhill and bring some juice as a pass rusher? Bill Belichick is running to the stage from his office to hand in this pick.
Although he may not be the ideal version of the modern linebacker, Belichick's defense still utilizes players like Speights to their full potential. After strong seasons with Oregon State, Speights gets to show off his ferocity in the SEC.
43) Washington Commanders: TreVeyon Henderson, RB, Ohio State
When TreVeyon Henderson was healthy in 2021, he amassed 1,500 total yards and 19 TDs. In a league that's beginning to assign real value to the ability to create explosive running plays, Henderson fits the bill.
He possesses outstanding lateral agility and possesses a great sense of how to make defenders overcommit by showing upper-body intention one way while planting and driving the other. But he also possesses the pure speed to keep defensive backs chasing at the third level.
44) New York Giants: Raheim Sanders, RB, Arkansas
Like Derrick Henry, Raheim Sanders won't be everyone's cup of tea. He's an interesting player to watch run, but there is absolutely no denying his effectiveness. While the 240-pound back likely won't be taking preseason snaps in the slot or out wide like Saquon Barkley (time will tell if they actually use him that way in real games), Sanders is a confident pass catcher.
Sanders possesses outrageous contact balance, surprising quickness, and the stride length and lower-body strength to move the earth when running in a straight line.
45) Atlanta Falcons: Kris Abrams-Draine, CB, Missouri
Fit is important here. Kris Abrams-Draine is a somewhat difficult evaluation at the moment because of the assignments he's given. The CB is often aligned about a first down away from the receiver in his immediate area. Most of the time, the distribution ends up as a match-based Cover 3.
The Falcons won't play at that depth because an NFL team would absolutely decimate that unit. However, Draine shows the explosiveness, fluidity, and mental capacity to play in a Dennis Allen-inspired middle-of-field-closed coverage scheme.
46) Chicago Bears: Malachi Corley, WR, Western Kentucky
It's been a few years since we got a legitimate "running back playing wide receiver" prospect, but we may again be in luck! Malachi Corley's role in the slot for Western Kentucky isn't necessarily comprehensive from the perspective of a route tree.
However, the Bears seem to be a fan of getting the ball out of Justin Fields' hands on manufactured line-of-scrimmage plays. It would be nice to see Corley receive some more handoffs in 2023 as well. There could be an insanely fun triple-option potential if he can handle a Deebo Samuel-esque role.
47) Minnesota Vikings (From ARI via PIT via LV): Quinn Ewers, QB, Texas
Projected Trade: Vikings receive pick No. 47; Cardinals receive pick No. 51, 2025 third-rounder.
The Kirk Cousins era in Minnesota can't run forever. He's on the final year of his deal with the Vikings, and the front office has already started trimming veteran fat left and right. Even if they extend him for a few more years, it is time to start thinking about life after him.
48) New Orleans Saints(From DEN): Ty'Ron Hopper, LB, Missouri
Remember Nick Bolton? Same, but different. Aside from sharing college colors, Ty'Ron Hopper is a similar player stylistically. He isn't the most explosive player in college football. He is not the biggest linebacker on the field. But he has a military-grade homing beacon for the football.
Although there were shades of Bolton, at the surface, David Long seems an apt comp for Hopper. Nobody tackles ball carriers closer to the line than Long, but Hopper's ability to know what the offense is doing at the snap of the ball — along with his knack for slipping blocks — makes him an absolute menace in the backfield.
49) Cleveland Browns: Antwane Wells Jr., WR, South Carolina
The Gamecocks have a type at wide receiver. They prefer sturdy pass catchers who can make plays with the ball in their hands to generate explosives. Antwane "Juice" Wells is simply the next iteration of that.
Donovan Peoples-Jones is on an expiring contract. Elijah Moore's will be up after 2024. Amari Cooper is only 29, but he's played a ton of football and has chronic lower-body issues. The only long-term solution at the moment is Cedrick Tillman. Wells provides a bit of a different experience to help round out the versatility of this unit.
50) Los Angeles Chargers: Tyler Guyton, OT, Oklahoma
Although Tyler Guyton is inexperienced, his tape shows someone who is well beyond their years technically. Guyton is a nasty blocker who wants to finish plays to the ground, both to his benefit and detriment. He has loads of potential, and it wouldn't be a shock to see him as a Round 1 candidate come April.
51) Detroit Lions (From ARI via MIN via PIT via LV): J.J. McCarthy, QB, Michigan
Projected Trade: Lions receive pick No. 51; Cardinals receive pick No. 57, 2025 third-rounder.
Is this selection pandering to proximity? Maybe. Is it because the writer needed an excuse to wax poetically about J.J. McCarthy? Most definitely.
McCarthy has to improve a lot as a QB in 2023 to command this capital. From a pure talent perspective, only the top two showed higher highs as a passer a season ago. Some of the intermediate throws he made for Michigan were spectacular, and the Lions have an offense that could eventually squeeze the best out of his talents.
52) Philadelphia Eagles (From NO): Ja'Tavion Sanders, TE, Texas
A tight end must know how to maximize the use of his frame as a route runner to generate separation — Ja'Tavion Sanders does exactly that. The Texas TE can win from a three-point stance attached or from the slot, and he boasts an ideal blend of size and athleticism for the position.
Although Dallas Goedert is the top dog in Philadelphia, they have historically been outstanding at bringing young players at the position along slowly and maximizing their effectiveness with multiple TEs on the field at once.
53) Jacksonville Jaguars: Decorian Patterson, CB, UCF
Patterson has enough size, length, and athleticism to play on the outside at the NFL level. But his calling card in college so far has been his ball-hawking tendencies. He'll be tested far more at UCF, but he was already arguably the best player on the field a season ago when Middle Tennessee State played Miami.
54) Seattle Seahawks: Riley Leonard, QB, Duke
We aren't hedging our bets with Geno Smith. We're simply understanding that his three-year deal was effectively a one-year deal. He's also already 32, so the future is closer than we may want to admit.
Riley Leonard is athletic enough to use his legs as a weapon in the run game and create as a passer. He also has one of the more impressive arms in college football.
55) Jacksonville Jaguars: Princely Umanmielen, EDGE, Florida
Princely Umanmielen can bend, and you can't teach that. Although there are many improvements to be made before the Florida pass rusher can hear his name called early on NFL Draft weekend, he'd be a fantastic fit as a designated pass rusher.
Although he doesn't necessarily need to fill his frame out, he could stand to gain a bit more power — or at least display a bit more violence in his hands. He's an absolute menace in pursuit thanks to his outstanding burst.
56) Baltimore Ravens: McKinnley Jackson, DT, Texas A&M
Michael Pierce is on the final year of his deal. McKinnley Jackson is the best nose in college football. Done deal. Jackson is the Aggies' defensive leader. He was a team captain as a junior, and the Aggies' run defense was more lost than a second Lieutenant on a land navigation course when he was off the field.
Nonetheless, Jackson isn't just some space eater. No, the former five-star recruit from Mississippi has the gitty-up to slice and dice his way into the backfield. His main assignment just so happens to be as a 0-technique who is responsible for multiple gaps at a time.
57) Arizona Cardinals (From DET): Rod Moore, S, Michigan
Like Daxton Hill before him, Rod Moore is a supremely twitched-up athlete on the back end who fits into multiple roles because of his desire to compete and intelligence in coverage.
As long as the Cardinals keep Budda Baker around for the long haul of their rebuild, Moore can take on a nice split-safety role and play as the primary free safety while Baker is used more universally.
58) Arizona Cardinals (From GB via NYJ): Max Melton, CB, Rutgers
Adding to the secondary with consecutive picks, the Cardinals select Max Melton. Melton has outstanding speed and the length and strength to carry WRs vertically with ease. He is fluid in transition and has a knack for quickly triggering downhill. Arizona could take lumps early with young players on the back end, but they need to know quickly what long-term needs they'll have to address in 2025.
59) Dallas Cowboys: Jordan Morgan, OT, Arizona
Jordan Morgan is one of the most athletic blockers in the country. He would've been highly sought-after in the 2023 NFL Draft, but he tore his ACL in November and decided to remain in school for another season.
The Cowboys have a well-documented history of taking high-upside flyers in Round 2. And with what could be a critical need at offensive tackle, they pair Morgan with Cooper Beebe in an OL double-up.
60) Seattle Seahawks (From CIN): Cole Bishop, S, Utah
Julian Love is on a one-year deal. Playing with three safeties on the field gives Seattle creative freedom to operate with a healthy Jamal Adams. Bishop possesses good size for the position and can handle his own in the slot. His coverage instincts and tape study are evident in his quick mental trigger.
61) San Francisco 49ers: Layden Robinson, G, Texas A&M
There's no denying the struggles Layden Robinson went through at Texas A&M a season ago. However, the situation around him dissolved into thin air. Everyone on the offensive line was being lost to injury, and the lack of continuity caught up to the young blocker.
But from 2019 to 2021, we'd seen steady and serious improvements in the former three-star recruit. A healthy situation around him should get him back on his feet for 2023.
62) Buffalo Bills: Tony Grimes, CB, Texas A&M
Tony Grimes has all the potential in the world. His outrageous athleticism and his natural movement skills could also make him an outside-in candidate. His leaping ability disrespects receivers, and he's shown some exceptional instincts in zone coverage.
Consistency will be key for him in the move from the ACC to the SEC in 2023.
63) Philadelphia Eagles: Calen Bullock, S, USC
The Eagles are bringing in as many versatile coverage players as possible for Sean Desai. Calen Bullock has experience playing in single-high and split alignments. Like many safeties, he can be a bit of a bore to study. But that's not a bad thing, necessarily.
If a lot is happening by your safeties, that usually means teams are attacking them and creating explosive plays. Bullock does an outstanding job simply doing his job and limiting those explosives.
64) Kansas City Chiefs: Tahveon Nicholson, CB, Illinois
Like *gestures wildly at the entire Illini secondary* Tahveon Nicholson is a menace. His ease of movement will have evaluators starstruck, and his physicality is not unlike the first-round cornerback drafted from the team in 2023. If he can get his hands on a few more passes in 2023, he could end up going much higher than this.
2024 NFL Mock Draft | Round 3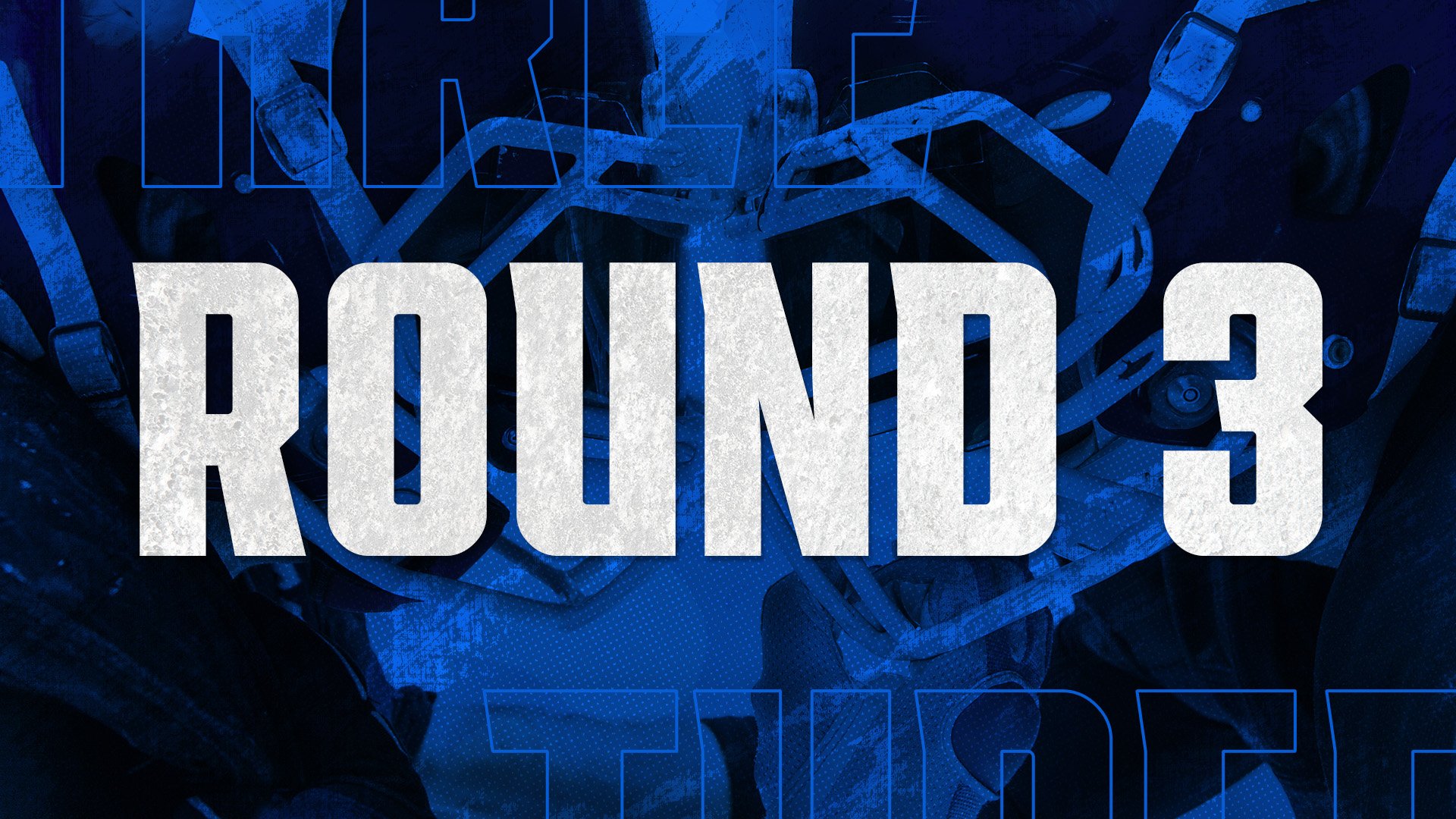 65) Green Bay Packers: Beau Brade, S, Maryland
The Packers picked the perfect NFL Draft cycle to have a glaring need at safety. The 2024 NFL Draft is stacked at the safety position, and Beau Brade is one of the unsung options. At 6'1", 205 pounds, he has good size and carries it effortlessly. As an athlete, he's explosive, twitchy, and rangy coming downhill, and he can enforce his physicality or manage space and make plays in coverage.
66) Arizona Cardinals: Tyleik Williams, DT, Ohio State
Even after a solid 2023 NFL Draft performance, the Cardinals' defense still needs plenty of retooling. Tyleik Williams could end up being a central force if he fell to this point. The 6'3", 320-pound lineman has the size and strength to hold the line at 0 and 1-tech. Still, he's also a surprisingly energized athlete for his size, with logic-defying play pace, flexibility, and power channeling as a pass rusher.
67) Indianapolis Colts: Will Shipley, RB, Clemson
At this point in Round 3, Will Shipley is an exceptional value proposition for the Colts, who need a weapon alongside Anthony Richardson in the backfield. At around 5'11", 205 pounds, Shipley doesn't have the mass that made Jonathan Taylor such a strong volume back. What he does have, however, is an alluring mix of hyper-elite hip fluidity, short-area freedom, vision, and creative instincts in congestion.
68) Tampa Bay Buccaneers: Keon Coleman, WR, Florida State
Mike Evans might not be long for Tampa Bay, which means the Buccaneers will need a new alpha on the boundary. Arguably no WR prospect in the 2024 NFL Draft fits the bill better than Florida State's Keon Coleman. At 6'4", 215 pounds, Coleman has the size, length, sense of timing, and contortion ability to moss DBs with ease, and he's also quietly a strong independent separator with RAC chops.
69) Arizona Cardinals: Graham Barton, OG, Duke
Projecting Graham Barton to guard, he grades out as a potential first-round talent on my board. At this point, he'd be a stellar addition for the Cardinals, who still need long-term security alongside Paris Johnson Jr. At around 6'5", 314 pounds, Barton has a rocked-up, yet streamlined frame for his size, and is an elite athlete in space with dominating leg churn and aggression.
70) Carolina Panthers: Jalen McMillan, WR, Washington
Frank Reich has, at times, had trouble sustaining quality receiving cores for his quarterbacks. With this 2024 NFL Mock Draft selection, the Panthers can proactively give Bryce Young the necessary weapons. Jalen McMillan, at 6'1", 192 pounds, can operate on the boundary or in the slot, and has the speed, burst, route running nuance, and hand strength to come through wherever he plays.
71) Los Angeles Rams: Jeff Sims, QB, Nebraska
As his 2023 season debut showed, Jeff Sims still has a long way to go developmentally. But his raw physical talent was also clear. Going to the Rams on Day 2, he could sit behind Matthew Stafford for at least a couple years, insulating his game as a passer around his high-level athleticism and arm talent at 6'4", 220 pounds.
72) Arizona Cardinals: Dorian Singer, WR, USC
Since the Cardinals have about a million picks in this 2024 NFL Mock Draft, it can't hurt to add one of Caleb Williams' receivers from USC, to ensure some familiarity and chemistry early on in the offensive integration. Chemistry alone isn't what makes Dorian Singer worth this pick, however. He's legitimately an exciting athlete with explosiveness and throttling efficiency, and he can use his flexibility to win at the catch point.
73) Green Bay Packers: Trey Benson, RB, Florida State
A.J. Dillon's days in Green Bay might be numbered. No one in the 2024 NFL Draft can hold a candle to Quadzilla, but Trey Benson is perhaps the closest. At 6'1", 223 pounds, Benson is a big-bodied back with an incredibly strong lower body, which grants him elite contact balance. Past those qualities, he's an explosive, efficient operator behind the line of scrimmage who finishes runs with physicality.
74) New England Patriots: Matt Goncalves, OT, Pittsburgh
The Patriots' starting tackles are due for new contracts in 2024. In Matt Goncalves, they add a plus physical talent at 6'6", 330 pounds, with powerful and combative hands, good synergy and weight transfer ability as a pass protector, and versatility between left and right tackle. This is the kind of Patriots selection that could yield a ten-year starter.
75) Washington Commanders: Reuben Fatheree II, OT, Texas A&M
The Washington Commanders' tackle situation might not age well with Charles Leno and Andrew Wylie. Sooner rather than later, Washington will need new, young talent on the boundary. At 6'8", 330 pounds, with physics-defying movement skills and impressive flexibility for his size, Reuben Fatheree II makes a lot of sense as a Day 2 investment at right tackle.
76) New York Giants: Will Sheppard, WR, Vanderbilt
A starting trio of Isaiah Hodgins, Darius Slayton, and Parris Campbell is respectable, but that group might look very different in 2024. In Will Sheppard, the Giants get a receiver prospect who can fulfill many roles, and hedge for any turnover. At 6'3", 200 pounds, he's a smooth athlete, an efficient route runner, a stubborn RAC threat, and an instinctive contortionist at the catch point.
77) Atlanta Falcons: Jordan Travis, QB, Florida State
Desmond Ridder might not have the starting job on lockdown in 2024 if the Falcons miss the playoffs, as these projections predict. It makes sense to add a high-floor, high-upside veteran on Day 2 to challenge him, if possible. Travis brings the same creative athleticism that Ridder does, but has a visibly better foundation from a mechanical standpoint.
78) Chicago Bears: Adonai Mitchell, WR, Texas
Adonai Mitchell could be in line for a breakout at Texas catching passes from Quinn Ewers. He flashed promise at Georgia in a limited sample size, and has the well-rounded profile to generate appeal on the 2024 NFL Draft circuit. At 6'4", 196 pounds, Mitchell has size-defying throttle control and sink as a route runner, boasts excellent catching instincts, and doubles as an elite run blocker.
79) Pittsburgh Steelers: Dontay Corleone, DT, Cincinnati
If there's one thing the Steelers could use more of on the defensive line, it's a space-eating presence with an attack-power component. Dontay Corleone, at 6'1" and over 320 pounds, could serve as the fulcrum between Cameron Heyward and Keeanu Benton, encumbering double teams, preventing displacement, and pushing the pocket.
80) Cincinnati Bengals: Blake Fisher, OT, Notre Dame
The Bengals don't have a long-term solution at the right tackle spot. It's not a guarantee that Blake Fisher will become that, but his tools are worth investing in. He's an explosive athlete with good length, power, and tenacity at 6'6", 312 pounds, and he flashed improved balance and leverage maintenance in Notre Dame's season-opening win against Navy.
81) Cleveland Browns: Tyler Nubin, S, Minnesota
This is one of the biggest steals of this 2024 NFL Draft mock. Tyler Nubin grades comfortably in my Top 50 and has the explosiveness, route recognition ability, ball skills, and combined run support utility at 6'2", 205 pounds to be a phenomenal counterpart to Juan Thornhill's range over the top in Cleveland.
82) Los Angeles Chargers: T.J. Tampa, CB, Iowa State
T.J. Tampa needs to keep improving in run support, as faulty angles and poor tackling technique burned him more than once in 2022. But at 6'2", 190 pounds, he's one of the most enthralling size-speed athletes at CB in the 2024 NFL Draft, and he has the zone awareness and ball skills to capitalize on contested opportunities that come his way.
83) Detroit Lions: Caelen Carson, CB, Wake Forest
Caelen Carson is a Top 30 prospect on my early 2024 NFL Draft board, so this is another massive steal. And as a bonus, he's a perfect fit for Detroit's scheme. Carson has the length and physicality to bully wide receivers in man coverage. Still, he also has the fleet-footed athleticism, corrective twitch, technical prowess, and ball-tracking ability to hold strong through reps.
84) Denver Broncos: Akheem Mesidor, DT, Miami (FL)
In three seasons at the collegiate level, Akheem Mesidor has amassed 16.5 sacks and 25 tackles for loss, proving his mettle as a disruptor from multiple alignments. At 6'3", 280 pounds, he's a supercharged athlete with excellent twitch and natural leverage, and he'd be a perfect fit in Denver's odd-front scheme alongside D.J. Jones.
85) Jacksonville Jaguars: Adisa Isaac, EDGE, Penn State
With Josh Allen and K'Lavon Chaisson entering contract years, the Jaguars might need to re-invest in EDGE depth and talent in the 2024 NFL Draft. Adisa Isaac has room to attain more consistency as a pass-rushing threat. At 6'4", 249 pounds, he has a very appealing mix of explosiveness, power capacity, length, agility and twitch, and swarming range and urgency in pursuit.
86) Seattle Seahawks: Curtis Jacobs, LB, Penn State
When you think of a Seattle Seahawks linebacker, you think of dense, compact defenders who are role-versatile. They have disruptive range and physicality, and their hot motor allows them always to stay involved. Curtis Jacobs checks a lot of those boxes. At 6'1", 235 pounds, he's a high-energy athlete whose movement freedom is only superseded by his tenacity as a two-phase playmaker.
87) Baltimore Ravens: Smael Mondon, LB, Georgia
Smael Mondon needs another strong season before he can lock in early-round capital. Still, at 6'3", 225 pounds, the former five-star recruit has near-unmatched projected versatility as an LB prospect. He can play overhang slot and blanket TEs in coverage, terrorize as a blitzer, or cover swaths of ground in pursuit. He'd be a welcome wild card at the second level alongside fellow Georgia product Roquan Smith in Baltimore.
88) Detroit Lions: Jack Sawyer, EDGE, Ohio State
Set to lose a chunk of their EDGE depth in the 2024 offseason, the Lions will have to return to the edge rusher well again in the 2024 NFL Draft. Aidan Hutchinson and Jack Sawyer might not get along in the locker room, with Sawyer being from Ohio State, but Sawyer's 6'4", 260-pound frame, size-athleticism combination, and forceful hands could give Detroit another disruptor on the end.
89) New York Jets: Jaden Hicks, S, Washington State
The Jets' defense is already a fear-inducing unit, but imagine if they had a talent like Jaden Hicks on the back end. At 6'3", 212 pounds, Hicks has impressive size and frame density, and he's also a good functional mover in space, with solid range and closing ability downhill. His physicality as a supporting defender would endear him to Robert Saleh, but he can also create incompletions in coverage.
90) Dallas Cowboys: Quinyon Mitchell, CB, Toledo
Quinyon Mitchell is one of the most exciting Group of Five prospects on the 2024 NFL Draft circuit. At around 6'0", 200 pounds, he has a strong frame, and enough length and physicality to disrupt WRs in man. But he also has near-4.3 recovery speed and sharp route identification skills, which he used to amass five picks and 19 deflections in 2022. He's a dynamic, multifaceted ball-hawk who fits Dan Quinn's scheme to a tee opposite Trevon Diggs.
91) Seattle Seahawks: Christian Haynes, OG, UConn
The Seahawks could lose both starting guards in the 2024 offseason, making the interior offensive line a definite need. And no guard in the 2024 NFL Draft better fits the Seahawks' preferred mold than UConn's Christian Haynes. Haynes is an absolute refrigerator at 6'2", 313 pounds, who can pummel opponents at contact with his power output, and breach the second level with an eye-catching burst.
92) San Francisco 49ers: Ashton Gillotte, EDGE, Louisville
If we know one thing about the 49ers' defensive line, it's that coach Kris Kocurek can work wonders with high-level physical talents. The 49ers get that kind of talent here with Ashton Gillotte. At 6'3", 270 pounds, Gillotte has a mind-bending blend of fleet-footed acceleration capacity, bend and over-arching flexibility, and powerful shock in his hands.
93) Buffalo Bills: Patrick Paul, OT, Houston
Another up-and-down year for Spencer Brown could spell the end of his starting stint at right tackle in Buffalo. In the 2024 NFL Draft, there are a few replacement natural right tackles. Houston's Patrick Paul isn't close to the athlete Brown is, but at 6'7", 315 pounds, he's a towering specimen with near-36" arms – and he maximizes his power output with aggressive physicality.
94) Houston Texans: Tommy Eichenberg, LB, Ohio State
In 2022, with Jim Knowles taking over as defensive coordinator for the Buckeyes, Tommy Eichenberg took a major step up as an NFL Draft prospect. He has all of the traits you want at linebacker, sporting searing explosiveness and range at 6'3", 235 pounds – and he's an extremely aggressive, proactive box defender when he's confident in what he sees. DeMeco Ryans could help him reach his ceiling.
95) Kansas City Chiefs: Oronde Gadsden II, WR/TE, Syracuse
Another pick, another insane value deal for the Kansas City Chiefs. Depending on who you talk to, Oronde Gadsden is a potential first-round candidate in the 2024 NFL Draft cycle. At 6'5", 216 pounds, he blends the positional line between wide receiver and tight end. He has the size, length, and vice-grip hands to win one-on-one, but he's also a fleet-footed athlete who can separate on slants, posts, digs, and fades.
96) San Francisco 49ers: Jalon Daniels, QB, Kansas
One benefit of the 49ers' complete lack of long-term security at QB: It allows us to experiment with different matches in the 2024 NFL Draft. Jalon Daniels, at around 6'0", 220 pounds, is an impressive athlete and creative force with easy arm talent and off-platform elasticity, who's also shown he can use eye manipulation to free up space on short routes.
2024 NFL Mock Draft | Round 4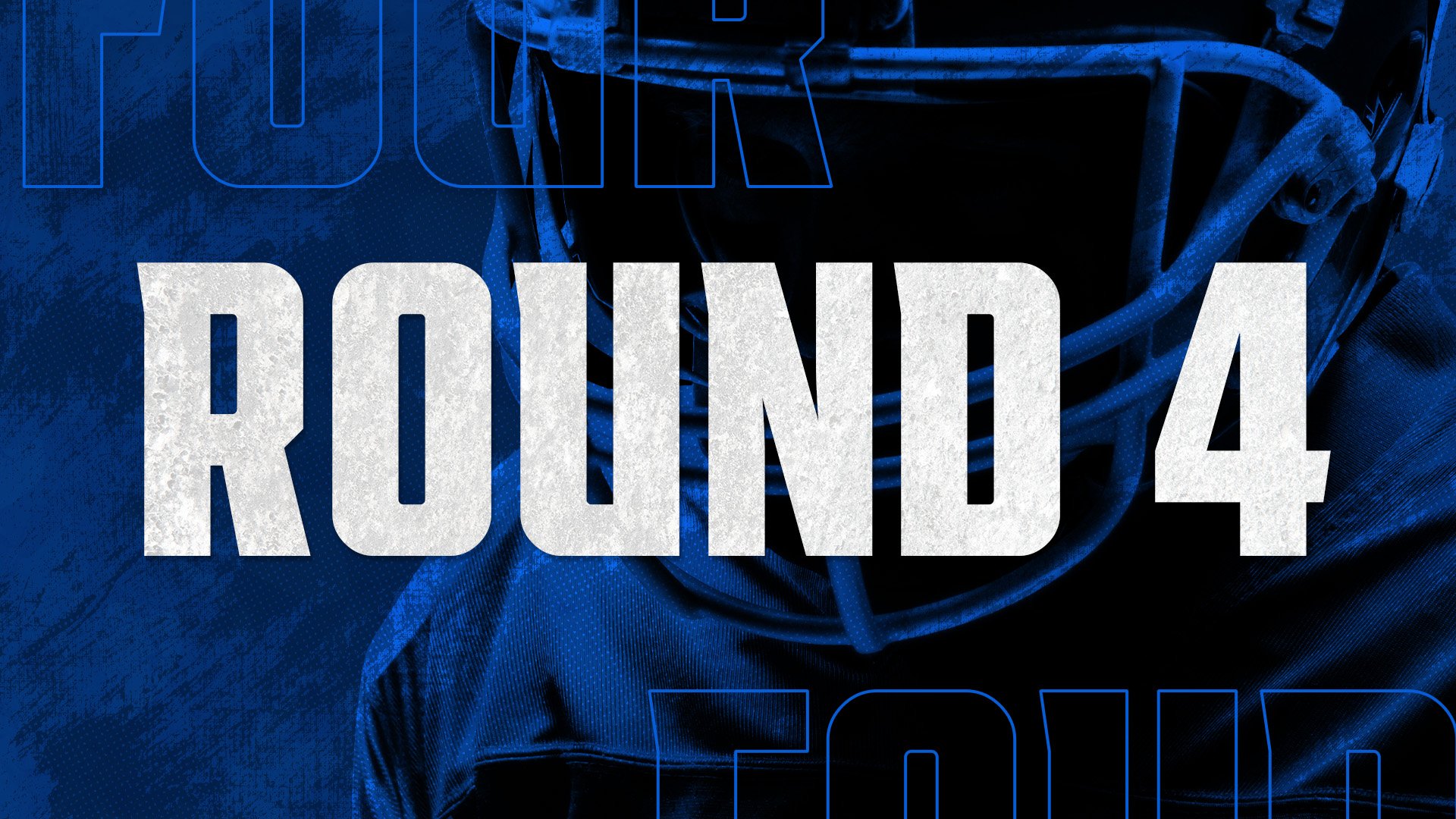 97) Arizona Cardinals: DeWayne Carter, DT, Duke
The Cardinals drafted Tyleik Williams earlier in this 2024 NFL Mock Draft to be a versatile, dynamic 0 and 1-tech. Now, they get a disruptor at 3-tech alongside him. The 6'3", 300-pound DeWayne Carter accumulated 5.5 sacks and 11 TFLs in 2022 and has a translatable NFL skill set. He's a compact, well-leveraged interior lineman with impressive speed-to-power output and the motor to finish plays.
98) Houston Texans: Troy Fautanu, OG, Washington
Now that Kenyon Green will miss the 2023 season, Houston's long-term situation at guard is a bit more precarious than expected. At the top of Round 4, Troy Fautanu gives the Texans a starting talent with positional versatility. He's played both tackle and guard, but at 6'4", 317 pounds, his burst, power drive, and torque translate well on the interior.
99) Indianapolis Colts: James Williams, S, Miami (FL)
At this point, just draft James Williams, get him in your safety room, and plan the rest later. Williams is a one-of-one prospect at 6'5", 220 pounds, offering elite explosiveness and point-of-contact force with his frame. Naturally, he's not quite as fluid in space, but he's a menace in run support who quietly has good spatial management skills in zone.
100) Tampa Bay Buccaneers: Cedric Gray, LB, North Carolina
In this 2024 NFL Mock Draft, the Buccaneers compensate for the potential losses of Lavonte David and Devin White by adding North Carolina's Cedric Gray – a 6'2", 235-pound LB who amassed 145 tackles, 12 TFLs, a sack, two picks, six deflections, and three forced fumbles in 2022. Gray is an absolute playmaker who can erupt through gaps with his explosive athleticism, and he's very nimble in coverage as well.
101) Las Vegas Raiders: Ja'quan Sheppard, CB, Maryland
Ja'quan Sheppard didn't play with Jakorian Bennett at Maryland, but he joins the fellow Terrapins product in Las Vegas' secondary with this pick. At 6'2" and over 200 pounds, Sheppard offers unique size and length and maximizes those traits with good feet and balance at the line. He also has the speed to contend with vertical threats and the ball skills to convert at the catch point.
102) Carolina Panthers: Jaylan Ford, LB, Texas
Explosiveness and athleticism remain common themes for the Carolina Panthers' defense under Ejiro Evero, and Jaylan Ford brings plenty of that at linebacker. The 6'3", 242-pound defender stood out for Texas in 2022 and offers rare disruptive range and proactivity as an enforcer. Also built-in with Ford's physical skill set is exciting projected versatility – whether he's tracking run plays, gliding in coverage, or blitzing downhill.
103) Los Angeles Rams: Brevyn Spann-Ford, TE, Minnesota
Scheduled to lose their top two tight ends in free agency next offseason, the Rams could dip into the deep 2024 NFL Draft TE class to compensate. Brevyn Spann-Ford, out of Minnesota, has a lot of desirable traits. He towers over defensive backs at 6'7", 270 pounds, but is a smooth athlete up the seam with superb hands, and he also provides value as a high-level blocker.
104) Tennessee Titans: Josh Newton, CB, TCU
Even though he lasted to Round 4, this is one of my favorite team-prospect fits and value picks in this 2024 NFL Mock Draft. At 5'11", 195 pounds, Josh Newton isn't a dominating size threat. Still, he has the lightning-quick feet, smooth fluidity, efficient physicality, and hawking ball skills (three INTs and 12 PBUs in 2022) to suffocate receivers all through reps – traits the Titans value in their man-heavy scheme.
105) Green Bay Packers: Kiran Amegadjie, OT, Yale
The Packers already secured their Bakhtiari replacement with Fashanu in Round 1, but in this 2024 NFL Mock Draft, they double-dip and add a talented swing tackle candidate. At 6'5", 320 pounds, Kiran Amegadjie has all the necessary physical tools – size, length, explosiveness, agility, and power – and he's also a tenacious finisher with a mauler mentality.
106) New England Patriots: Ladd McConkey, WR, Georgia
This may be the most Patriots pick ever to be picked by the Patriots. But throw all the jokes aside because Ladd McConkey will wipe your smile away quickly in the Patriots' offense. The 6'0", 185-pound pass-catcher is a master spatial manipulator with versatility across levels and alignments. He can weaponize his high-end explosiveness with precise throttle control, splice through zones, and convert with his smooth-catching ability.
107) Washington Commanders: Laiatu Latu, EDGE, UCLA
Laiatu Latu will be one of the most intriguing evaluations in the 2024 NFL Draft cycle. At 6'4", 265 pounds, he has the size and reach and the production – he accrued 10.5 sacks and 12.5 TFLs in 2022. He's not the smoothest athlete, and he largely lacks a bend component. Nevertheless, he can win with his power, active hands, and motor, and in Round 4, he's a nice rotational addition for Washington.
108) New York Giants: Zak Zinter, OG, Michigan
The Giants have three core pieces with Andrew Thomas, Evan Neal, and John Michael Schmitz. But at guard, the team's long-term outlook is cloudy. Zak Zinter helps combat that with his profile out of Michigan. At around 6'6", 315 pounds, Zinter is a bit high-cut, but he's a good athlete with excellent angle awareness, vision in pass protection, force in his hands, and resolve.
109) Atlanta Falcons: Roman Wilson, WR, Michigan
This pick is a bit of a reach for the Atlanta Falcons, but aside from Drake London, they don't have much dynamic talent secured long-term in their WR room. Roman Wilson needs to prove he can stay healthy and he can further refine his pallet as a route runner. But the 6'0", 192-pound pass-catcher is a superlative athlete with rare speed, explosiveness, and bend, and he flashes awe-inspiring body control in midair.
110) Chicago Bears: Sundiata Anderson, EDGE, Grambling State
Still lacking long-term security on the edge, the Bears target Grambling State sack artist Sundiata Anderson with their fourth-round pick in this 2024 NFL Mock Draft. At 6'5", 252 pounds, Anderson has bend and active hands and is a documented Feldman Freak with a 10'3" broad jump and 36" vertical on record – numbers that corroborate eye-popping burst on tape.
111) Pittsburgh Steelers: Malik Mustapha, S, Wake Forest
One of the tenets of Mike Tomlin's defense in Pittsburgh has always been "play fast, play physical". Perhaps no prospect in the 2024 NFL Draft embodies that more than Wake Forest's Malik Mustapha. Mustapha is a 5'10", 210-pound homing missile who can terrorize opponents in the box. In his first game of 2023, he put up nine tackles, two TFLs, and a pass deflection – a stat line indicative of his all-around ability.
112) New York Jets: Tyler Baron, EDGE, Tennessee
Tyler Baron has yet to produce at an elite clip for the Volunteers, but I've long been a fan of the natural toolbox he has at his disposal. At 6'5", 260 pounds, Baron's accelerative freedom and foot speed stand out, and he has the power to tighten the pocket from the edge and the interior. The Jets' defensive staff should be able to get the best out of him.
113) Houston Texans: Braden Fiske, DT, Florida State
The Texans have Will Anderson Jr. and Bralen Trice. Let's go all the way and make their defensive line the deadliest unit in football. Fiske, who stands at 6'5", 297 pounds and racked up six sacks and 12 tackles behind the line of scrimmage in 2022, is an absolute destroyer with wicked lateral twitch and violent hands, as well as the size profile to hold up on the interior in the NFL.
114) Los Angeles Chargers: Donovan Edwards, RB, Michigan
It seems likely that Austin Ekeler will depart Los Angeles in the 2024 offseason. In that scenario, and in this 2024 NFL Mock Draft, the Chargers score an able replacement in Michigan product Donovan Edwards. At 6'0", 210 pounds, Edwards is a dense, dynamic running back with some of the most effusive explosiveness in the class, to go along with versatile receiving ability and contact balance after the catch.
115) Minnesota Vikings: Seth Coleman, EDGE, Illinois
With an uncertain future at EDGE, the Vikings must invest in high-level physical talent. And few prospects, at this point in the 2024 NFL Draft, have more composite upside than Illinois' Seth Coleman. At 6'5", 245 pounds, Coleman can still fill out his frame, but he has a truly tantalizing combination of explosiveness, hyperactive twitch, motor quickness, bend, and elite length.
116) Jacksonville Jaguars: Chimere Dike, WR, Wisconsin
With Tanner Mordecai and Phil Longo in town, expect Wisconsin's passing offense to take revolutionary strides in 2023. As a result, expect the wide receivers – among them Chimere Dike – to greatly benefit. Dike, listed as around 6'1", 199 pounds, has never been able to fully showcase his gliding acceleration ability and vertical component until now. He can be a vertical threat for Jacksonville, and he has great catching instincts as well.
117) Atlanta Falcons: Robert Scott Jr., OT, Florida State
Jake Matthews and Kaleb McGary are under contract until 2026, but the Falcons don't have much tackle depth behind them. Robert Scott Jr. is the perfect swing tackle pick in Round 4. He's played both left and right tackle, and has exceptional size, length, and frame density at 6'5", 313 pounds. Not only that, but he's also an explosive athlete who showcased technical growth down the stretch in 2022.
118) Seattle Seahawks: Ben Sinnott, TE, Kansas State
Ben Sinnott joining the Seattle Seahawks would be a fascinating development in the 2024 NFL Draft. At 6'4", 245 pounds, Sinnott is one of the most versatile players. He can receive passes out of the slot, out wide, or in-line, and can block from any alignment. He's not a "master of none", however. He's an exceptional athlete up the seam, with good toughness and hand-eye coordination.
119) Denver Broncos: Michael Penix Jr., QB, Washington
At this point in our latest 2024 NFL Mock Draft, the Broncos could stand to add a young, talented passer behind Russell Wilson. Michael Penix Jr., in particular, makes sense for Sean Payton's scheme. He has the awareness, field vision, and accuracy to stay on schedule, but he also has enough arm strength – and the gunslinger mentality – to test tight windows and make defenses pay for drifting into the box.
120) Baltimore Ravens: Isaiah Williams, WR, Illinois
For a moment, just imagine Zay Flowers and Isaiah Williams in the same offense. Todd Monken's offense is all about distributing the ball to playmakers in diverse ways, and Williams is as pure of a playmaker as they come. At 5'10", 180 pounds, he's a bit light, but he's a human joystick in space with phenomenal control, change-of-direction, and creation ability as a ball carrier.
121) Minnesota Vikings: Luke Lachey, TE, Iowa
The Vikings recently extended T.J. Hockenson, and they have Josh Oliver as a quality blocking TE. But here, they round out their TE unit with another Iowa product in Luke Lachey. At 6'6", 250 pounds, Lachey is a smooth athlete who flashes good blocking and RAC utility. And with Sam LaPorta now gone, he can add volume to Iowa's offense.
122) New York Jets: Jaylin Noel, WR, Iowa State
Set to potentially lose Randall Cobb and Mecole Hardman in the 2024 offseason, the Jets will need another dynamo alongside Garrett Wilson and Allen Lazard. At 5'10", 200 pounds, Jaylin Noel fits the size profile, and he has the hyperactive short-area twitch, game-breaking explosiveness, and smooth instincts in-stride to provide great value in the slot.
123) San Francisco 49ers: Jared Brown, WR, Coastal Carolina
Jared Brown is one of the most exciting sleeper 2024 NFL Draft prospects at the Group of Five level. The 6'0", 185-pound weapon logged 69 total touches for almost 1,000 yards and seven touchdowns as a true sophomore in 2022. He's an explosive athlete and an incredibly slippery RAC threat who can be schemed the ball in countless ways.
124) Cincinnati Bengals: Hudson Card, QB, Purdue
The Bengals don't have a backup quarterback on the long-term track. Hudson Card can help fix that. Card is the perfect backup QB pick in Round 4 or Round 5. He doesn't have great tools, but he offers passable mobility and pocket navigation along with superb mechanics and accuracy, good discretion as a decision-maker, and an internal clock that allows him to stay on schedule.
125) San Francisco 49ers: Jack Nelson, OT, Wisconsin
With Trent Williams aging and no long-term solution on the other side at right tackle, the 49ers would do well to target a mid-round tackle prospect with plus physical traits. Jack Nelson profiles well in that lens. At 6'7", and 305 pounds, he has room to keep filling out his frame. But ultimately, he's an explosive, energized, and extremely flexible mover with stellar length, power capacity, and finishing ability.
126) Buffalo Bills: Fabien Lovett, DT, Florida State
Considering how much talent the Bills are potentially on track to lose at defensive tackle in the 2024 offseason, adding a glue guy like Florida State's Fabien Lovett couldn't hurt. At 6'4", 318 pounds, Lovett has the size, strength, and leverage acquisition ability to line up at 1-tech alongside disruptor Ed Oliver – but Lovett also has the explosiveness and length to sow discord as a pass-rusher himself.
127) Chicago Bears: Jayden Daniels, QB, LSU
Affectionately nicknamed "Slim Reaper", Jayden Daniels could be a mid-round QB prospect in the mold of Browns' 2023 selection Dorian Thompson-Robinson. At 6'4", 200 pounds, Daniels is incredibly lean for the QB position, but he's a phenomenal athlete and creator with good quick-game mechanics who could thrive as Justin Fields' backup in Chicago.
128) Kansas City Chiefs: Bucky Irving, RB, Oregon
The Kansas City Chiefs have repeatedly proven that they know how to play the value of the board, and that's evident with this 2024 NFL Mock Draft selection. At the tail end of Round 4, Bucky Irving is a steal, and he'd reinforce the team's RB rotation behind Isiah Pacheco. At 5'10", 195 pounds, he's a short-area spark with excellent lateral agility, contact balance, burst in space, and three-down utility.
2024 NFL Mock Draft | Round 5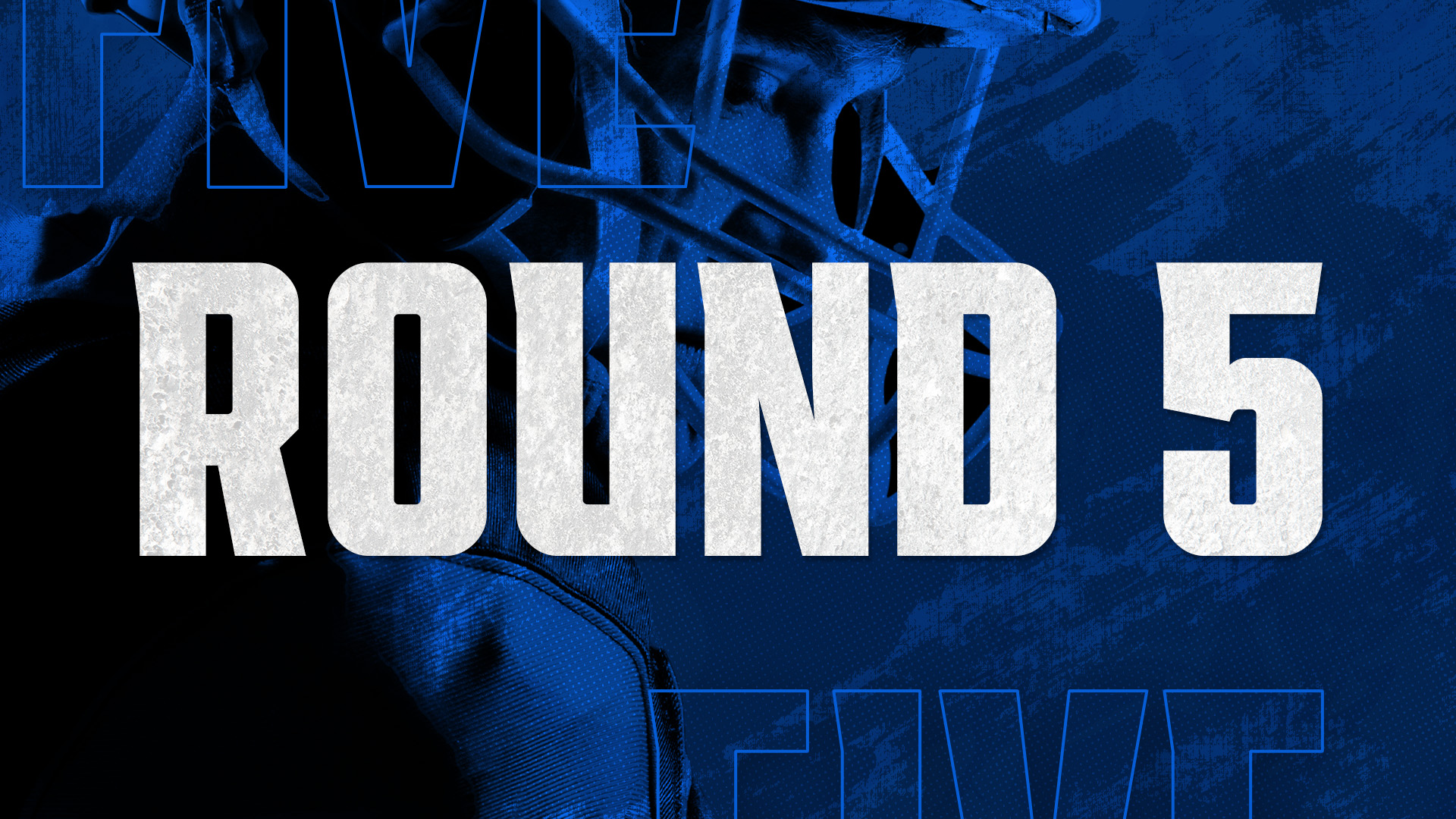 129) Cleveland Browns
Nate Wiggins, CB, Clemson
130) Arizona Cardinals
Blake Corum, RB, Michigan
131) Indianapolis Colts
Darian Chestnut, CB, LSU
132) Philadelphia Eagles
Luke Reimer, LB, Nebraska
133) Las Vegas Raiders
Braelon Allen, RB, Wisconsin
134) Cleveland Browns
Jestin Jacobs, LB, Oregon
135) Los Angeles Rams
Terrion Arnold, CB, Alabama
136) Carolina Panthers
Javion Cohen, G, Miami (FL)
137) Green Bay Packers
Spencer Rattler, QB, South Carolina
138) New England Patriots
Mekhi Wingo, DT, LSU
139) Washington Commanders
Johnny Wilson, WR, Florida State
140) New York Giants
Andrew Raym, C, Oklahoma
141) Atlanta Falcons
Mario Williams, WR, USC
142) Chicago Bears
Tate Ratledge, G, Georgia
143) Pittsburgh Steelers
Zach Frazier, C, West Virginia
144) Denver Broncos
Tyreek Chappell, CB, Texas A&M
145) Minnesota Vikings
Jeremiah Hunter, WR, Cal
146) Los Angeles Chargers
Jaheim Bell, TE, Florida State
147) Philadelphia Eagles
Ja'Corey Brooks, WR, Alabama
148) New Orleans Saints
Johnny Dixon, CB, Penn State
149) Jacksonville Jaguars
Darius Robinson, DT, Missouri
150) Seattle Seahawks
Devontez Walker, WR, North Carolina
151) Miami Dolphins
Seydou Traore, TE, Mississippi State
152) Baltimore Ravens
Carson Steele, RB, UCLA
153) Detroit Lions
Trikweze Bridges, CB, Oregon
154) Denver Broncos
Bud Clark, S, TCU
155) Kansas City Chiefs
Jamon Dumas-Johnson, LB, Georgia
156) Cincinnati Bengals
Devin Neal, RB, Kansas
157) Carolina Panthers
LaDarius Henderson, OT, Michigan
158) Buffalo Bills
Zion Tupuola-Fetui, EDGE, Washington
159) Philadelphia Eagles
Walter Rouse, OT, Oklahoma
160) Minnesota Vikings
Nazir Stackhouse, DT, Georgia
2024 NFL Mock Draft | Round 6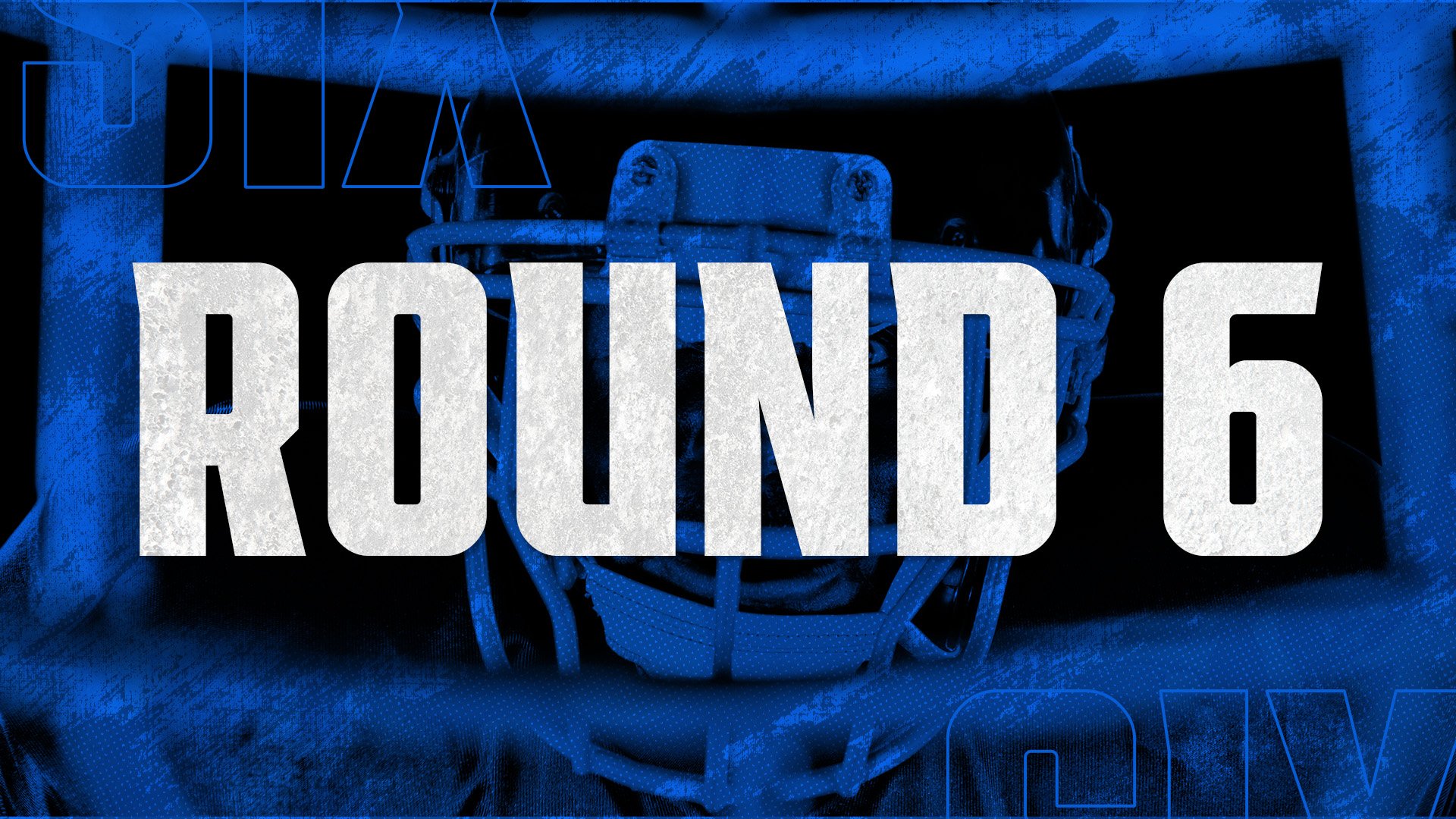 161) Carolina Panthers
Jacob Cowing, WR, Arizona
162) Cleveland Browns
Jordan Burch, EDGE, Oregon
163) Indianapolis Colts
Anthony Belton, OT, NC State
164) Tampa Bay Buccaneers
Brandon Coleman, OT, TCU
165) New England Patriots
Fentrell Cypress II, CB, Florida State
166) Jacksonville Jaguars
Sataoa Laumea, G, Utah
167) Buffalo Bills
Danny Stutsman, LB, Oklahoma
168) Philadelphia Eagles
Aidan Robbins, RB, BYU
169) Green Bay Packers
Roger Rosengarten, OT, Washington
170) New England Patriots
Joe Milton, QB, Tennessee
171) Washington Commanders
Tyler Van Dyke, QB, Miami (FL)
172) New York Giants
Cameron Ward, QB, Washington State
173) Atlanta Falcons
Cade Stover, TE, Ohio State
174) Chicago Bears
Kamari Lassiter, CB, Georgia
175) Pittsburgh Steelers
MarShawn Lloyd, RB, USC
176) Los Angeles Rams
Tory Horton, WR, Colorado State
177) Atlanta Falcons
Tyler Davis, DT, Clemson
178) Los Angeles Chargers
Paris Shand, DT, LSU
179) Minnesota Vikings
Kenny Logan Jr., S, Kansas
180) New Orleans Saints
Gavin Bartholomew, TE, Pitt
181) Jacksonville Jaguars
Khordae Sydnor, EDGE, Purdue
182) Seattle Seahawks
Lathan Ransom, S, Ohio State
183) Miami Dolphins
Ricky Barber, DT, UCF
184) Cleveland Browns
Jalin Conyers, TE, Arizona State
185) Detroit Lions
Ainias Smith, WR, Texas A&M
186) New York Jets
T'Vondre Sweat, DT, Texas
187) Buffalo Bills
Jalen Catalon, S, Texas
188) Cincinnati Bengals
JJ Weaver, EDGE, Kentucky
189) San Francisco 49ers
Christian Mahogany, G, Boston College
190) Buffalo Bills
Gabe Hall, DT, Baylor
191) New Orleans Saints
Shedeur Sanders, QB, Colorado
192) Kansas City Chiefs
Michael Pratt, QB, Tulane
2024 NFL Mock Draft | Round 7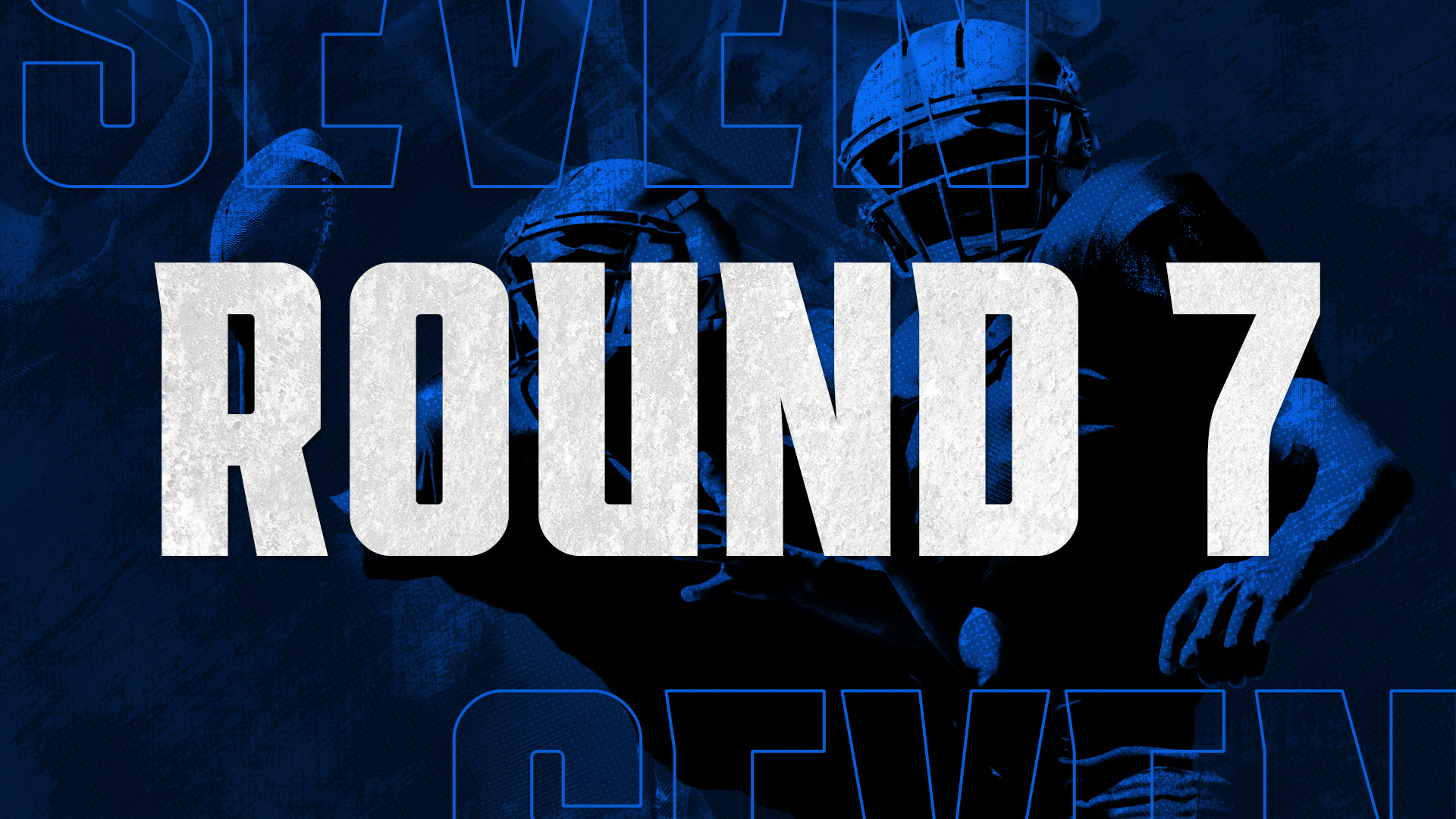 193) Houston Texans
M.J. Devonshire, CB, Pitt
194) Houston Texans
Moose Muhammad III, WR, Texas A&M
195) Indianapolis Colts
Reggie Grimes, EDGE, Oklahoma
196) Tampa Bay Buccaneers
Cam Hart, CB, Notre Dame
197) Dallas Cowboys
Audric Estime, RB, Notre Dame
198) Tennessee Titans
Quinton Newsome, CB, Nebraska
199) Denver Broncos
Xavier Truss, G, Georgia
200) Tennessee Titans
Trey Sanders, RB, TCU
201) Green Bay Packers
Jerand Bradley, WR, Texas Tech
202) Las Vegas Raiders
Zion Nelson, OT, Miami (FL)
203) Washington Commanders
Jalen Travis, OT, Princeton
204) Arizona Cardinals
Caden Prieskorn, TE, Ole Miss
205) Cleveland Browns
Keith Randolph Jr., DT, Illinois
206) New England Patriots
Eric Gentry, LB, USC
207) Pittsburgh Steelers
Zy Alexander, CB, LSU
208) Denver Broncos
Ty Hamilton, DT, Ohio State
209) Arizona Cardinals
Mike Sainristil, CB, Michigan
210) Los Angeles Chargers
Gavin Hardison, QB, UTEP
211) Las Vegas Raiders
Tanner McLachlan, TE, Arizona
212) Houston Texans
Cameron Rising, QB, Utah
213) Jacksonville Jaguars
Kyle McCord, QB, Ohio State
214) Seattle Seahawks
Tanor Bortolini, G, Wisconsin
215) Miami Dolphins
Chris Braswell, EDGE, Alabama
216) Baltimore Ravens
Bryson Nesbit, TE, North Carolina
217) Detroit Lions
Billy Bowman, S, Oklahoma
218) Baltimore Ravens
Mohamed Kamara, EDGE, Colorado State
219) Dallas Cowboys
Devin Kirkwood, CB, UCLA
220) Cincinnati Bengals
Kitan Oladapo, S, Oregon State
221) San Francisco 49ers
Rondell Bothroyd, EDGE, Oklahoma
222) Buffalo Bills
Julian Pearl, OT, Illinois
223) Tennessee Titans
Baylor Cupp, TE, Texas Tech
224) Kansas City Chiefs
Cobee Bryant, CB, Kansas
Listen to the PFN Scouting Podcast
Listen to the PFN Scouting Podcast! Click the embedded player below to listen, or you can find the PFN Scouting Podcast on iTunes, Spotify, and all major podcast platforms.  Be sure to subscribe and leave us a five-star review! Rather watch instead? Check out the PFN Scouting Podcast on our Scouting YouTube channel.