How much is certain in the 2024 NFL Draft cycle at this point? The answer is very little, as this 2024 NFL Mock Draft will show. Even some previously agreed-upon conclusions — like Caleb Williams at No. 1 overall — may not be as untouchable as first assumed.
2024 NFL Mock Draft | Round 1
1) Atlanta Falcons (From HOU via ARI): Drake Maye, QB, North Carolina
If the Falcons end up picking sixth overall with their current roster, then they'll absolutely be in the market for a new QB. With Arizona holding the first two picks in the draft based on the current odds, they should realistically look to move one and get more capital.
Many mocks have Caleb Williams penciled in at No. 1, but Drake Maye's claim for the top overall pick is just as strong. He's arguably better in structure right now and has awe-inspiring arm talent, layering ability, and touch downfield.
2) Arizona Cardinals: Marvin Harrison Jr., WR, Ohio State
Off of current odds, the Cardinals are projected to have the top two picks in the 2024 NFL Draft. They can keep one of those picks and add Marvin Harrison Jr., who's arguably the closest thing to a generational WR talent since 2011. Harrison is an elite athlete, route runner, and contested-catch threat — all at 6'4″, 205 pounds.
3) Indianapolis Colts: Jared Verse, EDGE, Florida State
Kwity Paye, Dayo Odeyingbo, and Samson Ebukam comprise a solid EDGE rotation, but this group still doesn't have the blue-chip player to take it over the top. With his combined explosiveness, twitch, motor, hand usage, and disruptive consistency, Florida State's Jared Verse can be the stubborn EDGE presence the Colts need to complete their unit.
4) Tampa Bay Buccaneers (From TEN): Caleb Williams, QB, USC
If Caleb Williams doesn't go No. 1 overall, there'll undoubtedly be a bidding war among teams to trade into the top five and claim him. In this 2024 NFL Mock Draft, the Buccaneers come out on top.
MORE: FREE 2024 NFL Mock Draft Simulator With Trades
Williams gives Tampa Bay a massive upgrade in raw talent at QB. His off-script ability is truly rare, and his competitive toughness adds fuel to the fire.
5) Chicago Bears: Maason Smith, DT, LSU
Maason Smith put up four sacks and five TFLs in a breakout true freshman 2021 campaign, and after tearing his ACL in 2022, he's on track to return to form for the Tigers in 2023. If Smith can reach his maximum potential, he can be a top-five pick in the 2024 NFL Draft. He has an eye-catching blend of burst, power, and flexibility at around 6'5″, 300 pounds.
6) Arizona Cardinals (From ATL): JC Latham, OT, Alabama
In the immediate timeline, the Cardinals have D.J. Humphries at left tackle and Paris Johnson Jr. in the wings behind him. But the team still needs a succession plan beyond veteran Kelvin Beachum at right tackle. Years down the line, Johnson and JC Latham could form an elite tackle duo. Latham has the high-energy burst, power, and tenacity to take over.
7) Tennessee Titans (From TB): Emeka Egbuka, WR, Ohio State
Harrison is simply an absurdity as a prospect, but don't let his greatness dim the bright spot that is Emeka Egbuka on the other side. Egbuka is right beyond Harrison in the WR pecking order. At 6'1″, 205 pounds, he's a high-end RAC threat with burst and toughness, who also brings sharp catching instincts, route-running ability, and seam-stretching speed.
8) Washington Commanders: Quinn Ewers, QB, Texas
Much like the Falcons, we can also assume the Commanders need a QB if they end up picking in the top 10 with their roster. Quinn Ewers gives them the high-end passing talent that Sam Howell doesn't quite have, and Ewers has the gunslinger's edge required to get the most out of the WR rotation of Terry McLaurin, Jahan Dotson, and Curtis Samuel.
9) New England Patriots: Joe Alt, OT, Notre Dame
Trent Brown and Riley Reiff both have expiring contracts in 2024. Thus, if the Patriots are willing to give Mac Jones one more season as the starter, they may instead look to upgrade at offensive tackle. Joe Alt already draws eyes with his 6'8″, 315-pound frame. But as impressive as his size is, his flexibility and recovery athleticism are even more enthralling.
10) Los Angeles Rams: Kool-Aid McKinstry, CB, Alabama
Cornerback is one of the most important positions in the modern NFL. The Rams have very little high-end talent at that spot, and it just so happens that the 2024 NFL Draft preliminary CB1 is still available at their pick. Kool-Aid McKinstry has all the hallmarks of a potential lockdown CB — fast feet, fluidity, length, physicality, ball skills, and discipline.
11) Green Bay Packers: Olumuyiwa Fashanu, OT, Penn State
Olumuyiwa Fashanu is the third tackle off the board in this 2024 NFL Mock Draft, but he's my top-rated OT prospect at the moment and a blue-chip talent at the position. Fashanu blends size, length, power, strength, patience, flexibility, and high-energy athleticism into a suffocating combination, and he has the look of a decade-long starter at the next level.
12) Chicago Bears: Malik Nabers, WR, LSU
The Bears have invested in support for Justin Fields, but the time will come again in 2024 to replenish his weapons core, especially if one of Darnell Mooney or Chase Claypool leaves in free agency. At 6'0″, 195 pounds, Malik Nabers has the frame density that Mooney lacks, but he brings similar dynamic speed and functions as a true three-level threat at WR.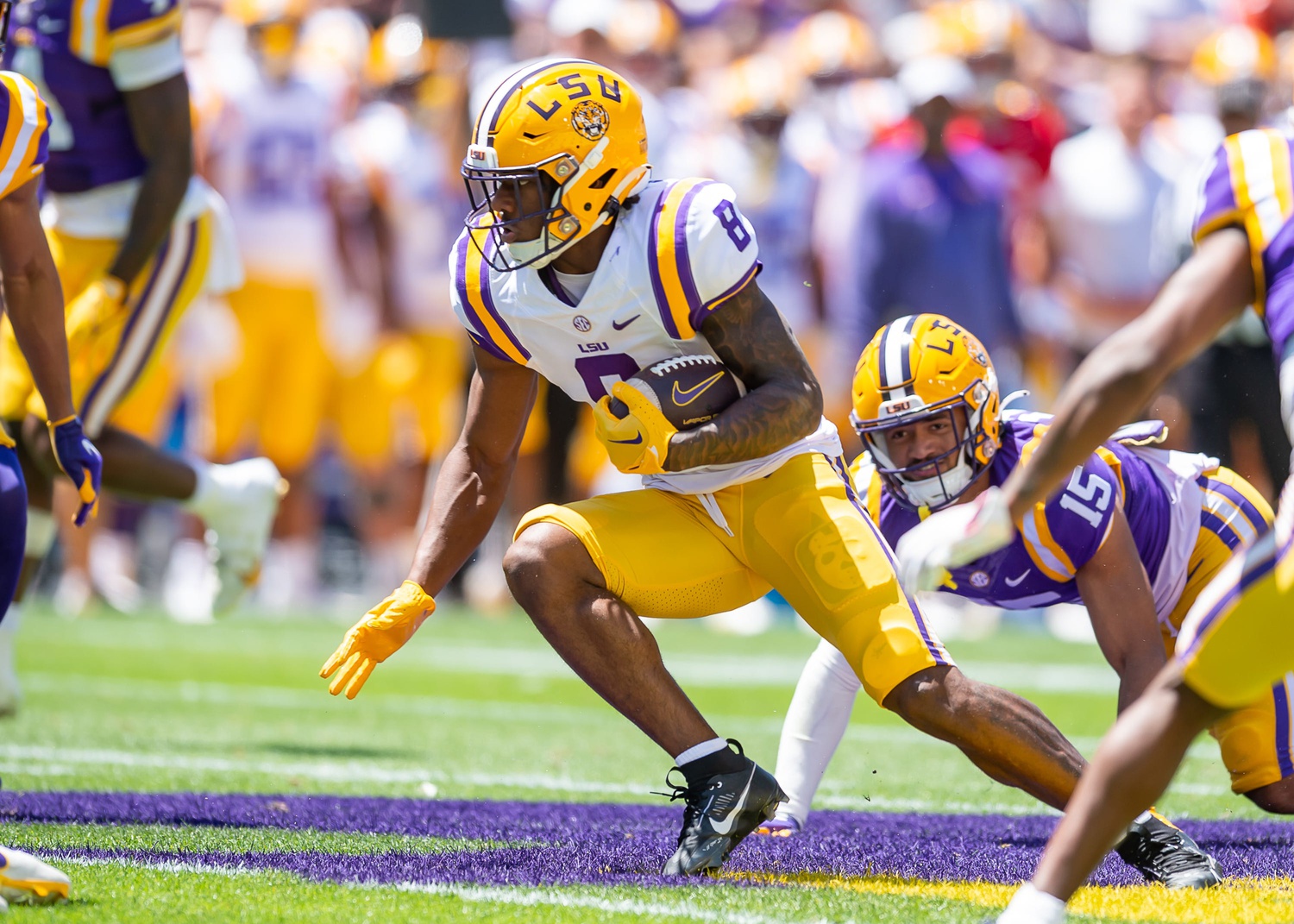 13) Pittsburgh Steelers: Dallas Turner, EDGE, Alabama
Paying Alex Highsmith in 2024 may prove difficult. So if the Steelers have a chance to add a first-round EDGE prospect, they should take it. At 6'4′, 240 pounds, Dallas Turner possesses the brand of explosiveness and bend that so many coaches covet. But along with his finesse, Turner provides a very surprising power element, blasting blockers back with his length.
14) Minnesota Vikings: Jeff Sims, QB, Nebraska
Life after Kirk Cousins is coming, and it could come in the 2024 NFL Draft. The only question is: Who will be the one to take his place? Jeff Sims is a wild card pick, but he undeniably has the upside to go this high if everything clicks for him at Nebraska. He's an electric athlete at 6'3″, 210 pounds, with a high-velocity arm and a smooth rotational motion.
15) Las Vegas Raiders: Cooper DeJean, CB, Iowa
In what's become a yearly tradition, the Las Vegas Raiders are once again complete wild cards in all 2024 NFL Draft projections. Many positions remain on the table for Josh McDaniels, but cornerback is one in striking need of an upgrade. At 6'1″, 209 pounds, Cooper DeJean has convention-defying size, twitch, and run support ability, and he's a true ball hawk in coverage.
16) Houston Texans (From CLE): Brock Bowers, TE, Georgia
In a hypothetical exercise, this is probably as far as Brock Bowers falls. Even if positional value somehow works against him, he's not a traditional tight end.
MORE: 2024 NFL Draft Big Board
He's a mismatch nightmare who can generate RAC with his burst and balance or snare high-difficulty passes at all levels. For C.J. Stroud, Bowers would be a potentially career-defining addition.
17) Denver Broncos: Xavier Worthy, WR, Texas
It's time for the Broncos' offense to return to prominence. Killing defenses with speed is the way of the modern NFL. Denver has one speed threat in Marvin Mims, and they can compound the appeal with Xavier Worthy. Worthy can work on RAC concepts, but his ability to open up the deep third and convert on game-changing plays is what stands out most.
18) Los Angeles Chargers: J.T. Tuimoloau, EDGE, Ohio State
Khalil Mack is getting older. The Chargers added Tuli Tuipulotu in the 2023 NFL Draft to help secure their EDGE rotation, but a first-round talent may soon be in demand. At 6'4″, 277 pounds, J.T. Tuimoloau has a similar power profile to Tuipulotu, but Tuimoloau is a superior athlete, with a relentless motor on every down and a nose for the football in all phases.
19) Seattle Seahawks: Andrew Mukuba, S, Clemson
In Tariq Woolen and Devon Witherspoon, the Seahawks have a truly phenomenal young CB tandem. Andrew Mukuba could be the secondary's final piece. He has the versatility to play the slot, single-high, or two-high, and he's just as willing in support as he is elastic and dynamic in coverage. His slot projection, in this system, would be most appealing.
20) New York Giants: Rome Odunze, WR, Washington
The Giants spent the entire 2023 offseason reworking their receiving corps for Daniel Jones, but they still have room to add a first-round talent on the boundary. At 6'3″, Rome Odunze has the size and play strength of an alpha. But he's also a smooth separator and yards-cruncher after the catch who can convert on high attempts with steely coordination.
21) New Orleans Saints: Oronde Gadsden II, WR, Syracuse
In Oronde Gadsden II, the Saints could give Derek Carr a new version of Darren Waller. At 6'5″, 216 pounds, Gadsden sits on the boundary between WR and TE but best projects as a big-slot weapon at the NFL level. Alongside Chris Olave and Michael Thomas, he'd be a devastating force up the middle of the field for New Orleans.
22) Miami Dolphins: Michael Hall Jr., DT, Ohio State
The 2024 free agency cycle could do some damage to the Dolphins' defensive end rotation. Luckily, there are a number of well-leveraged defensive linemen to consider in the 2024 NFL Draft cycle, among them Michael Hall Jr. At 6'2″, 290 pounds, Hall is built to disrupt with his dense, compact frame and his bristling explosiveness off the snap.
23) Jacksonville Jaguars: Chop Robinson, EDGE, Penn State
Demeioun "Chop" Robinson is one of the most productive returning edge rushers in the Big Ten, having amassed 5.5 sacks and 10 tackles for loss in 2022. At 6'3″, 240 pounds, Robinson isn't the largest rusher, but he compensates with a red-hot motor, a quick first step, swift hip flexibility on counters, and forceful, proactive hands at contact.
24) Baltimore Ravens: Jer'Zhan Newton, DL, Illinois
Jer'Zhan Newton dominated the Big Ten in 2022 with 5.5 sacks, 14 tackles for loss, and three pass deflections on Illinois' interior. At 6'2″, 280 pounds, Newton is relatively lean and undersized, but he's a high-energy athlete with tremendous flexibility and hand usage. Alongside nose tackle Travis Jones and Justin Madubuike, Newton could wreak havoc.
25) Detroit Lions: Kalen King, CB, Penn State
The Lions have a strong CB group in tow for the 2023 season, but very few of the team's assets are on long-term deals. It was rumored that the Lions loved Devon Witherspoon in the 2023 NFL Draft cycle, and Kalen King profiles somewhat similarly in 2024. He's a bit undersized at 5'11", 187 pounds, but he's a tenacious competitor and a water bug in coverage.
26) Green Bay Packers (From NYJ): Rod Moore, S, Michigan
Given that the odds have the New York Jets picking 26th overall, we can make the assumption that, in this scenario, Aaron Rodgers played over 65% of the snaps. Thus, the Jets' first-round pick is given to the Packers by condition. With this pick, the Packers select Rod Moore — a hyper-versatile and hyperactive safety with willing physicality downhill and range in pursuit.
27) Dallas Cowboys: Denzel Burke, CB, Ohio State
Any first-round placement for Denzel Burke in early mock drafts is just projection. He still has work to do technically before he's a Round 1 player. But Burke has the length and explosiveness at 6'1″, 192 pounds to support that kind of potential, and as a former WR, his playmaking ability is up there with the best in the class.
28) Buffalo Bills: Kingsley Suamataia, OT, BYU
After the 2023 season, the Bills may find themselves searching for an upgrade over Spencer Brown at right tackle. Kingsley Suamataia, at the very least, has the power and NFL strength that Brown hasn't quite attained.
MORE: Top OTs in the 2024 NFL Draft
Suamataia can still improve his balance and block-sustaining abilities, but he's a mauler with high-end tools and a physical edge.
29) Cincinnati Bengals: Will Shipley, RB, Clemson
Year in and year out, the Bengals' offense is one of the most electric units in the NFL. The addition of Will Shipley to potentially replace Joe Mixon would only carry on that cycle. At 5'11", 205 pounds, Shipley doesn't have Mixon's mass, but he's a serpent inside the tackles with his outrageous hip flexibility, burst, vision, and instincts in close quarters.
30) Philadelphia Eagles: Bralen Trice, EDGE, Washington
After a productive 2022 campaign that saw him rack up 12 TFLs and nine sacks, Bralen Trice is a trendy first-round projection in the 2024 NFL Draft. He's not the most versatile rusher, but his power element at 6'4″, 260 pounds can be overwhelming for tackles. He can run right through blockers or erode extensions and anchors with violent, heavy hands.
31) San Francisco 49ers: Jordan Morgan, OT, Arizona
This placement hinges on Jordan Morgan's health, but if the Arizona tackle can get back to 100% after tearing his ACL, he has the high-energy athleticism and anchoring ability at 6'6″, 320 pounds to go early in the 2024 NFL Draft. He could be a potential long-term successor for Trent Williams and play right tackle while Williams is still in his prime.
32) Kansas City Chiefs: Omar Speights, LB, LSU
With both Willie Gay Jr. and Drue Tranquill on expiring contracts in 2024, Kansas City may once again have an eye on LB talent, and they've shown they're willing to take LBs high. The 2024 NFL Draft LB class is wide open, and an explosive, physical, productive LB like Omar Speights — who also has role versatility — might earn fans among NFL evaluators.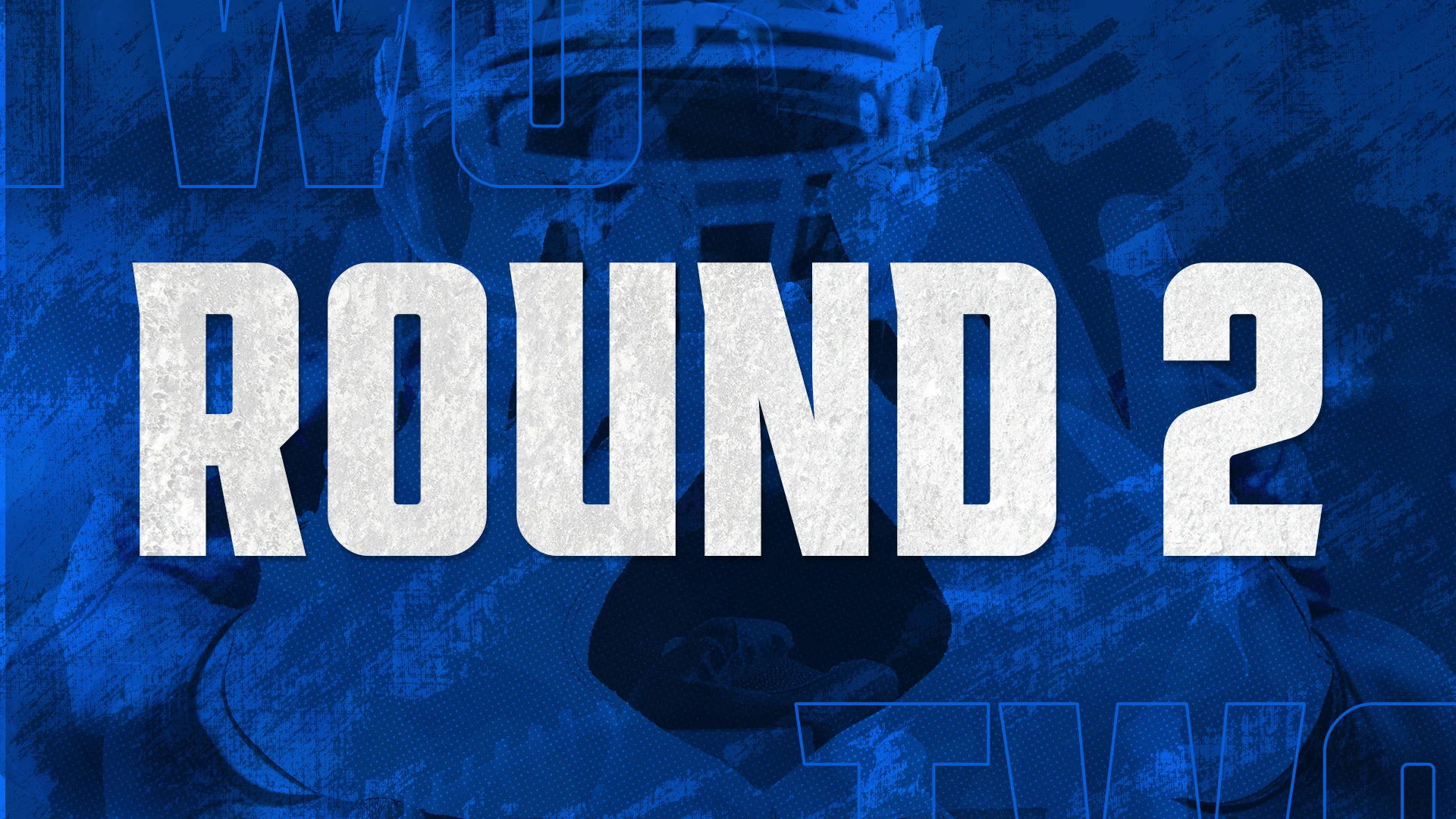 2024 NFL Mock Draft | Round 2
33) Arizona Cardinals: Fabien Lovett, DT, Florida State
With a rebuild of the entire defensive line on the way, the Cardinals could use a prospect with the flexibility to play nose tackle or as far outside as 3-tech. Fabien Lovett, at 6'4″, 315 pounds, has the necessary athleticism, play strength, and flexibility to fill that role.
34) Houston Texans: Mekhi Wingo, DT, LSU
Maliek Collins and Sheldon Rankins are both on expiring contracts in 2024, which could accelerate the Texans' need for interior defensive line talent. Mekhi Wingo is a unique prospect whose unobstructed alignment flexibility and hot motor serve him well.
35) Indianapolis Colts: Cooper Beebe, G, Kansas State
The Big 12 Offensive Lineman of the Year in 2022, Cooper Beebe has all the makings of a future starter at the NFL level. He might be just below the first-round threshold, but he's a powerful blocker with enough functional mobility and exceptional football IQ and angle awareness.
36) Tennessee Titans: Donovan Jackson, G, Ohio State
Donovan Jackson isn't the first guard off the board in this 2024 NFL Mock Draft, but he's still a top-50 selection. At 6'4″, 320 pounds, his combination of natural leverage and proportional length will be coveted, and he's still trending toward his five-star ceiling.
37) Carolina Panthers: Kris Abrams-Draine, CB, Missouri
Kris Abrams-Draine is a sleeper to start the 2024 NFL Draft process, but the former WR — who logged 14 deflections in 2022 — profiles as a potentially electric slot DB down the road. He's a gnat in coverage who'd fit very well alongside Jaycee Horn and Donte Jackson.
38) Atlanta Falcons: Sedrick Van Pran, C, Georgia
If Drew Dalman's inconsistency carries into 2023, the Falcons may seek an upgrade at center, especially with a new franchise QB. Sedrick Van Pran is a local Georgia prospect with an exciting physical foundation. He offers elite burst and gnawing physicality at 6'4″, 310 pounds.
39) Tampa Bay Buccaneers: Barrett Carter, LB, Clemson
Barrett Carter's placement in the 2024 NFL Draft will hinge on his 2023 campaign more than most. He's a bit unorthodox as an LB prospect, but he's an explosive, fiery second-level threat with near-unmatched versatility and dynamic value.
40) Washington Commanders: Ja'Tavion Sanders, TE, Texas
In this 2024 NFL Mock Draft, the Commanders keep Texas teammates Ewers and Ja'Tavion Sanders together. Sanders has been one of Ewers' favorite targets from the jump, and he fits the modern TE mold with his size and athleticism up the seam at 6'4″, 249 pounds.
41) New England Patriots: Michael Penix Jr., QB, Washington
Even if the Patriots give Jones one more year at QB, Bill Belichick isn't the kind of coach to go forward without insurance. Michael Penix Jr. is a clear upgrade for Jones in the raw talent category, and he has underrated field vision and processing ability as well.
42) Los Angeles Rams: Jalen McMillan, WR, Washington
Odunze is the headliner of the Washington WR duo, but Jalen McMillan — who put up 79 catches for 1,098 yards and nine TDs in 2022 — is almost just as good. He's a dynamic speed threat at 6'1″, 180 pounds, who also has sharp flexibility and nuance as a separator.
43) Green Bay Packers: Brandon Dorlus, EDGE, Oregon
Lukas Van Ness will be a foundational piece for Green Bay, but Rashan Gary is a free agent in 2024. Brandon Dorlus fits the Packers' mold of big EDGE at 6'3″, 285 pounds, and with his combined length, explosiveness, and violent power element, he's been extremely productive.
44) Chicago Bears: Tony Grimes, CB, Texas A&M
Set to lose Jaylon Johnson in free agency in 2024, the Bears might need to once again re-invest in the CB position in the 2024 NFL Draft. Tony Grimes could be a valued addition with his playmaking ability alongside Kyler Gordon and slot hybrid Tyrique Stevenson.
45) Pittsburgh Steelers: T'Vondre Sweat, DT, Texas
The Steelers' defensive end rotation is deep and talented, but the team still lacks a long-term nose tackle solution. At 6'4″, 340 pounds, T'Vondre Sweat might have the combined size, strength, and pass-rushing utility to fill that void.
46) Minnesota Vikings: Princely Umanmielen, EDGE, Florida
After notching 4.5 sacks and 9.5 TFLs in 2022, Princely Umanmielen is a prime breakout candidate in the 2024 NFL Draft EDGE class. At around 6'4″, 250 pounds, Umanmielen has a very complete physical skill set underpinned by his volcanic one-step burst off the line.
47) Las Vegas Raiders: J.J. McCarthy, QB, Michigan
Jimmy Garoppolo might not even make it to the season with his medical situation, let alone be a viable option for the Raiders at QB. J.J. McCarthy has been mentored by former NFL QB Jim Harbaugh at the collegiate level, and he has the athleticism and live arm to sustain growth.
48) Cleveland Browns: Donovan Edwards, RB, Michigan
It'll be time to pay Nick Chubb again fairly soon. In the meantime, the Browns can add a pass-catching catalyst to their RB rotation while also potentially preparing for a changing of the guard. Donovan Edwards' explosive two-phase ability does the job.
49) New Orleans Saints: Tanor Bortolini, G, Wisconsin
The Saints return to the Wisconsin OL pipeline in this 2024 NFL Mock Draft, taking guard Tanor Bortolini to replace Cesar Ruiz. Bortolini has near-elite explosiveness and power at 6'4″, 310, to go with impressive hip flexibility and a finishing edge in contact situations.
50) Los Angeles Chargers: Jason Marshall, CB, Florida
At 6'1″, 191 pounds, former five-star recruit Jason Marshall has legitimate first-round upside if the 2023 campaign goes his way. For the Chargers, who might need a replacement for Michael Davis, Marshall's length, twitch, and ball skills are particularly appealing.
51) Seattle Seahawks: Graham Barton, OL, Duke
Graham Barton may be a bit undersized for a tackle, which is why he'd project to guard for the Seattle Seahawks. Nevertheless, Barton is an athletic, rangy blocker with discipline as a finisher and excellent natural leverage and flexibility — all of which amount to exciting upside.
52) New York Giants: Ruke Orhorhoro, DT, Clemson
With 6.5 sacks and 16 TFLs since 2021, Ruke Orhorhoro is a player truly coming into his own. At 6'4″, 305 pounds, he has great size and length to go along with elite explosiveness. And at his size, he can line up anywhere from 1-tech to 5-tech.
53) Philadelphia Eagles: Ja'quan Sheppard, CB, Maryland
The Eagles extended both Darius Slay and James Bradberry in 2023, but they can still invest in more insurance on the boundary. Ja'quan Sheppard was a career special teamer before breaking out in 2022. At 6'2″, 200 pounds, he has the size, speed, and physicality to carve out a role.
54) Miami Dolphins: Bo Nix, QB, Oregon
Tentatively, Tua Tagovailoa is the Dolphins' franchise QB, but his standing is more precarious than most. Even one injury setback in 2023 could bring about instability. In that scenario, Bo Nix's smooth off-platform ability, accuracy, and arm talent would allow for a transition.
55) Jacksonville Jaguars: Javion Cohen, G, Miami (FL)
Alongside a reworked Miami Hurricanes offensive line, Javion Cohen could emerge as an early-round offensive guard prospect in 2023. Cohen has good size and a compact frame at 6'4″, 305 pounds, and at his best, his violent hands set the tone when deconstructing rushes.
56) Baltimore Ravens: Darian Chestnut, CB, LSU
Darian Chestnut had a down year in 2022, but his 2021 campaign — in which he put up three picks and eight PBUs — was indicative of his potential. He has superb proportional length for his frame to go along with instant closing burst and sharp playmaking instincts.
57) Detroit Lions: Khordae Sydnor, EDGE, Purdue
The Lions may lose a dose of length and power on the edge in 2024 if Romeo Okwara walks. Khordae Sydnor refuels their EDGE rotation in that category. At 6'4″, 265 pounds, Sydnor has high-end length and power, which he used to terrorize Jaelyn Duncan in 2022.
58) Green Bay Packers: TreVeyon Henderson, RB, Ohio State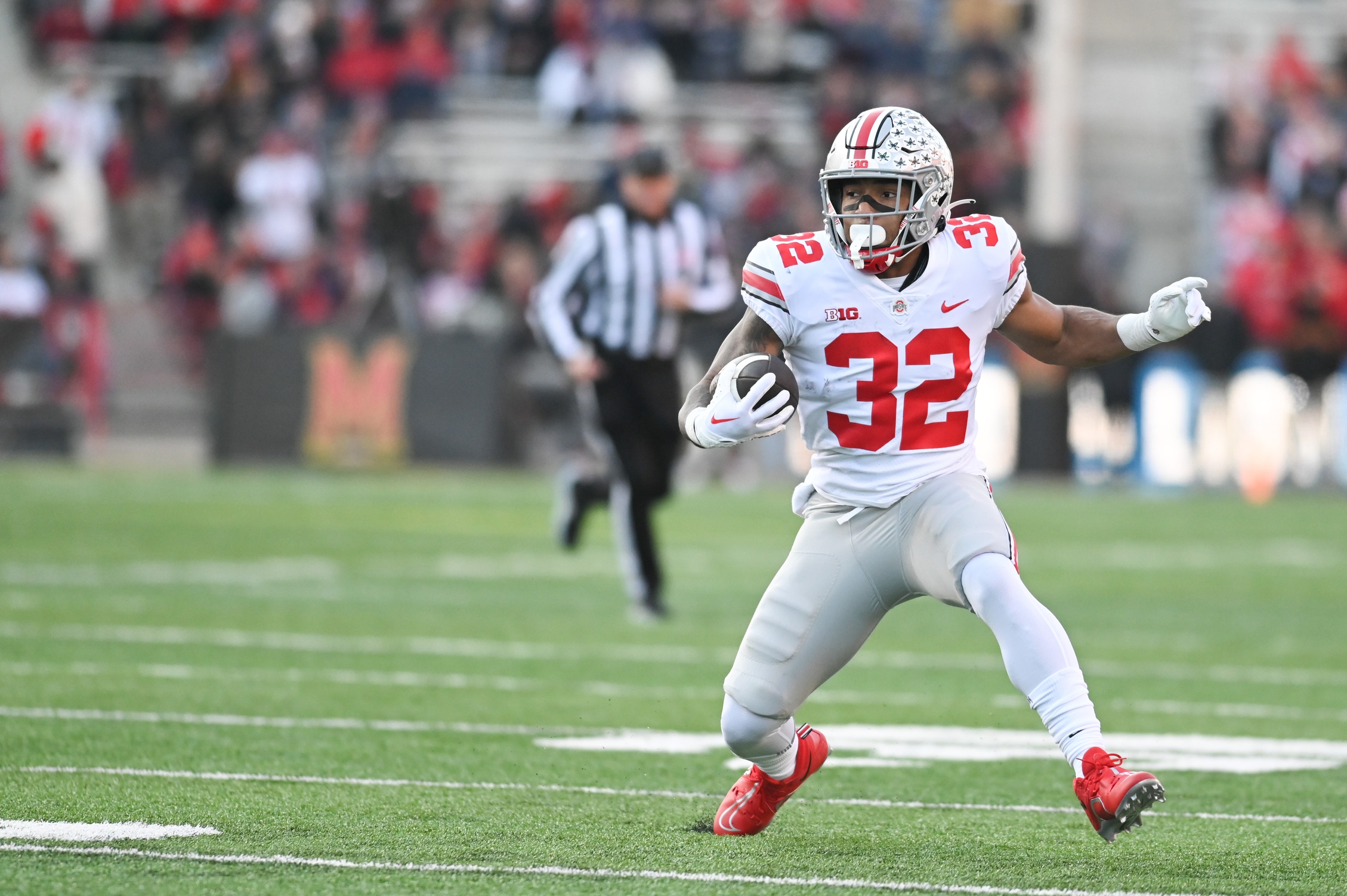 With AJ Dillon scheduled to hit free agency in 2024, it might behoove the Packers to get another explosive, dense RB who can both work through contact and get upfield. Provided that he stays healthy, TreVeyon Henderson has those qualities, and he's an able receiver.
59) Dallas Cowboys: Raheim Sanders, RB, Arkansas
Tony Pollard is the man in the Cowboys' RB room, but the team could still use a new bruising complement to him. At 6'2″, 227 pounds, Raheim Sanders has the ideal size and force as a runner, and his speed up the seam can be a surprising trump card.
60) Buffalo Bills: Keon Coleman, WR, Florida State
After racking up 58 catches for 798 yards and seven scores in an uninspiring Michigan State offense in 2022, Keon Coleman transferred to Florida State. There, he'll likely be featured with his size, athleticism, coordination rising vertically, and RAC utility. He'd be an excellent complement to Stefon Diggs.
61) Cincinnati Bengals: Will Sheppard, WR, Vanderbilt
If the Bengals lose Tyler Boyd next offseason, they'll have a need for another versatile, plus-sized WR in the rotation. Will Sheppard isn't quite as strong as Boyd, but at 6'3″, 200 pounds, he's a smooth separator who can win at the catch point and get RAC yards.
62) Philadelphia Eagles: Jaheim Bell, TE, Florida State
In the image of its quarterback Jalen Hurts, the Philadelphia Eagles offense is one of the most versatile, multifaceted units in the NFL. Jaheim Bell helps carry that theme into 2024. At 6'3″, 230 pounds, Bell is built more like an H-back, but he can do it all — take carries, line up in the slot, block in-line, and take screens and dump-offs for RAC production.
63) San Francisco 49ers: Spencer Rattler, QB, South Carolina
Spencer Rattler has been polarizing since arriving on the collegiate stage, but he ended the 2022 campaign on a hot streak. If he displays enough growth, he could earn the confidence of a coach like Kyle Shanahan, who values improvisational ability and accuracy in his QBs.
64) Kansas City Chiefs: Ty Hamilton, DT, Ohio State
The Chiefs may once again have a need for greater depth on the interior defensive line. And now down to 292 pounds at 6'3″, Ty Hamilton could be primed for a breakout. He's an excellent run-stopper with his leverage and burst, and those same traits amount to immense pass-rushing upside.
Listen to the PFN Scouting Podcast
Listen to the PFN Scouting Podcast! Click the embedded player below to listen, or you can find the PFN Scouting Podcast on iTunes, Spotify, and all major podcast platforms.  Be sure to subscribe and leave us a five-star review! Rather watch instead? Check out the PFN Scouting Podcast on our Scouting YouTube channel.