Top-10 cornerbacks in the 2020 NFL Draft
6. Cameron Dantzler, CB, Mississippi State 
If you were to give me a 'draft crush' at cornerback Cameron Dantzler would be that guy. He's a defensive back who gave Henry Ruggs III and Jerry Jeudy trouble when he was covering them. He is not that fluid. His change of direction does have some laboring in it due to some tightness in hips, but his ability to stay in-phase and use his aggressiveness to come down and bully guys is why he can be so sticky in man coverage.
His football IQ is another massive selling point for me with him. He can read route concepts before they are coming, and using his explosiveness; he blows them up more often than not on film. The awareness on the field is just fantastic. Dantzler does a great job in run support and is a sure tackler. But the most significant selling point for me was his length. He uses that length to stifle guys in press coverage, and with that versatility, Dantzler is a guy that is going to be valuable at the next level.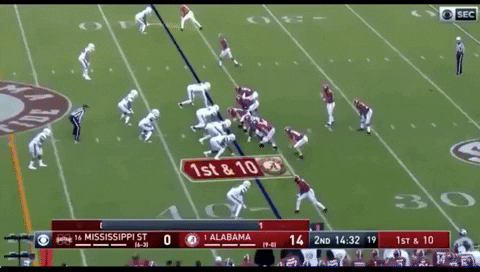 7. Troy Pride Jr, CB, Notre Dame
Call me crazy for having Troy Pride this high, but I like this guy. Pride is an athletic specimen with silky smooth hips and elite long speed. His feet are crisp and sharp, and his transitions are as seamless as anyone in this class. That mirroring ability and change of direction adeptness is by far his best trait, but he parlays it with even more.
Pride is a physical and high football IQ player. His route awareness and discipline to not get baited by things like double moves is fantastic. Sure, he is not as toolsy as some of the guys that will show up on this list below him, but Pride is just an incredibly solid football player. He is a scheme versatile guy that will have a pretty smooth transition to the NFL. Again, though, run support and tackling are his big downfall, and that is why he is down here in the first place.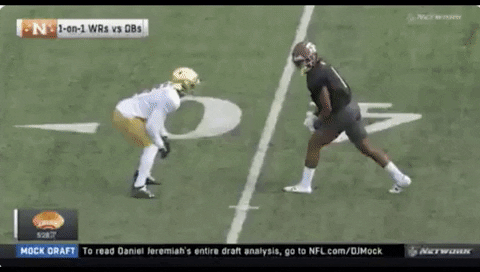 8. Trevon Diggs, CB, Alabama
There are a few reasons why I am a bit lower on Trevon Diggs than a lot of people it seems. I have serious athleticism questions with Diggs. His long speed is questionable to me. He does get burnt by some guys that are probably 4.4 speedsters. In terms of fluidity, I do not see the seamless transitions that I would love to see, but he is not terrible. There is a slight hitch in them, though, due to his heavy feet.
However, that does not discount his great strengths on the board. He has excellent length and stickiness in man coverage. That physicality has carried him a long way to where he is as a prospect, and because of his press coverage ability, he has managed to do a lot of good stuff at Alabama. Even in zone coverage, Diggs has good recognition skills to zone in on the quarterback and make a play on the ball. Tackling is another thing that Diggs has to work on at the next level, but you are willing to overlook some of his weaknesses due to the strengths he brings to the field.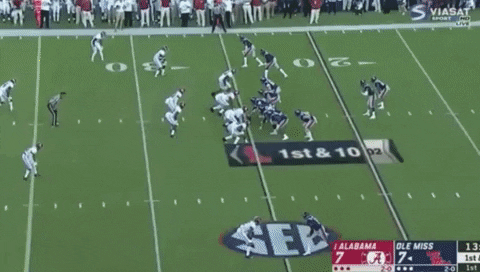 9. A.J. Terrell, CB, Clemson
Man, A.J. Terrell is the definition of smooth. His hips and feet are among the best in this class. And it is that flexibility that has allowed him to thrive as a man coverage corner in off-man coverage using the step-kick technique to mirror steps. Terrell still has the football IQ and anticipation of peeling off of zones and being a great zone cornerback. That is saying something with his length, too.
All of it comes together to make him a pretty scheme versatile prospect. He does an excellent job of getting his head around and tracking the ball in contested situations. And man does Terrell ever make breaks on the ball look easy. There is a lot to like about him, but the lack of oomph in his punches makes me question how good of a press cornerback he can be at the next level. And as tackler he has to learn to wrap up, he nips far too much at the ankles of guys and lets them break his tackles.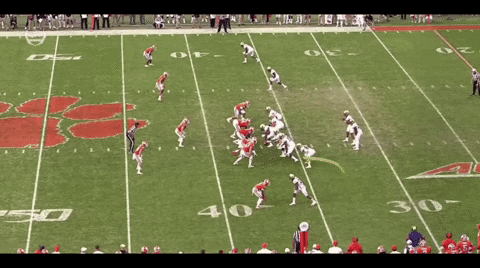 10. Noah Igbinoghene, CB, Auburn
Man, this is a pick of pure upside. Noah Igbinoghene only recently transitioned full-time to being a cornerback, but the flashes for his game are incredibly exciting. He has the length and fluidity to be an absolute pest to wide receivers that he faces. And even with undisciplined hips and press technique as raw as sushi, those natural talents created havoc even in the uber-talented SEC.
Igbinoghene is still learning to read route concepts and tackle properly, too. Even his ball skills are pretty raw. This is a guy who is all projection having only played cornerback for two years at this point. But the flashes are exciting to see. His athletic tools are elite, and if he can hone that technique, he is a guy with Pro Bowl potential.