When I jump into the evaluation of a prospect, I always ask myself, "what can he do?" Sure, I could harp on the negatives of a player, but give me what they can do, and I can give you a clear view of how he should be used and in what roles he can excel at in specific schemes across the league. And if you are versatile and can do a lot, that is fantastic to see. It gives the defensive coordinator many more options and makes that defense that much more flexible when you can trust a guy in multiple spots. In the 2020 NFL Draft, Josh Uche has proven to be one of the guys that can be that versatile hybrid.
[sv slug="vegas"]
What can Josh Uche bring to the NFL?
Uche, a favorite of mine from the Senior Bowl, is a guy that has shown that he can blitz off the edge, slip off-ball to linebacker, and even has some reps lining up shifted inside and blitzing. The versatility he can bring to your blitz designs, calls, and packages are invaluable. With his athleticism and football I.Q., Uche is going to be a guy that defense will love to use to his fullest capabilities. It would be doing his physical traits and talent a disservice by limiting him.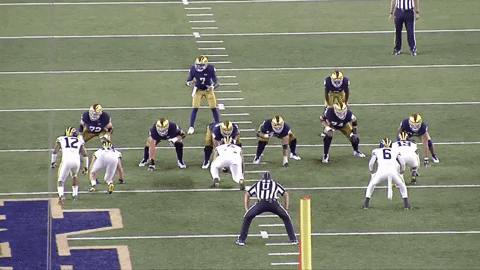 He brings a unique skill set to the position, particularly as an athlete in space. You have no problem with him being in man coverage against a tight end down the field because of how fluid he is as an athlete he is in space. His hips are smooth, and his feet are sudden and allow him not to just be an excellent straight-line athlete, but an outstanding lateral athlete as well. His change of direction skills is great.
Here he is carrying Alize Mack down the seam, and he does a great job to recognize that it was going to be a seam route from the start. Uche anchors down and shows off his functional strength after not being bullied once contact was initiated. And even after knowing the ball was coming, he turns back to the receiver and plays through him and the catch point and knocks this thing right out. He looks natural out there.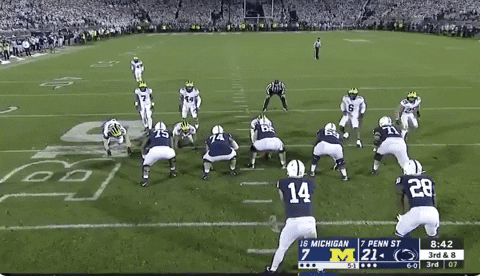 This is Uche going downfield with K.J. Hamler, who is likely to run a legitimate sub 4.4 40-yard dash. To say that a linebacker doing this is impressive would be an understatement. But you can play with his alignment here. Uche dropped out of the B gap here and feigned the blitz. He does blitz from a head-on alignment at times, so, again, that is a great way to show his schematic versatility. But to drop out of that and then to carry a speedy guy like Hamler down the field on a Cover 2 holeshot that without him would have been a big play is an excellent display of range and coverage ability.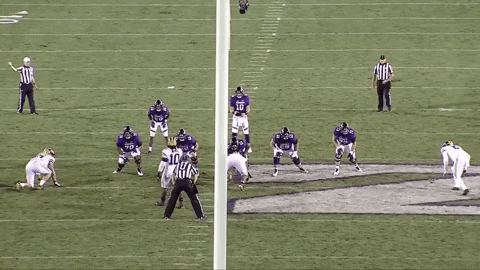 But, now here he is as a pass rusher. It is not easy for him to flip a switch like that, but Uche has shown time and time again that he is a football IQ player. He comes in with multiple plans on how to beat a tackle by his set after Uche's first step, which is incredibly explosive. This is a vertical set, but this offensive tackle undersets has a choppy, off-beat kick slide, and thus fails to get to his spot. Uche takes advantage by using his athleticism and, most importantly, flexibility and bend to win around the edge.
Uche does a great job of dipping that shoulder to reduce surface area around the arc. The newly announced 'figure 8' drill at the NFL Combine is one that Uche will crush because of his flexibility. And then he shows the body control and hip and ankle flexibility to run this arc tight and keep his balance. This is a great rep.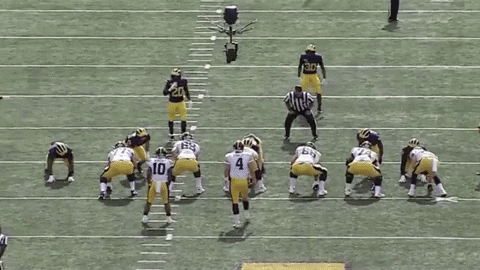 I have to imagine stunts are a great way to free up Uche in the interior, but so is lining him up over the interior and just allowing him to use explosiveness to bust through the line and win. He shows off that explosiveness, hand usage, and bend here to get a critical pressure that turns into an interception. He swats the hands of the guard down and then immediately goes for the dip and rip combination. And he just about gets it there, too. Pressures can be just as impactful as sacks, and Uche continues to prove what he can do from multiple different alignments.
The versatile ways Uche wins while rushing the passer are great to see as well. Here he is working against top tackle prospect Tristian Wirfs, and he takes him for an absolute ride. Uche is a speed rusher with bend, but he is strong and can win with power. That is what makes him particularly interesting as a hybrid. This is a guy who has multiple ways to win as a pass rusher and yet as the athleticism, I.Q., and coverage ability to slide off-ball, too.
In the 2020 NFL Draft, Uche is a unique prospect. There is no that is super akin to him throughout the whole class. He can play as a 4-3 strong-side linebacker in an under front. Being face-up with a tight end allows him to not only rush the passer and take advantage of that, but you can also play with looks and trust him in looks to drop out into coverage. This is absolutely a guy who can be a 3-4 outside linebacker as well. His fit with a lot of teams is going to be dependent on how they use him, but Uche can condense multiple roles and do it all exceptionally well.