The NFL preseason — a time when hope springs eternal and nearly every team is hanging onto at least some shred of optimism. Rookies tend to personify that sanguine outlook in the NFL, and for good reason. With a blank slate and nothing but the future in front of them, first-year players are the NFL's version of tabula rasa.
Last season, top-15 picks such as Aidan Hutchinson, Garrett Wilson, and Chris Olave took the league by storm. But players selected later in the draft — Tyler Linderbaum, Tariq Woolen, and Brock Purdy, just to name a few — also played pivotal roles. Which NFL rookies are set up to make an impact early in the 2023 campaign?
NFL Rookies Who Will Make an Instant Impact in 2023
We shied away from top-10 picks, as those players are expected to contribute from the jump by default. And, for the most part, we focused on contending teams — the rookie performances for the majority of these clubs could influence the playoff picture in December and January.
Broderick Jones, OT | Pittsburgh Steelers
The clock started ticking on Dan Moore Jr.'s time at left tackle as soon as the Steelers traded up to select Broderick Jones with the 14th pick in the draft. Moore is capable of playing as a swing tackle or spot starter, but he's been well below average over the past two seasons.
Jones offers far more upside as Kenny Pickett's blindside protector, and Steelers assistant general manager Andy Weidl called Jones an "arrow up" player as training camp progresses. Meanwhile, Pittsburgh's recent practice activity could indicate Jones is ready to make a leap up the depth chart.
Interesting — Isaac Seumalo and Broderick Jones working together in the two on two pass rush drills. Not Moore and Seumalo.

— Nick Farabaugh (@FarabaughFB) August 9, 2023
While Steelers defensive lineman Cameron Heyward said Jones is "still taking his lumps" during training camp, it would be surprising if the rookie isn't in the starting lineup by the time Week 1 arrives.
Jack Campbell, LB; Sam LaPorta, TE; and Brian Branch, DB | Detroit Lions
We know running back Jahmyr Gibbs is ready for a significant role in the Lions' offense after coming off the board at pick No. 12, but Detroit's next three picks also appear on the verge of contributing during their rookie seasons.
Jack Campbell is a near lock to start next to fellow linebacker Alex Anzalone from Day 1. While he's nominally competing with Malcolm Rodriguez and Derrick Barnes for a starting job, Campbell has drawn rave reviews at training camp and should play in the majority of base and nickel packages.
Sam LaPorta, meanwhile, could become Jared Goff's No. 2 pass catcher by default. With Jameson Williams suspended for the first six games of the season, the Lions are searching for a complementary piece alongside Amon-Ra St. Brown.
While Josh Reynolds or Marvin Jones Jr. could take that role, Detroit would clearly prefer their young tight end step up early in 2023.
C.J. Gardner-Johnson was supposed to be the Lions' slot corner, but Brian Branch has been so impressive as the club's nickel that Detroit is considering moving Gardner-Johnson back to safety, as Dave Birkett of the Detroit Free Press recently reported.
"It's early, but he's one of those guys, you kind of see the lightbulb," head coach Dan Campbell said of Branch earlier this summer. "What showed up on the tape in college is beginning to show up already up here quickly. He's an instinctive guy. He's got some ball-hawk ability."
Jaxon-Smith Njigba, WR | Seattle Seahawks
In 2022, the Seahawks ranked 26th in "11" personnel usage, deploying three-WR sets on just 52.8% of their offensive plays, per TruMedia. That rate will see a steady increase next season, primarily due to Seattle's addition of Jaxon Smith-Njigba.
Smith-Njigba should see most of his snaps in the slot, but the Seahawks will likely move JSN, DK Metcalf, and Tyler Lockett around the formation to create advantageous matchups. At 6'1″, 196 pounds, Smith-Njigba has the size to fight for contested balls in the middle of the field but also has the speed to become an option on vertical slot routes.
Seattle should be a legitimate contender in the NFC this season after making a surprise playoff appearance in 2022. If JSN thrives from the get-go, the Seahawks' offense could become a top-10 unit.
Zay Flowers, WR | Baltimore Ravens
While the Ravens finished with the NFL's eighth-lowest pass rate over expectation last season, that's expected to change in 2023 following the addition of new offensive coordinator Todd Monken. While former OC Greg Roman was well-known for orchestrating rushing attacks, Monken's clubs have always been willing to throw the ball at an above-average rate.
Peter's Top 5 Buzzworthy Rookies Watchlist

🥇@Ravens WR @ZayFlowers@PSchrags pic.twitter.com/ffrJKseuK0

— Good Morning Football (@gmfb) August 10, 2023
Zay Flowers should become an integral piece of Baltimore's passing game, and he might even be Lamar Jackson's WR1 by the time the regular season arrives. Flowers has reportedly been catching everything during training camp, and Rashod Bateman's absence has helped the rookie establish himself in the Ravens' WR pecking order.
Even though Bateman recently returned from the physically unable to perform (PUP) list, he's missed enough time that Flowers may have overtaken him.
Jordan Addison, WR, and Mekhi Blackmon, CB | Minnesota Vikings
Jordan Addison was the final pick of a four-WR run that also included Smith-Njigba, the Chargers' Quentin Johnston, and Flowers. While his rookie campaign got off to a rocky start after he was cited for reckless driving in July, Addison has a clear path to a starting role in Minnesota.
The Vikings finished third in pass attempts a season ago, while Justin Jefferson and Adam Thielen ranked first and second in routes run. However, Thielen — who has since been released — didn't do much with his opportunities. Among the 80 receivers with at least 50 targets in 2022, Thielen ranked just 75th in yards per route run (1.06).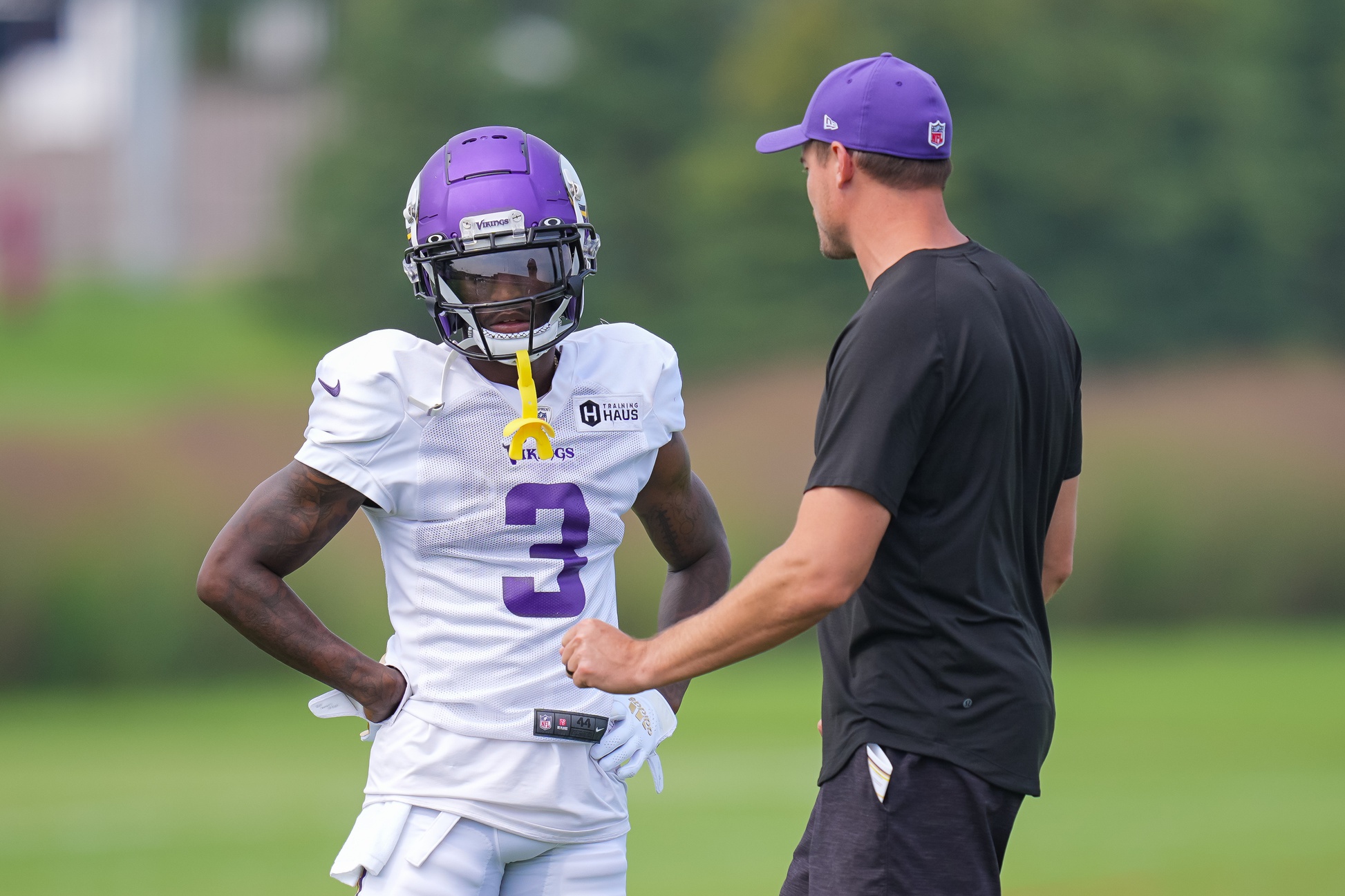 Addison won't have to become an overnight sensation to produce more than Thielen — even a league-average performance on 600+ routes would represent a solid value. Addison may face nominal competition from K.J. Osborn, but he should eventually become the Vikings' WR2.
Blackmon, a third-round pick, is already getting into the starting mix as well. While Byron Murhpy Jr. and Akayleb Evans are locked into starting spots, Minnesota is still searching for another outside CB to play when Murphy is in the slot. Blackmon has seen work with the Vikings' first-team defense and could play in a rotation alongside Joejuan Williams.
Dalton Kincaid, TE | Buffalo Bills
The Bills rarely deployed two-TE sets last season — they ranked dead last in "12" personnel usage rate (3.7%, per TruMedia) and were one of just five teams to use two-TE packages on fewer than 10% of their offensive snaps.
That figures to change after Buffalo drafted Dalton Kincaid in the first round. Kincaid is more of a big-bodied receiver than a true tight end, but his ability to make catches over the middle of the field and in the red zone will give the Bills far more options as they design their offensive looks for the upcoming season.
Dalton Kincaid with another tough catch pic.twitter.com/10TSN8jeXj

— NFL Beat Writers (@32BeatWriters) August 8, 2023
"You can also bring (Kincaid) in line," fellow Bills tight end Dawson Knox said. "A little more versatility. I'll be more in line if we're both on the field.
"But at the same time, you know, we like changing it up, where he goes in line, I spread out, and there might be a linebacker coming out to match me. So, it just adds a whole different layer that the defense has to prepare for, and it's gonna make it hard on the defensive coordinator."
Anton Harrison, OT | Jacksonville Jaguars
With veteran left tackle Cam Robinson facing a four-game PED suspension to start the season, the Jaguars may have felt they had to find an offensive tackle early in the 2023 draft. Anton Harrison ended up being their choice, and he's poised to start at right tackle, with Walker Little taking over on the left side.
Harrison missed time early in training camp with a shoulder injury, but he's healthy enough to play in Saturday's preseason game. Head coach Doug Pederson said Jacksonville could leave Harrison in the contest longer than the team's other starters in order to ensure he gets enough reps.
What happens when Robinson returns from his ban is an interesting question. If Harrison and Walker are playing well enough, the Jaguars could conceivably keep Robinson on the bench or move one of those three options to left guard.
Matthew Bergeron, G | Atlanta Falcons
The Falcons already had one of the best offensive lines in the NFL, and they used the 2023 draft to fix their weak link. Second-round pick Matthew Bergeron, who was in consideration to go to the Cowboys in the first round of the draft, fell to Atlanta and is now in contention to take over at left guard.
From one college offer to a second round draft pick @MatthewkBerger1 pic.twitter.com/0PSsY2v9ky

— Atlanta Falcons (@AtlantaFalcons) August 2, 2023
While the Falcons listed Matt Hennessy as their starting LG on their first unofficial depth chart, the veteran lineman hasn't been practicing recently as he recovers from an injury. Bergeron started at left guard in joint practices against the Dolphins and should see ample time in Atlanta's first preseason game.
Given how critical the Falcons' offensive line is to their run, play-action, and RPO games, Bergeron could become a key cog sooner rather than later.
Jayden Reed, WR | Green Bay Packers
Christian Watson will be Jordan Love's WR1, but it wouldn't be a total surprise if Jayden Reed ends up being more productive in 2023 than Romeo Doubs. While Doubs saw 67 targets in his first NFL season, he didn't do too much with them, ranking outside the top 50 receivers in yards per route run and contested-catch rate.
Reed has already claimed the Packers' starting slot job and should quickly become a viable option for Love in the middle of the field. Running back AJ Dillon recently compared Reed to former Packer Randall Cobb. If Reed can become the sort of safety blanket for Love that Cobb was for Aaron Rodgers, Green Bay will be extremely pleased with their second-round selection.
Cam Smith, CB | Miami Dolphins
Jalen Ramsey's meniscus injury — expected to sideline him until at least December — put on a damper on the enthusiasm around the Dolphins' defense, expected to be one of the NFL's best units this season. Losing Ramsey for several months obviously represents a massive blow, but it created an opportunity for second-round corner Cam Smith.
Xavien Howard will play outside CB, and Kader Kohou will handle the slot, so Miami is searching for another outside option to replace Ramsey. While Smith may need to beat out former first-rounder Noah Igbinoghene and free agent addition Eli Apple for snaps, the Dolphins are high on the South Carolina product's upside.
"Cam has played a lot of different coverages throughout the course of his career," Dolphins cornerbacks coach Sam Madison said this week. "And he takes it very seriously. He wants to be good, and he wants to put his best foot forward every single play.
"It's just been fun throwing him in different situations throughout the course of the camp, and he's handled it very well. I mean, he's a true defensive back because, when you're talking about giving up a play or coming up with a play, he has a short memory span, and then he gets right back out there and gives it his all."
John Michael Schmitz, C, and Jalin Hyatt, WR | New York Giants
The Giants are still working through what the interior offensive line will look like, but second-rounder John Michael Schmitz is the leader in the clubhouse to start at center.
Playing center as a first-year NFL player can be an incredibly difficult proposition, not just from a physical standpoint, but because centers are expected to make protection calls.
But Schmitz made those same calls in college and is viewed as a prospect with high football intelligence. Depending on who New York decides to start at guard, Schmitz could be playing between other relatively inexperienced players like Joshua Ezeudu or Tyre Phillips.
Meanwhile, third-round receiver Jalin Hyatt's speed has already been drawing attention at camp. Big Blue has a long list of pass catchers competing for playing time, but none can compete with Hyatt's quicks. He's already been drawing first-team reps during training camp and could be the different flavor of weapon the Giants' offense needs.