While NFL training camps can offer insight into the status of important roster battles, the preseason will often clarify how depth charts are stacking up around the league. Quarterback competitions will take most of the headlines, but several teams have critical questions to answer at other positions.
Let's run through the 10 NFL preseason battles you should pay attention to when the exhibition season officially kicks off on Thursday night.
Most Interesting NFL Preseason Battles To Watch in 2023
Tampa Bay Buccaneers | Quarterback
We'll discuss a number of quarterback preseason competitions here, but the only team that doesn't seem to have a favorite to start under center is the Buccaneers. Tampa Bay is entering a reset year following Tom Brady's retirement, and they'll be forced to accept a steep downgrade from the GOAT.
On Wednesday, Bucs head coach Todd Bowles confirmed Baker Mayfield will start the club's preseason opener against the Steelers. Kyle Trask will earn the start in Week 2 when the Buccaneers travel to New York to face the Jets.
Mayfield, who Tampa Bay signed for $4 million over the offseason, has been splitting first-team practice reps with Trask, the Bucs' second-round pick in the 2021 NFL Draft.
Recent reports have indicated Mayfield has thrown nine interceptions during camp while Trask has tossed just four — but it's usually a fool's errand to place too much emphasis on practice statistics.
"You don't put one over the other," Bowles said when asked how the Buccaneers will balance practice performance against in-game production. "You put a lot of things — classroom, on the field, accuracy, when to get rid of the ball, checking to the right play.
"There's a lot of things that go into that. It's more than one thing. You definitely don't want to see turnovers every day."
Washington Commanders | Quarterback
If you've listened to Commanders head coach Ron Rivera, Washington may not even have a true quarterback competition. The Commanders have been adamant that 2022 fifth-round pick Sam Howell is in line to start this season ahead of free agent addition Jacoby Brissett.
Howell, once considered a contender to be the No. 1 overall selection in last year's draft, started Washington's final game in 2022. After the Commanders released Carson Wentz, they maintained they were entering the offseason planning to deploy Howell as their QB1 but remained open to adding a veteran passer.
Brissett ended up being that veteran. He posted the best season of his career with the Browns in 2022, finishing eighth in QBR while throwing for 2,608 yards, 12 touchdowns, and six interceptions before Deshaun Watson returned from suspension. Washington gave him $8 million on a one-year pact.
Howell has received the lion's share of first-team reps throughout training camp and, barring a complete collapse in the preseason, should begin the 2023 season as Washington's starter. However, it's worth watching how many reps the Commanders give Howell — with only 19 career NFL attempts under his belt, he can use all the work he can get.
Indianapolis Colts | Quarterback
The days of rookie quarterbacks selected in the top five picks sitting out for the majority of their first NFL campaigns are largely over. Sure, Jordan Love didn't play for three seasons after the Packers made him a first-round selection, but he had an MVP winner and future Hall of Famer ahead of him on the depth chart.
Anthony Richardson's competition in Indianapolis isn't Aaron Rodgers. It's Gardner Minshew.
That's no disrespect to Minshew, who's shown flashes over 24 starts with the Jaguars and Eagles and is a more-than-capable No. 2 QB. But this is a battle that Richardson — the most athletic quarterback in the history of the NFL Combine and the fourth overall pick in the draft — should win.
Colts head coach Shane Steichen has been pleased with Richardson's progress in training camp, noting the Florida product had a "heck of a day" and made several "big-time throws" over the weekend.
"You get repetitions, and you do things more and more, you're going to get more comfortable," Steichen said of Richardson. "I think he's gaining confidence in the system and gaining confidence with his teammates, and when you have that, and you have the talent he has, it's usually a good thing."
Chicago Bears | Running Back
The Bears ran the ball at a higher clip than any NFL team in 2022, and that plan of attack doesn't figure to change next season. While Justin Fields is a significant component in Chicago's rushing game, the club also must determine how it'll divvy up carries between its running backs.
Following free agent David Montgomery's departure, holdover Khalil Herbert is atop the Bears' RB depth chart. But he'll face competition from free agent signing D'Onta Foreman and fourth-round rookie Roschon Johnson.
Among that group, Johnson profiles as the strongest pass catcher, but it's unclear if the rookie will be able to handle pass protection duties in his first NFL season. As such, pass-game work could fall to another RB like Trestan Ebner or Travis Homer.
However, ESPN's Jeremy Fowler recently reported that Foreman has taken strides as a receiver and could be more involved in the aerial attack this season. Foreman's career-high in receptions currently sits at just nine.
New York Jets | Offensive Line
While the Jets know they'll be starting Alijah Vera-Tucker and Laken Tomlinson at guard, the other three spots along their offensive line are up for grabs.
At left tackle, former first-round pick Mekhi Becton has returned after missing essentially two full seasons with injuries. Down to a career-low 350 pounds, Becton is competing with veteran Duane Brown to serve as New York's left tackle. Brown is currently on the physically unable to perform (PUP) list, which could give Becton an advantage, depending on how long Brown is sidelined.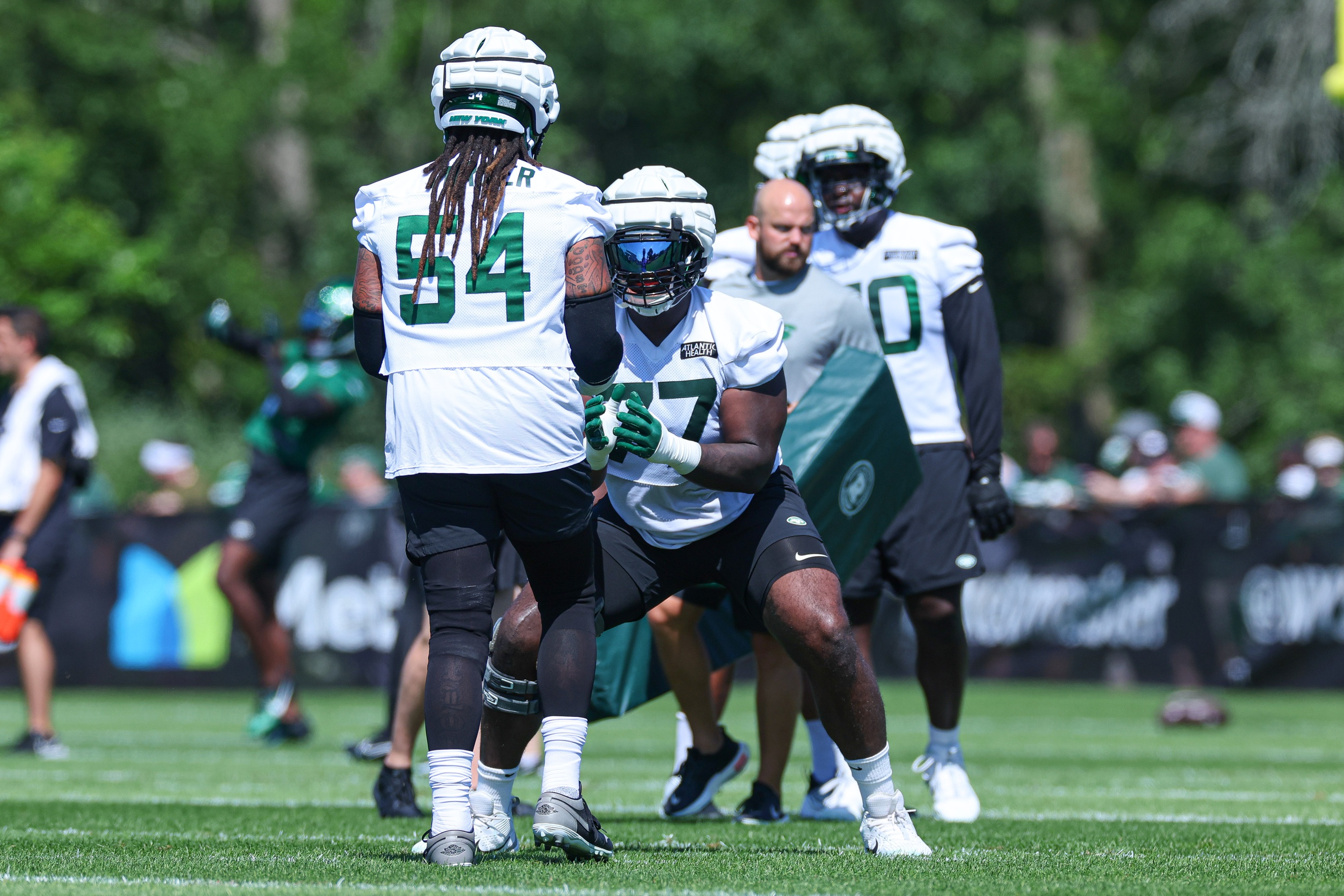 With Becton no longer a starting option on the right side, veteran Billy Turner is battling Max Mitchell — last year's fourth-round pick — for a starting spot. Turner played under new Jets offensive coordinator Nathaniel Hackett in Green Bay and Denver, and that experience could give him the edge over Mitchell.
Meanwhile, second-round rookie Joe Tippmann initially seemed like a lock to start at center, but he may no longer be an option in the middle of the Jets' line. Instead, head coach Robert Saleh suggested center will come down to an "ongoing battle" between Connor McGovern and Wes Schweitzer.
New York Giants | Interior OL
The Jets aren't the only New York-based team with questions up front. The Giants are set at tackle with Andrew Thomas and Evan Neal, but they still need to identify starters at all three of their interior line spots.
Second-round rookie John Michael Schmitz is the favorite to start at center, but Joshua Ezeudu has also seen time with the first-team offense. Given that the Giants listed Schmitz as their starting center on their first unofficial depth chart, he's probably the favorite to land the gig.
At guard, Mark Glowinski looked all but assured to remain New York's top option on the right side after 16 games in his first season with the Giants. But Ben Bredeson has also been mixed in at right guard at Glowinski's expense throughout training camp.
Meanwhile, Bredeson, Ezeudu, and Tyre Phillips have taken first-team reps at left guard. New York has five players competing for three starting slots, and the preseason should give the club a good idea of who fits best as the Giants attempt to make a second consecutive playoff appearance.
Philadelphia Eagles | Linebacker
The Eagles relied on TJ Edwards and Kyzir White as their starting linebackers during their Super Bowl run in 2022, but both players departed as free agents over the offseason. Nakobe Dean and free agent signing Nicholas Morrow had been working as Philadelphia's starters during camp, but the Eagles made two significant additions over the weekend.
With Dean sidelined by an ankle injury, Philadelphia signed Myles Jack and Zach Cunningham to identical one-year deals worth up to $3.5 million.
Jack, released by the Steelers earlier this year, had considered giving up his football career to become an electrician or a plumber, as The Athletic's Zach Berman noted. However, he earned first-team reps during his first practice as an Eagle.
Dean should be expected to regain his starting role once he returns from injury, especially given that he was wearing the green dot as the defensive play-caller before going down. Meanwhile, it wouldn't be surprising if Jack — who has a long track record as a productive NFL linebacker — earns a starting job over Morrow or at least claims more snaps as the season progresses.
Buffalo Bills | Linebacker
Like the Eagles, the Bills are also attempting to replace a vital cog at the second level of their defense. After allowing Tremaine Edmunds to walk in free agency, Buffalo is holding an open competition at middle linebacker.
While A.J. Klein and Baylor Spector may have been involved in the battle at one point, the Bills' competition has seemingly been narrowed to two options: Tyrel Dodson and Terrel Bernard.
Linebackers coach Bobby Babich said he'd like the MLB debate to be settled "sooner rather than later," so the Bills could theoretically make a decision after a preseason game or two.
Between the pair, Dodson has more experience. He's been with the Bills since 2020 and started three games alongside Matt Milano when Edmunds was injured last year. But Buffalo's coaching staff is also excited about Bernard, the club's third-round pick in 2022.
"I love his instincts," McDermott said of Bernard this week. "His command of our defense continues to grow."
Miami Dolphins | Cornerback
The Dolphins suffered the most devastating training camp injury of the year when newly-acquired cornerback Jalen Ramsey tore his meniscus in July. Ramsey was expected to be the centerpiece of Vic Fangio's new-look Miami defense, but now he's likely to be sidelined until at least December.
While the Dolphins don't have anyone capable of matching Ramsey's production, they do have a plethora of options to choose from as they decide who will start alongside Xavien Howard and Kader Kohou.
As PFN's Adam Beasley reported, former first-round pick Noah Igbinoghene received first-team reps following Ramsey's injury. Second-round rookie Cam Smith and recent free agent addition El Apple could also factor into the equation, while Nik Needham could receive snaps once he returns from the PUP list.
"There's progress," Fangio said of Miami's Ramsey-less CB group. "But we're not where we need to be just yet. Hopefully, by Game 1, one of them or someone else will surface at that position."
Minnesota Vikings | Cornerback
No team overhauled their secondary as drastically as the Vikings did this offseason. Patrick Peterson, Chandon Sullivan, Cameron Dantzler, and Duke Shelley all played at least a third of Minnesota's snaps in 2022, but none will return this year.
Free agent addition Byron Murphy is guaranteed a starting role. He'll play on the outside and will move into the slot in nickel packages. Second-year corner Akayleb Evans also looks like a favorite to start on the outside.
But that leaves one outside cornerback position up for grabs. Both Joejuan Williams and fourth-round rookie Mekhi Blackmon have both seen time with the starters throughout training camp, per The Athletic's Alec Lewis, who noted Williams and Blackmon could be used interchangeably depending on the offense the Vikings are facing in a given week.
Andrew Booth Jr., the 42nd pick in the 2022 draft, could theoretically work his way into a starting role, but injuries have defined his NFL career. At this point, he's far more likely to end up as a backup this season.