The Mississippi State Bulldogs have a quarterback at the helm that holds 29 school records as a passer. But what does Will Rogers' NFL Draft profile look like? Is there enough juice in his scouting report to be worth the squeeze come April 2024?
Will Rogers Draft Profile and Measurements
Height: 6'2″
Weight: 210 pounds
Position: Quarterback
School: Mississippi State
Current Year: Senior
Before Rogers grabbed the Bulldogs' starting job as a freshman and never looked back, he was a modest recruit. The composite three-star QB was one of the better players from the state of Mississippi, but his highest QB ranking was 22nd by Rivals.
Still, then-head coach Mike Leach believed in him. That might have been because Rogers' mentor is none other than NFL QB Gardner Minshew. Leach, who got his head coaching start at Texas Tech in 2000, trusted Rogers to be the first freshman quarterback to start a game in his entire coaching career back in 2020. He appeared in nine games as a freshman, starting six.
MORE: 2024 NFL Draft Top Quarterback Prospects
After 2021, there were whispers that the Bulldogs QB could be a high pick. He led the SEC in passing yards and was third in the FBS in total passing yards. This is far from the first time that one of Leach's quarterbacks, or more precisely an Air Raid quarterback, put up bonkers numbers.
His passing numbers went down in 2022, but he was still incredibly productive relative to the rest of college football. A new offense has arrived for 2023. How will that affect Rogers and the offense?
Will Rogers Scouting Report
Strengths
Rogers is an experienced passer.
He has a GREAT feel for pressure pre-snap.
Often replaces blitzers with passes.
Good general short and intermediate accuracy.
Enough juice to extend plays and create.
Processes pre-snap information well.
Makes decisive post-snap reads with anticipation.
Weaknesses
Has average to below-average arm talent.
Not a true threat on the ground.
Downfield passing ability is inconsistent at best.
Air Raid QB, but 2023 could quell these concerns.
Linear build that doesn't generate much torque on throws.
Current Draft Projection and Summary
Like the many Leach Air Raid quarterbacks to come before him, Rogers is a job-doer who can put up ridiculous numbers in the box score. Being a "bus driver" is not inherently bad, but Rogers' lack of physical upside severely limits his ceiling as an NFL player.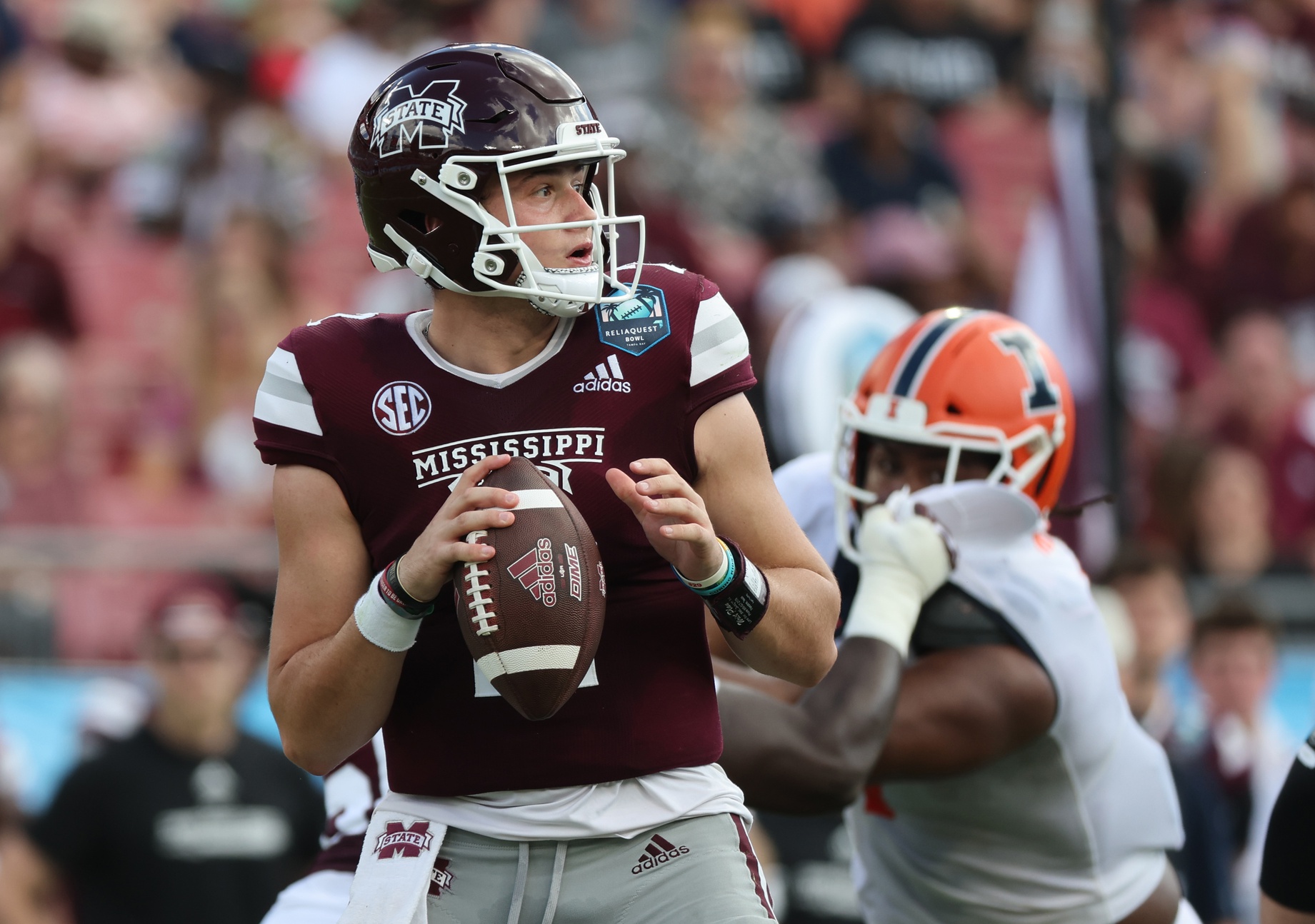 Because he is whip-smart, there is certainly a chance that Rogers does enough in a new offense with more under-center looks to intrigue NFL coaches. It is not often we see Air Raid QBs enter a new situation at the college level. His performance in 2023 will greatly impact how NFL teams see him.
Although he'll likely never be viewed as a starter, he is the kind of player teams tend to gravitate toward with their backups. He could be a bus driver who keeps the offense between the lines while not actively losing them games when the starter misses time with an injury.
NFL Draft Scouting Reports
Using the table below, browse NFL Draft scouting profiles for hundreds of draft prospects so you can get a head start on the 2024 NFL Draft.
Don't forget to check out our Mock Draft Simulator, where you can take control of your favorite NFL team and build its roster for the future!
You can sort the table below by player, team, or position. For mobile users, this table is best viewed in landscape mode.
Player
Position
Team
Target
Aidan Robbins
RB
BYU
Aidan Robbins Scouting Report
https://www.profootballnetwork.com/aidan-robbins-draft-scouting-2024/
Ainias Smith
WR/RB
Texas A&M
Ainias Smith Scouting Report
https://www.profootballnetwork.com/ainias-smith-draft-scouting-2024/
Andrew Mukuba
S
Clemson
Andrew Mukuba Scouting Report
https://www.profootballnetwork.com/andrew-mukuba-draft-scouting-2024/
Anthony Gould
WR
Oregon State
Anthony Gould Scouting Report
https://www.profootballnetwork.com/anthony-gould-draft-scouting-2024/
Antwane Wells Jr.
WR
South Carolina
Antwane Wells Jr. Scouting Report
https://www.profootballnetwork.com/antwane-wells-jr-draft-scouting-2024/
Audric Estimé
RB
Notre Dame

Audric Estimé Scouting Report

https://www.profootballnetwork.com/audric-estime-draft-scouting-2024/
Austin Jones
RB
USC
Austin Jones Scouting Report
https://www.profootballnetwork.com/austin-jones-draft-scouting-2024/
Austin Reed
QB
Western Kentucky
Austin Reed Scouting Report
https://www.profootballnetwork.com/austin-reed-draft-scouting-2024/
Barrett Carter
LB
Clemson
Barrett Carter Scouting Report
https://www.profootballnetwork.com/barrett-carter-draft-scouting-2024/
Blake Corum
RB
Michigan
Blake Corum Scouting Report
https://www.profootballnetwork.com/blake-corum-draft-scouting-2024/
Blake Watson
RB
Memphis
Blake Watson Scouting Report
https://www.profootballnetwork.com/blake-watson-draft-profile-memphis-rb-scouting-report/
Bo Nix
QB
Oregon
Bo Nix Scouting Report
https://www.profootballnetwork.com/bo-nix-draft-scouting-report-2024/
Braelon Allen
RB
Wisconsin
Braelon Allen Scouting Report
https://www.profootballnetwork.com/braelon-allen-draft-scouting-2024/
Brenden Rice
WR
USC
Brenden Rice Scouting Report
https://www.profootballnetwork.com/brenden-rice-draft-scouting-2024/
Brennan Armstrong
QB
NC State
Brennan Armstrong Scouting Report
https://www.profootballnetwork.com/brennan-armstrong-draft-scouting-2024/
Brock Bowers
TE
Georgia
Brock Bowers Scouting Report
https://www.profootballnetwork.com/brock-bowers-draft-scouting-2024/
Bucky Irving
RB
Oregon
Bucky Irving Scouting Report
https://www.profootballnetwork.com/bucky-irving-draft-scouting-2024/
Cade Stover
TE
Ohio State
Cade Stover Scouting Report
https://www.profootballnetwork.com/cade-stover-draft-scouting-2024/
Caleb Williams
QB
USC
Caleb Williams Scouting Report
https://www.profootballnetwork.com/caleb-williams-draft-scouting-2024/
Cameron Rising
QB
Utah
Cameron Rising Scouting Report
https://www.profootballnetwork.com/cameron-rising-draft-scouting-2024/
Cameron Ward
QB
Washington State
Cameron Ward Scouting Report
https://www.profootballnetwork.com/cameron-ward-draft-scouting-2024/
Carson Beck
QB
Georgia
Carson Beck Scouting Report
https://www.profootballnetwork.com/carson-beck-draft-scouting-2024/
Carson Steele
RB
UCLA
Carson Steele Scouting Report
https://www.profootballnetwork.com/carson-steele-draft-scouting-2024/
Chop Robinson
EDGE
Penn State
Chop Robinson Scouting Report
https://www.profootballnetwork.com/chop-robinson-draft-scouting-2024/
Chris Tyree
WR
Notre Dame
Chris Tyree Scouting Report
https://www.profootballnetwork.com/chris-tyree-draft-scouting-2024/
Cornelius Johnson
WR
Michigan
Cornelius Johnson Scouting Report
https://www.profootballnetwork.com/cornelius-johnson-draft-scouting-2024/
Dallas Turner
EDGE
Alabama
Dallas Turner Scouting Report
https://www.profootballnetwork.com/dallas-turner-draft-scouting-2024/
Denzel Burke
CB
Ohio State
Denzel Burke Scouting Report
https://www.profootballnetwork.com/denzel-burke-draft-scouting-report-2024/
Devin Leary
QB
Kentucky
Devin Leary Scouting Report
https://www.profootballnetwork.com/devin-leary-draft-scouting-2024/
Dillon Gabriel
QB
Oklahoma
Dillon Gabriel Scouting Report
https://www.profootballnetwork.com/dillon-gabriel-draft-scouting-2024/
DJ Uiagalelei
QB
Oregon State
DJ Uiagalelei Scouting Report
https://www.profootballnetwork.com/dj-uiagalelei-draft-scouting-2024/
Donovan Edwards
RB
Michigan
Donovan Edwards Scouting Report
https://www.profootballnetwork.com/donovan-edwards-draft-scouting-2024/
Donovan Smith
QB
Houston
Donovan Smith Scouting Report
https://www.profootballnetwork.com/donovan-smith-draft-scouting-2024/
Dorian Singer
WR
USC
Dorian Singer Scouting Report
https://www.profootballnetwork.com/dorian-singer-draft-scouting-2024/
Drake Maye
QB
North Carolina
Drake Maye Scouting Report
https://www.profootballnetwork.com/drake-maye-draft-scouting-2024/
Emeka Egbuka
WR
Ohio State
Emeka Egbuka Scouting Report
https://www.profootballnetwork.com/emeka-egbuka-draft-scouting-2024/
Garrett Shrader
QB
Syracuse
Garrett Shrader Scouting Report
https://www.profootballnetwork.com/garrett-shrader-draft-scouting-2024/
Gavin Hardison
QB
UTEP
Gavin Hardison Scouting Report
https://www.profootballnetwork.com/gavin-hardison-draft-scouting-2024/
George Holani
RB
Boise State
George Holani Scouting Report
https://www.profootballnetwork.com/george-holani-draft-scouting-2024/
Grayson McCall
QB
Coastal Carolina
Grayson McCall Scouting Report
https://www.profootballnetwork.com/grayson-mccall-draft-scouting-2024/
Hudson Card
QB
Purdue
Hudson Card Scouting Report
https://www.profootballnetwork.com/hudson-card-draft-scouting-2024/
Isaiah Neyor
WR
Texas
Isaiah Neyor Scouting Report
https://www.profootballnetwork.com/isaiah-neyor-draft-scouting-2024/
J.J. McCarthy
QB
Michigan
J.J. McCarthy Scouting Report
https://www.profootballnetwork.com/jj-mccarthy-draft-scouting-2024/
J.T. Tuimoloau
EDGE
Ohio State
J.T. Tuimoloau Scouting Report
https://www.profootballnetwork.com/j-t-tuimoloau-draft-scouting-report-2024/
Jalen Berger
RB
Michigan State
Jalen Berger Scouting Report
https://www.profootballnetwork.com/jalen-berger-draft-scouting-2024/
Jalen McMillan
WR
Washington
Jalen McMillan Scouting Report
https://www.profootballnetwork.com/jalen-mcmillan-draft-scouting-2024/
Jalon Daniels
QB
Kansas
Jalon Daniels Scouting Report
https://www.profootballnetwork.com/jalon-daniels-draft-scouting-2024/
Jared Verse
EDGE
Florida State
Jared Verse Scouting Report
https://www.profootballnetwork.com/jared-verse-scouting-draft-2024/
Jase McClellan
RB
Alabama
Jase McClellan Scouting Report
https://www.profootballnetwork.com/jase-mcclellan-draft-scouting-2024/
Javon Baker
WR
UCF
Javon Baker Scouting Report
https://www.profootballnetwork.com/javon-baker-draft-scouting-2024/
Jayden Daniels
QB
LSU
Jayden Daniels Scouting Report
https://www.profootballnetwork.com/jayden-daniels-draft-scouting-2024/
Jeff Sims
QB
Nebraska
Jeff Sims Scouting Report
https://www.profootballnetwork.com/jeff-sims-draft-scouting-2024/
Jermaine Burton
WR
Alabama
Jermaine Burton Scouting Report
https://www.profootballnetwork.com/jermaine-burton-draft-scouting-2024/
Jer'Zhan Newton
DT
Illinois
Jer'Zhan Newton Scouting Report
https://www.profootballnetwork.com/jerzhan-newton-draft-scouting-2024/
Joe Alt
OT
Notre Dame
Joe Alt Scouting Report
https://www.profootballnetwork.com/joe-alt-draft-scouting-2024/
Joe Milton
QB
Tennessee
Joe Milton Scouting Report
https://www.profootballnetwork.com/joe-milton-draft-scouting-2024/
John Rhys Plumlee
QB
UCF
John Rhys Plumlee Scouting Report
https://www.profootballnetwork.com/john-rhys-plumlee-draft-scouting-2024/
Johnny Wilson
WR
Florida State
Johnny Wilson Scouting Report
https://www.profootballnetwork.com/johnny-wilson-draft-scouting-2024/
Jo'Quavious Marks
RB
Mississippi State
Jo'Quavious Marks Scouting Report
https://www.profootballnetwork.com/joquavious-marks-draft-scouting-2024/
Jordan Travis
QB
Florida State
Jordan Travis Scouting Report
https://www.profootballnetwork.com/jordan-travis-draft-scouting-2024/
Jordan Whittington
WR
Texas
Jordan Whittington Scouting Report
https://www.profootballnetwork.com/jordan-whittington-draft-scouting-2024/
Kalen King
CB
Penn State
Kalen King Scouting Report
https://www.profootballnetwork.com/kalen-king-draft-scouting-2024/
Kamari Lassiter
CB
Georgia
Kamari Lassiter Scouting Report
https://www.profootballnetwork.com/kamari-lassiter-draft-scouting-2024/
Kamren Kinchens
S
Miami (FL)
Kamren Kinchens Scouting Report
https://www.profootballnetwork.com/kamren-kinchens-draft-scouting-2024/
Keith Randolph Jr.
DT
Illinois
Keith Randolph Jr. Scouting Report
https://www.profootballnetwork.com/keith-randolph-jr-draft-scouting-report-2024/
Kendall Milton
RB
Georgia
Kendall Milton Scouting Report
https://www.profootballnetwork.com/kendall-milton-draft-scouting-2024/
Keon Coleman
WR
Florida State
Keon Coleman Scouting Report
https://www.profootballnetwork.com/keon-coleman-draft-scouting-2024/
KJ Jefferson
QB
Arkansas
KJ Jefferson Scouting Report
https://www.profootballnetwork.com/kj-jefferson-draft-scouting-2024/
Kool-Aid McKinstry
CB
Alabama
Kool-Aid McKinstry Scouting Report
https://www.profootballnetwork.com/kool-aid-mckinstry-draft-scouting-2024/
Kurtis Rourke
QB
Ohio
Kurtis Rourke Scouting Report
https://www.profootballnetwork.com/kurtis-rourke-draft-scouting-2024/
Ladd McConkey
WR
Georgia
Ladd McConkey Scouting Report
https://www.profootballnetwork.com/ladd-mcconkey-draft-scouting-2024/
Maason Smith
DT
LSU
Maason Smith Scouting Report
https://www.profootballnetwork.com/maason-smith-draft-scouting-2024/
Malachi Corley
WR
Western Kentucky
Malachi Corley Scouting Report
https://www.profootballnetwork.com/?p=389162&preview=true&preview_id=389162
Malik Nabers
WR
LSU
Malik Nabers Scouting Report
https://www.profootballnetwork.com/malik-nabers-draft-scouting-2024/
Mario Williams
WR
USC
Mario Williams Scouting Report
https://www.profootballnetwork.com/mario-williams-draft-scouting-2024/
MarShawn Lloyd
RB
USC
MarShawn Lloyd Scouting Report
https://www.profootballnetwork.com/marshawn-lloyd-draft-scouting-2024/
Marvin Harrison Jr.
WR
Ohio State
Marvin Harrison Jr. Scouting Report
https://www.profootballnetwork.com/marvin-harrison-draft-scouting-2024/
Michael Penix Jr.
QB
Washington
Michael Penix Jr. Scouting Report
https://www.profootballnetwork.com/michael-penix-jr-draft-scouting-2024/
Michael Pratt
QB
Tulane
Michael Pratt Scouting Report
https://www.profootballnetwork.com/michael-pratt-draft-scouting-2024/
Moose Muhammad III
WR
Texas A&M
Moose Muhammad III Scouting Report
https://www.profootballnetwork.com/moose-muhammad-iii-draft-scouting-2024/
Noah Whittington
RB
Oregon
Noah Whittington Scouting Report
https://www.profootballnetwork.com/noah-whittington-draft-scouting-2024/
Olu Fashanu
OT
Penn State
Olu Fashanu Scouting Report
https://www.profootballnetwork.com/olu-fashanu-draft-scouting-report-2024/
Phil Jurkovec
QB
Pittsburgh
Phil Jurkovec Scouting Report
https://www.profootballnetwork.com/phil-jurkovec-draft-scouting-2024/
Princely Umanmielen
EDGE
Florida
Princely Umanmielen Scouting Report
https://www.profootballnetwork.com/princely-umanmielen-draft-scouting-2024/
Quinn Ewers
QB
Texas
Quinn Ewers Scouting Report
https://www.profootballnetwork.com/quinn-ewers-draft-scouting-2024/
Raheim Sanders
RB
Arkansas
Raheim Sanders Scouting Report
https://www.profootballnetwork.com/raheim-sanders-draft-scouting-2024/
Ricky Pearsall
WR
Florida
Ricky Pearsall Scouting Report
https://www.profootballnetwork.com/ricky-pearsall-draft-scouting-report-2024/
Riley Leonard
QB
Duke
Riley Leonard Scouting Report
https://www.profootballnetwork.com/riley-leonard-draft-scouting-2024/
Roman Wilson
WR
Michigan
Roman Wilson Scouting Report
https://www.profootballnetwork.com/roman-wilson-draft-scouting-2024/
Rome Odunze
WR
Washington
Rome Odunze Scouting Report
https://www.profootballnetwork.com/rome-odunze-draft-scouting-2024/
Sam Hartman
QB
Notre Dame
Sam Hartman Scouting Report
https://www.profootballnetwork.com/sam-hartman-draft-scouting-2024/
Spencer Rattler
QB
South Carolina
Spencer Rattler Scouting Report
https://www.profootballnetwork.com/spencer-rattler-draft-scouting-2024/
Tahj Washington
WR
USC
Tahj Washington Scouting Report
https://www.profootballnetwork.com/tahj-washington-draft-scouting-2024/
Taulia Tagovailoa
QB
Maryland
Taulia Tagovailoa Scouting Report
https://www.profootballnetwork.com/taulia-tagovailoa-draft-scouting-2024/
Treshaun Ward
RB
Kansas State
Treshaun Ward Scouting Report
https://www.profootballnetwork.com/treshaun-ward-draft-scouting-2024/
TreVeyon Henderson
RB
Ohio State
TreVeyon Henderson Scouting Report
https://www.profootballnetwork.com/treveyon-henderson-draft-scouting-2024/
Trey Benson
RB
Florida State
Trey Benson Scouting Report
https://www.profootballnetwork.com/trey-benson-draft-scouting-2024/
Trey Sanders
RB
TCU
Trey Sanders Scouting Report
https://www.profootballnetwork.com/trey-sanders-draft-scouting-2024/
Troy Franklin
WR
Oregon
Troy Franklin Scouting Report
https://www.profootballnetwork.com/troy-franklin-draft-scouting-2024/
Tyler Shough
QB
Texas Tech
Tyler Shough Scouting Report
https://www.profootballnetwork.com/tyler-shough-draft-scouting-2024/
Tyler Van Dyke
QB
Miami (FL)
Tyler Van Dyke Scouting Report
https://www.profootballnetwork.com/tyler-van-dyke-draft-scouting-2024/
Ulysses Bentley IV
RB
Ole Miss
Ulysses Bentley IV Scouting Report
https://www.profootballnetwork.com/ulysses-bentley-iv-draft-scouting-2024/
Will Howard
QB
Kansas State
Will Howard Scouting Report
https://www.profootballnetwork.com/will-howard-draft-scouting-2024/
Will Rogers
QB
Mississippi State
Will Rogers Scouting Report
https://www.profootballnetwork.com/will-rogers-draft-scouting-2024/
Will Sheppard
WR
Vanderbilt
Will Sheppard Scouting Report
https://www.profootballnetwork.com/will-sheppard-draft-scouting-2024/
Will Shipley
RB
Clemson
Will Shipley Scouting Report
https://www.profootballnetwork.com/will-shipley-draft-scouting-2024/
Xavier Legette
WR
South Carolina
Xavier Legette Scouting Report
https://www.profootballnetwork.com/xavier-legette-draft-scouting-report-2024/
Xavier Worthy
WR
Texas
Xavier Worthy Scouting Report
https://www.profootballnetwork.com/xavier-worthy-draft-scouting-2024/