Reggie Bush voluntarily forfeited his 2005 Heisman Trophy title in 2010 due to reports that the Heisman Trophy Trust would eventually strip the award away. He may not have lit the NFL world on fire and lived up to his No. 2 overall draft billing, but Bush is one of the most synonymous names when it comes to college football.
His play on the field drew millions of TV viewers and tens of thousands of fans to stadiums across the nation. With the NCAA passing the name, image, and likeness (NIL) policy, should the organization return Bush's Heisman Trophy?
Why Reggie Bush Lost His Heisman Trophy
After relinquishing the Heisman, Bush returned the trophy in 2012. But why was the Trust after him in the first place? In 2006, allegations surfaced that Bush and his family received improper benefits that violated NCAA rules. USC swiftly requested the Pac-12 (Pac-10 at the time) to investigate the matter while Bush and his family stood pat, claiming to be innocent.
As the conference and the NCAA investigated, a probe was underway with USC basketball star O.J. Mayo facing similar allegations. Thus, the NCAA decided to merge the two investigations into a larger one that scoped the entire USC athletic program.
In 2007, a sports agent named Lloyd Lake sued the Bush family for nearly $300,000 that he provided in cash and gifts. Furthermore, Lake vowed to cooperate with the NCAA.
The USC athletics probe finally concluded in June 2010, with the NCAA announcing major sanctions against the Trojans. At this point, Bush was entering his sixth season in the NFL — his first with the Miami Dolphins, having spent the previous five years with the New Orleans Saints.
Investigators found that Lake and business partner Michael Michaels gave Bush lavish gifts that included hotel stays, a rent-free home for his family, and a limousine ride and suit for the 2005 Heisman Trophy ceremony.
As a result, the Trojans were banned from bowl play in 2010 and 2011, lost 30 scholarships over the next three years, vacated their final two wins in 2004 (including the Orange Bowl), and all of their victories in 2005 (12).
In July 2010, USC declared they would remove all items in Bush's name from the campus. Additionally, the NCAA set a mandatory 10-year period where the school had to disassociate itself from the star athlete, which ended in 2020.
Bush is still dealing with the consequences of his actions, stating in an interview with The Athletic in May 2020:
"One of the worst feelings in the world … felt like I died when I had to hear that there weren't gonna be scholarships for kids because of me or because of something connected to me … I'm still not over that. It's just something you learn to live with."
After Bush returned his Heisman Trophy, the Trust opted to leave the 2005 season without a winner, making it the only season in which a winner is not recognized. It's been speculated that the Heisman Trophy Trust offered the award to both runner-up Texas QB Vince Young and third-place USC QB Matt Leinart, but neither accepted. Bush later said that Young confirmed this himself.
Reggie 'The President' Bush Owned College Football
Bush was a five-star recruit and the No. 1 running back in the nation in the 2003 class. He spent his first two collegiate seasons behind the likes of Lendale White and Hershel Dennis but flashed his immense talent. As a true freshman, he took 90 carries for 521 yards and three touchdowns while adding 15 catches, 314 yards, and four scores as a receiver.
With an increase in workload in 2004, Bush thrived, taking 186 touches for 1,417 yards and 13 plunges into the end zone. Not only did Bush enjoy statistical success, but the Trojans went undefeated (13-0), knocking off the No. 2 ranked Oklahoma Sooners 55-19 in the BCS Championship Game at the Orange Bowl.
The 2004 USC team was just the second program in AP Poll history to rank first from preseason to postseason. Even in such a historic campaign, the uber-athletic running back was only sniffing the surface of his ability.
Many fans already knew his name, but 2005 was when Bush put his skill set on nearly every TV in the country. As a true junior, Bush generated a whopping 2,218 total yards and 18 touchdowns off 237 touches. That's 9.4 yards per touch and 8.7 per carry as he rattled off 1,740 yards on 200 rushing attempts.
For as spectacular as Bush's play was, the Trojans suffered their first and only loss of the season in the Rose Bowl against the Vince Young-led Texas Longhorns, 41-38.
In what was an instant classic, the 2006 BCS Championship culminated in Young scoring a rushing touchdown with 19 seconds left, effectively ending the Trojans' hopes of being back-to-back champions.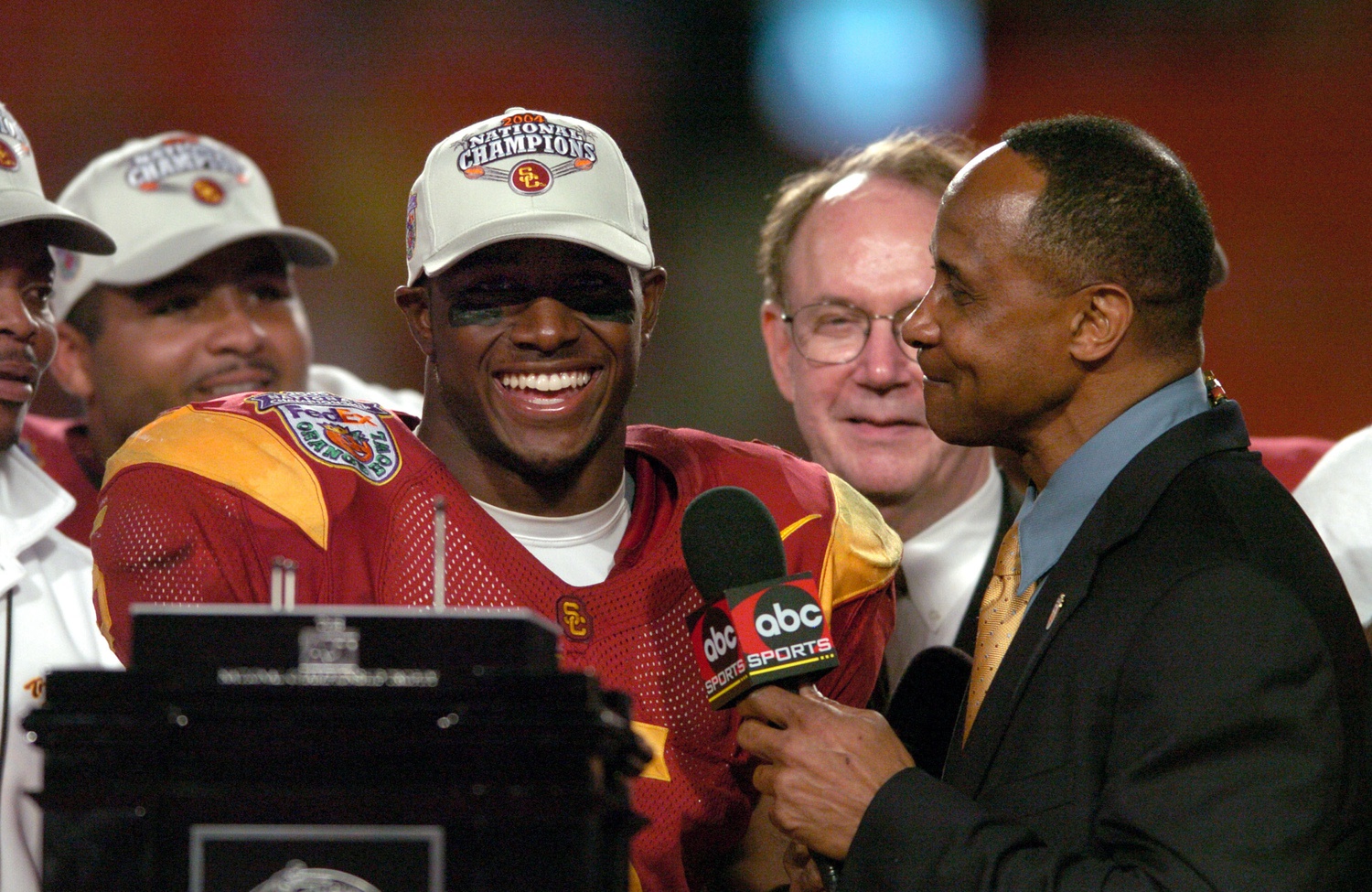 Still, Bush lost just two games in his career at USC, helping drive the Trojans to 37 victories in three years. He never finished a season averaging less than 5.8 yards per carry or 7.6 per touch.
Yet, we haven't accounted for a massive aspect of Bush's game — kick returning. Bush finished his college career with 1,522 yards and one touchdown on 67 kick returns. He added another 559 yards and three more scores on 44 punt returns.
The cumulative stats don't do Bush justice. He truly was one of the most electric athletes in college football history. Sure, his NFL career left much to be desired. But that does not take away from how unstoppable Bush was on the collegiate level.
How the Nil Policy Would Have Affected Bush
Effective on July 1, 2021, the NCAA Division-I Board of Directors passed an interim NIL policy that allowed student-athletes in all 50 states to profit off their name, image, and likeness. As a result, we have already seen multiple athletes sign deals with life-changing implications.
We don't need to get into how this should have been done a long time ago. Let's at least be happy these players can build their brands early on and are finally receiving compensation for the millions they make for their programs.
If the NIL policy was implemented during Bush's era, just how much would he have made? Well, HuddleUp's Joe Pompliano estimated that Bush could have made anywhere from $4-6 million annually under the NCAA's NIL rules.
That is not just pocket change to have a nice dinner every once in a while. It is money that can alter the path of generations within a family.
The former Trojan was earning no more than $1,000 in scholarship funds. He stated that after rent and bills, he was left with under $300 for food and gas for the rest of the month. In the same interview with The Atheltic, Bush explained how the NIL rule would have impacted him.
"It would've made things a lot less stressful because it's stressful when you're trying to figure out how am I gonna eat? What am I gonna eat when the cafeteria has closed?"
Bush Suing NCAA for Defamation
If there was one thing Bush was known for, it was taking a hole — however small — and making it a crater. Well, in July 2021, the NCAA alleged Bush had a "pay-for-play type arrangement" while at USC — a claim they did not include in their findings from the 2010 probe. And that was the only hole Bush needed.
On Aug. 23 of this year, Bush returned to his old stomping grounds, announcing he filed a defamation suit against the NCAA during a conference at the Coliseum.
"I've got dreams of coming back in this stadium and running out of that tunnel with the football team. I've got dreams of walking back in here and seeing my jersey and my banner right down there next to the rest of the Heisman Trophy winners. But I can't rightfully do that without my Heisman Trophy."
We stood alongside former USC and NFL star @ReggieBush today to announce the filing of a lawsuit to make RIGHT a years-long wrong! The NCAA defamed Reggie by wrongly claiming he was involved in a "pay-for-play" arrangement and made him forfeit his Heisman Trophy. pic.twitter.com/tuFByrFCXw

— Ben Crump (@AttorneyCrump) August 23, 2023
Give Reggie Bush His Heisman Back!
Bush was the poster boy for what would happen if you broke the NCAA's regulations. So, once the NCAA approved the NIL policy, fans, analysts, and players showed their support for the former USC running back.
If you stop and listen, you can almost hear a crowd forming, yelling for the NCAA to return the 2005 Heisman trophy to its rightful owner. In a statement following the ruling, Bush expressed his frustration and longing for the award.
It's been 11 years since Bush had the Heisman Trophy in his possession. What he did for college football cannot be understated. He propelled the sport to new heights and brought millions of eyes to the gridiron.
The least the NCAA and the Heisman Trophy Trust can do is return what they stole. Yes, Bush broke the rules, and they punished him for it. But sometimes, unjust rules need to be broken for change to occur.