One of the biggest stories from what looks to be an exciting Divisional Round is the potential return of the Tennessee Titans star running back Derrick Henry. However, the advanced metrics suggest that while Tennessee would undoubtedly benefit from Henry's return, their offense would be perfectly fine without him.
Derrick Henry was one of the NFL's most productive running backs this season
Henry played in eight games this season before breaking his foot. He required surgery that some at the time thought could be season-ending. However, though Henry missed more than half the season, he still ran for 937 yards and 10 touchdowns. Remarkably, he still ranks ninth in the NFL in rushing yards and is tied for sixth in rushing touchdowns.
If we extrapolate his numbers over an entire season, Henry would reach nearly 2,000 yards and more than 20 touchdowns. Those numbers would narrowly beat out the actual leader, Johnathan Taylor, in both categories. In terms of raw per-week production, Henry is virtually unmatchable.
Henry also had stellar advanced metrics
It wasn't just Henry's box score statistics that were exceptional during his short time on the field this season. He also earned an extremely high Offensive Value Metric (OVM) grade. The OVM is a grading system created by the (Bx) Movement to measure how much of a player's statistical production they were actually responsible for.
The OVM ranked Henry as one of the NFL's best running backs this season, giving him a grade of 13.13, which was the fifth-highest at his position. His high grade is due to excellent performances in a number of areas.
Henry ran a relatively low 3.88 yards for each yard he gained on the field, and his average yards per carry of 4.3 was 0.05 yards higher than expected, according to the NFL's projections. Impressively, he earned those statistics despite facing eight or more defenders in the box on 36.53% of his snaps.
Overall, Henry is one of the NFL's most efficient running backs. Clearly, losing him was a brutal blow for the Titans.
The Tennessee Titans' running game didn't fall off when Henry was injured
Some thought Henry's injury would spell the end for the Titans' Super Bowl hopes this season. However, that proved not to be the case. Take a look at the chart below.
Henry's injury is marked by the vertical red line. Before that point, you can see all the weekly grades Henry recorded before his injury, marked by the black dots. After it, the dots mark the average of the grades earned each week by the Titans' running back room without him.
The orange lines represent the average OVM grade earned by Henry and the other running backs during those periods, and the yellow line represents the league average OVM grade for running backs during the regular season.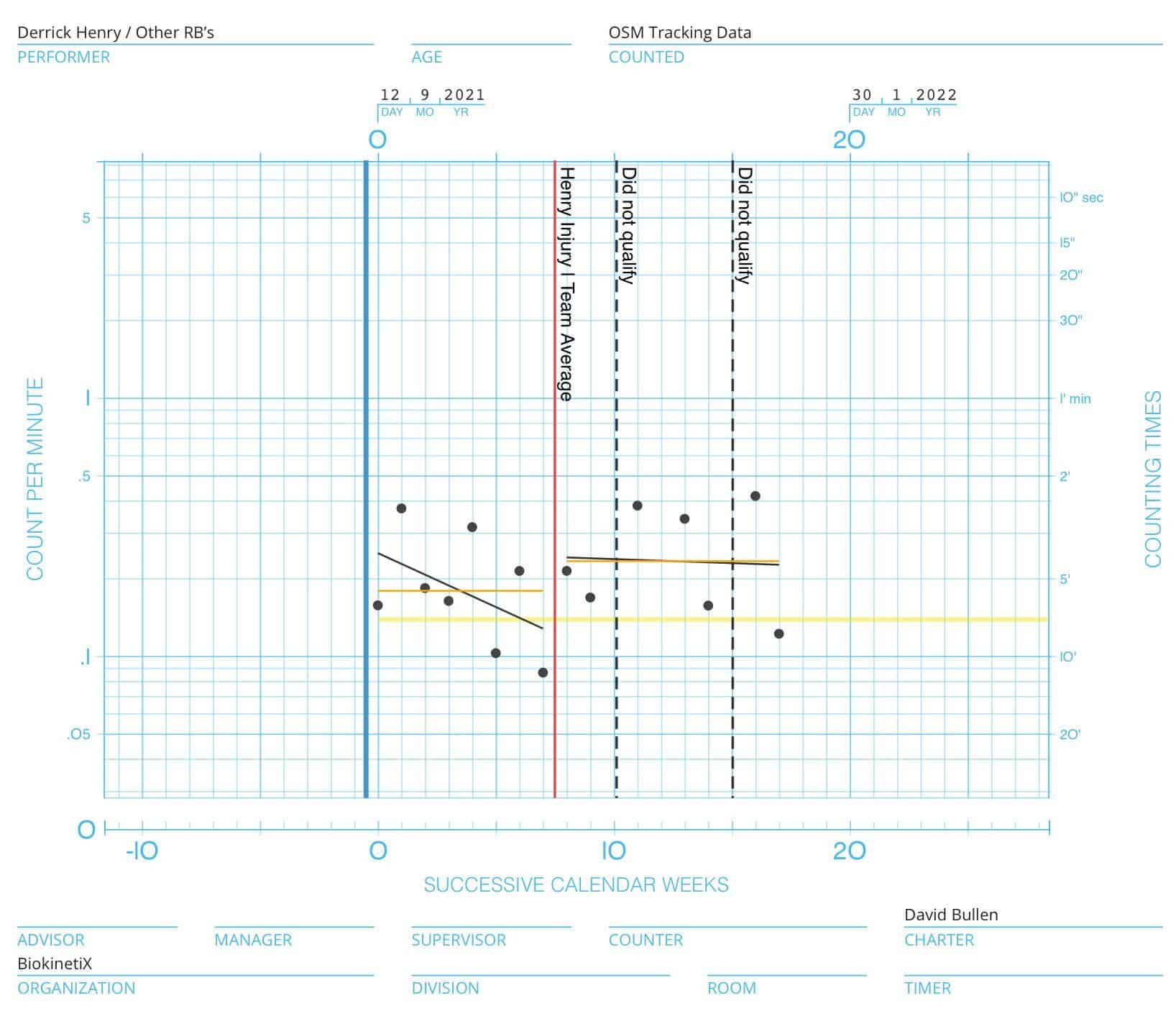 As you can see, Henry's grades were on a downward trajectory before his injury. As a result, the average OVM of the Titans running backs after his injury is actually higher than Henry's was. In fact, the two highest grades produced by a Tennessee running back this season were earned by D'Onta Foreman: 28.87 in Week 12 and 24.98 in Week 17.
As good as Henry was early in the season, the Titans' other running backs did a more than adequate job of filling the void he left in their offense.
D'Onta Foreman has stepped up in Henry's absence
As you saw from the chart, the Tennessee Titans' running backs have done an excellent job of compensating for the loss of their best player. The most important player involved in their continued success was Foreman, who rushed for 566 yards and 3 touchdowns this season, all since Henry's injury.
Those box score statistics weren't at the same level as Henry's, but as I said earlier, few players can match Henry when it comes to raw production. However, Foreman is actually outperforming his teammate in the advanced metrics. At 16.52, Foreman's grade is higher than Henry's. In fact, it is the highest grade of any running back this season.
The two running backs have nearly identical advanced metrics, with one exception: defenses stacked the box more against Foreman. He faced eight or more defenders around the line of scrimmage on 46.62% of his snaps, more than 10 percentage points higher than Henry. Foreman's efficiency despite such stiff resistance is what made him so successful down the stretch this season.
The Titans will find success on Saturday no matter who is carrying the ball
If the Titans are going to defeat the Bengals on Saturday, it won't be because Henry returns as their glorious savior. They certainly won't be upset to have him back. But the team has proven that their offensive system is good enough to win without him. We'll see if their success continues against Cincinnati.