Washington Huskies quarterback and senior leader Michael Penix Jr. has vaulted himself as a betting favorite in the Heisman Trophy race. He's leading one of the country's best, most efficient scoring offenses. And yet, Penix's NFL Draft stock is uncertain and difficult to project.
Why does one of the nation's most prolific passers have massive red flags for the next level?
Michael Penix Jr.'s NFL Draft Outlook
Even as passing statistics across the country continue to rise to unprecedented levels of efficiency, the thought of a quarterback completing 74.3% of his passes while averaging 11.8 yards per completion is certainly impressive.
It's easy to see why Penix has become a Heisman front-runner. The Huskies have the fourth-best scoring offense entering Week 4, and they've done it without any semblance of a rushing game.
MORE: 2024 NFL Draft Big Board
With 12 touchdowns, only one interception, and one sack taken on the season, Penix has been as dominant as his stats suggest.
Granted, the team has faced cupcakes in their three games and should continue to win easily until their Oct. 14 matchup against Oregon. But it's not Penix's fault that Washington has not faced a challenging opponent yet.
The reality is that Washington may not face more than a few real challengers this entire season. Penix has the Huskies as a legitimate national title contender. Showdowns against Oregon and USC are the only two games where their foe will have at least as much recruiting talent as they have.
Penix is the ringmaster of an offense that has as many as five top-75 prospects in the 2024 NFL draft. Wide receivers Rome Odunze, Jalen McMillan, and Ja'Lynn Polk round out the second-best receiving room in the country.
Even tight end Devin Culp, who has three catches for 42 yards on the season, is someone we circled as a potential NFL Draft pick because of his athleticism.
It's easy to give Penix little credit when there's so much playmaking around him. But Penix is clearly an NFL-caliber quarterback. The question is whether he can be a starter at a high level, considering where the NFL has evolved as far as the standard of play.
On Saturday, NFL insider Jordan Schultz reported that Penix is already getting top-15 consideration for next year's draft. This surprised me as the PFN scouting team member watching the Pac-12 weekly.
While I've been a fan of Penix since his 2019 season at Indiana, he's too eerily reminiscent of a player who not long ago had many of the same strengths and limitations as he does: Teddy Bridgewater.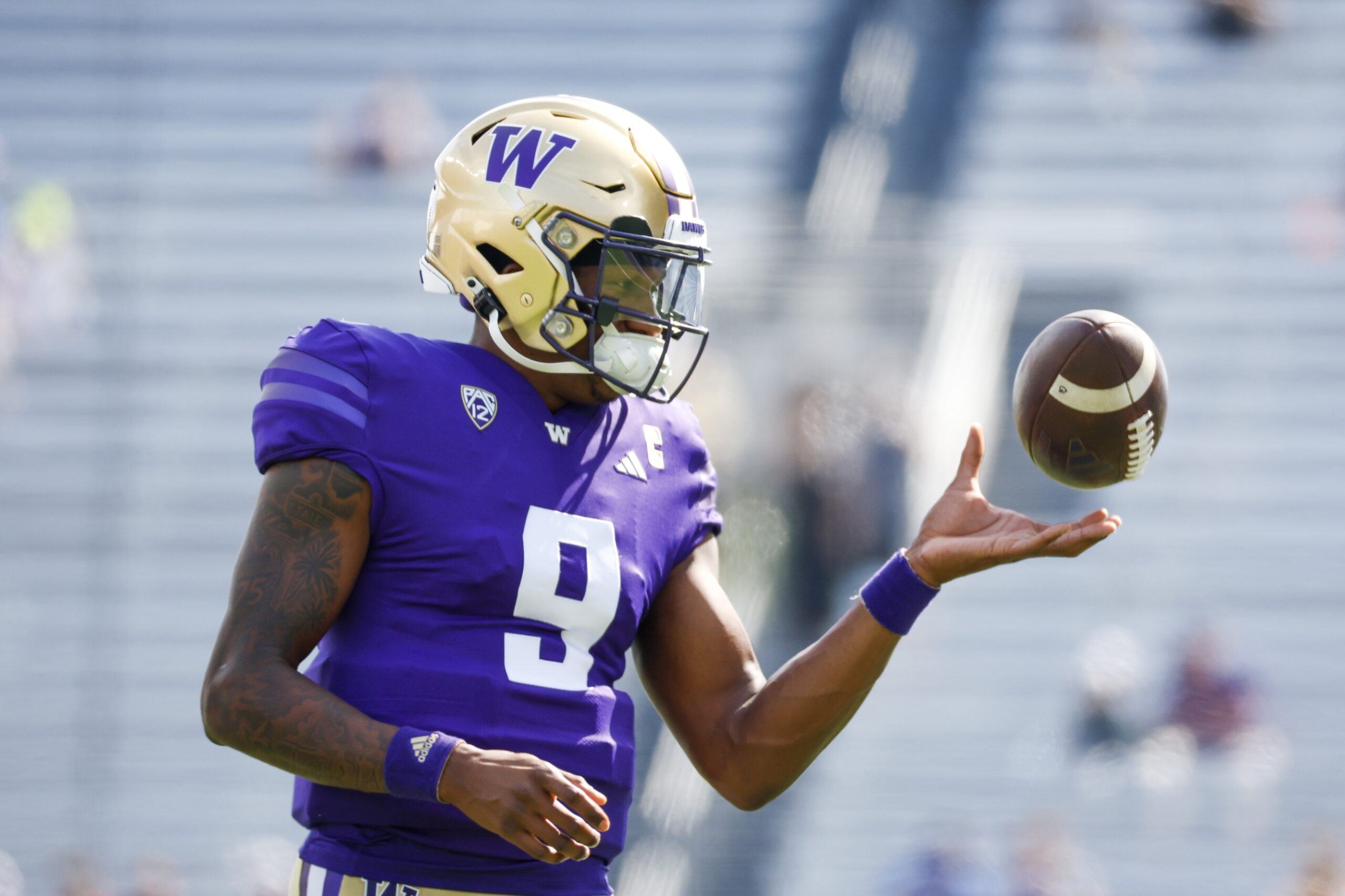 At 6'3″, 218 pounds, he has good size, great touch on his passes, good pocket presence, and the ability to read defenses effectively. However, Penix is not a great athlete in evading pressure and creating plays with his legs.
He's more of a pocket passer, and his arm strength is a concern when driving the ball into tight spaces, even when he has perfect mechanics.
Penix is very close to Bridgewater as a prospect. There was a time when Bridgewater would've translated even better to the NFL. Even when he left Louisville, the NFL had yet to introduce the newest generation of athletes, who have since redefined how we view the quarterback position.
Bridgewater never established himself as a plus starter in the NFL with the same limitations as Penix. Although incredibly smart and rarely made mistakes, he failed to make impact plays as a passer and rusher. NFL teams cannot afford to start players who no longer make a real impact in both phases at the quarterback position.
That's not to say that Penix would be a significantly better player if he were just a pure athlete. However, despite physical limitations, the best quarterback in the NFL is Tua Tagovailoa.
While Penix is certainly statistically impressive and a great player on Saturdays, even Tagovailoa has better touch, anticipation, and a little more mobility than Penix.
It's an interesting dichotomy to have at the quarterback position. Infusing Penix's strengths with what he's lacking physically would create a QB1 contender. But we can't simply do that, and Penix's pathway to improvement is purely through the ears, with very little physical upside from what we currently see.
NFL teams need to be careful about over-investing into a player like this. Similar players have struggled in recent years, including Pittsburgh's Kenny Pickett, Tampa Bay's Baker Mayfield, and Atlanta's Desmond Ridder.
None of those players are pure 1-to-1 comparisons to Penix, but each shares certain limitations that Penix also has.
It's easy to say today that a player performing at the peak of his powers should rise in this draft class. The 2024 quarterback class is arguably the deepest we've seen in decades, and none have the same physical limitations as Penix.
While a team may be willing to overlook a ceiling of athleticism, we've seen throughout time that teams prefer higher traits that can help them overcome more athletic defenses and fast-closing windows.
MORE: FREE Mock Draft Simulator With Trades
Of course, we must acknowledge the elephant in the room: Penix's injury history. Penix's health concerns are serious. His history includes two torn ACLs and a shoulder problem. That medical history may scare off some teams later on.
We have Penix with a solid Day 2 grade. While we love his intrinsic talent, competitiveness, and poise, it's too difficult to overlook that he profiles better as a high-end backup than an NFL star.
Listen to the PFN Scouting Podcast
Listen to the PFN Scouting Podcast! Click the embedded player below to listen, or you can find the PFN Scouting Podcast on iTunes, Spotify, and all major podcast platforms.  Be sure to subscribe and leave us a five-star review! Rather watch instead? Check out the PFN Scouting Podcast on our Scouting YouTube channel.