After a disappointing 2020 NFL Draft tight end class, the 2021 class already looks stronger. With talents like Pat Freiersmuth and Brevin Jordan, there was noticeable hype building behind the upcoming season. However, the third man in that race for the top, Florida tight end Kyle Pitts, might just be the best of them all.
With multiple quarterbacks over the past two years, Pitts has dealt with lots of turnover in his signal-callers. In an NFL that is looking for more and more athletic receiving tight ends than ever before, Pitts fits the bill to a tee. The question is, what makes traits make him my top tight end in the 2021 NFL Draft?
[sv slug=mocksim]
Examining Tight End Kyle Pitts' Traits
Right off the bat, Pitts has apparent weaknesses. For one, he struggles with blocking as a whole. His hands are wide, his pad level swells, and overall the functional strength needed to be a strong blocker is not there. Now, is there a willingness to compete as a blocker? Absolutely, but the biggest thing I can give him is that he frames blocks well. So, Pitts can undoubtedly grow as a blocker, but that is simply not his thing yet.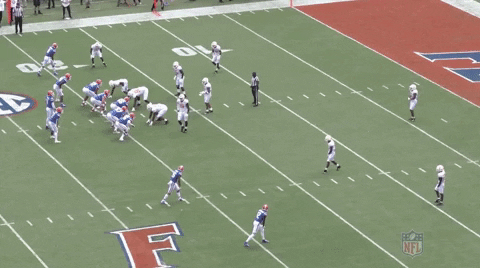 Pitts' Receiving Prowess
The receiving game, though, is where you can see Pitts at his best. At 6'6″, Pitts has a massive frame working over the middle of the field. That will translate into him having an expansive catch radius to go up and grab balls that are overthrown like this one here.
If you have ever heard of a tight end being called a "safety blanket," players like Pitts perfectly exemplify that title. Quarterbacks have a broad zone where they can throw it to him, and he will still catch it. With his hands, Pitts is an excellent middle of the field target. Something he does well on this play is sell the seam with his stem. He gets skinny and can change direction with ease once the linebacker flips his hips. Those are small nuances, but they make a world of difference.
Pitts is isolated on the line here in a 3×1 set. Florida wanted to get him in a one-on-one situation, but they instead get a zone look out of this. Something Pitts does so well is processing these coverages. He has a cornerback with outside leverage on him. With two single-high safeties, this is likely either going to be a quarters or Cover 2 look. Given the fact that the corners are relatively close to the line, it feels more like a Cover 2 call.
If that is the case, the backside safety to Pitts' side is going to be in noticeable conflict between him and any backside route combinations coming from the strong side of the formation. That is what he gets, and he stems his route perfectly to exploit this. He gets enough depth to work behind the linebacker who is in man against the running back but notice how he flattens the route out as he crosses the middle of the field and, thus, the weak point of the coverage. Pitts works himself open. It shows that Pitts knows how to work in zones and settle down in them.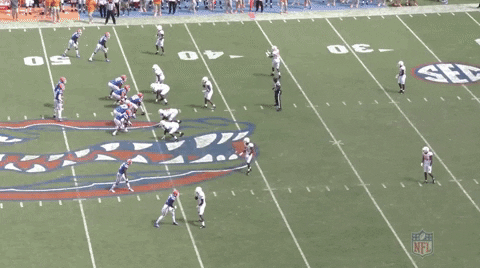 Pitts' Physicality and Strength
Here is the physicality in and out of his breaks that makes Pitts separate in a somewhat unique manner for tight ends. He plays more like a big slot than a receiving tight end at times. Guys like JuJu Smith-Schuster are masters at using their size and strength to impose their will on smaller defensive backs to separate. Pitts is not that fluid in his speed cuts, and they sometimes allow defensive backs to stay with him, but he can still separate in a manner such as this.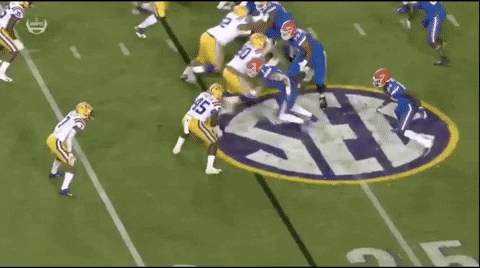 Pitts was 13 of 23 in contested catch opportunities last year, and it is not hard to see why. Working against now Browns safety Grant Delpit, Pitts does a fantastic job of high pointing the football and tucking it into his frame as he skies to make the grab. I think Pitts's lack of functional strength can show up at times on plays like this, and so I would like to see him get in the weight room to bulk up more. Still, though, you can see the slight push at the end to gain just a step of separation to leap for this pass.
Pitts is just slicing zone coverages up again, and this time it is a Cover 3 look. This is not so much of a pre-snap process, such as the last example, but more of exemplary post-snap processing to recognize the look. Pitts is just so good at stemming his routes to run himself into open spaces. This is the first time shown where Pitts proves to be tough after the catch as well. Pitts is not a guy who goes down with ease and can make magic happen after the catch by breaking tackles and running guys right on over.
The argument for Pitts as TE1
So, in the grand scheme of things, why is Pitts my top-rated tight end in the 2021 NFL Draft? After all, to be a complete non-presence as a blocker is going to turn some teams off.
Pat Freiermuth is a better blocker, and it is not close. He has Pitts's will but made guys eat turf all season with his functional strength.
How about Brevin Jordan? You got it; he has Pitts beat as a blocker as well. Jordan is not better than Freiermuth on that scale, but he certainly has Pitts beaten.
My argument for Pitts is that he fits the modern NFL better than any other tight end I have studied thus far in the class. Pitts is Evan Engram all over again. Here we an absurdly athletic tight end that stresses the middle of the defenses with ease. He can bust seams, he can work over the middle of the field and break tackles, Pitts can win above the rim, and if the call is right, he can take one to the house.
Pitts is by far the best pure receiving tight end in the class. There is no doubt in my mind about that. With his versatility as well, Pitts brings a ton of schematic options. At Florida, he was lined up at H-Back, inline tight end, flexed out into the slot, and outside on the boundary as well. Pitts has done it all for the Gators. In the redzone, his size and physicality are a mismatch weapon.
In the NFL, Pitts can project in a big slot role as his most natural spot. Against smaller defensive backs, he simply is too much of a mismatch in the middle of the field. With room for more muscle in his frame, his physicality should go up from here. Pitts looks and plays like a first-round tight end, and I love his fit into the modern NFL. That is why he is the best tight end in the 2021 NFL Draft.