The Carolina Panthers were involved in some major trade rumors this offseason. However, a move they did make went under the radar: D'Onta Foreman joining their backfield. Let's look at the advanced metrics to see if Foreman can help Carolina rebound after fielding one of the NFL's worst offenses last season.
D'Onta Foreman stepped up when Derrick Henry went down
After Derrick Henry's injury last season, many thought the Tennessee Titans would collapse. Instead, thanks in large part to Foreman's contributions, they ended the regular season with the best record in the AFC.
Foreman performed admirably, totaling 566 yards and 3 touchdowns in nine games. Henry was back for the playoffs, but Foreman still totaled 66 yards on just 4 carries.
It was a great showing in his first real opportunity to take on a starting role with a team. It's no surprise that he earned himself a new contract.
Foreman also had excellent advanced metrics
Because Foreman didn't make his first appearance for the Titans until Week 9, evaluating his performance purely by his box score isn't going to give us a particularly accurate picture.
To make up for the small sample size, let's turn to the Offensive Value Metric (OVM). The OVM is a grading system created by the (Bx) Movement to evaluate players based on how much of their statistical production they were actually responsible for.
Foreman was the highest-graded running back in the NFL on this metric (16.52). That beats both his former teammate Derrick Henry (13.0) and his new teammate with the Carolina Panthers, Christian McCaffrey (13.13).
Running backs consistently rank as the least valuable position in the league, but Foreman was one of the most effective players among them.
Examining Foreman's weekly grades
The quality of Foreman's play becomes clearer if we zoom in and look at how he performed on a weekly basis. You can see his weekly OVM grades in the chart below, marked by the black dots. For comparison, the average grade for running backs during the regular season is represented by the yellow line.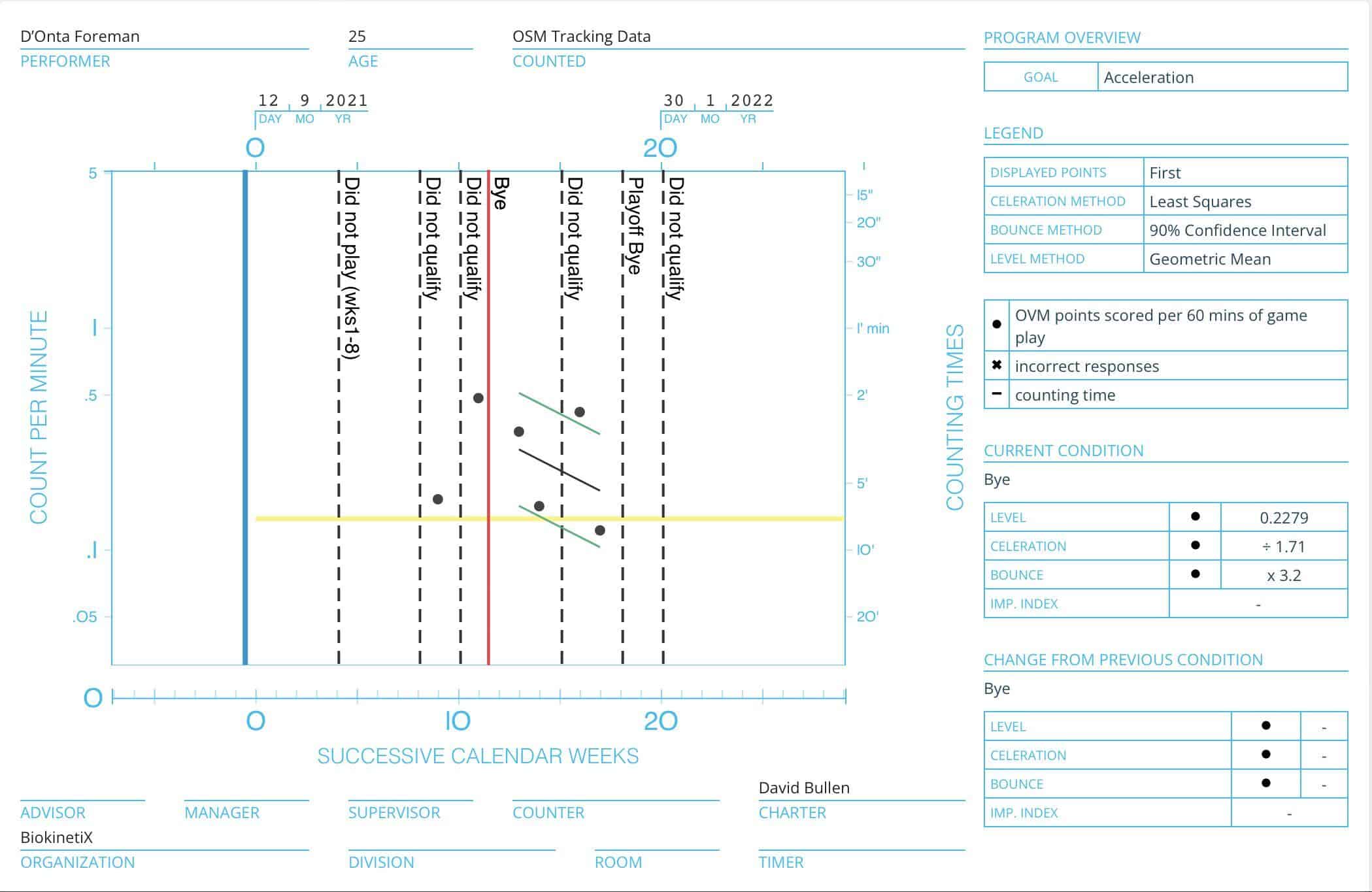 Let's start with the negatives. Foreman's grades were extremely inconsistent. The difference between his best and worst performance was more than 21 points. That is a concerning level of variation.
However, Foreman's worst grade was only slightly below the league average. And his best grades were significantly above that mark. That includes one of the best grades earned by a running back last season, a 28.87-point performance in Week 12.
So while the variance in his grades was extreme, they were only mediocre at worst and spectacular at best.
The statistics behind Foreman's grades
What are the secrets behind Foreman's success? As usual, the answers lie in the statistics. One, in particular, sets the scene for all the others — how often opposing defenses put eight or more defenders in the box while Foreman was in the backfield.
They did so against Foreman an absurd 46.62% of the time, nearly half of his backfield appearances. He was one of just two players to be in that scenario more than 40% of the time.
For a player in such a situation, you might expect their other numbers to be among the worst in the league. And while Foreman didn't excel in any particular category, he was far from the bottom of the barrel.
For instance, he averaged 4.3 yards per carry, tied for 21st out of the 52 qualifying running backs. According to the NFL's projections, Foreman gained 0.02 more yards than expected, 26th in the NFL. Additionally, he averaged 3.86 yards for each yard he gained on the field, also ranking 26th.
Are any of those statistics spectacular? No. In fact, they almost couldn't be more average. But earning average numbers while in impossible situations is an impressive feat.
It is a testament to Foreman's abilities as a runner that he was able to find so much success despite being one of the running backs opposing defenses put the most effort into stopping.
Evaluating Foreman's role for the Carolina Panthers
Although Foreman proved that he can be a valuable component in an offense last season, his role with the Carolina Panthers will likely be quite different from the one he filled with the Titans.
In Tennessee, he essentially functioned as a backup version of Derrick Henry. And while McCaffrey is one of the few running backs that's close to the same tier as Henry, the way they provide value to their offenses is obviously extremely different.
Most notably, Henry isn't much of a threat in the passing game, while McCaffrey is arguably the NFL's best receiving back. That difference extends to Foreman, who only caught 9 passes in as many regular-season appearances; McCaffrey caught 37 in seven.
As such, Foreman can't replace McCaffrey if he gets hurt once again. Instead, he will likely function more as a complement to McCaffrey — a thunder to his lightning, you might say.
Between them, Carolina now has two of the most effective running backs in the NFL, so long as McCaffrey stays healthy. If they can find a talented quarterback to lead their offense, they will be a force to be reckoned with.