In a week full of exciting matchups, ABC's Week 5 action might be the best of the bunch with two critical ACC battles and a Game of the Week candidate out in the Big 12. ABC's slate kicks off with Clemson-Syracuse, followed by Kansas-Texas, and ends the night with Notre Dame-Duke.
What Times Are the Games on ABC Today? | Clemson @ Syracuse
Start Time: Noon ET
Channel: ABC
Weather: Accuweather projects the game to be around 65 degrees.
Odds: Clemson -6.5
Over/Under Total: 53
Series Record
Clemson leads the all-time series at 9-2. Syracuse hasn't beaten Clemson since 2017.
What's at Stake
Clemson has stumbled out the gate in ACC conference play, starting 0-2 with losses to Duke and Florida State. Their defense, led by a platoon of NFL-caliber talent, hasn't been enough to overcome an inconsistent scoring offense, and as such, Clemson is unranked for the first time since 2021.
MORE: FREE Mock Draft Simulator With Trades
The Tiger's offense enters this contest 21st in total yardage. Led by Cade Klubnik, the offense has moved the ball down the field relatively easily across each game, but Clemson is one of the worst teams in college football in the red zone.
On the flip side, Syracuse enters this game a bit under the radar. The Orange have had one of the best offenses in the country this season, ranking ninth in total yards, 22nd in passing, 16th in rushing, and sixth in scoring offense.
Syracuse is the best red zone defense in the country, allowing a score on just four of nine red zone attempts. Their defense ranks 29th in passing yards allowed and is 15th in total defense.
This game is a pretty under-the-radar matchup. Syracuse enters this game with arguably their best team in years and catches Clemson in a bit of a slump after an overtime loss to Florida State. Is this the week Clemson rights the ship, or can the Orange pull off another upset?
Kansas @ Texas
Start Time: 3:30 p.m. ET
Channel: ABC
Weather: Accuweather projects the game to be around 87 degrees with clear skies.
Odds: Texas -16.5
Over/Under Total: 61.5
Series Record
Texas leads the all-time series at 17-4. They have split the last two matchups in 2021 and 2022.
What's at Stake
These two ranked opponents are both vying for the Big 12 title game this season, and this game will go a long way in deciding who plays in Arlington at the end of the season. Featuring arguably the two best quarterbacks in the Big 12 this season, expect plenty of fireworks in this one.
For Kansas, expect to see the two-headed monster of quarterback Jalon Daniels and running back Devin Neal Jr. often. Those two have guided Kansas to a top-25 ranking in total offense and rushing offense this season. Daniels is a dynamic playmaker with his arm and his leg that could the Longhorn's defense trouble at the drop of a hat.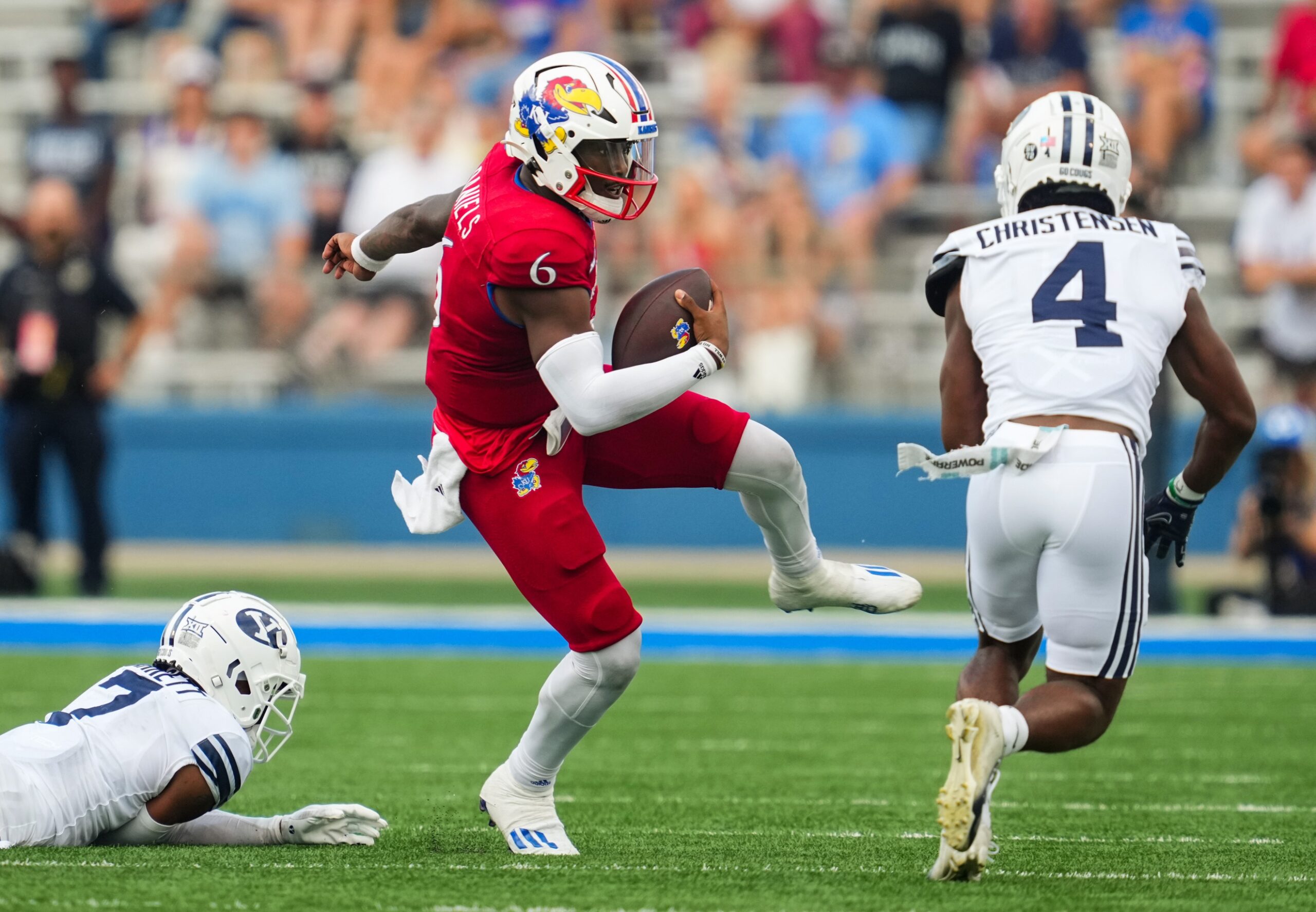 However, Texas boasts one of the best defenses so far this season, led by their talented front seven. The Longhorns are allowing just 12.5 points a game and are top-25 in total and rushing defense. If the Longhorns' defense does have a weakness, it's their passing defense, ranking 55th in passing yards allowed.
Texas's offense has started slow in all of their games this season, something that can't happen against Kansas's high-potent offense. While Kansas's defense isn't their main selling point, the Jayhawks are top 50 in passing yards allowed, top-25 in rushing yards allowed, and eighth nationally in tackles for loss.
The markets favor Texas, for good reason after their win over Alabama, but watch out for upset potential here if Kansas can start fast offensively.
Notre Dame @ Duke
Start Time: 7:30 p.m. ET
Channel: ABC
Weather: Accuweather projects the game to be around 70 degrees with cloudy skies
Odds: Notre Dame -5.5
Over/Under Total: 52.5
Series Record
Notre Dame leads the all-time series 5-2. These two teams haven't played since 2020.
What's at Stake
Duke has a chance to reach 5-0 for the first time since 1994. They'll have their work cut out for them against Notre Dame, who has won 29 straight regular-season games against ACC opponents and is fresh off of a humiliating last-second loss to Ohio State last week.
Duke's offense, led by stud quarterback Riley Leonard, is 28th in scoring this season, narrowly behind the aforementioned Kansas.
While Leonard's production is underwhelming (just two touchdown passes to one interception), he is in total command of the offense and makes consistent clutch plays through the air in important moments. His added threat as a rusher has him second on the team in rushing yards and touchdowns as well.
The Blue Devils' offensive line boasts a couple of NFL-caliber players in Graham Barton, Jacob Monk, and Jake Hornibrook. This group will have its hands full with a Notre Dame defensive line led by talented players like Javontae Jean-Baptiste and Howard Cross III.
MORE: 2024 NFL Draft Big Board
When Notre Dame has the ball, expect a physical, downhill rushing attack that sets up their play-action passing. Led by running back Audric Estime and with Joe Alt, one of the best offensive lines in America, Notre Dame is fifth in rushing yards this season. The Fighting Irish use that run game to wear defenses down before creating explosive plays through the air, led by quarterback Sam Hartman.
This matchup could go either way. These two teams are some of the most physical in college football, and both have built their identity on running the ball and playing sound defense. Expect a gritty matchup that could come down to the wire.
Listen to the PFN Scouting Podcast
Listen to the PFN Scouting Podcast! Click the embedded player below to listen, or you can find the PFN Scouting Podcast on iTunes, Spotify, and all major podcast platforms.  Be sure to subscribe and leave us a five-star review! Rather watch instead? Check out the PFN Scouting Podcast on our Scouting YouTube channel.