The Virginia Tech Hokies have made noise on the NFL Draft circuit before, but will the 2024 draft feature a return of the Hokies on the biggest stage in sports? Here's a look at the eligible class Brent Pry's squad has to offer in 2023.
Virginia Tech Hokies NFL Draft Prospects
The Hokies experienced some turnover in the 2023 offseason. But for a team that went 3-8 and averaged just 19.3 points per game (good for 118th out of 131 teams in 2022), that's not necessarily a bad thing.
First and foremost, the Hokies revamped their receiving corps, bringing in several high-profile transfers to bolster their offensive attack. On the offensive line, Virginia Tech lost left tackle Silas Dzansi but return several starters. Behind the line, they have Grant Wells returning for his second year in the same system, and they've added North Carolina A&T transfer Bhayshul Tuten at running back.
Virginia Tech's biggest loss of the 2023 NFL Draft cycle came on the defensive side of the ball, with Chamarri Conner heading to the Kansas City Chiefs in Round 4. Nevertheless, Virginia Tech has the young talent necessary to fill that void in the secondary.
Grant Wells, QB
The Hokies' QB position group will once again be led by former Marshall transfer Grant Wells in 2022. After a productive career with the Thundering Herd, Wells put up 2,171 passing yards, 15 total touchdowns, and nine interceptions in 2022.
At 6'2″, 212 pounds, he's an above-average functional athlete with an average arm who could potentially earn PFA consideration if he improves on the operational side.
Bhayshul Tuten, RB
The college program that produced Khalil Herbert may have another RB worth monitoring on the way in the 2024 NFL Draft cycle.
Tuten arrives as a transfer from North Carolina A&T, who amassed 208 carries for an absurdly efficient 1,363 yards and 13 touchdowns in 2022. At 5'11", 200 pounds, he lacks elite mass but still runs with angry energy and has good foot speed and lateral explosiveness out of his cuts.
Ali Jennings, WR
The rejuvenation of Virginia Tech's passing attack must flow through its top weapons. In 2023, that'll be Old Dominion transfer, Ali Jennings.
Standing at 6'2″, 198 pounds, Jennings accumulated 116 catches for 2,025 yards and 14 scores over the past two seasons. He's a fleet-footed and flexible athlete who can separate on slants and posts, but his best work comes as a vertical threat, where he consistently mosses DBs with his body control, tracking ability, and strong, authoritative hands.
Jaylin Lane, WR
Jennings profiles as a venerable boundary threat for Virginia Tech, but he wasn't their only relevant WR addition in the transfer portal. They also brought in Middle Tennessee State's Jaylin Lane, who put up 69 catches for 940 yards and five touchdowns in 2022.
The 5'10", 180-pound Lane is an incredibly dynamic athlete who has a history of versatile usage, as well as punt-return capabilities. He'll be relied upon as a sparkplug for Virginia Tech.
Da'Quan Felton, WR
Junior WR Da'Wain Lofton will also factor into the Hokies' pass-catching rotation, but for 2024 NFL Draft purposes, the next name to know is Norfolk State transfer Da'Quan Felton.
If Jennings is the WR1 and Lane is the dynamic complement, then Felton is the oversized vertical threat on the other side. The 6'3″, 205-pound Felton logged 39 catches for 573 yards and seven scores in 2022. His almost 15-yards-per-catch average speaks to his big-play ability.
Nick Gallo, TE
Only 40 tight ends across the CFB landscape caught 30 or more passes in the 2022 season. Virginia Tech's Nick Gallo was one of them.
Of that group, Gallo had some of the lowest efficiency numbers, accruing just 8.5 yards per catch. But there's hope that more adjacent receiving talent will help free up him to make more plays in 2023. He has decent size at 6'4″, 240 pounds, and has proven to be an outlet in the short range.
Parker Clements, OT
The Hokies have produced high-quality offensive line prospects before — most notably first-round pick Christian Darrisaw in the 2021 NFL Draft cycle. They won't have anyone graded near that range in the 2024 NFL Draft, but there are a few names worth monitoring.
At 6'7″, 305 pounds, Parker Clements is lean and stiff for his size. He's only an average athlete at best, but his ability to process stunts speaks to his football IQ.
Jesse Hanson, G
Penciled in as the returning starting left guard, Jesse Hanson has some traits that make him a depth prospect worth vaulting. Hanson has a well-proportioned frame at 6'5″, 300 pounds, and flashes good lateral mobility and leverage acquisition off the snap. His hands are still relatively erratic at this point, as is his balance and center of gravity, but another year of growth could yield positive change.
Kaden Moore, C
After starting all 11 games at right guard in 2022, Kaden Moore is projected to slide inside one more spot and hold down Virginia Tech's center position in 2023.
At 6'3″, 300 pounds, Moore has the ideal natural leverage and frame density for the center spot, although his low-cut frame causes him to drift upright at times. Nevertheless, he has enough functional athleticism and can carry force in his hands.
Norell Pollard, DT
Norell Pollard came out of nowhere as a freshman in 2019, racking up 22 tackles, four tackles for loss, and three sacks. Fast forward to present day, and 2019 is still Pollard's career-best season.
Over four years, Pollard's put up eight total sacks and 14.5 TFLs but has yet to take a leap. Regardless, he's an exciting sawed-off defensive lineman with a strong lower half who can create power from leverage and also win with his explosiveness and lateral athleticism. He's a 2024 NFL Draft sleeper.
Mario Kendricks, DT
At 6'0″, 294 pounds, Mario Kendricks is another well-leveraged interior defensive lineman who takes up residence on Virginia Tech's roster. Kendricks quietly had a solid year in 2022, notching five TFLs and a sack, and could be in line for an uptick in pass-rushing production in 2023. His pursuit utility for his size is impressive, and he's flashed in the pass-rushing department — able to levy double swipe-rip combos 1-on-1.
Josh Fuga, DT
At 6'2″, 313 pounds, Josh Fuga doesn't fit the disruptor mold that his counterparts fill. He's more of a block obstructor who's flashed at times with his mass and natural leverage on running downs.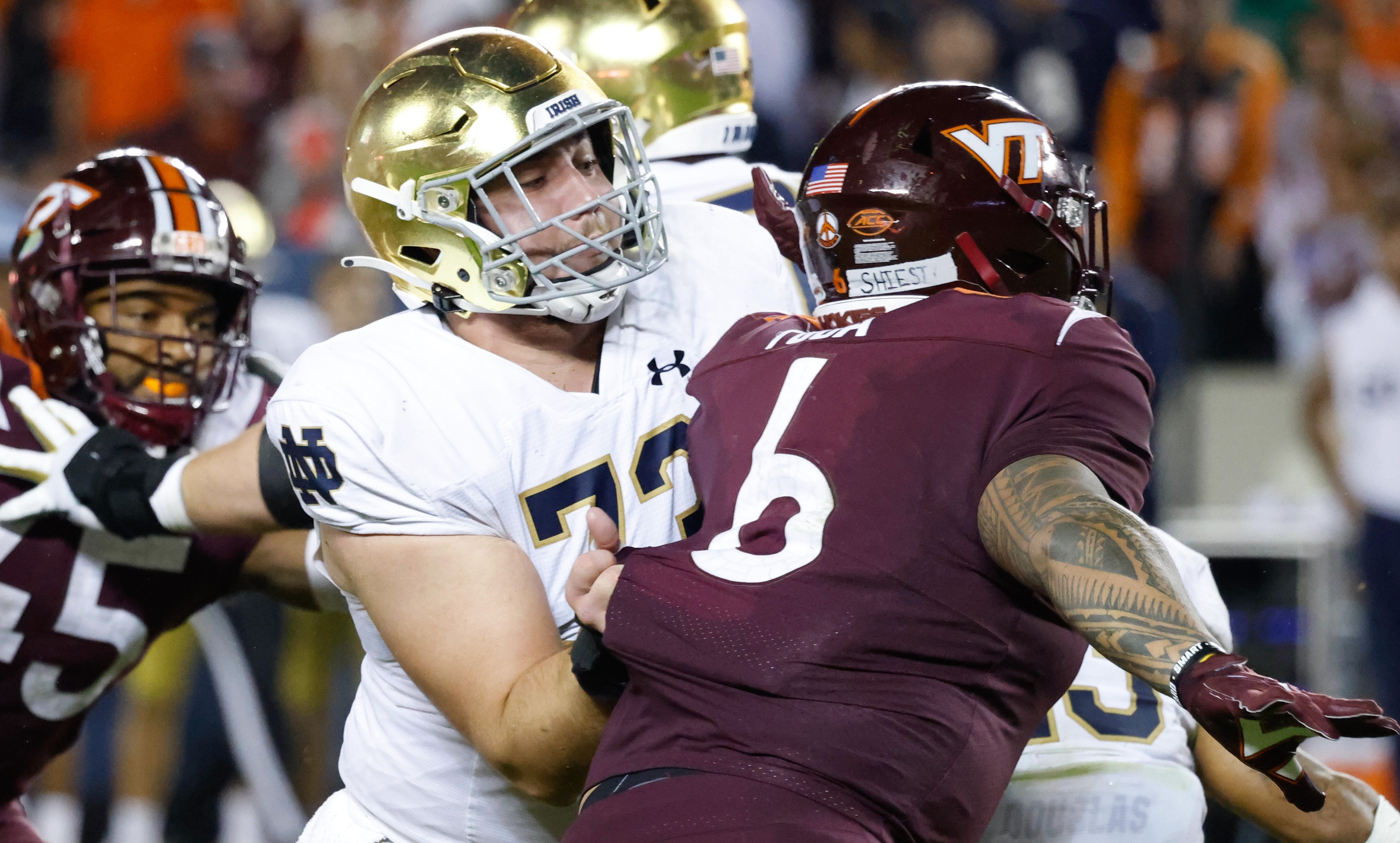 Fuga needs to become more controlled in the face of displacement threats, and he could stand to add more to his pass-rushing arsenal as well. Nevertheless, his unique skill set makes him someone to keep tabs on for Virginia Tech.
Pheldarius Payne, EDGE
Pheldarius Payne has had a very tumultuous last two seasons. In 2021, when he was still at Nebraska, he erupted with a two-sack performance in Game 1. He went quiet for the rest of the year, however, and transferred to Virginia Tech.
Payne would then miss the entire 2022 season after tearing his Achilles in June. First and foremost, Payne needs to get back to 100%. If he can do that, he has the athleticism, power, and motor at 6'3″, 275 pounds, to generate interest.
Cole Nelson, EDGE
With TyJuan Garbutt departing, there'll be more responsibility in Cole Nelson's hands to provide a pass-rushing impact for the Hokies' defense. The 6'3″, 247-pound Nelson flashed in 2022 with 23 tackles, five TFLs, two sacks, and a pass deflection. But how he'll handle increased volume remains to be seen. Having a veteran alongside him in Payne will help, but it's still on Nelson to make his own impact.
Stone Snyder, LB
In Stone Snyder, the Hokies acquired one of the most coveted FCS transfers and a legitimate sleeper LB prospect in the 2024 NFL Draft.
Snyder, who stands around 6'3″, 239 pounds, was a dominating producer at VMI. From 2020 to 2022, he compiled 313 total tackles, 22 TFLs, and 12.5 sacks. He's not a very productive defender in coverage, but his playmaking range in the box is impressive, and he has pass-rushing chops as well.
Alan Tisdale, LB
Alongside Snyder at linebacker will be veteran Alan Tisdale. Tisdale only played in the final five games of the 2022 campaign, but he showed off plenty of promise in 2021, when he amassed 84 tackles, 7.5 TFLs, 2.5 sacks, and two pass deflections.
At 6'3″, 232 pounds, Tisdale is a long-striding athlete who can use his wide reach to wrap up ball carriers in pursuit. He also flashes good functional coverage mobility.
Derrick Canteen, CB
Mansoor Delane will be a name to watch in Virginia Tech's secondary in future cycles. In the meantime, the 2024 NFL Draft CB prospect to watch for the Hokies is Georgia Southern transfer addition Derrick Canteen.
Canteen missed most of the 2021 season with a pectoral injury but logged seven INTs and 22 PBUs combined between 2020 and 2022. He's a hyper-productive ball hawk who can man the slot, as well as click-and-close with devastating quickness.
Dorian Strong, CB
Dorian Strong entered the 2023 NFL Draft cycle as a sleeper after registering two picks and 11 PBUs through 2020 and 2021. He had three picks in his first four games in 2022 but missed the rest of the season with a hand injury.
Strong will return in 2023, however, and he'll man the boundary opposite from Delane. Strong is lighter and leaner at 6'0″, 180 pounds, but his natural coverage mobility — underscored by his fluidity and high-energy movement — is very potent.
Keonta Jenkins, DB
Keonta Jenkins appears situated to hold the Hokies' hybrid STAR position once again in 2022 — though it may not be a full-time position anymore with Canteen present.
At 6'3″, 212 pounds, Jenkins has unique size and length that few teammates can match. He's not nearly as fluid in coverage, which was an issue at times in 2022. That said, his length and physicality proved to be assets in the box.
Jalen Stroman, S
The younger brother of NFL cornerback Greg Stroman, Jalen Stroman could be on a similar trajectory to the professional level.
The younger Stroman had a career year in 2022 with 43 tackles, two PBUs, and two forced fumbles. He fits the safety mold at 6'1″, 202 pounds, and can roam up in the box, but he also has the foot speed and physicality to match and gather receivers off the line. Jalen is also an explosive closer when passes challenge his reach.
Nasir Peoples, S
Set to return for a third straight season as a starter, Nasir Peoples gives Virginia Tech an air of stability in the secondary. He's not an overly productive playmaker in coverage, but the 6'0″, 200-pound safety can hold his own in support. With 149 total tackles and 6.5 TFLs over the past two seasons, Peoples has shown he can come downhill, square up runners, and make plays behind the line of scrimmage when needed.
Virginia Tech Hokies Schedule
Week 1
BYE
Week 2
Sept. 2: vs. Old Dominion Monarchs
Week 3
Sept. 9: vs. Purdue Boilermakers
Week 4
Sept. 16: at Rutgers Scarlet Knights
Week 5
Sept. 23: at Marshall Thundering Herd
Week 6
Sept. 30: vs. Pittsburgh Panthers
Week 7
Oct. 7: at Florida State Seminoles
Week 8
Oct. 14: vs. Wake Forest Demon Deacons
Week 9
BYE
Week 10
Oct. 26: vs. Syracuse Orange
Week 11
Nov. 4: at Louisville Cardinals
Week 12
Nov. 11: at Boston College Eagles
Week 13
Nov. 18: vs. NC State Wolfpack
Week 14
Nov. 25: at Virginia Cavaliers
Week 15
BYE
Listen to the PFN Scouting Podcast
Listen to the PFN Scouting Podcast! Click the embedded player below to listen, or you can find the PFN Scouting Podcast on iTunes, Spotify, and all major podcast platforms.  Be sure to subscribe and leave us a five-star review! Rather watch instead? Check out the PFN Scouting Podcast on our Scouting YouTube channel.