The Virginia Cavaliers have been in a lull as a program lately, but the team's 2024 NFL Draft crop could surprise with its talent. What does Virginia's core look like, and which players might end up being drafted in April?
Virginia Cavaliers NFL Draft Prospects
Hands down, the biggest loss for Virginia was that of quarterback Brennan Armstrong. Armstrong was one of college football's best passers in 2021, throwing for 4,449 yards, 31 touchdowns, and 10 interceptions. But his production dipped drastically in 2022, leading the accomplished passer to transfer to NC State for a fresh start.
Virginia added a QB through the transfer portal to fill the void left by Armstrong, but he wasn't the only loss. On offense, Virginia saw wideout Dontayvion Wicks go to the Green Bay Packers in the fifth round of the 2023 NFL Draft. And on defense, a flurry of defenders at all levels exited the doors, either as UDFAs or as transfer departures.
Luckily, Virginia still has a strong core to build around on defense. And while the offensive line is relatively young, two incoming transfers should help shore up the ranks up front.
Tony Muskett, QB
A sharp regression led to the transfer of Virginia's three-year starting QB Brennan Armstrong. And in his place, the Cavaliers have added Tony Muskett as a transfer acquisition from Monmouth. Muskett, who stands around 6'2″, 210 pounds, completed 462 of 718 attempts for 5,687 yards, 51 touchdowns, and 16 picks across three years. 2021 was his best season, as he completed 65% of his passes for 2,651 yards, 25 scores, and just six interceptions
Kobe Pace, RB
The Virginia Cavaliers haven't had a running back surpass 500 yards since the 2018 season. Could that streak end in 2023? With uncertainty in the passing game, the Cavaliers may need to rely more on the run, and they have an intriguing transfer addition in Kobe Pace. The 5'10", 205-pound backlogged 104 carries for 641 yards and six touchdowns at Clemson in 2021. Though he regressed in 2022, he's a hard-charging north-south back with imposing explosiveness.
Malik Washington, WR
The Cavaliers' loss of Dontayvion Wicks will loom large, but Virginia did add a weapon back via the transfer portal in Malik Washington. Washington, a 5'9″, 190-pound graduate transfer from Northwestern, gives Virginia a nuanced separator with smooth body control who can play from both the slot and the boundary. Washington amassed 109 catches for 1,572 yards and three scores over his past two years with the Wildcats. He's not a burner, but he gets the job done.
Sackett Wood, TE
Virginia's production of early-round TE talent Jelani Woods naturally draws eyes back to the position. The Cavaliers don't have an NFL Draft lock at TE in the 2024 NFL Draft cycle, but Sackett Wood is a name to watch if Muskett shines in Virginia's offense. Playing in nine games and starting two in 2022, the 6'4″, 244-pound Wood caught 12 passes for 165 yards — a line highlighted by a six-catch, 94-yard showing against North Carolina in which his zone awareness proved fruitful.
Aaron Faumui, DT
Leading Virginia's interior defensive line grouping is sixth-year senior Aaron Faumui. At 6'2″, 282 pounds, Faumui is largely lacking when it comes to elite traits, and he's also a bit stiff in his midsection.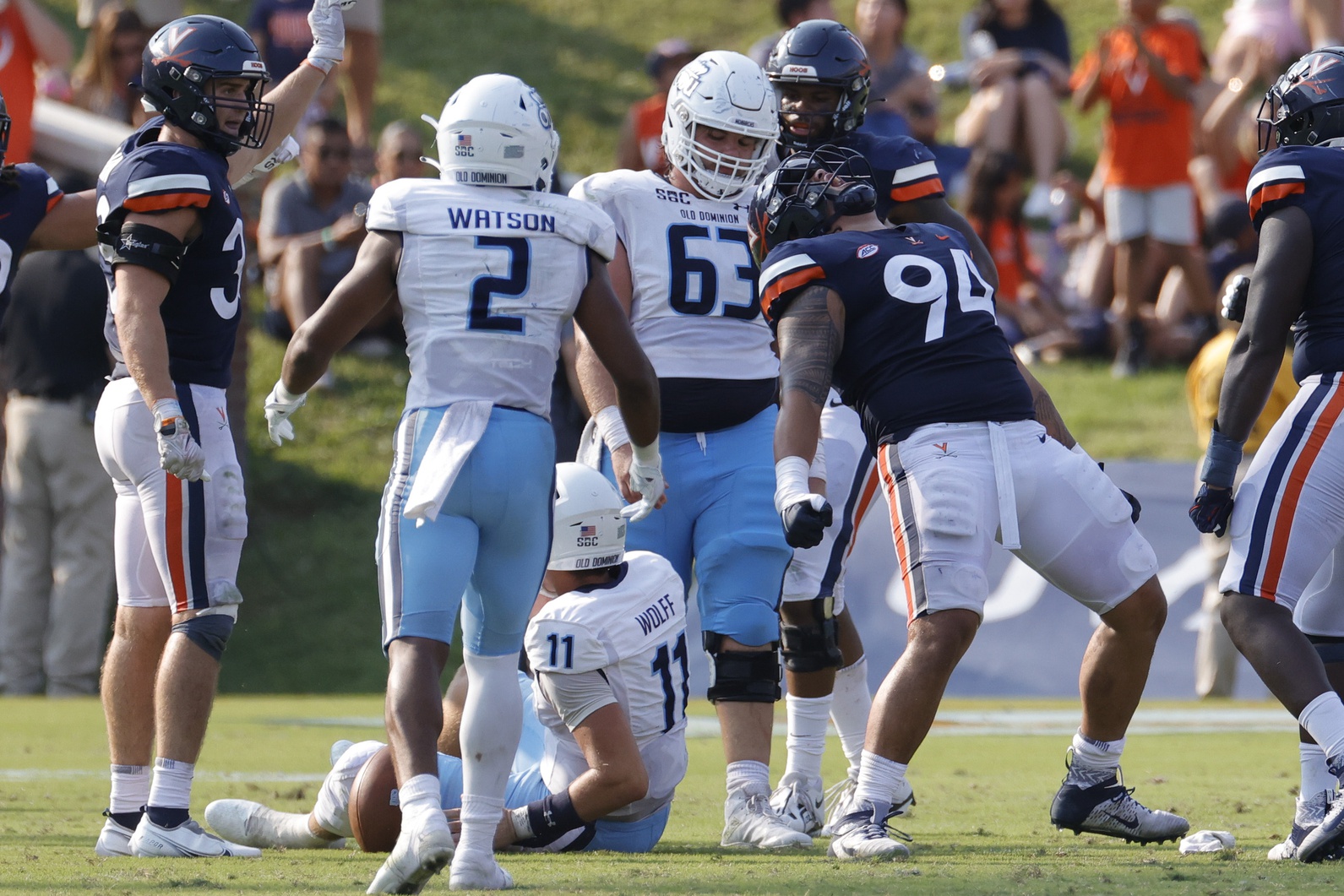 But Faumui has quick feet and good energy off the line, and he can win with brisk swim moves, employing his natural leverage and motor. He put up 39 tackles, 8.5 tackles for loss, and four sacks in 2022, setting the bar for his final season in 2023.
Jahmeer Carter, DT
Though he's a bit role specific as a nose tackle at 0-tech and 1-tech, Jahmeer Carter could be a sleeper in the 2024 NFL Draft. The 6'2″, 313-pound defender accumulated 29 tackles and a TFL in 2022, but his impact went beyond the stat sheet. At his size, Carter is a twitched-up refrigerator with charring leg drive at contact and impressive core strength. He's more of a disruptor from central alignments, but his impact can permeate across the front.
Olasunkonmi Agunloye, DL
Olasunkonmi Agunloye is another player worth keeping tabs on in Virginia's defensive line rotation. Standing at 6'5″, 283 pounds, Agunloye put up 20 tackles, two TFLs, and a sack in 2022. He's a bit stiff when changing directions, but with his high-cut frame comes a very powerful lower body from which he can channel eye-catching amounts of displacement energy. Consistency remains elusive, but Agunloye has some power to unearth.
Chico Bennett Jr., EDGE
There aren't many guarantees within Virginia's 2024 NFL Draft class, but Chico Bennett Jr. has the best chance to secure some kind of draft capital next April. The 6'4″, 252-pound edge rusher put up 34 tackles, 7.5 TFLs, and seven sacks in 2022, as well as two forced fumbles. He's a natural stand-up rusher outside the tackles, and while he's still seeking more consistency within his pass-rush arsenal, he has an exciting size-athleticism combination and brings bristling energy into contact.
Kam Butler, EDGE
While Bennett has the best chance to be drafted, his running mate on the edge, Kam Butler, isn't far behind. At Miami (OH), Butler twice exceeded 13.5 TFLs and logged eight sacks in 2021. In 2022, he put up three sacks, 4.5 TFLs, and two forced fumbles. At 6'3″, 265 pounds, he has great lateral twitch and proportional length, as well as ankle flexion and a red-hot motor, and he can pressure the arc with club-rips or counter inside.
Paul Akere, EDGE
Bennett and Butler are the primary antagonists each week for opposing offensive tackles, but Paul Akere joins them in the rotation as a similarly imposing figure. The 6'4″, 275-pound Akere originally played at Columbia, where he accumulated four sacks and nine TFLs in 2021. He transferred to Virginia in 2022 and rewarded the Cavaliers with four sacks. A spark plug in the rotation who can get to the QB, Akere bears watching again in 2023.
James Jackson, LB
Now that Nick Anderson has transferred to Iowa, there will be more pressure on James Jackson, an incumbent starter, to help give the Cavaliers stability at linebacker. At 6'3″, 228 pounds, Jackson did his part to accrue 65 tackles, 1.5 TFLs, and a sack in 2022. He lacks elite range and change of direction, but his frame can help him attack and encumber blocks at the second level.
Tayvonn Kyle, CB
Having lost Anthony Johnson to the NFL Draft and Fentrell Cypress to the transfer portal, the Cavaliers were aggressive in seeking talent to fill the void. Arguably their top addition was former Iowa State CB Tayvonn Kyle. Kyle, who stands around 5'11", 189 pounds, has proven himself as a productive playmaker in coverage, with a knack for finding the football. He peaked in 2020 with a pick and six pass breakups but added four more in 2022.
Malcolm Greene, CB
Alongside Kyle, the Cavaliers also brought in an intra-conference transfer in former Clemson defender Malcolm Greene. Greene, listed at 5'10", 195 pounds, played with the Tigers for three years, putting up two picks and four pass deflections across that span. He hasn't yet broken out as a producer, but he was a highly-regarded recruit coming out of high school who brought appealing projected versatility with his profile.
Jonas Sanker, DB
The Cavaliers have a number of players who can effectively man the slot, but Jonas Sanker profiles as the team's primary nickel defensive back. The 6'1″, 204-pound defender earned 63 tackles, a half-TFL, a pick, two pass deflections, a forced fumble, and a fumble recovery in an emergent 2022 campaign.
He needs more discipline at stems in man coverage, but he's a good functional athlete in space who can also rush and bend around the edge as a blitzer.
Sam Westfall, DB
Kyle wasn't the only player Virginia added from Tornado Alley. The Cavaliers also brought in Sam Westfall from SMU. Westfall, who stands around 5'10", 188 pounds, originally joined the Mustangs from the JUCO ranks. He started 11 of 13 games in 2022 and put up 15 tackles and three pass deflections. He'll have to fight for opportunities on the defensive side of the ball at Virginia, but the Power 5 stage could be beneficial.
Coen King, S
Even in a strong 2024 NFL Draft safety class, Coen King could be a riser if he stays healthy. An elbow injury and a sprained MCL limited King to five starts in 2022, but over the past two seasons, he's put up 84 tackles, a pick, and four pass breakups. At 6'0″, 191 pounds, he's a very smooth, fleet-footed mover on his backpedal and a high-energy athlete when matching runners in run support. He has good proportional length and range on the back end and could still be budding as a playmaker.
Langston Long, S
On the initial depth chart, Langston Long isn't labeled as a starter for Virginia. But that doesn't mean you should overlook him in 2023. Long got his share of reps in the rotation in 2022, and he made them count. The 6'2″, 215-pound safety registered 44 tackles, two TFLs, two pass breakups, and a forced fumble as a sophomore. Although he can be late to plant-and-drive in man coverage at times, he has fast feet at his size, as well as the versatility to loom in the box and play the overhang slot.
Antonio Clary, S
Last but not least, Virginia has a versatile veteran in Antonio Clary, who's back as a fifth-year senior in 2022. Clary logged 56 tackles, 1.5 TFLs, a sack, a pick, a pass deflection, and a forced fumble in 2022 — doing a little bit of everything. The 6'0″, 199-pound defender can play in space and come downhill in support, and he also has the foot speed and snappy mobility to play the slot if needed.
Virginia Cavaliers Schedule
Week 1
BYE
Week 2
Sept. 2: vs. Tennessee Volunteers
Week 3
Sept. 9: vs. James Madison Dukes
Week 4
Sept. 15: at Maryland Terrapins
Week 5
Sept. 22: vs. NC State Wolfpack
Week 6
Sept. 30: at Boston College Eagles
Week 7
Oct. 7: vs. William & Mary Tribe
Week 8
BYE
Week 9
Oct. 21: at North Carolina Tar Heels
Week 10
Oct. 28: at Miami Hurricanes
Week 11
Nov. 4: vs. Georgia Tech Yellow Jackets
Week 12
Nov. 9: at Louisville Cardinals
Week 13
Nov. 18: vs. Duke Blue Devils
Week 14
Nov. 25: vs. Virginia Tech Hokies
Week 15
BYE
Listen to the PFN Scouting Podcast
Listen to the PFN Scouting Podcast! Click the embedded player below to listen, or you can find the PFN Scouting Podcast on iTunes, Spotify, and all major podcast platforms.  Be sure to subscribe and leave us a five-star review! Rather watch instead? Check out the PFN Scouting Podcast on our Scouting YouTube channel.