The Minnesota Vikings are struggling once again this season. However, the numbers suggest that oft-maligned quarterback Kirk Cousins is not to blame for the team's difficulties.
Kirk Cousins has excellent box score statistics
Although the Vikings are on the verge of missing the playoffs in back-to-back seasons for the first time with Mike Zimmer as their head coach, on an individual level, Cousins has been extremely productive.
He ranks sixth in the NFL in passing yards with 3,353 and fifth in passing touchdowns with 25. On top of that, he has only thrown 3 interceptions. That is significantly fewer than most other quarterbacks who have similar statistics. If you were to judge Cousins purely on his box score, he looks like an elite quarterback.
Cousins has outstanding advanced metrics
Of course, only evaluating a quarterback by their raw statistics is overly simplistic. That's why we will now turn to the Offensive Value Metric (OVM). The OVM is a grading system created by the (Bx) Movement to evaluate players based on how much they contributed to the creation of their statistics, rather than the statistics themselves.
So far this season, Cousins has earned a grade of 25.99, which ranks eighth in the NFL this season. In short, not only has Cousins been one of the more productive quarterbacks in the league, but he's also been exceptionally efficient when creating those statistics.
Examining weekly grades
For a more comprehensive look at how Cousins has played this season, let's look at his performance on a weekly basis. You can see his grades from each week this season in the chart below, marked by the black dots. For comparison, the average grade for quarterbacks this season is represented by the yellow line.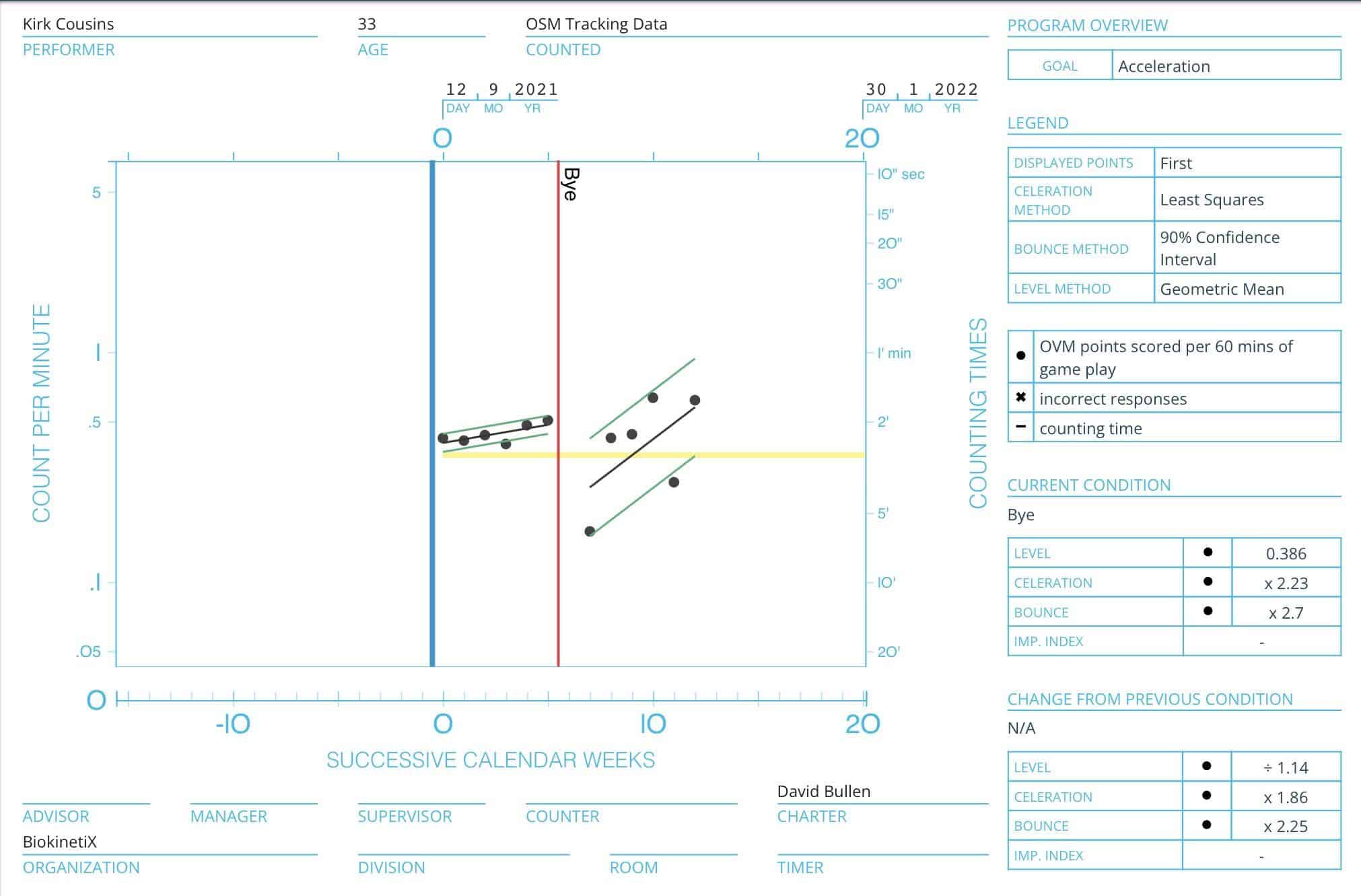 Cousins has largely been consistent in 2021, with most of his grades being in the mid-to-high twenties, above the league average. However, there were a few notable exceptions. He has had a couple of below-average games, including a 9.96-point performance in Week 8.
On the contrary, Cousins has also had a couple of great games, one of which came in last week's embarrassing loss to the previously winless Detroit Lions. Cousins earned a grade of 37.1 in that game, making it perhaps the clearest example of the disconnect between his performances and the Vikings' overall success.
The advanced metrics behind the grades of the Vikings QB
Explaining why Cousins has such a high OVM grade is relatively simple. Although his numbers are somewhat pedestrian statistics in several categories, he excels in one area in particular: his completion statistics.
This season, Cousins is completing 68.4% of his passes, the fifth-highest percentage in the NFL among qualifying players. According to the NFL's projections, that number is 3.3% higher than expected, tied for the fourth-best differential in the league.
Cousins can be a top-tier quarterback, but it's not enough
Will Cousins ever be the NFL's best quarterback? Probably not. But only one team gets to have that player. Cousins is perfectly capable of being a top-tier starting quarterback in the NFL, and he is playing like one this season. Explaining why the Vikings can't win with him at the helm isn't simple, but it's clear that the quarterback isn't the problem in Minnesota.
The team still has a chance to turn their season around, starting against the Pittsburgh Steelers on Thursday night. But the way the season is trending, it seems more likely that the year will end in disappointment for Minnesota. And if it does, Cousins might find himself playing elsewhere in 2022, a casualty of failures that are not his own.