Since the 2018 NFL Draft cycle, the UTSA Roadrunners have had three eventual NFL starters drafted in Marcus Davenport, Spencer Burford, and Tariq Woolen. Will they continue to establish themselves as a Group of Five powerhouse ahead of the 2024 NFL Draft cycle?
UTSA Roadrunners NFL Draft Prospects
Over the past two seasons, the UTSA Roadrunners are a combined 23-5. They won two straight C-USA Championships before making the leap to the AAC this past offseason. There, they'll face off against respected football programs like Tulane, SMU, and Memphis.
The Roadrunners had a few impactful losses on both sides of the ball. Most notably, they lost top receiver Zakhari Franklin to the Ole Miss Rebels through the transfer portal. Elsewhere on offense, running back Trelon Smith and center Ahofitu Maka entered the vast 2023 NFL Draft pool, along with Corey Mayfield Jr., Clifford Chattman, and Dadrian Taylor on defense.
All that said, head coach Jeff Traylor seems more than prepared to deal with that turnover. He has Harris, Clark, and Cephus returning on offense, and his defensive unit looks stronger than ever, with impact returners at all three levels and transfer additions filling the voids.
Frank Harris, QB
Across the Roadrunners' back-to-back C-USA Championship run, quarterback Frank Harris has been the team's most important player. Since 2019, Harris has completed 816 of 1,210 attempts (67.4%) for 9,356 yards, 74 touchdowns, and just 23 interceptions.
He's also added almost 2,000 career rushing yards and 24 scores on the ground. Harris' arm is around average, but he's an exceedingly mobile left-handed signal-caller at 6'0″, 205 pounds, with sound accuracy and decision-making.
Kevorian Barnes, RB
The Roadrunners might have a legitimate 2024 NFL Draft sleeper at running back in redshirt sophomore Kevorian Barnes. He'd need a dominant year to declare early, but Barnes is trending up after a 2022 campaign that saw him amass 845 yards and six touchdowns on just 136 carries.
The 5'9″, 220-pound Barnes is a dense, compact runner with contact balance, but he also has eye-catching open-field burst and angle-warping vertical speed.
De'Corian Clark, WR
De'Corian Clark was on track to potentially declare for the 2023 NFL Draft before a right ACL tear in November delayed his timeline. Over the past two seasons, he's been a primary target for Harris, and with Zakhari Franklin heading to Ole Miss, Clark's target share will only increase.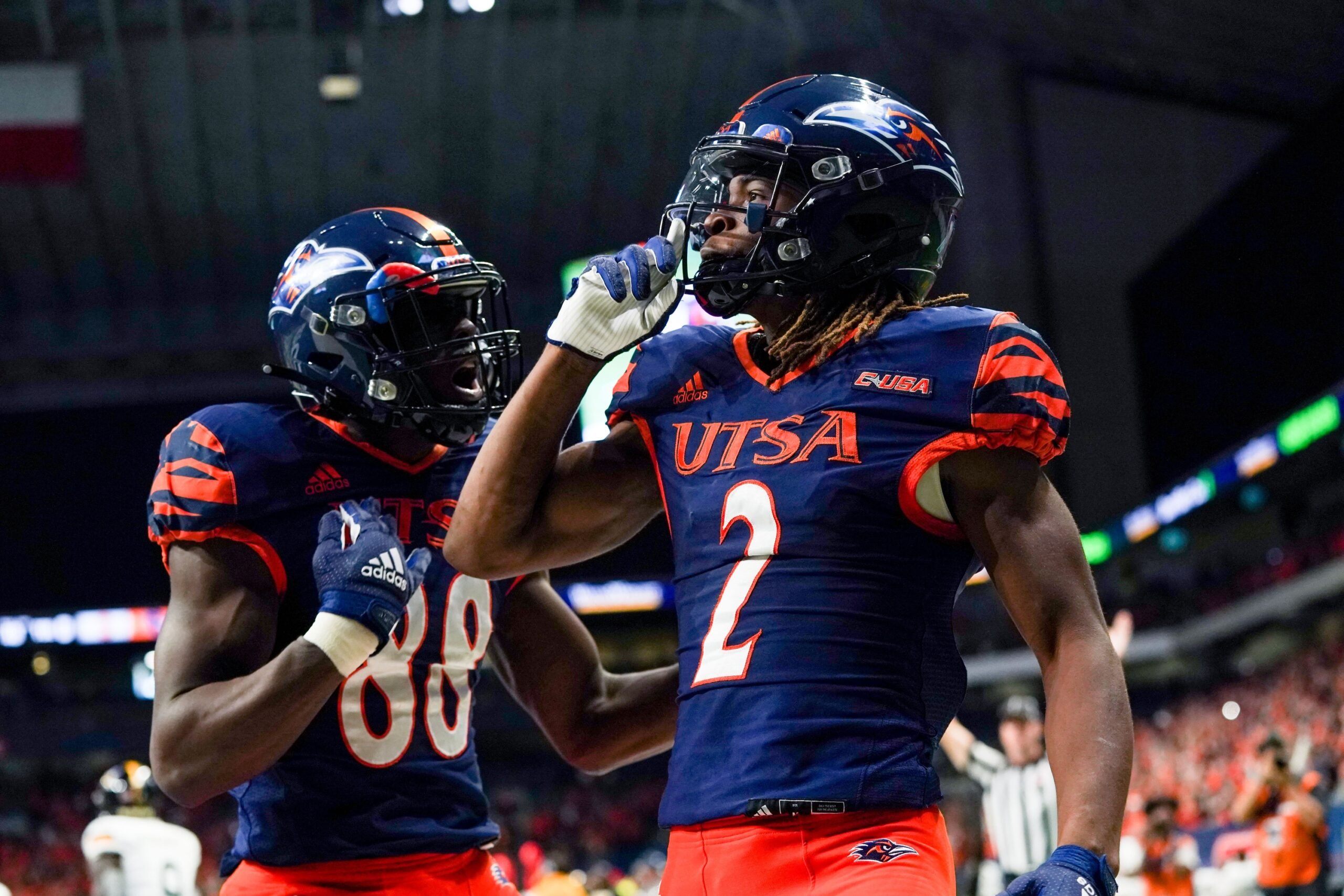 At 6'3″, 215 pounds, Clark has a very appealing combination of at-the-catch and after-the-catch utility. He's an authoritative contested threat who also has the athleticism and grating contact balance to extend plays.
Joshua Cephus, WR
For three seasons, Joshua Cephus has been one of the Roadrunners' top receivers. He hit a maximum in 2022 with 87 catches for 985 yards and five touchdowns, and like Clark, Cephus is also poised to benefit from the vacated targets left in Franklin's wake.
Cephus is a leaner receiver but still has the desired length at 6'3″, 185 pounds. He's not as explosive as his counterparts, but he's shifty, versatile, and has the sink and bend to separate independently from the slot.
Oscar Cardenas, TE
Few 2024 NFL Draft tight end prospects in the nation are more imposing than UTSA's Oscar Cardenas, who stands at a rocked-up 6'4″, 285 pounds.
He's not an overly dynamic mover at that size, but when schemed up the seam and into space, he can be a bear to tackle with his size and physicality. And even though he's not the most flexible, he'll surprise you with his body control and his ability to extend and attack passes vertically.
Joe Evans, DT
He's far under the radar in a strong 2024 NFL Draft DT class, but Joseph Evans has unmistakable upside as a nose tackle prospect. A former high school state champion in the shot put and a finalist in the discus, and a three-year LSU veteran, Evans transferred to UTSA in 2022 and accounted for 18 tackles, 3.5 tackles for loss, and 1.5 sacks.
He still needs to improve his balance, but he's an absolute tank at 6'3″, 340 pounds, who fires off the line with size-defying burst and devastating power capacity.
Trey Moore, LB
Like Barnes on the offensive side, Trey Moore is a redshirt sophomore, so it's not a guarantee that he declares. But the 6'3″, 235-pound defender has one of the most compelling NFL Draft cases on UTSA's roster — as he showed while amassing 59 tackles, eight sacks, 18 TFLs, six pass deflections, and two forced fumbles in 2022.
Moore is one of the most explosive athletes on the Roadrunners' defense, which he uses to his advantage to channel power, and he's a hot-motor pursuit player.
Jamal Ligon, LB
UTSA's leading tackler from 2022 — Jamal Ligon — returns in 2023 with some potential changes to his role. He's proved his mettle as an off-ball LB, having amassed 88 tackles, six TFLs, a sack, and two forced fumbles last season.
But this year, the 6'2″, 225-pound defender may see more snaps at the JACK LB spot, rushing the passer and attacking downhill. He has the frame to do it, but how his athleticism translates will be of particular interest.
Nicktroy Fortune, CB
Nicktroy Fortune transferred to UTSA in 2022 after a respectable three-year career at West Virginia and put up a career-best campaign with the Roadrunners.
The 6'0″, 190-pound cornerback couldn't quite fill the void left by Tariq Woolen's departure on the boundary, but he still logged 41 tackles, four TFLs, and five pass deflections. Fortune is a lean, twitched-up cover man with enough length to disrupt in press and the energy to work downhill and make tackles in support.
Elliott Davison, S
The Roadrunners lost five interceptions and 13 pass deflections from their 2022 secondary production when Clifford Chattman exhausted his eligibility. There's hope that, in 2023, Incarnate Word transfer addition Elliott Davison will allow them to fill that playmaking void.
The 6'1″, 180-pound Davison has 104 tackles, four TFLs, seven interceptions, and 20 pass deflections over the past two seasons and will now get a chance to prove himself in the AAC.
Rashad Wisdom, S
An injury limited Rashad Wisdom to just six games played in 2022, but he returns in 2023 as one of the team leaders for the Roadrunners and one of their highest-rated 2024 NFL Draft prospects.
It's not a guarantee that he'll be drafted, but the 5'9″, 210-pound Wisdom has a strong track record of production and all-around utility. His frame and physicality enable him to hold the line in support, but he also has the foot speed and versatility to rotate into the slot in off-man.
Other Notable Names
Tykee Ogle-Kellogg, WR
Makai Hart, OT
Demetris Allen, OT
Brandon Brown, DT
Asyrus Simon, EDGE
Avery Morris, LB
Donyai Taylor, LB
Dywan Griffin, CB
Ken Robinson, DB
Kelechi Nwachuku, S
UTSA Roadrunners Schedule
Week 1
BYE
Week 2
Sept. 2: at Houston Cougars
Week 3
Sept. 9: vs. Texas State Bobcats
Week 4
Sept. 15: vs. Army Black Knights
Week 5
Sept. 23: at Tennessee Volunteers
Week 6
BYE
Week 7
Oct. 7: at Temple Owls
Week 8
Oct. 14: vs. UAB Blazers
Week 9
Oct. 21: at Florida Atlantic Owls
Week 10
Oct. 28: vs. East Carolina Pirates
Week 11
Nov. 4: at North Texas Mean Green
Week 12
Nov. 11: vs. Rice Owls
Week 13
Nov. 17: vs. South Florida Bulls
Week 14
Nov. 25: at Tulane Green Wave
Week 15
BYE
Listen to the PFN Scouting Podcast
Listen to the PFN Scouting Podcast! Click the embedded player below to listen, or you can find the PFN Scouting Podcast on iTunes, Spotify, and all major podcast platforms.  Be sure to subscribe and leave us a five-star review! Rather watch instead? Check out the PFN Scouting Podcast on our Scouting YouTube channel.