Utah has routinely churned out defensive talent for the NFL draft, but the Utes are on a two-year drought. Only LB Devin Lloyd (No. 27 – Green Bay Packers) has been selected in the last two drafts. Head coach Kyle Whittingham hopes to change that in his 18th season with the program. And on the surface, it appears the Utes will have several prospects chosen in the 2023 NFL Draft.
Utah prospects in the 2023 NFL Draft
Fresh off a 10-4 campaign that culminated in a Pac-12 title and a near-upset of Ohio State in the Rose Bowl, Utah is primed for yet another successful season. While roughly only half of the starters from last year's team are returning, the roster is littered with draft-eligible talent.
Cameron Rising, QB
In his first year as starter, Cameron Rising proved to be a gritty leader for the Utah offense. He took care of the football and rarely allowed pressure to turn into drive-killing sacks. His athletic build allows him to extend plays within the pocket and occasionally on the move.
Now, Rising can improve his pre-snap recognition, mental processing, and decision-making. Nevertheless, he possesses the arm talent and moxie to deliver strikes all over the field. Rising won't feature in the first-round discussion, but with another solid season, he should hear his name called on Day 3.
Tavion Thomas, RB
Tavion Thomas is a large back — even by NFL standards — at 6'2″ and 230+ pounds. That size leads to a bowling-ball-like ability between the tackles, bouncing off defenders with ease. Thomas is a patient runner, letting his blocks set up before bursting through holes.
Still, he falls into the trappings of a bigger back. Thomas doesn't have breakaway speed, and his lateral/short-area agility is average at best. But when you add his underrated pass blocking to his downhill prowess as a north/south runner, Thomas is more than worthy of a selection in the 2023 NFL Draft.
Micah Bernard, RB
A redshirt sophomore, Micah Bernard may not declare this season. But his skill set is impressive. He can make defenders miss in the open field, is a receiving threat (just look at his finger-tip TD in the Rose Bowl), and rarely goes down against first contact as a runner. He is so athletically gifted that when Utah's secondary was decimated with injuries entering the Ohio State game, Bernard started the entire contest at cornerback.
Devaughn Vele and Solomon Enis, WR
With Britain Covey gone, the Utes will need Devaughn Vele and Solomon Enis to augment the receiving corps. Both receivers are at or over 6'3″ and 200 pounds, offering large frames for Rising to target.
Vele's average depth of target was nearly 20 yards in 2021 as Utah deployed him as their field stretcher. If Vele receives a significant amount of Covey's 76 targets vacated, he could break out this season. Meanwhile, Enis has been nothing more than a part-time contributor in four years at Utah — that's unlikely to change in his final season.
Brant Kuithe and Dalton Kincaid, TE
The Utes own one of the best tight end duos in the entire country. At 6'2″ and 230 pounds, Brant Kuithe has played the "move" or "F" TE role in Utah's offense. Whether lining up in the slot, blocking from the slot, or taking carries in the backfield, Kuithe can do it all. He suffered through drops last season, but if Kuithe cuts those down, he'll once again crack the All-Pac-12 team.
Dalton Kincaid is a bigger prospect, standing 6'4″ and 242 pounds. His wide receiver background is easy to see, as he led Pac-12 TEs with eight touchdowns last year. Although he won't gain a ton of yards after contact, Kincaid can work the seams and already received mid-round hype last cycle.
Jaren Kump, OT
Following five starts at right tackle in 2020, Jaren Kump began last season at left tackle. However, a season-ending injury held him to just four weeks of action. With a clean bill of health, Kump should return to his first-team LT position.
His 6'5″ and 309-pound frame holds enough athleticism to move defenders in the ground game. Kump must improve his pass protection technique, but entering just his third year on campus, I don't believe that will be an issue.
Keaton Bills, G
When you don't hear an offensive lineman's name, it's often a good thing. Keaton Bills may not generate eye-popping highlight reels, but he's consistent up front. He has good size for the position (6'4″, 313 pounds) and is always looking for work. Nevertheless, Bills' lack of power and athleticism may limit his NFL chances.
Paul Maile, C
Long-time anchor Nick Ford is now in the NFL, giving Paul Maile room to showcase his talent at the pivot. In high school, Maile was a two-time first-team all-state and all-region defensive lineman but switched to OL at Utah. It's easy to see his defensive background on film with his physicality. But that physicality is a double-edged sword, as Maile can overextend or overpursue angles, causing him to lose reps.
Sataoa Laumea, G
Sataoa Laumea is a bit of a sleeper in the 2023 interior offensive line group. He is a well-built 6'4″ and 312 pounds with imposing play strength. He has conceded just one sack in over 600 pass-blocking snaps, so it's safe to say he's far from a liability there. A back-to-back All-Pac-12 selection, Laumea is one more solid season away from mid-to-late NFL draft pick.
Braeden Daniels, OT
Braeden Daniels took snaps at left tackle in 2018, recorded significant playing time at left guard in 2019 and 2020, then moved to right tackle in 2021. He proved to be the team's best offensive lineman last year, bulldozing the opposition for the rushing attack. He can refine his hand usage and keep his feet moving throughout blocks as a pass blocker. But the NFL loves prospects who give them more bang for their buck, and Daniels' versatility checks that box.
Junior Tafuna, DL
The reigning Pac-12 Defensive Freshman of the Year, Junior Tafuna produced 4.5 sacks in 2021. He can penetrate pockets and clog rushing lanes all the same at 6'3″ and roughly 300 pounds. Depending on how the defensive line class shakes out, Tafuna could return to the Utes, as he will still have two years of eligibility at the end of the season.
As a Utah native, he may want to stay close to home as long as possible. But whenever Tafuna decides to make the leap to the NFL, he won't struggle with finding a new home.
Devin Kaufusi, DL
Devin Kaufusi is little more than a rotational piece on the defensive line. He doesn't add much as a pass rusher, and he's not dynamic as an athlete. But you can't teach size. At 6'7″ and 288 pounds, Kaufusi's length allows him to fill holes with ease and force QBs to throw around or over his levers. Nevertheless, his most likely path to the NFL seems to be as a UDFA.
Van Fillinger and Miki Suguturaga, EDGE
The Utes are trotting out a pair of similarly sized (6'4″ and around 260 pounds) edge rushers this season. Van Fillinger led all Pac-12 freshmen with 5.5 sacks in 2021 and was no slouch in run defense. On the other hand, Miki Suguturaga played sparingly — he did record a strip-sack against Stanford. The probability of either heading to the NFL in the 2023 draft is low, but there is a non-zero chance Fillinger outplays expectations and makes the leap early.
Mohamoud Diabate, LB
The Utes shopped in the transfer portal for LB depth and landed Mohamoud Diabate. A two-year starter at Florida, Diabate is a physical specimen. He lays the boom coming downhill and moves like "a gazelle," according to LB coach Colton Swan. The potential is there for Diabate to thrive in Utah's system, specifically because of his pass-rushing utility and physical tools. But his coverage skills leave some to be desired.
Hayden Furey and Gabe Reid, LB
Devin Lloyd and Nephi Sewell played the majority of snaps at LB last season, with Karene Reid and Hayden Furey cleaning up behind them. Reid is a true sophomore this season, so he isn't draft-eligible. But his brother, Stanford graduate transfer Gabe Reid, will battle for a starting position.
The older Reid was a 6'2″, nearly 240-pound edge defender for the Cardinal. It will be interesting to see how Whittingham and Co. deploy him, but his skill set fits best in Utah's "STUD" (strongside LB) position.
Furey is a former walk-on who has made a name for himself on special teams. On defense, he missed a handful of tackles, which he will have to clean up if he wants to stay on the field. Regardless, Furey did end the year on a high note with a pair of pass breakups against Colorado.
Clark Phillips III, CB
The Utes' best chance at a 2023 first-round pick lies with Clark Phillips III. He concluded his high school career as the No. 4 cornerback in the country and has started every game since landing in Utah. His true freshman campaign was nothing to scoff at, but Phillips had his coming-out party last season.
In 14 games, he registered 13 PBUs, two INTs, and two forced fumbles, flashing his playmaking prowess. In my film study of UCLA WR Kyle Philips, Phillips was the only Utah defender to truly give him fits. He may not receive Day 1 capital, but Phillips won't have to wait too long to receive a phone call from an NFL GM.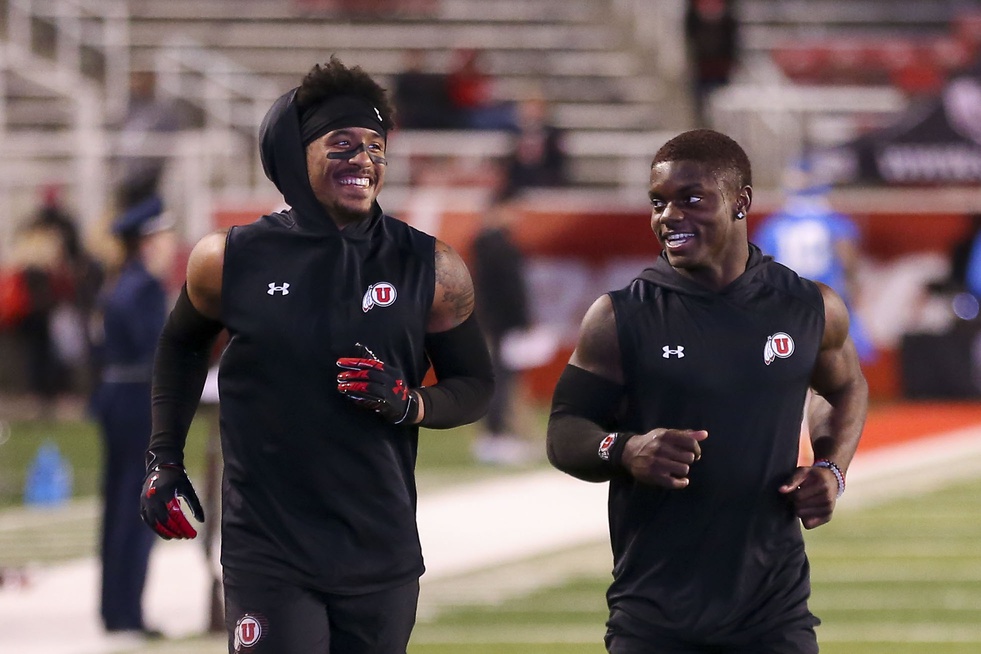 JaTravis Broughton, CB
An undisclosed injury knocked JaTravis Broughton out of last season. But he bounced back this spring, earning praise from the coaching staff. Broughton has a nose for the football, is an aggressive and sure tackler, and hasn't allowed a reception longer than 50 yards in his coverage. He and Phillips are the best CB tandem in the Pac-12 and an underrated one in the nation.
Malone Mataele, CB
A speedy 5'11" and 180 pounds, Malone Mataele returns to lock down the slot cornerback role. C.J. Stroud and Jaxon Smith-Njigba torched him in the Rose Bowl, but he was coming off an injury against one of the best offenses in the nation. Outside of that contest, Mataele actually had a solid campaign, forfeiting 50+ yards in just two games.
Faybian Marks and Zemaiah Vaughn, CB
Projected backups entering their first year of eligibility, I'd bet on both Faybian Marks and Zemaiah Vaughn donning the crimson and white next year. Nevertheless, the two are very different prospects. Vaughn is a 6'2″, 175-pound QB-turned-DB that walked on at Utah in 2020. He is only scratching the surface of his ability on the outside — though he's listed as a safety on the roster.
Marks was a three-star recruit out of Richmond, Texas, and is noticeably shorter at 5'10" but is more rocked-up at 180 pounds. He brings easy hands for the interception, ball-tracking ability downfield, and toughness in run defense.
R.J. Hubert, S
R.J. Hubert has endured two straight season-ending knee injuries. Now 100% healthy and ready to unleash his pent-up competitiveness and frustration on opponents, Hubert should start from Day 1. He's a relative unknown, but word out of Utah is Hubert is a player to watch in 2022.
Clayton Isbell, S
Following three seasons and two FCS All-American honors at Illinois State, Clayton Isbell takes his talents to Salt Lake City. Isbell has two years of eligibility left, and he may use it with a (presumably) backup role this season. With over 200 snaps at deep safety, in the slot, and in the box, Isbell is a versatile 6'2″, 220-pound DB. A year in Whittingham's system should establish a foundation for a breakout 2023 campaign.
Listen to the PFN Scouting Podcast
Listen to the PFN Scouting Podcast! Click the embedded player below to listen, or you can find the PFN Scouting Podcast on iTunes, Spotify, and all major podcast platforms.  Be sure to subscribe and leave us a five-star review! Rather watch instead? Check out the PFN Scouting Podcast on our Scouting YouTube channel.