When Keaontay Ingram left the University of Texas and its crowded backfield that included star runner Bijan Robinson, he was searching for a role as a featured back. And USC was hoping for a reliable, physical running back capable of handling a heavy workload.
It was a strong match during his lone season playing for the Trojans, where he led the team with 911 rushing yards and 5 touchdowns. He averaged 5.8 yards per carry and caught 22 passes for 156 yards in 10 games and seven starts while dealing with a rib injury last season.
Looking ahead to the 2022 NFL Draft
Now, Ingram is now prepping for the 2022 NFL Draft, and at 6-foot, 222 pounds with 4.52 speed in the 40-yard dash, he wants to let people know just what kind of running back he is.
"I would say I have a violent running style in everything I do," Ingram said in an interview with Pro Football Network. "That's in how I cut, how I move, how I approach the line of scrimmage. Being a bigger back and making those cuts while playing in a system built for a smaller back, I gave it the whole nine yards. Whichever NFL team I go to will get a guy that will be himself at all times. That's authenticity. People can feel that's real. A lot of people don't have that kind of gift for mingling with different cultures, but I do. I'm really good at adapting and I'm mature.
Ingram, 23, is a former Academic All-Big 12 selection and a former high school All-American, All-State, and All-District selection who had two 2,000-yard rushing seasons and 76 career rushing touchdowns.
In three seasons with the Longhorns, he rushed for 1,811 yards on 339 carries with 11 touchdowns, and he caught 67 passes for 515 yards and 6 touchdowns. Playing in the Pac-12 Conference after moving from the Big-12 Conference was an adjustment, but Ingram says it helped him elevate his game.
"It helped me tremendously," Ingram said. "It's a different approach to football in the South. Football there is like a religion. On the West Coast, there are other things going on. Playing in a different conference helped me elevate my game. People are a lot faster. It was a good move for me."
Ingram briefly contemplated returning to USC when new coach Lincoln Riley tried to convince him to stay for another year of eligibility before opting to pursue the NFL. Instead, Ingram is continuing his final preparations for the NFL Draft.
A former Texas Mr. Football finalist, Ingram has been popular with NFL teams during the draft process.
He visited the Houston Texans and Las Vegas Raiders, has worked out privately for the New Orleans Saints, and participated in the Los Angeles Chargers' local prospect day. He has also drawn interest from the New Orleans Saints, Green Bay Packers, Denver Broncos, Miami Dolphins, and Arizona Cardinals. Ingram visited the Texans' training facility last week at NRG Stadium.
"Oh man, it went great," he said. "I feel like they like me. I like the vibe and I like the scheme."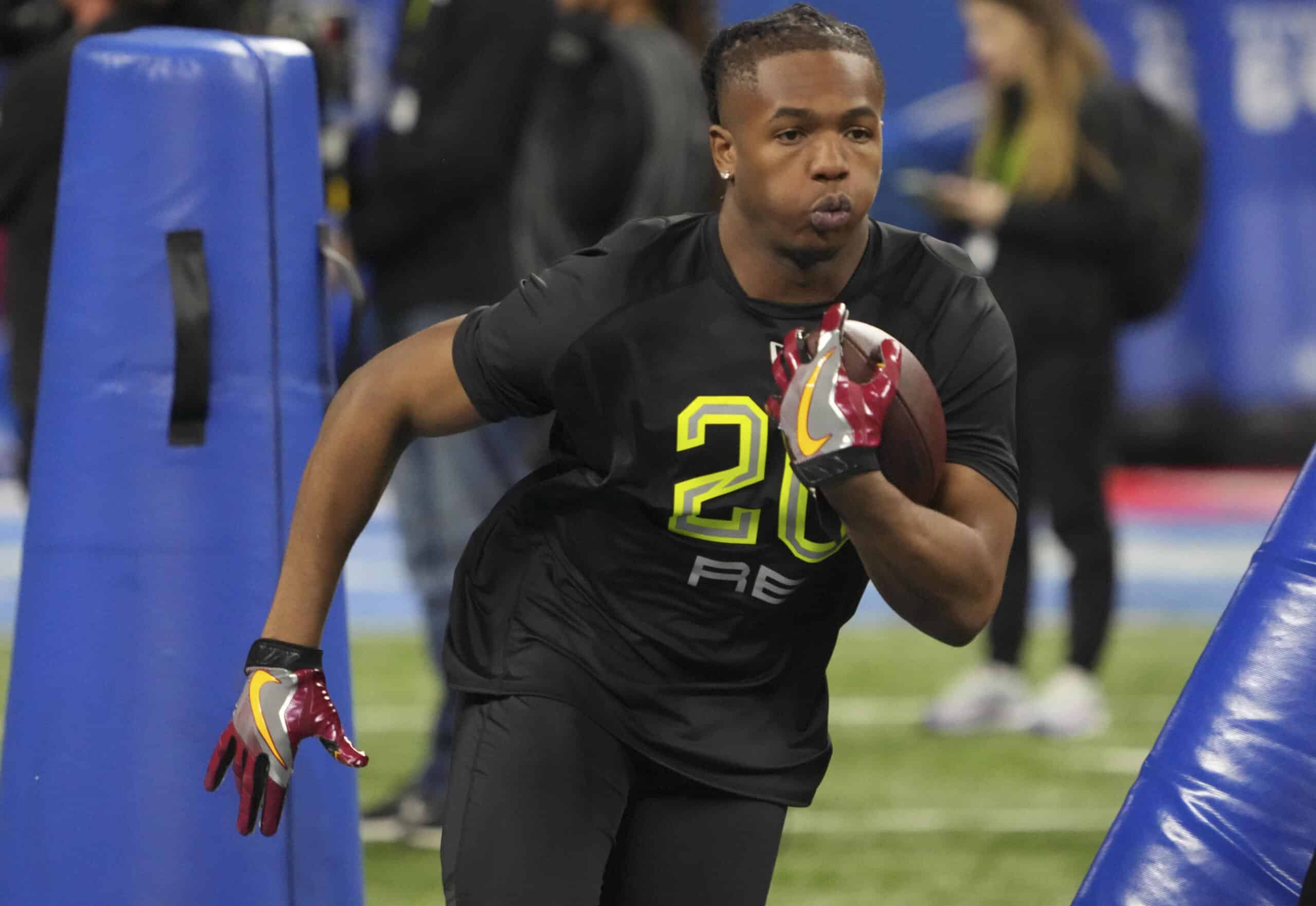 Ingram established his roots in Texas
Ingram hails from Carthage, Texas, a small town with a population of roughly 10,000. It's a football town where Ingram grew up with two older brothers on his mother's side of the family and three brothers and four sisters on his father's side.
His football dominance extended from his childhood years to the college level with the Longhorns. An honorable mention All-Pac-12 selection, Ingram rushed for 250 yards and 1 touchdown with 11 catches for 103 yards and 1 score before transferring from Texas. He had 853 yards for the Longhorns and a 5.9 average as a sophomore and 3 touchdowns, with 29 catches for 242 yards and 3 touchdowns. He rushed for 708 yards and 3 scores as a true freshman with 27 catches for 170 yards and 2 scores.
Ingram averaged over 5 yards per carry in every season except for his junior year at Texas when he averaged 4.7 yards per run.
"I tell everybody by Week 5 of the season, Keaontay will be starting for whichever NFL team he goes to," said Quincy Peyton, who represents Ingram. "That's how good he is. All you have to do is cut on the film and watch him go."
When he's not fishing back home, Ingram enjoys a traditional Southern meal.
"I get what I want, chicken, rice, and gravy, a home-cooked meal," he said. "Before the draft, I'm going to be with my family and a couple of friends, just to show the appreciation for people that helped me along the journey."
Listen to the PFN Scouting Podcast
List to the PFN Scouting Podcast! Click the embedded player below to listen, or you can find the PFN Scouting Podcast on iTunes, Spotify, and all major podcast platforms.  Be sure to subscribe and leave us a five-star review! Rather watch instead? Check out the PFN Scouting Podcast on our Scouting YouTube channel.