After three sub-.500 seasons to kick off the Chip Kelly era at UCLA, the Bruins rebounded for an 8-4 campaign in 2021. Following that on-field success were six players hearing their names called in the 2022 NFL Draft, the most among Pac-12 programs. With a plethora of transfers in and out of Los Angeles, will UCLA's 2023 NFL Draft prospects reach the same heights?
UCLA prospects in the 2023 NFL Draft
Since last November, 21 Bruins entered the transfer portal. Meanwhile, 12 athletes committed to UCLA during that span. Combine that with the players who left via the NFL draft and graduation, and you're left with a roster filled with new faces. Will the influx of new talent lead to another winning season, or will it cause the team to regress to the early days under Kelly? We'll soon find out the answer, but in the meantime, let's take a look at UCLA's draft-eligible prospects in the 2023 class.
Dorian Thompson-Robinson, QB
After flirting with the transfer portal, Dorian Thompson-Robinson ultimately decided to return to Westwood. A quarterback-turned-receiver-turned-quarterback, DTR was viewed as a raw prospect coming out of high school powerhouse Bishop Gorman.
While that rawness still shows up from time to time, primarily in his mental processing and mechanical inconsistencies, Thompson-Robinson has flashed impressive physical tools. Yes, he can run and make plays happen with his legs. But DTR also owns the arm talent to hit receivers all over the field and from different angles/platforms.
Zach Charbonnet, RB
One of my personal favorite RBs in the 2023 class, Zach Charbonnet parlayed two seasons at Michigan into a breakout campaign with the Bruins. Charbonnet bounced off tackles and exploded through holes for 1,153 yards and 13 touchdowns last year.
At 6'1″, 220 pounds, with plenty of power stored in his lower half, Charbonnet has no issue breaking arm tackles and staying in pass protection. His size/speed combination will make him one of the top RBs selected in the 2023 NFL Draft.
Jake Bobo, WR
After four years at Duke, Jake Bobo will be suiting up in a different blue on Saturdays. The 6'5″ receiver obviously possesses the size to be a red-zone threat. But he wasn't with the Blue Devils, hauling in just three touchdowns in his career. That should change in 2022 as Kelly is excited about his new weapon. Bobo won't make many defenders miss in the open field, but he's a reliable possession WR who can move the chains.
Kazmeir Allen, WR
UCLA fans have long awaited the Kazmeir Allen breakout season. Could 2022 be the year? The redshirt senior has caught passes, taken handoffs, and returned kicks throughout his career. With the starting slot role seemingly his to lose, Allen should finally see the opportunities he's been waiting for. He's an electric weapon when the ball's in his hands, and if the Bruins can manufacture room for him to operate, he'll prove the wait was worth it.
Kam Brown, WR
With Kyle Philips and Greg Dulcich in the NFL and Chase Cota off to Oregon, Kam Brown is UCLA's leading returning receiver. Brown may have only caught 17 passes for 247 yards and two scores, but he had the team's second-deepest average depth of target (13.8). With Bobo playing the X and Allen on the inside, Brown could stretch the field from the Z. However, he'll need a big year to be a factor in the 2023 NFL Draft.
Michael Ezeike, TE
Michael Ezeike is the only returning tight end who recorded a target last season (six). With Dulcich now a Cleveland Brown, Ezeike is in line for most of the vacated TE production. His most productive season actually occurred back in 2018, when he posted 12 catches for 136 yards and two TDs. The 6'5″ tight end added 20+ pounds to make the switch from a four-star receiver. 2022 could be his coming-out party if he earns the TE1 role.
Mike Martinez, TE
Although Mike Martinez's playing time has dwindled since enrolling in 2019, he has quietly been one of UCLA's best blocking TEs. With only six receptions to his name, I don't envision him suddenly becoming one of DTR's top targets. Nevertheless, at 6'7″ and 266 pounds, he offers a wide catch radius and could grow into a true red-zone threat.
Raiqwon O'Neal, OT
Following two starting seasons at Rutgers, Raiqwon O'Neal decided to take his talents across the country. In 2021, O'Neal earned All-Big Ten honorable mention and was excellent in pass protection. He rarely allowed pressure and didn't forfeit a sack.
Replacing Sean Rhyan at LT is a tall task, and O'Neal isn't the same physical specimen. But his consistent play in pass protection is valuable, and he could develop further as a run blocker this season.
Atonio Mafi, G
Exit Paul Grattan, enter Atonio Mafi. Mafi played along the defensive line for the Bruins his first two years with the team after committing as an OL recruit. Last season, however, he moved back to the guard position and played well in relief.
At a hulking 6'4″ and 355 pounds, Mafi is slated as the starting left guard for his final collegiate season. If he continues his form from 2021, he'll receive looks in the 2023 NFL Draft for his size and cross-training.
Duke Clemens, C
At 6'3″ and 291 pounds, Duke Clemens is a bit of an undersized offensive lineman. Regardless, he brings sought-after versatility along the interior, playing significant snaps at both guard spots and center during his career. Clemens sometimes struggles with power, but he can pull and work upfield, making him a better zone scheme fit.
Jon Gaines II, G
Continuing the versatility trend, Jon Gaines II received reps at center, right guard, and right tackle last season. In 2019, he played 200+ snaps at left guard. So yeah, I'd say he's well-versed up front. Gaines can refine his technique and play more patiently, especially in pass pro, but he moves well in space and sports a powerful lower half.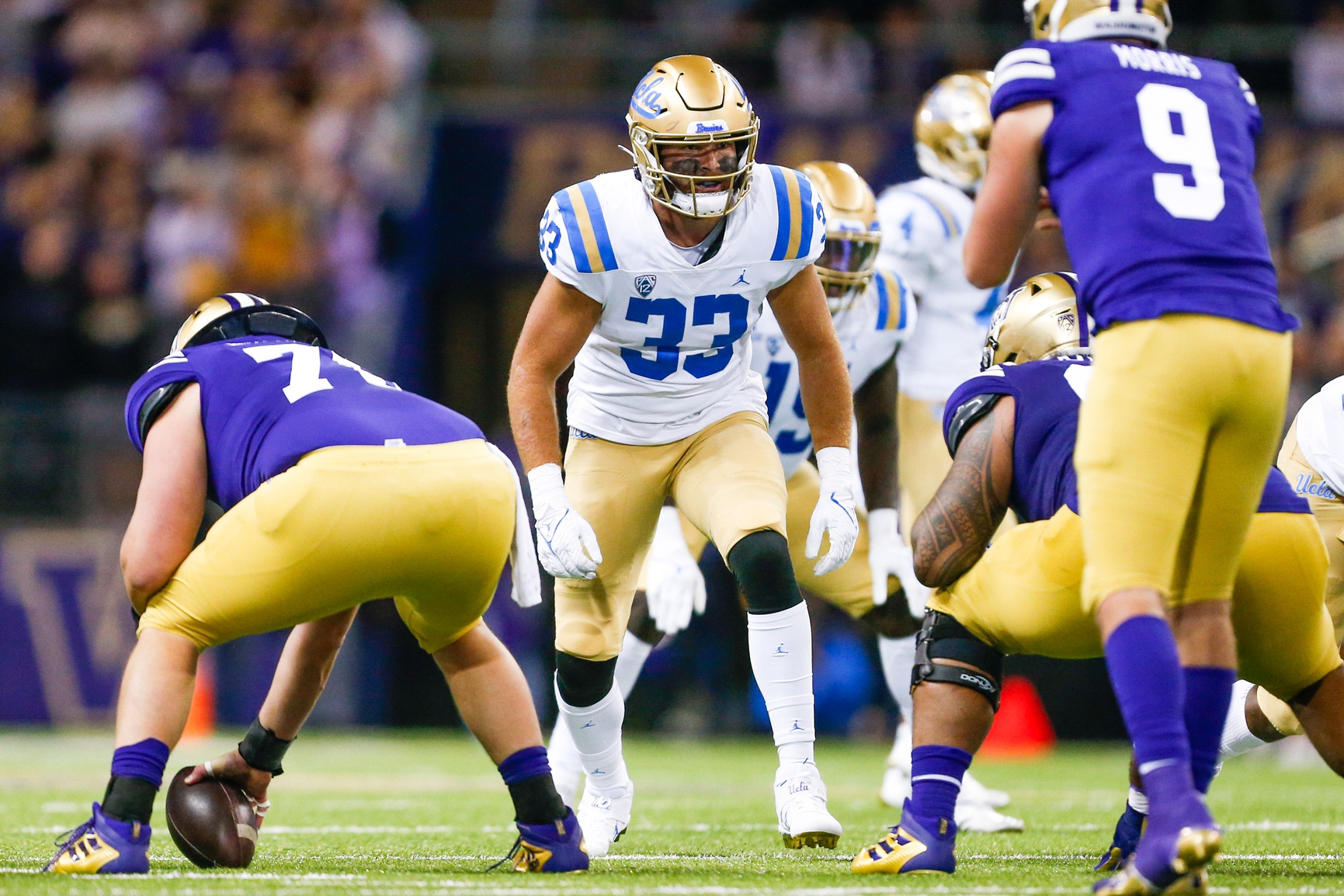 Bo Calvert, EDGE
Bo Calvert played primarily in the box for his first three seasons in LA, but he moved to edge rusher in 2021. A high-motor athlete, Calvert never stops his feet and works his way toward the ball. With a full year and offseason at EDGE under his belt, he can break out in 2022. However, if Calvert doesn't take the next step in his development, it will be hard for him to crack an NFL roster.
Gabriel and Grayson Murphy, EDGE
North Texas deployed twin terror in the C-USA last year. Gabriel and Grayson Murphy are not only identical in their size (6'2″, 230+) and physical tools, but they also play a similar brand of football. The duo combined for 90 tackles and 15½ sacks in 2021, tormenting opposing offensive tackles. With the Bruins, the Murphys will form a rotation opposite Calvert.
Carl Jones Jr., EDGE
Similar to Calvert, Carl Jones Jr. began his UCLA tenure as a box linebacker. But he spent the last two seasons as a rotational edge rusher. He will reprise that role in 2022, though he should feature more given the amount of turnover on defense.
When he has earned significant playing time, Jones has flashed his disruption ability. Jones may be a bit too light for the NFL to use a draft pick on him (6'1″, 210). But if he plays well with an increase in snaps, he could earn a camp invite as a designated pass rusher.
Martin Andrus Jr., DT
Martin Andrus Jr.'s story is one of perseverance and determination. He became a full-time starter in 2018 and was a chess piece for the defensive line. And then came back-to-back ACL tears and surgeries. Finally healthy this season, Andrus aims to rekindle the fire he brought four years ago. Even if he does, his medicals will likely take him off most draft boards.
Jacob Sykes, DT
A Harvard standout, Jacob Sykes is yet another transfer acquisition for Kelly and Co. Sykes generated seven sacks and eight tackles for loss in 2021 and should start in one of the B gaps. Standing at 6'3″ and 277 pounds, the Missouri native is lighter than you'd typically see at DT. Yet, Sykes possesses great length, burst, and agility. With proper implementation of his coaching, Sykes could reach a new level with the Bruins.
Kain Medrano, LB
We haven't seen too much from Kain Medrano thus far, but he showcased his run-defending prowess in limited reps last year. Typically playing the WILL, Medrano is an athletic linebacker with solid size. A special-teams ace, the UCLA LB figures to play a larger role on defense in 2022.
Darius Muasau, LB
Darius Muasau is a rocked-up 6'1″ and 230-pound linebacker with a nose for the football. Following consecutive 100+ tackle campaigns for Hawaii, he decided to come to shore and don the blue and gold. Though his tape is littered with missed tackles, Muasau is an exceptional blitzer and can blow up rushing lanes.
Ale Kaho, LB
The most experienced returning linebacker, Ale Kaho should obtain his first full-time starting role in his collegiate career. Kaho spent three years at Alabama before transferring to UCLA last season. His inexperience showed at times, but the tools are there for the former four-star recruit to live up to his billing. It's a lot of projection, but Kaho's untapped potential is worth keeping an eye on.
Azizi Hearn, CB
Aziz Hearn's career has seen him bounce from Arizona to Wyoming and now UCLA. Despite playing over 2,000 career snaps, he has yet to snatch an interception. But the ball production is there with four PBUs in each of the last three years. The former walk-on is stingy in coverage, and while his physicality can get him in trouble at times (21 career penalties), Hearn hasn't conceded a pass longer than 30 yards since 2019.
Mo Osling III, S
Outside of the defensive line, there isn't a position Mo Osling III hasn't played across five seasons with UCLA. At 6'1″ and nearly 200 pounds, he has decent size for the safety position, which is where he will presumably line up in 2022. Time will tell if Osling saved his best for last. But as an older prospect with not much to show for it, he has a steep hill to climb to be a 2023 NFL Draft pick.
Stephan Blaylock, S
As a three-year starter, Stephan Blaylock will be the unquestioned leader of a young defensive unit. He recorded nearly 100 more snaps than any UCLA defender last year. While he typically lines up as a deep safety, Blaylock has no issue dropping into the box to defend the run or covering pass catchers in the slot.
Listen to the PFN Scouting Podcast
Listen to the PFN Scouting Podcast! Click the embedded player below to listen, or you can find the PFN Scouting Podcast on iTunes, Spotify, and all major podcast platforms.  Be sure to subscribe and leave us a five-star review! Rather watch instead? Check out the PFN Scouting Podcast on our Scouting YouTube channel.