The NFL Draft and the process of scouting are mostly just projections of how a prospect will translate and fit in the NFL. So, when teams and scouts are faced with a player with eye-popping natural tools but raw technical ability, their projection becomes a lot more about upside. UCLA defensive tackle Osa Odighizuwa fits that mold perfectly.
Odighizuwa's flashes are all there. On a talented defense at UCLA, he stood out as a clear "wow" athlete, especially along the defensive line. Every game I would watch, he would burst off the line of scrimmage and explode into offensive linemen with a mixed bag of results. However, it is those baseline tools that you look for that stood out about Odighizuwa. So, how does his game look as a whole, and how does he project to the next level?
[sv slug=mocksim]
Odighizuwa's tape is a blast
Odighizuwa has an impressive resume. According to Bruce Feldman's freak list, Odighizuwa squats 717 pounds, benches more than 420 pounds, has a 32-inch vertical, and was a wrestler that won 131 straight matches en route to three state titles. Iowa and now Buccaneers offensive tackle Tristian Wirfs was a former wrestler as well. Not only does it teach grappling techniques and strong hand usage, but more importantly, it shows how to win with natural leverage.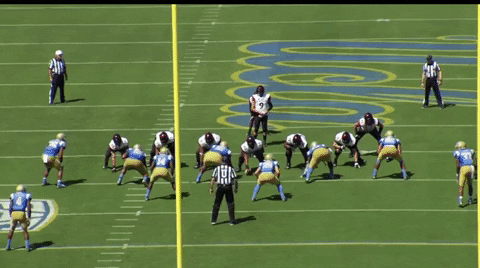 This first play is nothing short of impressive. He takes on a double team and not only holds his own, but he completely controls the point of attack and clogs multiple gaps along the line of scrimmage. One of the critical things that I look for in a guy like Odighizuwa, who is 6'2″, is length. Odighizuwa does an excellent job of extending out here with his length. By striking right in the middle of the outside blocker's chest pad, Odighizuwa never gets chipped face up.
Those lifting numbers show up here as well. He is not getting moved at all, partially because he is so strong. Add in the fact that he comes off the line low to win the leverage game, and this is showing guys how you beat a double team.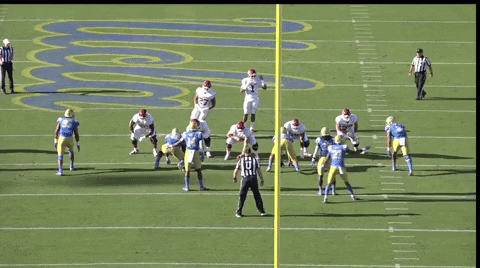 This play ends up going for a touchdown, but on the technical side of things, this is an excellent play by Odighizuwa. Yet again, the discussion comes back to his length. That length is an absolute weapon for him. He fully extends through the lineman's chest pad, and not only does that allow him to win the point of attack, but it causes the lineman to lunge forward. Once he had that outside hand on the inside of the guard's chest pad, the swim move was all he needed to win here.
This is the first step of the explosiveness that Odighizuwa possesses. He has a bit more juice than anyone else on this defensive line. That allows him to do a few more things. For one, he is a better gap penetrator than most. He gets penetration here because of his explosiveness. However, due to the amount of burst he has, this gives him some added power to work with as well in addition to his frame. That equates to upside. Now, Odighizuwa is not able to convert on this rep because he simply lacks high-end flexibility to bend this tighter. Still, though, this is a baseline of those traits that I look for to check off how he will fit in the NFL.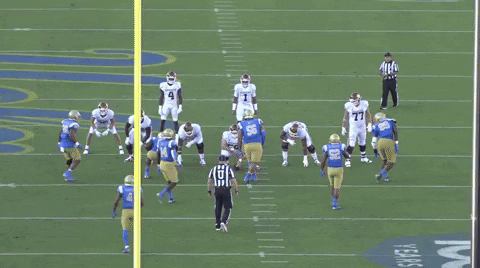 This is a play where you can see everything come together. It's the first step that allows him to blow up the left side of the line. They were not able to deal with his twitchiness all game, and it showed because he ended up in the backfield. That is why almost all the plays Oklahoma ran went the opposite way of Odighizuwa. Granted, he has an extremely hot motor and comes from the backside to get in on this tackle still. This is not a guy that will quit on the play. He is going to get after it until the whistle blows.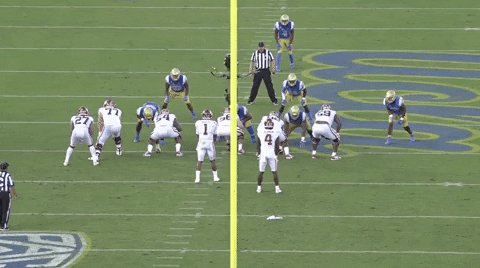 In a lot of ways, this is the play where it comes all together. That explosiveness turns into power, and he comes off flat-backed to win the leverage and just uplift the guard. Odighizuwa gets great penetration because he converts his explosiveness into pure strength with good leg drive. Because of that, he gets half a sack.
Defensive tackle Osa Odighizuwa's outlook
Odighizuwa's tape is a tale of two men. There is the player that is unstoppable for stretches and causes so much disruption that teams will run their offense away from him just to avoid him. However, this is also a guy that sometimes disappears due to technical inability. Odighizuwa's field awareness is his worst trait. He often loses the ball carrier. That is something he has to work on to take advantage of his full skill set. Also, his hand placement and usage have to be consistent.
Still, this is a prospect with great power, explosiveness, a hot motor, a natural feel for leverage and good length. Those are five things to build on in the future. Odighizuwa can fit in as a 3-technique at the next level because of his pass rush upside. Anything beyond where he is now is a projection, but this is the type of athletic traits that got guys like Jordan Elliott drafted on day two. Odighizuwa is very much in the same range with his upside.