A cycle after producing an NFL Draft pick in DeWayne McBride and a UDFA camp darling in Starling Thomas V, can the UAB Blazers maintain a presence on the NFL Draft stage in the 2024 cycle? Here's a closer look at the talent they're working with.
UAB Blazers NFL Draft Prospects
All things considered, 2022 was a successful season for UAB. Despite losing their head coach Bill Clark to retirement in the summer, they stayed the course, went 6-6 in regular-season play, and won the Bahamas Bowl against Miami of Ohio.
Now, the Blazers are resetting under newly-hired head coach Trent Dilfer — a former Super Bowl-winning quarterback. It'll be a tough adjustment for Dilfer, who's coaching a roster that lost its starting quarterback and running back, its best wide receiver, its two starting tackles in Kadeem Telfort and Demontrey Jacobs, and a plethora of defensive standouts.
The Blazers might not have done enough to break even through the transfer portal. But Dilfer has made clear early on that his mode of operation will entail in-house development and problem-solving. And the Blazers might have enough raw talent to make that work.
Jacob Zeno, QB
You may remember Jacob Zeno from his three-year stint as a quarterback at Baylor, where he logged a sparse amount of starting reps before Blake Shapen took over.
Zeno transferred to UAB in 2022 and saw some action in relief of Dylan Hopkins, completing 58 of 102 attempts for 721 yards, five touchdowns, and three picks. At 6'4″, 215 pounds, Zeno has average tools at best, but he now has an opportunity to put together a full season of production and growth.
Jermaine Brown Jr., RB
With DeWayne McBride in tow, UAB's primary method of movement in 2022 was through the ground game. Jermaine Brown Jr. helped compound the unit's efficiency as a rotational back, adding 948 yards and eight touchdowns to the team's output at almost six yards per clip.
Brown may be smaller than McBride at 5'8″, 195 pounds, but he's an incredibly shifty runner, an able receiver, and a very willing pass protector for his size.
Tejhaun Palmer, WR
With Trea Shropshire having joined the XFL's DC Defenders, the Blazers' top returning receiver for the 2023 campaign is Tejhaun Palmer — a 6'2″, 210-pound boundary threat who secured 30 catches for 479 yards and two touchdowns in 2022.
Palmer is still developing as a complete receiver, but his frame and length grant him a natural edge in tight situations, and as the offensive style dictates, he more than holds his own as a blocker.
Drew Tuazama, DL
The Blazers' arguable top prospect in the 2024 NFL Draft cycle is Drew Tuazama — a 6'5″, 275-pound former Syracuse transfer who led the team in sack production with five QB takedowns and six tackles for loss in 2022.
Tuazama has NFL size, length, and frame density, and also flashes impressive energy and twitched-up athleticism off the line. If he can up his production another rung in 2023, he could have a legitimate chance to be drafted.
Fish McWilliams, DL
Tuazama is the higher-ceiling prospect with a clearer projection, but Fish McWilliams isn't one to overlook. Over the past four seasons combined, McWilliams has put up a respectable 8.5 sacks and 14.5 TFLs.
At 6'0″, 305 pounds, he's a somewhat unorthodox lineman who can play as far inside as 0-tech and 1-tech, using his quickness and leverage to hold his own. He's shown he can win one-on-one with quick swims, and his motor provides some security.
Desmond Little, EDGE
UAB's EDGE rotation is very unproven at the moment. Under these circumstances, it's not unwise to keep a particularly close eye on Desmond Little, a 6'6″, 235-pound LSU transfer who's flashed pass-rushing upside in the past.
Little put up 2.5 sacks and three TFLs as a rotational defender in 2021, and his combination of athleticism, length, and flexibility could give him a leg up against AAC competition.
Jackson Bratton, LB
Little isn't the only high-profile transfer lingering among UAB's ranks. The Blazers happen to have a former Alabama commit in linebacker Jackson Bratton.
Bratton was with the Crimson Tide through 2020 and 2021 before transferring to UAB in 2022. At UAB, he saw his first substantial defensive snaps, and he turned in 31 tackles and a pass breakup. At 6'3″, 235 pounds, Bratton has the tools to keep climbing with more development.
BJ Mayes, CB
The Blazers may have lost their alpha at cornerback in Starling Thomas V, but they scored a nice replacement through the transfer portal in Incarnate Word product BJ Mayes.
Mayes brings the length that Thomas lacked at 6'1″, 185 pounds, and Mayes also brings a track record of proven production. As a redshirt freshman, he was a top-flight playmaker at the FCS level, racking up 48 tackles, three TFLs, a pick, and 14 pass deflections. He's talented, young, and ascending.
Mac McWilliams, CB
Mayes' acquisition was necessary for the Blazers' secondary, but they won't be starting completely from square one. One of their productive starters at CB is returning in Mac McWilliams.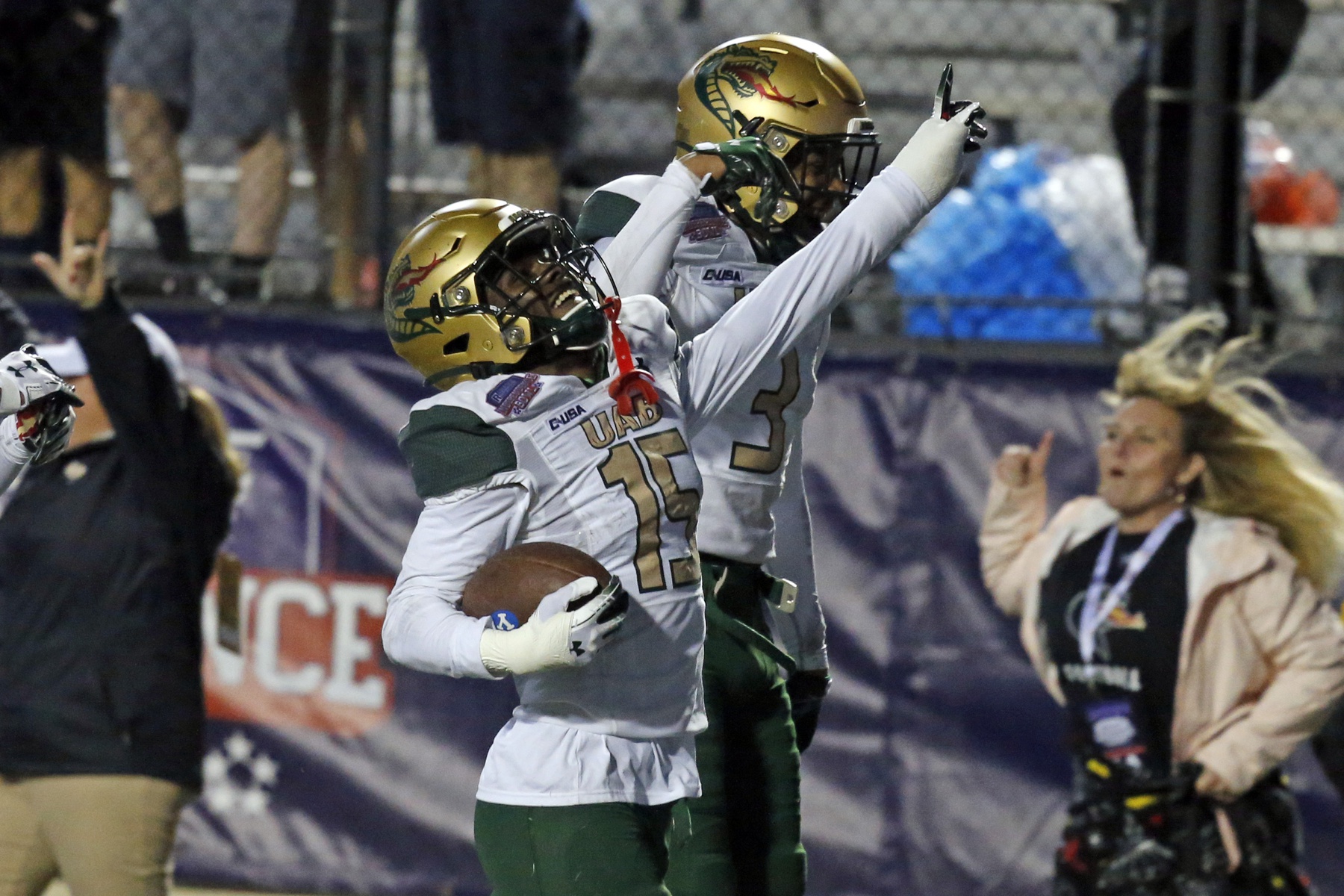 McWilliams has a similar feisty nature to Thomas at 5'10", 185 pounds, and he too swarms passes at the catch point. In 2022, McWilliams scored a 78-yard pick-six and also added ten pass deflections to his season total.
Keondre Swoopes, S
It's good to have a glue piece in the secondary, and the Blazers have that with veteran Keondre Swoopes. Swoopes has been a defensive contributor for UAB since 2019, when he racked up five deflections as a rotational cornerback. Since then, the 6'0″, 190-pound defender has taken reps at cornerback, safety, and as a nickel defender in the box and has amassed 123 career tackles, 3.5 TFLs, four picks, and 15 pass breakups.
Other Notable Names
Demetrius Battle, RB
Fred Farrier II, WR
TJ Jones, WR
Samario Rudolph, WR
Malachi Holt-Bennett, WR
Bryce Damous, TE
Quez Yates, OT
Tyrique Howard, DT
Jamin Graham, DL
Michael Fairbanks II, EDGE
Nikia Eason Jr., EDGE
Colby Dempsey, DB
Damien Miller, S
Ray Thornton, S
UAB Blazers Schedule
Week 1
BYE
Week 2
Aug. 31: vs. North Carolina A&T Aggies
Week 3
Sept. 9: at Georgia Southern Eagles
Week 4
Sept. 16: vs. Louisiana Ragin' Cajuns
Week 5
Sept. 23: at Georgia Bulldogs
Week 6
Sept. 30: at Tulane Green Wave
Week 7
Oct. 7: vs. South Florida Bulls
Week 8
Oct. 14: at UTSA Roadrunners
Week 9
Oct. 21: vs. Memphis Tigers
Week 10
BYE
Week 11
Nov. 4: vs. Florida Atlantic Owls
Week 12
Nov. 11: at Navy Midshipmen
Week 13
Nov. 18: vs. Temple Owls
Week 14
Nov. 25: at North Texas Mean Green
Week 15
BYE
Listen to the PFN Scouting Podcast
Listen to the PFN Scouting Podcast! Click the embedded player below to listen, or you can find the PFN Scouting Podcast on iTunes, Spotify, and all major podcast platforms.  Be sure to subscribe and leave us a five-star review! Rather watch instead? Check out the PFN Scouting Podcast on our Scouting YouTube channel.