On the surface, Miami Dolphins quarterback Tua Tagovailoa had one of the worst games of his career last Sunday against the New York Jets. However, the advanced metrics suggest that his performance wasn't as bad as it might appear and that the young quarterback has been playing at an exceptionally high level this season.
Tua Tagovailoa's statistics have been limited by his injuries
Before we get into last Sunday's game against New York, it is worth taking a look at Tua's overall performance in 2021. Unfortunately, as has been the case for him since college, Tagovailoa has struggled with injuries this season. As a result, his statistics are lower than most of the NFL's other starting quarterbacks. In his limited playing time, Tua has totaled 2,141 yards, 14 touchdowns, and 8 interceptions.
Of course, comparing those numbers directly to those produced by players who have participated in significantly more games isn't fair to the Dolphins quarterback. Fortunately, there are other ways to evaluate his performance.
His advanced metrics are consistently excellent
To help compensate for Tua's missing games, let's turn to the Offensive Value Metric (OVM). The OVM is a grading system created by the (Bx) Movement to measure how much of a player's statistical production they were actually responsible for.
This season, Tua's grade is 26.99, the third-highest of any quarterback heading into Week 16. And if you look at the chart below, you can see that he has been incredibly consistent this year.
The black dots mark Tua's weekly grades, and the yellow line represents the league-average OVM grade for QBs.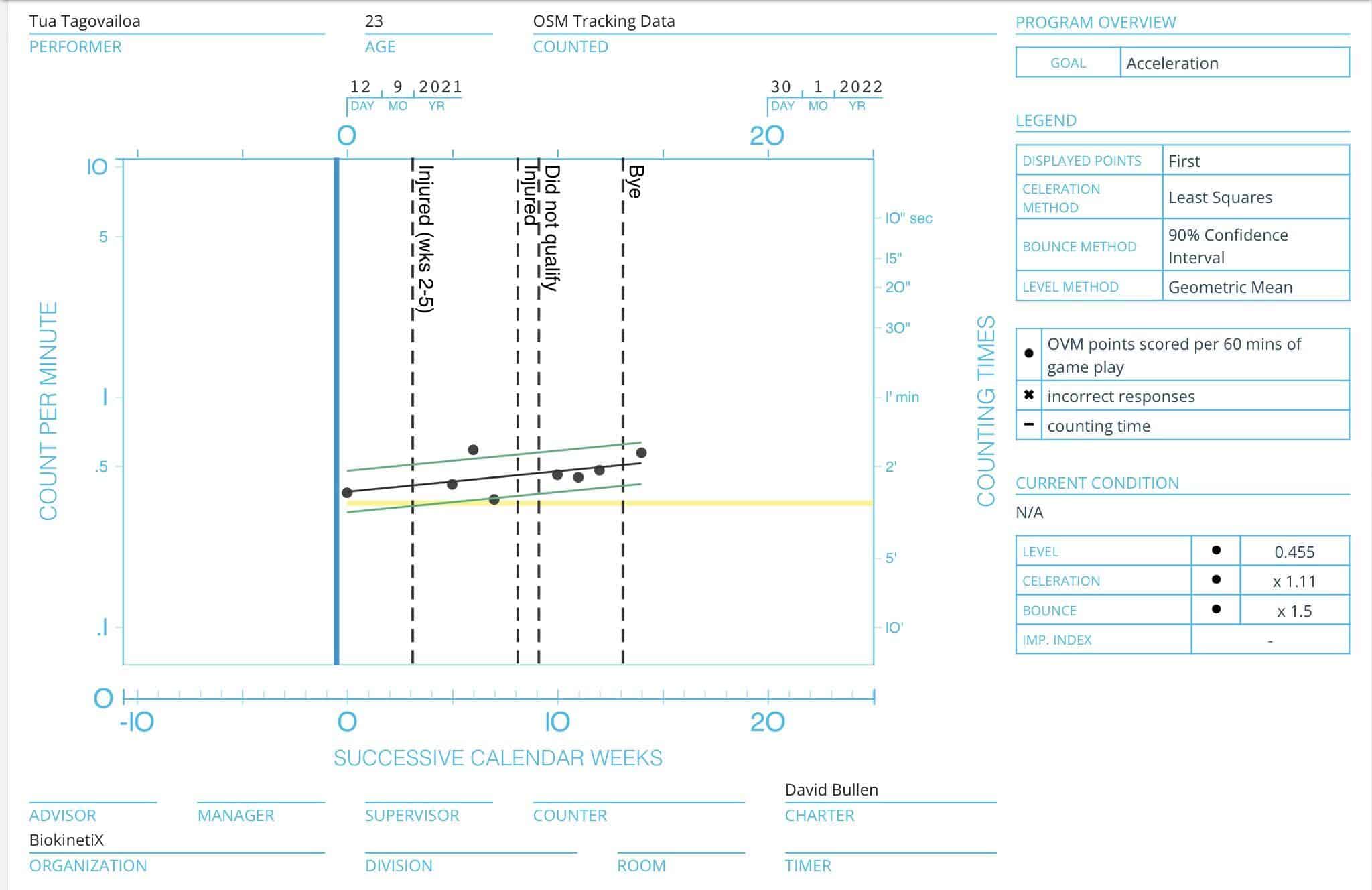 Tua has earned spectacular grades across the board. Not one of his grades is below the league average, including Week 15's contest against the Jets. Despite the increasingly polarizing narratives surrounding him, Tua has consistently been one of the NFL's most effective quarterbacks.
Why was Tua's OVM grade so high last week?
We now arrive at the crux of this article. Tua's grade from last week ranks as his second-highest of the year, at 34.16 points. But as I mentioned at the start of this article, that grade doesn't seem to fit with his somewhat underwhelming numbers from that game. Tua totaled just 196 yards, 2 touchdowns, and 2 interceptions. But a closer look at the advanced metrics suggests there was more to his statistics than initially meets the eye.
We can't focus too much on interceptions
Let's start by addressing the elephant in the room: the interceptions. Against the Jets, Tua threw a pair of picks that looked terrible. However, the OVM does not take points away from quarterbacks for throwing interceptions.
It is important to remember that not every interception is a quarterback's fault. The ball could get tipped, or a receiver might run the wrong route or slip on the grass, so he isn't where the quarterback expects him to be.
While it appears that Tua is primarily to blame for his interceptions against the Jets, from an outside perspective, we can't say for sure.
And even if we could, doing so for every interception thrown by every quarterback during the entire season simply isn't practical. As such, the OVM focuses on more stable factors.
Tua did many things well against New York
So, what went right for Tua on Sunday? Well, to start with, he threw into tight windows all game. 33.3% of his passes were thrown into highly contested windows, the highest percentage in Week 15. That likely wasn't entirely by choice. With Jalen Waddle missing, the Dolphins' WRs struggled to get open.
Tagovailoa also threw the ball significantly farther than his reputation might suggest. His passes traveled an average of 9.6 yards downfield on all of his pass attempts, ranking fourth in the NFL last week. On his completions, that number was 6.9 yards, which ranked seventh.
As such, while Tua had a far lower completion rate than in many of his previous games (just 58.34%), he attempted more tough passes than most other QBs in Week 15. Despite that, according to the NFL's projections, Tua's completion percentage was 2.4 percentage points higher than expected.
It was a very different type of performance from Tagovailoa than we have seen for most of this season. Nevertheless, it was highly impactful in its own way.
The Miami Dolphins need Tagovailoa to continue playing well
The advanced metrics suggest that Tagovailoa has played well for most of his sophomore campaign. And if the Dolphins are going to make a push for the playoffs, they will need him to maintain that level of performance for the final three weeks of the season.
Miami's matchup with the New Orleans Saints on Monday night will be an important test. The Saints are missing many key players, but playing in the Superdome is never easy. This game is a great chance for Tua to prove himself to those who still doubt him.