In a loaded offensive tackle class that features top prospects such as Jedrick Wills, Andrew Thomas, and Mekhi Becton, there is a lot of competition among those guys of just who the best tackle in this class is. The opinions among draftniks everywhere range on all of these guys, with all three of those mentioned above getting nods from some as the best tackle this class has to offer. The five words that have been put together all draft season, though, have been 'Tristan Wirfs' and 'top offensive tackle.'
Now, at the NFL Scouting Combine, Becton ran a 5.10 40-yard dash at 364 pounds, which is extraordinary, and that should make it all the more impressive that the talk of the day was not Becton, but what Wirfs did. He had one of the most impressive offensive line combines in recent memory. Wrifs put up a 4.86 40-yard dash, a 36 1/2 inch vertical jump, and a 121-inch broad jump. Each of those metrics measured in the 98th percentile or higher for offensive tackles. His combine mirrored elite athletes such as Trent Williams on its scale. Just to put into perspective how insane his vertical was, he outjumped star Oklahoma wide receiver, CeeDee Lamb.
But really, Wirfs only confirmed what he had put on tape over the years. The elite functional athleticism was apparent. Wirfs was not only showing what he could do with his footwork in his pass sets, but in space, while run blocking or lead blocking, Wirfs was moving and showing that he could reach defenders in the second level of the field with ease.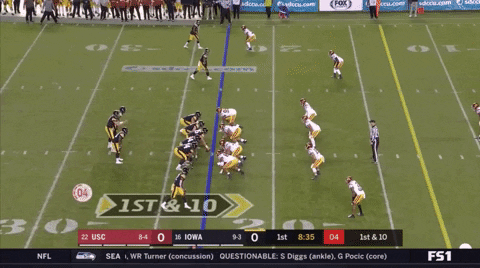 His functional athleticism is on all kinds of display in this video on the reverse. Not only just to get out in space like that move to get a key block on the defensive back to spring this play open for the touchdown, but the change of direction too. For a man of Wirfs size, he really should not be able to flip his hips that easily. But because he has fluid and sudden feet, along with loose hips, he can move laterally very well.
But on the actual terms of just on the field technique, on tape, Wirfs does a few things exceptionally well. For one, his power at the point of attack is fantastic. The explosiveness he has out of his stance is converted into power through his lower body with ease. He looks like a well-oiled machine out there, driving his legs on and on. Maybe even more importantly, Wirfs plays with a great pad level. He comes off the line with a flat back parallel to the ground, and that is why he wins so often. That is the fundamentals you learn back in high school.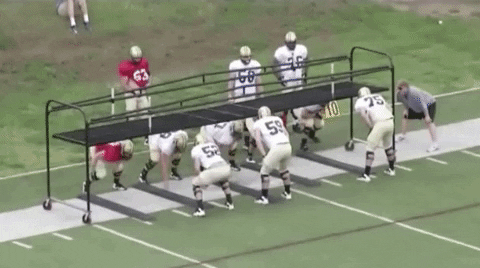 When coaches are running guys through chutes that are made of metal and hurt when you hit them, that is what they are teaching. You can see above, it is all about pad level and staying low. You want your back parallel to the ground. In conjunction, you want correct steps in rhythm with your get off, too. Some coaches add hand placement as an element, as see above here. It is all a sequence of events that Wirfs executes flawlessly. He is a very technically sound run blocker.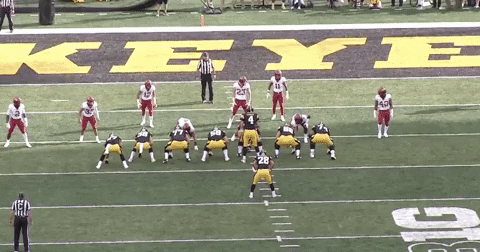 This illustrates all of those things in a zone scheme here. Wirfs turns his explosiveness and open field momentum into power and plays low. You can see his back is flat, and his head is up as he makes contact with the defender's chest. He gets inside of the defender's pads and drives through his lower body on his way to a beautiful pancake. The grip strength will never be an issue with Wirfs, either – his is elite. But one of the concerns for Wirfs coming into the season was his mean streak, but he showed he has a mean streak in him here.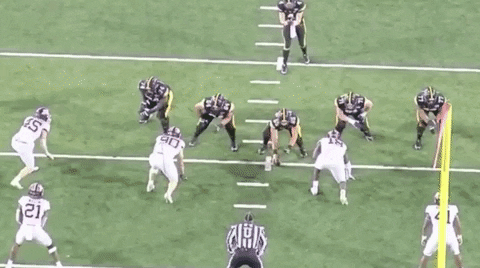 Something else Wirfs does that is nice passes off twists. He is an effective communicator and very vocal pre-snap and post-snap in identifying the twists and then executing it correctly with the guard. Wirfs does a nice of keeping his eyes on the man in front of him and then looking back to the looping defender. On plays like these, eye discipline is crucial to having awareness. Wirfs has good football IQ to recognize this end-tackle stunt and not allow the end to loop around him and crash the pocket.
This is an interesting rep by Wirfs because it is an off-time rep, but still a good one. Wirfs uses a 45-pass set here to get on the defender quickly on the three-step drop by Nathan Stanley. Usually, on the 45-set, you would punch out the hands on the second kick, but Wirfs makes contact on the third step. Punch timing, however, is irrelevant to this play. If Wirfs overextends and tries to make contact on his second kick, he is going to get beat around the edge. So instead, he stays patient, keeps a strong, neutral base, and takes the oncoming bull rush extremely well. He throws his punch, gets his hands inside, and stops the defender's momentum. That is textbook technique from Wirfs.
I will say, Tristan Wirfs is an enjoyable prospect to watch. There are always things to work on, but he has a mostly complete toolbox at his disposal. The athletic tools are great, but he is rather technically sound. Some want to move him to guard, but he can thrive at right tackle just fine. His film shows precisely why he has a very serious case to be rated as the top offensive tackle in the 2020 NFL Draft.