Trevor Penning slammed Tyreke Smith helmet-first into the turf. After three days of rough-and-tumble sparring matches between the linemen, Penning, an offensive tackle from Northern Iowa, got the last laugh against Smith, an Ohio State pass rusher, at the Senior Bowl in Mobile, Ala.
Following the rep, with teammates and the New York Jets coaching staff watching intently, Smith got in Penning's face. Penning didn't blink as he walked back to his position group. It was just another snap for him.
"That's just how I play," Penning told Pro Football Network. "I know some people don't like it. I know some people love it. But that's just ultimately how I play."
When Senior Bowl executive director Jim Nagy and his staff circled Penning on their invitation list for the annual college all-star game, they knew that he would ruffle some feathers, or more realistically, defensive linemen, on the practice field.
Nagy was fine bringing a bully to the ball game.
"Anyone who watched the tape knew that was coming," Nagy said. "It's all over the Northern Iowa tape. You can't watch five snaps without seeing him get after people. We knew what we were getting when he came down."
Penning, who was selected by the New Orleans Saints with the 19th overall pick in Thursday's NFL Draft, will look to bring his aggressive style of play to the NFC South and serve as a bodyguard for whoever is under center for the Saints in 2022.
To understand what makes the newest member of the Saints tick, PFN spoke with Penning, Nagy, and the Northern Iowa offensive line coach Ryan Clanton about what the first-round pick brings to the table.
Trevor Penning: Not a 'false tough guy'
Penning's showdown with Smith wasn't superficial. The 6-foot-7, 325-pound blocker from Clear Lake, Iowa, plays with a legitimate nasty streak.
Penning is a throwback to the old-school linemen that came before him. He's more like Jon Runyan than Laremy Tunsil. Penning is a road grader who enjoys manhandling his opponents to the point that his blocking methods can sometimes cross the line.
"There's no 'false tough guy' with Trevor Penning," Nagy said. "That is who he is. Does he push it to the borderline sometimes? Yeah, but it's not like he's some false tough guy out there taking cheap shots."
During the Senior Bowl practices, Penning created a highlight reel of rough reps. Whether he was taking a defender's helmet off or, like with Smith, throwing them to the ground, Penning was creating a lot of angst in individual drills during the National Team practices. The Jets staff, led by tight ends coach Ron Middleton, didn't seem to mind.
"No complaints from the coaches, they loved the intensity and the competitiveness that he brought to practice," Nagy said. "From my perspective, it really added to the overall intensity of the week."
So, why is Penning so aggressive? The answer is simple: he wants defenders to loathe playing against him.
"It's the way I believe football is meant to be played," Penning said. "When I thought about playing O-line – pancakes, punishing people, and finishing – it's what I thought the goal was to do. As an offensive lineman, you kind of want the defensive line to fear you, almost like they don't want to go against you."
Clanton, Penning's offensive line coach for all but his redshirt first year, encouraged the young lineman's nastiness during their time together. Clanton, who played guard and tackle for Chip Kelly at Oregon, wanted his linemen to be more than just dancing bears. He wanted them to be imposing maulers, and Penning already fit the bill.
"We never really calmed him down, and I think that's the key," Clanton said. "We just kind of let him be himself, and it was who he was."
And Penning didn't just bring the pain on game days. Clanton recalls the offensive tackle coming off the practice field like he had just been through a war.
Penning's aggression never took a break.
"He'd come off the field bleeding, his knee braces are broken, his cleats are all torn up — maybe his helmet strap broke or something — and he would just come off the field and you'd look at him like he just played in the Super Bowl," Clanton said. "It's Tuesday practice."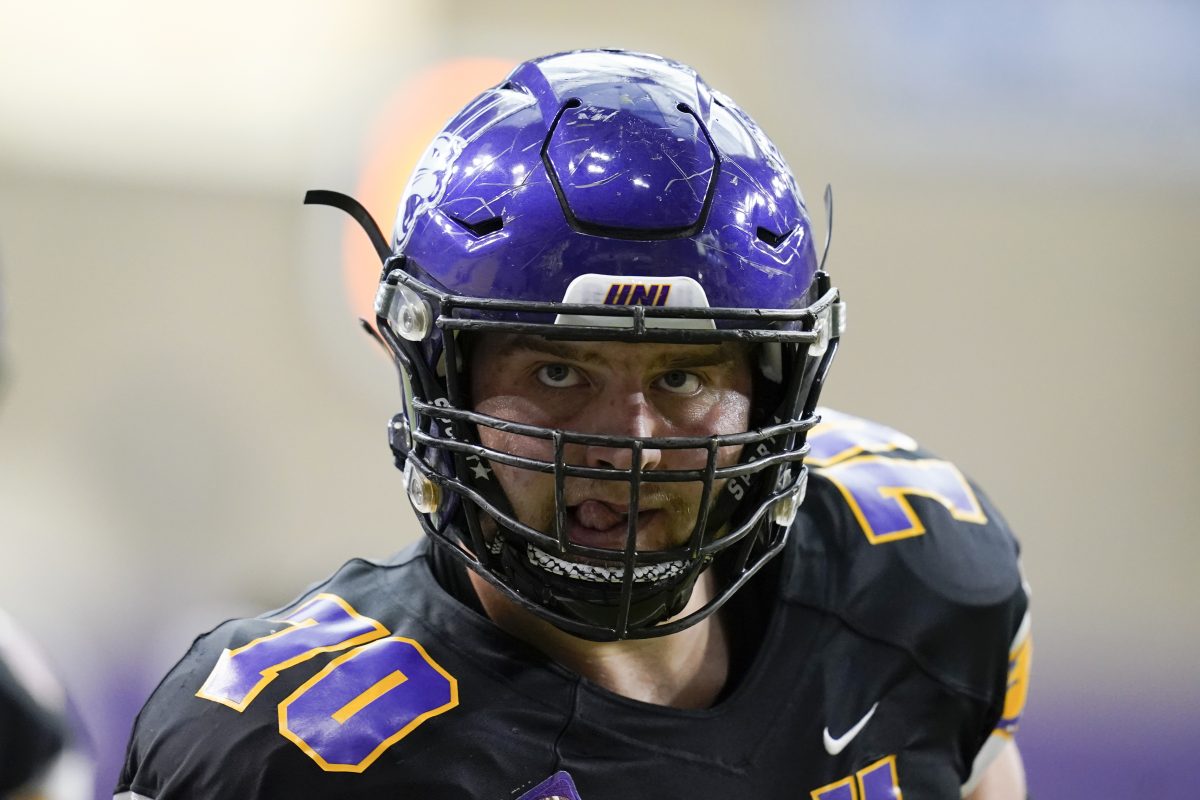 Making a monster
Penning wasn't always able to manhandle opposing linemen with ease. Like anything in football, Penning had to work to build strength.
According to Penning, he gained close to 80 pounds during his five years at Northern Iowa.
"It's crazy looking back at some of the pictures," Penning said. "Just seeing how much my body has developed over the four or five years there in the weight room."
Penning arrived on campus at roughly 260 pounds with a goal of gaining around 50 pounds of muscle mass. According to Clanton, Penning needed to get stronger to play offensive tackle at a high level.
"His first couple of years, he was always long enough and explosive enough to get the job done," Clanton said. "He just wasn't strong enough. So, really his redshirt sophomore year, that's when you could really see the weight was going on in the right spots and his strength almost went through the roof."
Since Penning has a naturally lanky frame, he was able to gain muscle without losing his athletic ability. So, he kept building after reaching his target weight of 310 pounds as a sophomore.
"The weight [gain] came in his redshirt junior year during COVID," Clanton said. "You started getting the memos from the trainers saying, 'He's 325, 330, 340,' and then you call him to meet with him because you're like, 'You must be too heavy.' You see him walk in and go 'Where's the weight?' His body just really absorbed that, and he's put together, he's chiseled."
Even with the added weight, Penning could still move like an SEC tight end.
"I didn't really lose much — if anything, I got faster," Penning said. "Just because I'm developing muscle with no bad weight."
While Penning's body transformation wasn't on-par with Steve Rogers' metamorphosis into Captain America, the lineman transitioned into an elite prospect because of his newfound mix of size, strength, and speed. Clanton says he's unlike any other lineman in the NFL's rookie class.
"Trevor just has a ton of explosion," Clanton said. "That's the big difference between him and everybody else. His weight room numbers were through the roof. He's got the strength, the explosion and then the attitude — with the way he plays and his motor — that's the cherry on top. That's what really sets him apart from other offensive linemen."
Clanton likes to tell his players that "everyone bleeds red" before they face a big game or a notable opponent. It's a mantra that he picked up from his former coaches during his playing days.
According to Penning, that message has a simple meaning: "It doesn't matter what's on your helmet, it just kind of matters who you are as a player."
Penning's first career start was against Iowa State. Facing a Big 12 opponent can be a massive challenge for an FCS player, especially in his debut. That's why Clanton preached his trusty adage to Penning before they stepped onto the field.
"It kind of brings you back to reality," Clanton said. "It really helps young linemen when they're nervous or just super excited to play."
Penning has embraced Clanton's message since he first uttered the words to him. The phrase was particularly helpful at the Senior Bowl, as Penning faced off against pass rushers from Oklahoma, Ohio State, and Penn State during nearly every rep.
Penning didn't flinch against the top competition. Instead, he put his fellow prospects on the ground.
"He knew that he had basically a stigma on him, being a small-school guy," Clanton said. "He's got to stand out and be himself, so he didn't do anything that we hadn't seen."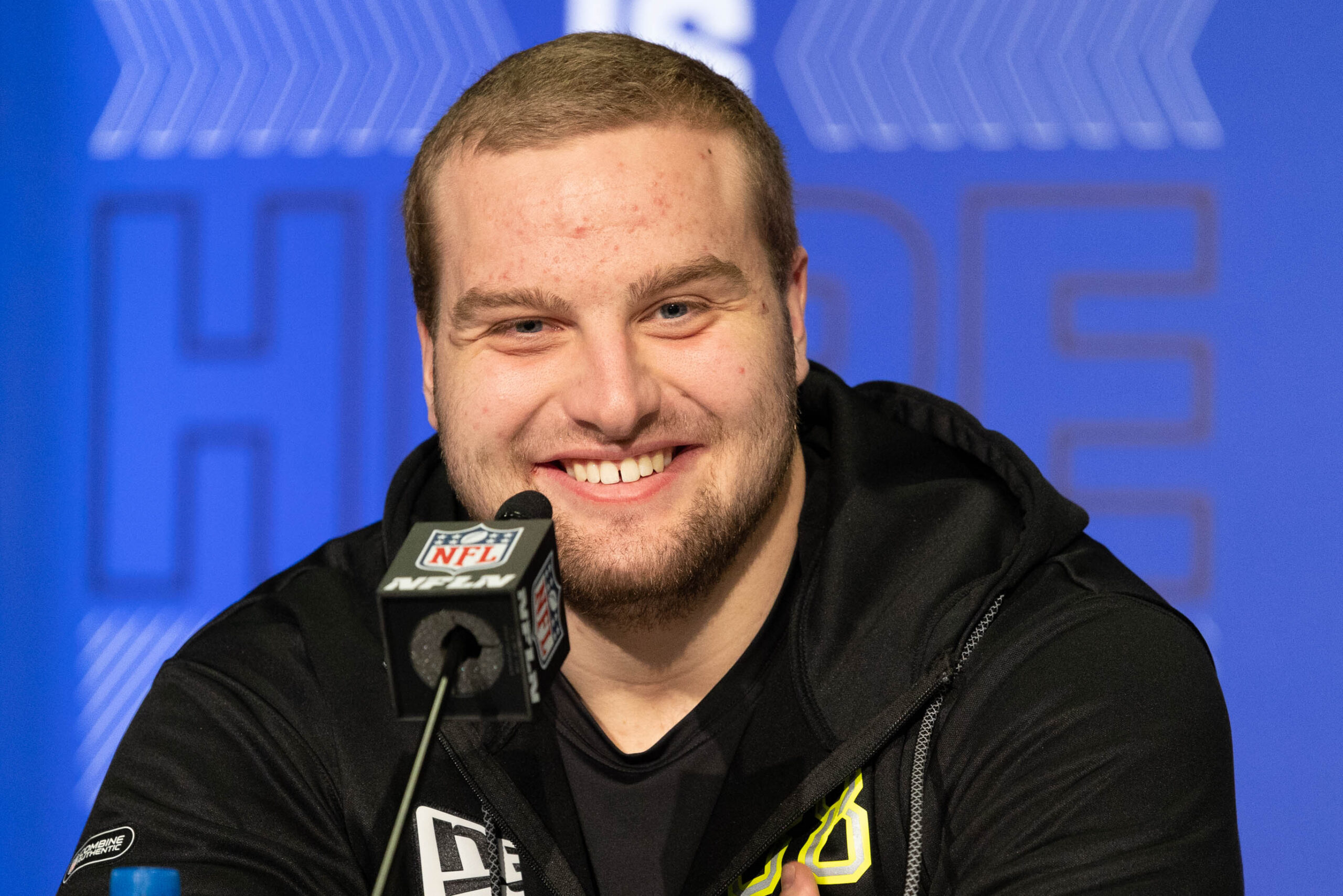 A different breed
While Penning has developed a brawler reputation during the draft process, he's more than just a brute on the field. According to Clanton, Penning is a smart, dedicated, and coachable lineman who participates in postgame lifting sessions while the rest of his teammates are recuperating at home.
"He's just a different breed," Clanton said. "He's the most old-school lineman you'll see in this year's draft."
Along with his work ethic, Penning is a rare athlete at his position.
In March, he ran a 4.89-second 40-yard dash during the NFL Scouting Combine in Indianapolis. That time tied the 12th-fastest run for an offensive lineman in the event's history.
Penning's 7.25-second 3-cone drill tied for the fifth-fastest recording of all time.
"I think the tenacity and toughness kind of overshadow what a good athlete this guy is," Nagy said. "He's a very good athlete on tape, and then you go to the spring testing, and that matches. He's one of the top testing tackles to come out of the draft in a lot of years."
Penning's athleticism has triggered discussions in scouting circles about his potential versatility.
Penning started 32 games at offensive tackle and one game at right guard during his college career. He played both positions during practice at the Senior Bowl.
Nagy, a former NFL scout with over 20 years of experience, believes Penning can plug most of the holes on the Saints' offensive line.
"I know there are a lot of teams that think he could also play guard," Nagy said. "There's nothing physically — as far as pad level, bend, initial quickness — that would prevent him from moving to guard."
During the draft process, Nagy compared Penning to Tennessee Titans left tackle Taylor Lewan. While being compared to a three-time Pro Bowler is quite the compliment for an untested rookie, Penning, like Clanton, thinks he is a unique prospect.
According to the newly minted first-round pick, New Orleans is getting a complete offensive lineman.
"I think my combination of athleticism, along with my strength and power — finishing ability — I'm a full package," Penning said. "I think there's not many flaws in my game."
Listen to the PFN Scouting Podcast
Listen to the PFN Scouting Podcast! Click the embedded player below to listen, or you can find the PFN Scouting Podcast on iTunes, Spotify, and all major podcast platforms.  Be sure to subscribe and leave us a five-star review! Rather watch instead? Check out the PFN Scouting Podcast on our Scouting YouTube channel.