As is the custom in the college football world, some stars raid our TVs, set the opposition ablaze, and fade out just as quick as they came. Trent Richardson is one such player, dominating SEC defenses for the Alabama Crimson Tide before becoming a forgotten name in the NFL wasteland. But football is just part of the journey — where is Richardson now, and what can we learn from him thus far?
Trent Richardson's beginnings
We all have seen the memes of Richardson missing a wide-open rushing lane, but his story is one worth telling, reading, and understanding. To see the full picture, we need to start from the beginning.
Hailing from Pensacola, Florida, Richardson was raised in a city riddled with crime and poverty without a father. Yet, he found solace on the gridiron, turning into somewhat of a prodigy from a young age. Richardson attended the same high school (Escambia) as Hall of Fame running back Emmitt Smith and broke several of his rushing records.
Richardson recorded 2,090 yards and 25 TDs in his senior season. Among other honors, he was named the 5A Florida Player of the Year and earned first-team all-state recognition. As the No. 2 running back in the country (behind only Bryce Brown) and the No. 6 overall recruit, Richardson had no shortage of suitors. Spurning offers from Florida, Florida State, and LSU, he chose to take his talents to Alabama. Shortly after securing Richardson's signature, head coach Nick Saban called him "the real key to the class."
With Mark Ingram rushing his way to Heisman Trophy, Richardson played a complementary role as a true freshman. Ingram and Richardson missed three games the following season, but Richardson showcased his versatility by taking 24 kick returns for 634 yards and one TD while hauling in 23 passes for 266 yards and four more scores.
In 2011, Alabama's backfield was finally Richardson's, with Ingram off to the NFL. He bulldozed SEC defenses for 1,679 rushing yards and 21 touchdowns. He generated 100 rushing yards in nine of 13 games and tied Shaun Alexander's record of reaching the century mark in six straight contests. Upon the season's conclusion, Richardson received the Doak Walker Award (given to the nation's top RB), SEC Offensive Player of the Year, was a consensus first-team All-American, and placed third in the Heisman voting.
The 5'9″, nearly 230-pound back played a pivotal role in the start of Saban and Alabama's dynasty, helping guide them to their first two national championships since 1992. Although he entered the collegiate ranks as the No. 2 RB in the nation, there wasn't any doubt about who the No. 1 RB in the 2012 NFL Draft was.
Taken with the third overall pick in the 2012 NFL Draft, Richardson landed with the Cleveland Browns and was drafted behind only Stanford QB Andrew Luck and Baylor QB Robert Griffin III, the only two players to rank above him in Heisman voting that season.
Richardson's first year had its ups and downs, but he ended up breaking Jim Brown's team rookie rushing records (950 yards and 11 touchdowns). He also garnered the respect of his peers, landing 71st in the NFL's Top 100. But it wasn't all smooth sailing for Richardson. Although he struggled with seeing rushing lanes at times (3.6 yards per carry as a rookie), he also failed to see what was happening behind the scenes.
Richardson's family spends $1.6 million in 10 months
Money is the root of all evil, and unfortunately for Richardson, it was the root of his NFL downfall.
As the No. 3 pick, Richardson signed a four-year, $20.5 million contract, with $13 million guaranteed. His first course of action was to ensure his family's living conditions were set. He bought a six-bedroom, $825,000 home for himself in Cleveland, rented a house for his mother close by, and bought his grandmother a five-bedroom, $350,000 house in Pensacola.
However, as Richardson's friend Ladaron Clardy said, "He felt like he was obligated to bring all these people with him. He didn't want to leave anybody behind." From the jump, Richardson helped out anyone who needed assistance.
Someone needed their car paid before it was repossessed? Done. A friend would be evicted unless their rent was met? No worries. Richardson paid for multiple funerals, weddings, and likely many other events. He even allowed access to his bank account to close family and friends.
As Richardson would later state in an E:60 documentary, "I just made sure that my immediate family was taken care of. And so then it came to everybody outside immediate family. You got people coming from everywhere."
Those people took advantage of Richardson's empathetic persona, constantly requesting money from the newfound millionaire. And coming from an impoverished city, without a father in the household, and knowing the struggles many of these people were facing, he felt he had to help them. As Saban would later say, "He is such a good guy. He wants to please everyone. That makes it difficult to disappoint people with the word 'no.'"
Yet, the constant need to serve others wore on his mental health. "It's scary to have all that much money in the world and not be happy," Richardson said. "It's almost like you broke and broken-hearted."
At the end of his rookie season, Richardson finally looked at his bank statements, and what he saw would cause anyone's world to stop spinning. Over the course of 10 months, the people closest to him spent $1.6 million of his money.
"It's just one of them moments to where I was just blinded by my heart, by loving everybody and thinking that everyone was for me," Richardson explained. "I know they love me. I know they do care. But at the time, they took advantage of me."
Not only did Richardson have to worry about moving to an entirely different state, transitioning to the NFL game speed, learning a new playbook, and all the financial hardships, but his first child was also born during the same year. That's more than enough stressors to affect someone's work productivity, mental stability, and physical well-being.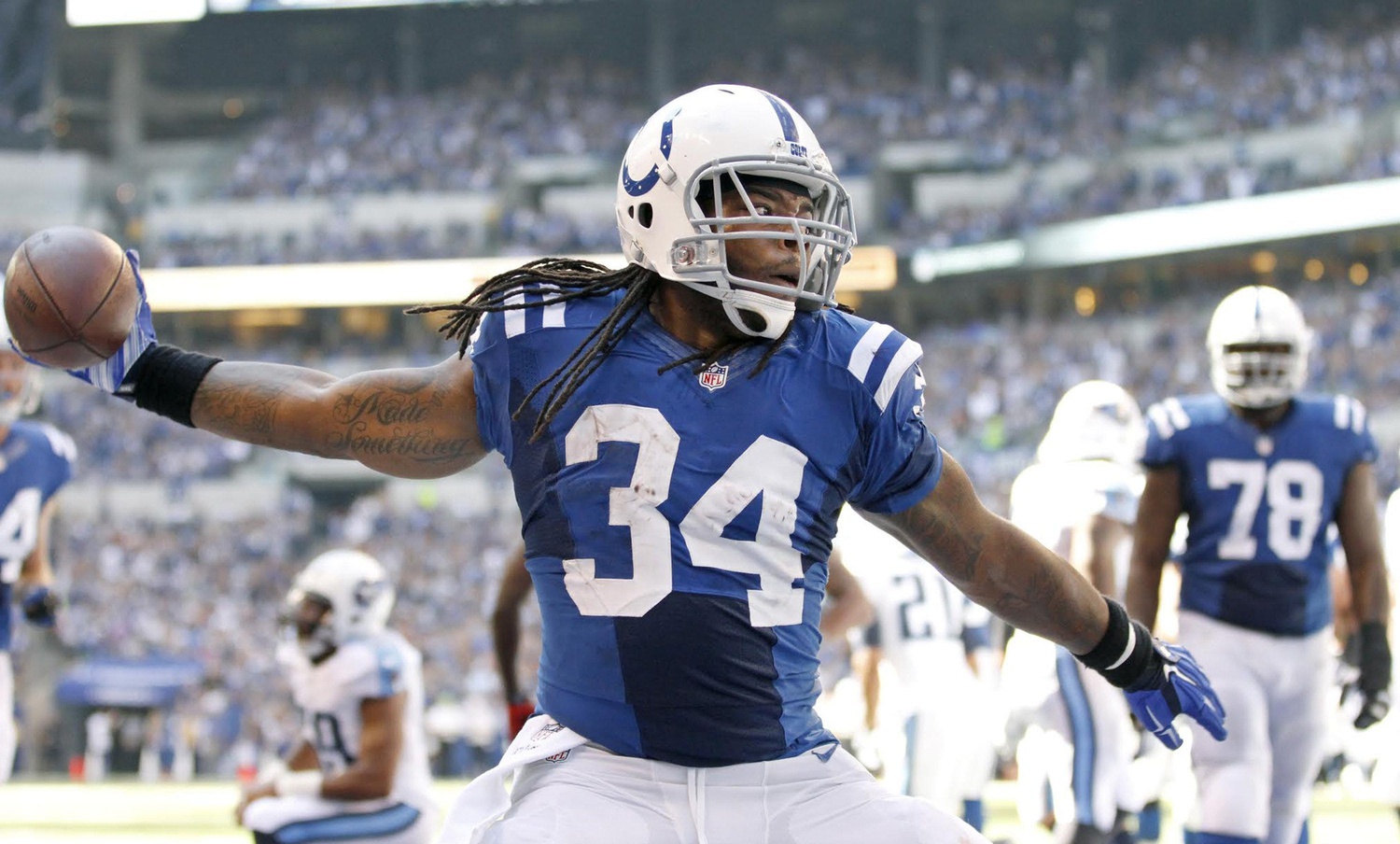 Browns trade Richardson to Colts
Despite seeing over a million of his dollars spent without his knowledge, Richardson continued to let it happen, likely so caught up in the whirlwind that he didn't know how to fix the issue. All of that pressure will affect your ability to succeed. Due to his poor performance in practice and in the first couple of weeks in Year 2, the Browns decided it was time to move on from their former third overall pick. They shipped him to the Indianapolis Colts for a first-round selection.
Richardson presumably hoped the change in scenery would help him amend his financial woes, geographically cutting off some of the people leeching on. But the problem seemed to be closer to home than he thought. Following the trade, Richardson bought a multi-million dollar home in the area. Eight people lived in the house, not including Richardon's young children. He also gained roughly 15 pounds and looked out of shape.
After two statistically poor seasons in Indy (3.1 yards per carry), the Colts waived Richardson in March 2015. The Raiders signed him just two days later, and he would earn $750,000 before they released him in September. At this point, Richardson finally decided to rid himself of the baggage. He cut off everyone outside of his immediate family, even including his brother Terrell, who he was paying around $100,000 to be a "personal assistant."
The next offseason, Richardson signed with the Ravens. However, he was placed on the physically unable to perform list and was eventually cut in August.
Richardson's journey following the NFL goes from the CFL to the AAF
Richardson took a year off from professional football before joining the Saskatchewan Roughriders of the Canadian Football League in 2017. He would play in four games, totaling 259 yards and two TDs on 48 attempts. An ankle injury kept him out of the playoffs, and his future in the league was uncertain. But it wasn't his talent that would see him out of the league. Richardson would lose custody of his children if he continued to cross the Canadian border, so the Roughriders released him from his contract.
In 2018, Richardson suited up for the Birmingham Iron of the startup Alliance of American Football (AAF). While his poor yards-per-carry average persisted (2.9) in the new league, Richardson scored 11 rushing TDs, five more than anyone else. But the success would be short-lived. The AAF ceased football operations because of monetary constraints after only eight of its scheduled 10 weeks were played.
Once again out of a job, Richardson stayed busy off the field with his organization, The TR3 Youth Sports Alliance — a youth football league in Alabama. Additionally, Richardson traveled to speak to children in schools across the state.
Where is he now? Trent Richardson joins FAM in Mexico
In 2021, Richardson was introduced as a member of the Caudillos de Chihuahua franchise in Mexico. The team is one of nine in the Liga Fútbol Americano de México (FAM) league, which has been on a two-year hiatus due to the pandemic. Richardson reported for the franchise's training camp this March. It seems he is more on the brand ambassador side of the operation but may play a bit to attract an audience.
In a league-released statement on March 16, Richardson said, "I am at the age where I want to learn more, and I want to teach more, too. Helping kids understand the game of football and understand more about the business side and help them grow more as a family and as a community."
Currently, Richardson seems to be moving on positively in his life. He has his new football venture in Mexico and his foundation. He also recently opened a cocktail and smoothie bar, "The Chill Spot," in his hometown. Perhaps most importantly, his relationship with his children appears to be healthy.
Richardson didn't quit when the people he trusted most blew over a million dollars. He didn't give up when analysts called him a draft bust. He didn't stop when he was cut multiple times from multiple leagues. Richardson's story is one of growth, persistence, and determination.
It's easy to create memes of a running back not being able to see open holes in front of him. Yet, the pressure, stress, and baggage that comes along with being a professional athlete isn't a laughing matter.
Is Richardson an NFL Draft bust? Absolutely. But football is what you do, not who you are. And Richardson has proven the type of person he is with how he has handled his trials and tribulations. He may not be an NFL star, but he is a man everyone can respect with a story to learn from.
Listen to the PFN Scouting Podcast
List to the PFN Scouting Podcast! Click the embedded player below to listen, or you can find the PFN Scouting Podcast on iTunes, Spotify, and all major podcast platforms.  Be sure to subscribe and leave us a five-star review! Rather watch instead? Check out the PFN Scouting Podcast on our Scouting YouTube channel.